The company's name is MOBE – pronounced Mōb, not Moby – but according to a lawsuit filed by the FTC, the defendants tell quite a fish story to the consumers they hook with money-making promises.
The nine corporations and three individuals named in the complaint sell "business education" products through web ads, direct mail, and live events. (MOBE stands for "My Online Business Education.") The defendants claim to have a "simple 21-Step" system consumers can implement to make substantial income "without creating your own products" and "without dealing with customers." Pitching a "master plan to massive paydays with ease," they promise that "average people with no prior experience online are depositing $1,250, $3,300, and even $5,500 commissions " into their bank accounts "on auto-pilot."
When consumers visit the defendants' website, they're taken to a registration page for the 21-Step System, which the defendants initially offer for $49 or less. But that's just the start. The 21-Step system turns out to be a series of videos. The initial ones offer vague teases about "funnels that have paid out millions and millions of dollars in commissions to people just like you who went through this training" and assurances that later steps will reveal the "secret" method for generating substantial income online. Ultimately, the defendants explain that the "missing ingredient" to making money through the MOBE system is to buy additional tiered memberships and then earn commissions by getting other people to sign up with MOBE, too. According to the defendants, the higher the membership, the greater the commission. Just how pricy are those upper-level memberships? The "Gold Masterclass" costs consumers $4,997 while the "Diamond Mastermind" sets people back a staggering for $29,997.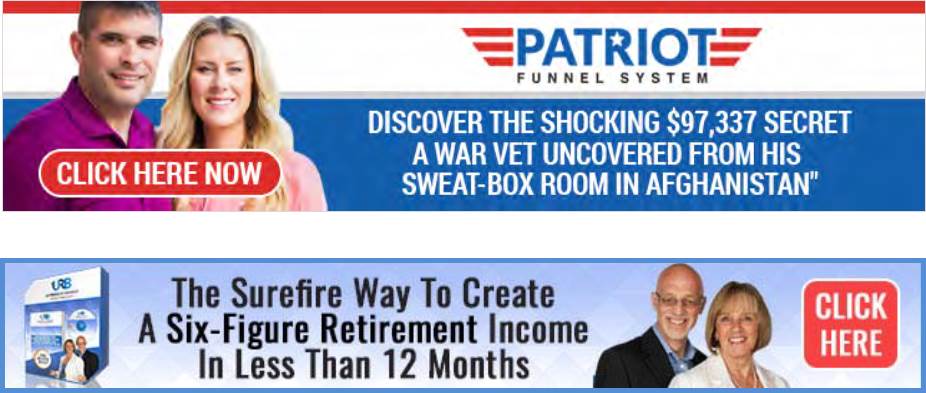 According to the complaint, the defendants encourage people to place their own social media ads, create websites, use copy-and-paste emails, and record testimonials to get others to sign up for MOBE. They also sell members add-on products – like the email addresses of people likely to buy business opportunities. In addition, the defendants repackage their "system" and sell it under other names. According to one ad, consumers can "discover how a poisoned, brain-damaged man … RAKES IN A 6-FIGURE INCOME FROM HOME AND HOW YOU CAN TOO, GUARANTEED." (The … and the ALL CAPS are in the original ad.) They also market the "Patriot Funnel System" with the promise that people will "DISCOVER THE SHOCKING $97,337 SECRET A WAR VET UNCOVERED FROM HIS SWEAT-BOX ROOM IN AFGHANISTAN." The pitch to older consumers and retirees is a so-called "Surefire Way to Create a Six-Figure Retirement Income in Less Than 12 Months."
But regardless of how the defendants package the system online or at live events, the FTC alleges that the primary thing MOBE sells is more MOBE memberships. As a result, the FTC says that very few people – if anybody – achieved the advertised results and that many consumers found themselves in an even deeper financial hole. That should come as no surprise to the defendants, who themselves admitted in a buried fine-print hyperlink that the "average Consultant, which includes both active and inactive members, generates less than $250 per year."
What about buyers who want to take the defendants up on their prominent "100% risk-free" promise that "We Guarantee You'll Be Satisfied With Your Course and Coaching In 30 Days, Or We'll Happily Give You Your Money Back"? According to the complaint, the defendants often failed to honor their refund policy or imposed onerous hoops through which dissatisfied consumers had to jump.
Filed in federal court in Florida, the lawsuit challenges the defendants' earnings claims and refund representations. The Judge issued an ex parte temporary restraining order against principals Matthew Lloyd McPhee (in most MOBE promotions, he goes by Matt Lloyd), Susan Zanghi, and Russell W. Whitney, Jr.; MOBE Ltd.; and eight related corporations. But even at this initial stage, this case – and other recent FTC actions challenging allegedly deceptive money-making promises – suggests that people interested in supplementing their income should be on alert.
Small business owners or others interested in additional earnings are wise to be wary of "systems" that promise substantial passive cash, especially when the system depends on selling others the same "opportunity." When promoters claim to have the "secret" to making big bucks online, the needle on your malarkey-ometer should be in the red zone. The FTC has free resources to consult before sinking cash into a purported money-making venture.
Edited on August 16, 2018 to add:  Looking for more information about this case? Read What you need to know if you were a MOBE customer on the FTC's Consumer Blog.
I too have invested a tremendous sum for education in this company. But I did it with the knowledge that I wanted to learn about business online and MOBE was one of the best sources I found for this training. They never lied about how difficult it is to make commissions unless you commit to the process and do the work. But as with all marketing companies, they do push for sales. You show me one company that doesn't push for sales as hard as they can. Your responsibility as a consumer is to make the choice what products to consume and do so within your means. There is risking every new venture. That is business. What I would like the FTC to know is that I would like to continue my education with this business. I had plans to use the education to grow and learn how to scale my existing business and not necessarily to promote MOBE itself. I am sure there are many people like myself. I want the products I paid for and the training I paid for. I can no longer access that and your TRO is stopping me from accessing the educational material I have paid for.
Unlike most of the comments I see here, I think MOBE is a great company. I never got far enough to actually promote it, but I feel as though their training was very informative and worth the money. I spend $2500USD on the Silver/Gold Masterclasses. This was a decision that I made on my own. I was not forced into buying it like some people have claimed. I received the the physical product in the mail and have gone through it. This never felt like a scam to me. I made the investment into MY OWN education. I made that choice just like someone who's made the decision to spend more than MOBE's top products on university. This feels like I paid my tuition for school, but then had my education taken from me half way through.
Hello Thanks for the enthusiastic and fervent work of the FTC to protect US consumers. I know that the FTC wants to bring the best for American consumers. Please consider my issue: From my perspective, MOBE courses are very valuable to me, it has helped me change a lot, I got a lot of knowledge, mind set to own a business. I have experienced MOBEs Silver, Gold. I am very happy about these 2 courses. At the moment I have just paid MOBE's Titatinum course, I have not yet learned it, but now I can not login to study, please reopen the MOBE program so that I can continue this course. . I paid for this course, I am looking forward to completing it.
I have just participated in Mobe for 3 months. I appreciate highly all MOBE's courses which give me a lot of knowledge and tools to do my business on the internet. I think it's the best course for online business nowaday all over the world. I suggest MOBE should be back as soon as possible so that we can continue to take our courses here. Thank you for your reading !
To whom it may concern, I joined MOBE program and I have enjoyed ALL the courses, coaching, and material they provided me. I bought the training because I believe it is worth the amount of money I paid. I received A LOT more education and training with MOBE that what I learned in University,in a very short time and for only a fraction of what is paid at the university. I bought the program because I wanted to learn how to start my own business, NOT because of the promise of money. In fact, I was aware that most people never make any money, and I was aware that it takes a lot of hard work and dedication to succeed in online marketing, no matter what you're promoting. I paid for that program, the company delivered it, and delivered MUCH MUCH MORE that what they charged and the FTC stole my training. I want what I bought, I want my online courses back. With all my respect I think the FTC made a mistake. Univerisities charge A LOT MORE and they don´t teach even half of what MOBE teaches in their courses. since the first day, at the 3 day training (HBS), they told us that results vary depending on the effort, work, perseverance, dedication of each of us. They give us ALL the tools. unfortunately, there a LOT OF LAZY people that don´t even pay attention of what MOBE staff tells you, and because of those lazy, the FTC took away the training from those who really want to learn and succeed. I am very upset that the FTC stole what I bought, I believe the FTC don´t realize that MOBE training system provides much more value than what they charge. MOBE offers training courses and that is what they deliver. I apologize if I sound impolite, but I am very upset with the FTC because I was in the middle of a new course that was added in my back office. By the way Matt Lloyd add new content, new courses in our back office without etra charge, to keep us update. In conclusion, I am hoping the FTC stop supporting the laziness of the people and return us MOBE to those who are willing to learn, work hard and succeed.
My take on this is MOBE is an excellent source of business education. I was positioned at the highest level myself. However I was nowhere close to making my money back. (My advice to Matt would have been to stop his offers at the Titanium level, wouldn't break people's bank to invest and easy to get return). Anyway, if MOBE is not going to continue, it would be nice to get a refund on the money invested with no return. I am not blaming MOBE for not getting full return but the FTC shutdown. Either way I am out a lot of money. My prayers go out to Matt and everyone going through financial ruin due to this. Some of us believed in the system but due to shutdown did not get the opportunity to make our money back. I'm sure depression, which we know where that could lead, is a very serious thing that I'm sure some are going through because of this. I pray for everyone with any power over this, including Matt and the FTC, to do the right thing ASAP.
My take on this is MOBE is an excellent source of business education. I was positioned at the highest level myself. However I was nowhere close to making my money back. (My advice to Matt would have been to stop his offers at the Titanium level, wouldn't break people's bank to invest and easy to get return). Anyway, if MOBE is not going to continue, it would be nice to get a refund on the money invested with no return. I am not blaming MOBE for not getting full return but the FTC shutdown. Either way I am out a lot of money. My prayers go out to Matt and everyone going through financial ruin due to this. Some of us believed in the system but due to shutdown did not get the opportunity to make our money back. I'm sure depression, which we know where that could lead, is a very serious thing that I'm sure some are going through because of this. I pray for everyone with any power over this, including Matt and the FTC, to do the right thing ASAP.
Hi, guys. I just spent 497 US dollars on them on 3 days Home Business Summit workshop in Edinburgh. I bought it two weeks ago. It supposes to be hold tomorrow on for 3 days. Now it's cancelled. So how can I get my money back?
how do i file a complaint against the FTC for withholding my educational resource material? i just recently started with Mobe and in my experience, they are completely transparent. Mobe's products are way more than simply a commission system. It is an educational source containing very valuable information. when you start going thru the 21 steps you are assigned a coach to help you begin the process of broadening your mindset to help yourself grow and learn and also to introduce you to what Mobe actually is and what it offers. Imagine a university, you sign up to take classes and are required to pay a tuition to take those courses. universities do not offer refunds at the END of the semester, once you've been to all the classes, or neglected to go, why should Mobe? 80 % of graduates don't end up getting jobs in their chosen fields of study. is that the university's fault or the individual student's? people need to take responsibility for their own actions or inactions. Mobe NEVER guaranteed a specific level of income, only what is POSSIBLE. they repeatedly stated that the high earners were not typical, they REPEATedly stated that it requires hard work and that they offered to provide guidance and tools to assist in endeavors. Mobe is a business education resource company that offers educational courses that will help ANYONE build or grow their own online business, but in the end it's up to the individual to take action. mobe didn't REQUIRE purchase of their higher ticket items inorder to complete the 21 step program like some people claim. they provided the OPTION, i implore you to drop these charges and allow those who wish to continue their education to do so.
I can't believe how many uneducated people make judgements and claims about online marketing company without even actually knowing who the online marketing works. MOBE provides very valuable education on online marketing, which can be applied in many other online marketing businesses, but if you as a person suck at this then it is not that company's fault that you suck at it. If that was true, then that would mean that Universities are scam too, because huge percentage of new students drop out because they either chose the wrong profession or they are just lazy and don't want to do the studying. Why in this case the University is not being blamed and sued by the students/suckers. And University gets to keep the investment of many thousand of dollars per sucker. Of course it's unfortunate for those who just made and investment and didn't even get a chance to make use of it and at least get it back, who knows how many of those people would be really great workers and would make money, and how many of them would do nothing and would drop out anyway...and then blame MOBE. Also, Matt didn't shut MOBE and walk away, like someone said in the comments earlier, it was FTC who shut MOBE for investigation period. And the last thing is, no one stole anything from you, you chose the opportunity to learn how to make money online. This whole thing happened because some sucker who can't do online marketing and didn't want to learn how to do it sued MOBE. Get real people.
I tried for a couple months to get back my $697 initial investment (supposed to be $495, but they never said it was AMerican dollars) so that was a bank statement surprise) when I realised, the 21 steps were mostly about upsell, and what we were told, was that we could make the money from doing the course, not continual upsells (which ended up at around $80,000AU by the time you became a 'diamond) which then also includes then MORE upsells, with spending thousands to 'but traffic' - ad infinitum. The emails went unanswered. When i spoke to 'the coach' (which is a glorified salesperson), eh said, many had complained about not being told in the 'free seminar' it was American dollars, but said, bad luck. Fortunately, due to lack of funds, I was unable to purchase the 'next tier' they kept hounding me for - even telling me to get more credit card debt to do so (RED flag always!) and their teaching even included how to get more credit card debt, or 'find investors'!. I also hated in the videos, that Matt always made me feel 'less than' if I were only to be 'silver' and not a 'diamond' investor. GET MORE DEBT - is there catchcry, they should have had that set in stone. I feel so much for those that went out and hunted the credit cards and are now probably going to spend years, trying to pay it all back :( i guess I have lost, $697 and no chance of the money back now. On the lucky side, I never lost $80,000.
I signed up for MOBE and every step of the way, Matt Lloyd made it plainly clear that the business opportunity required hard work and follow-through ALL THROUGHOUT his 21 step training. What Mr. Lloyd offered was the education, videos, and coaching all of which were very comprehensive. I decided to take the next step and obtain further instruction to run my own online business by buying into the Silver/Gold membership. Again and again, Mr. Lloyd made it perfectly clear that the 6 and 7 figure commissions some were getting at the Diamond level was not typical and completely related to the level of work of each of its members. Nearly every day I would receive "MOBE INSPIRATION" videos where folks were typically receiving $1250 or higher. He basically hands you everything you'll need to set up your own online business (i.e. landing pages, sales funnels, "done for you" videos, swipe emails, follow-up call system and a slew of products and live events internationally you can promote. I have found Mr. Lloyd to be very transparent and sincere. Nowadays, seems there are too many people willing to blame others for their own failures. I support Mr. Lloyd and MOBE.
I understand that you, the FTC, has to protect the consumer so I am requesting to do that! If MOBE could operate again, all people who complain about money and no success can go back to work, put more effort into their business, learn more and then they can definitely make money! Don't just let them complain of not succeeding and hoping for a quick income. It is NOT a make-money-quick-scheme! Give them a chance to succeed! That would be a REALISTIC customer protection! Shutting down MOBE is not!
I have the same storyline as Justin wrote, I'm at Platinum level and I barely made any commissions. I have a monthly debt from the loan that I can't cover with the promised "commissions".
I am a MOBE Diamond Affiliate. Yes, I invested a lot of money and no, I have not earned the amount I wanted. Why? Because I did not put my priority on building my MOBE business. The 21 Steps is an excellent training video on how to build a business using the current internet marketing techniques. Investing in MOBE was totally my decision. I was never forced into purchasing the products. It is a business I chose. Not a McDonald, or Subway etc. The investments in these franchises are extremely higher than that in MOBE. Investing in any business brings with it risks and I took that risk with MOBE. I am extremely disappointed that the FTC shut down MOBE's website without warning. It has affected thousands of affiliates across the globe who are earning a decent income from the MOBE products. The one thing that attracted me to this company is the fact that they encourage you to brand yourself and sell your own products, not only theirs. The education MOBE offers is great and comprehensive. It is like going to an online school program which may cost $2900 per 3 credit course (depending on the university and the program). So, I petition that the FTC lifts the TRO against MOBE so we affiliates can get back to running our business.
I have to agree with the majority of people that have sent comments that MOBE has very little integrity. Unfortunately I joined when the 21 step was $2,000!! And for that fee I was promised a personal mentor to help train and develop my pipeline - AFTER I finished the 21 step program. Which by the way, is 21 different videos explaining that the only way to make money is to be a Diamond or Platinum Mastermind. Once I finished my 21 steps I was assigned a mentor - I talked to them once on the phone (lives in Australia) and have never heard from them again. I would simply like my $2,000 dollars back!
As an invested consultant, we are given access to step by step training materials and traffic coaching sessions that help us every step of the way. We also have an awesome mobe community eager to help and answer questions with a group admin that seemed to be always there helping us to get the support we need.  Matt puts out daily email and video messages with lots of tips and advice... There was never a shortage of tools, resources, support and help. The only way to fail is to not IMPLEMENT what is there or to give up.  Hundreds of people earned commissions on a daily basis. The system is the same for all. If one could, we all could. The ONLY difference...and you can hear this in every one of their video testimonials. Is those that succeeded did not give up. They worked out the challenges that came along. They looked for solutions. NO purchase is required with MOBE. Matt offered all consultants 2 options for those that didn't have the money to invest. 1 was to continue on as a standard consultant and earn up to 50% commissions on all front end and marketplace products. That's a lot more generous than any other affiliate program out there. We have products that teach about public speaking, how to write and publish a book, how to design and launch a mobile app, marketing tutorials etc. Hundreds of products designed to help any business. The 2nd option is that instead of investing, you could pass up 5 of those sales and get automatically positioned there. This is all available in the compensation plan and discussed many times in our social media forums. Success in anything can only be determined by what YOU do about it. You can only control you. The income disclosure statement for MOBE included averages for every single person that joined. The majority NEVER took action or did anything. Ever. So that naturally lowers our averages.  If we could show an analysis of only those that actively promoted, the average income would be a lot, a LOT higher. This is one of those businesses that grows momentum over time. It takes time to build customer relationships. It takes time to learn and then teach others what you learned. But the key is to be consistent and constant. To keep yourself out there. All succesful people started somewhere and surpassed the test of time to "make" it. I mostly only promoted the 21 steps and for a good reason. Because I knew it would give them access as a consultant to trainings that would be useful and could be applied to ANY business. And I would speak often about at least getting positioned at Silver so they could have access to the Traffic Masters Academy specifically. A product that really opened my eyes to the world of marketing. There are step by step detailed instructions on how to market ANYTHING online and build a brand that is your own. I had been working on launching a Vlog before this happened. (Not MOBE related). I have a Youtube channel, blog, facebook groups and an autoresponder integrated and ready to go. I was just getting ready to launch it...and still will of course. I never would have known how to put all the pieces together or have the confidence to do something like this had it not been for MOBE.  Going through the 21 steps is just a doorway. An introduction. But with that comes sooooo many benefits that can be utilized by anyone as a consultant. So whether someone chose to promote it or not, the point is, you had options. The masterminds dont really focus on MOBE at all. Rather It's all about asset protection. Tax structures. Investing. Marketing Etc. All things to help you take your business, ANY business, to the next level.  So many thousands of people are suffering right now because of this shut down. Not just what we invested, but we had money invested in ads that cant be recovered. We didn't even get our last paycheck to help offset our costs. MOBE filled me with so much hope. Such purpose. It was my home. We were like a family. My heart is aching at the loss. I have so much respect for Matt and this company. It completely transformed and changed my life for the better. I'm in full support of bringing back MOBE!
In my opinion, MOBE (My Own Business Education) so It means you buy this course for studying how to do business and then you can practise how to do your own business by affiliate marketing. So before you decided to buy this course you have to understand and learn first and after you can do it. All universities you have to pay school fee to learn but there is no guarantee for earning money after graduation. Any one can claim about it ? So I hope you guys can consider carefully before you decide to do any kind of business.
Is MOBE a scam? In my experience with them NO. Was I was marketed to as everyone else yes but choose to buy into what I can afford and was comfortable with. Did I make my money back No .Why because with all the amazing training and events I did not put in the work consistently. Am I disappointed hell yeah I just gaining traction in my business. Is there room for improvement Yes lessons learnt. I have had some amazing opportunities and experience with entrepreneurs around the world. My self confidence and mindset has changed for the better for ever I have learnt a business education no university could ever teach me and would have cost me a lot more too. Would I do it again Hell yeah by implementing what I was taught. For those wanting your investment back I truely hopy you get it so Mobe can get back on track bigger and better. Come on Matt we got your back.
I have lost $2,000 with MOBE as that is what I was charged to take the 21-step program. Which is basically several videos trying to convince you to join Diamond or Platinum level otherwise you won't make any money. I was promised a mentor to help train me AFTER I gave MOBE my money and finished the 21-steps. This never happened! I had 1 phone call with them and have never heard back for over 1 year. I simply would like my $2,000 back. I asked several times for a refund but MOBE only gives you the run around for paying back money to anyone.
I'm angry to have lost products I rightfully paid for. I utilized the training to build out my own ad agency and had it not been for MOBE's training courses, I would never have had a clue how to make it happen. Now, the FTC has removed all my access from products trainings that I purchased. It just seems odd to me that when I'm trying to access and use the trainings to build out my own legit business, they are removed from me without warning? I know other people who've used these trainings for their real estate business too. The trainings in this company are real and very good and I would like them back.
My personal experience with MOBE is that they place strong emphasis on trying to squeeze as much money as possible out of their prospects with little regard for a persons current financial situation. I once spoke with one of the presenters at a Supercharge summit in Las Vegas and I explained that I Have a strong desire to succeed in business but I am limited financially and his resonse was "I suggest that you get our $100,000 Mentorship package if you really want to become successful in this business" I was shocked when I heard that response and I was also very disappointed. The Supercharge event was a massive pitch fest that was done strategically to influence people to spend to be fully positioned at the Diamond level. They do this by making the tickets free for Diamond and Platinum members so that attendees are predominantly Diamond members. Very little value was delivered at this event because of the strong emphasis on "positioning". All speakers were Diamond and in stead of them encouraging everyone to promote and teaching strategies how to promote at our level and save as much money as possible for advertising and growing our business they all chose to focus on how much money you will pass up rather than how much money we can make. They made a strong emphasis at the Home Business Summit and also Supercharge Events about how consultants were more upset about the money they passed up because they weren't fully positioned than anything else in their lives. I know some people said that they received excellent training but based on the information I received for the silver and gold masterclass that information I either knew, was common sense or could have googled and got results. I attended the Titanium Mastermind in Costa Rica I it left me disappointed. I thought that I would receive more value than was advertised. I thought was going to meet some of the top speakers in the world and learn information that I couldn't get anywhere else but only to find that they were pitching more products for us to buy. They would also enter our hotel rooms while were away to deliver packages that were apart of their promotion schemes. I personally think their was a hidden agenda behind that but that also left me wondering. I was promoting mobe products prior to attending the Titanium Mastermind but after attending I realized that all I did was unknowingly paid for and expensive vacation. I was so depressed because I gave everything and I was left broke and broken. I spent almost $17k on advertising and only received a pending silversale. I was unable to promote because I was in financial distress as a result of promoting for mobe. Even if I was able to promote I wouldn't be able to find it in my heart to introduce it others because I would want them to experience the pain from the financial distress it has caused me. My credit has been shattered and my bank balance struggles to stay above positive hence resulting in several overdraft fees and late payments. MOBE would have been a great program if it had placed a stronger emphasis on delivering education to its clients and also looking out for its clients best interests from a financial standpoint. Instead they allowed greed to ruin the company. I was very unfortunate to be a Diamond member because after attending the Titanium Mastermind I decided I no longer wanted to be a part of MOBE and requested a refund for my Platinum and Diamond memberships. I sent a ticket to support twice but did not receive a response. I am just hoping that whatever happens to MOBE I at least get my money back for my platinum and diamond Masterminds that I have not yet attended. This is my experience with the company and I hope those who would like to get their money back end up successful and those who wish to continue can also do so. That is my story.
MOBE helped countless people change their lives for the better. Those who put in time, effort and hard work. The system does work. It is NOT a scam. With any business you need to invest money, sleepless nights, sweat and tears to get rewarded. MOBE is no different. Just look at the success stories. They are not made up. They are genuine. And as someone mentioned above. Many of these successes are also from people who already have struggling businesses then used MOBE education to turn there struggling businesses around. Or used MOBE materials to enhance their businesses and their customer base successfully. How can this be a scam. Please!
I bought the 21 step system and watched/did all the training. At no time did I feel pressurised by the salesman/coach although it was obvious I needed to upgrade to earn any money. They appear to me to be a genuine business training company (for on and offline businesses) that relies (perhaps a little too much) on affiliate commissions to drive growth. I received value from the information in the 21 steps so I didn't ask for a refund in order to keep the door open to investing in their main seminars in the future
Seriously folks.....You have to work for it!! Like any business startup you have to put in time and sweat to build your business. It's unfortunate that the loudest squealers are the ones who don't want to work and get all the money. It's called Entitlements and there is far too much of it in this country. I believe MOBE will survive and be back on top again. I personally have learned so much from the Masterminds that are promoted. Yes they cost money, but so does college.... And how many people actually use what they learned there? Should they get a refund because they're not working at what they went to school for and paid for? The Mastermind classes give an opportunity to learn how to sell ANYTHING online, (not just MOBE products), you learn how to brand yourself, you learn how to invest in Real estate, stocks...etc. AND yes, they offer other ways to pay for help so you get ahead.....but you still have to take the time and work. NO ONE STRONG ARMS YOU... Some of the employees are salespeople just the same as a car salesman....they are taught to sell.....YOU still decide whether to buy or not.
I put my heart, soul, time, effort and money into MOBE for past 2.5 years, met my soul mate through this business and made lifetime friendships from MOBE, I loved attending the events and networking with people and I've helped so many people when building my mobe business and all my dreams and desires were all based on my success i was manifesting with MOBE. Now of course since being hit with this shocking news, i feel lost , in shock and I have burst into tears over this. Giving me a full refund of the total investment I made..as i KNEW my investment was going to turn into over 6 figures, as i was happily persevering with building the business, my dreams has now been crushed due to the FTC shutting the business down. This is devastating news and my whole goals, dreams and desires was riding on building the MOBE business so this feels extremely surreal to me. Please FTC refund me all my investment so I can start my life from scratch again!
I'm a gold member of Mobe, and an internet entrepreneur. I have ever known Mobe when striving with many courses to learn how to earn money on internet. Mobe hasn't taught me all those things. They teach me how to change my mindset from an employee to an employer, from a person who always try to earn money on internet to an entrepreneur with my own way(monarchy). I have worked with them for 2 months, I was never incited and asked to lead or sell Mobe's products to get commission. I'm always supported and given advices for my study and own job. That's your right. If you have products, mobe is an effective tool to boost your ones to high level: build, operate and exit. If you don't have products, you can cooperate with other enterprises to be their affiliate, and it's not necessary to work for Mobe. I have read many bad comments about Mobe. They said that they had to pay money and were cheated to participate to the system without earning money. I'm not sure whether they finish 21 steps or not and whether they read books and watch video clips from Matt or not? They withdraw any lesson from that, or just buy, do nothing and wait for money coming into their pocket. It's so sad for them, they themselves don't want to work, only want to reveice. And, of course, when something is not like their expectation, they bite people who have helped them. I hope FTC will be justice and honest with all things are provided here. Thank for your reading!
I have been a Mobe affiliate since July 2014 and recently as a coach as well. As a result of the training and education I received (digital, live webinars and masterminds) I have been able to break free from corporate enslavement and lead a more purposeful life as an entrepreneur who could, is and will continue to control his own destiny by partaking in the digital economy rather than relying on traditional ways of earning money. The whiners and complainers should not be given carte blanche to stop something that is 1000 times more valuable than the traditional business education that is being spewed out in colleges and universities. Matt Lloyd is a young lad with integrity who set out to build something special and should not be crucified for challenging the status quo. In fact he should be lauded for working tirelessly to provide a structured and valuable business education platform that have transformed lives and given hope to the people who like to think differently on how to build their future and not rely on an employer or government handouts! Now if there are some issues that need to be addressed that can make the business model more compliant then I am all for it. But to come down heavy with a permanent shutdown is reckless and endangers innovation and creativity for future generations. As a result of Mobe's education I was able to develop (with the help of my teenage son) productivity tools that even traditional brick and mortar businesses can use. As a result of the education and entrepreneurial environment I was able to not only show my children how to build a business solution but also how to market it to other businesses so that they can have a future that does not solely rely on being hired as an employee after they graduate university. Please don't snuff out future generations hopes, desires and dreams.
All I wanted was to do honest work from home. I was just starting out with MOBE and paid out £140 for training not received. I was only on step 5 of the 21 steps . Are we going to get refunded for this expense?
I invested in MOBE and got more than what I paid for in terms of education and knowledge. This knowledge can be applied to any business online or offline. I got a lot of value from the products and the masterminds. Many people who buy the program don't put in the amount of work required and then blame someone else.
I joined MOBE last year, and I have been to the Titanium Mastermind. MOBE may look like a scam, and its high-ticket upsell may not be a good practice. However, its training programs and masterminds are truly life-changing. "Making your jump" and "believing in yourself" are the key principles for many life-coaching companies, and MOBE makes these principles real. There are people who have breakthrough in their lives from MOBE's training, and their lives are never the same again. Many affiliates truly have applied what they have learned from MOBE in their real lives and their other businesses. These people love MOBE and do not feel like they are scammed at all. I know that there are haters out there, but every business has haters, even Facebook and Youtube! FTC shut down MOBE swiftly a few days ago, and this reminds me of Jesus' second coming. Let me digress a little bit, but this is also relevant. No one knows when Jesus will come back, and the world will never be the same again when He returns. However, Jesus is full of grace, and He gives man opportunity to repent even during the last days. I want to make a petition that FTC gives MOBE a chance to recover itself and overhaul its training programs. If FTC shuts down MOBE completely, they will not be able to recover and make a refund to the majority of the affiliates. MOBE doesn't have all the money, but at least 1/3 of the money is with their affiliates who make sales. I know some people in Digital Altitude which FTC shut down a few months ago, and the many people still haven't gotten a refund until now. I'm sure that FTC doesn't want things like that to happen again. There are about 20,000 affiliates from all around the world, and many of them will be in a harsh situation if MOBE cannot recover itself and give the fund back to them. All the best to FTC and MOBE! Thank you.
First off. This is not a scam, pyramid or whatever else you want to label it. I personally not only went straight to Diamond but was one of the first people to join the 100k mentorship program. I feel very strongly that I received more education in the year + I was with MOBE than any course I could have taken. I learned how to market any product, write copy, follow up, and so much more. The fact that the FTC just went and shut MOBE down without warning or as John said the judge not hearing the other side of the story gives me hope that June 26th will be a great day. As for those of you who feel you were ripped off.....are you one of "those" people who thought you'd invest in a business and then not have to work it? If so, then being an Entrepreneur is not for you. Matt Lloyd has given many people an opportunity to learn how to market ANY business and now that the skies are black the first thing people do is point fingers and blame. We are all adults here and it is OUR responsibility to do due diligence when investing in a business. I stand behind Matt 1,000%
I started looking for different ways of earning income, luckily I accidentally knew Mobe 2 months ago. I spent time searching all information about Mobe day after day. Then, I decided to register to study 21 steps. Through these steps, I was taught many knowledge about business, internet marketing and many effective tools which are very helpful for my own business. I like Matt Lloyd's Mobe videos. Mobe is an incredible system. Where else can you provide real and practical solutions to business owners in terms of how to grow their brand and presence online and get paid to have the worlds' leading experts deliver the training for you. More importantly, I realize that Mobe has made a big transition for me from an employee to a business owner. I totally change my mindset. However, there are still some people who themselves think that only by purchasing courses, can they get high commission. I'm wondering whether they went through all courses or not? And what lessons they have learned from Mobe. One thing for sure that they don't want to work hard, but still want to receive. That's very ridiculous. I highly appreciate FTC's justice and judiciousness. For the sake of many many many people all around the world who have been working and study with Mobe, I strongly believe FTC will let Mobe be back as soon as possible. Yours faithfully!
It's unfortunate that MOBE has robbed many of their life savings and retirement. I had taken out loans when I was unemployed to invest into a better future paying over $2500 for MLR but right after that got pitched to upgrade and also spend money I did not have on traffic campaigns. Fortunately, I did not crumble through the aggresive sales pitches and moved on. Many hang on to the company because they had invested so much to the point that they keep buying into the next upgrade thinking it will be the solution to their lack of results. Sadly, they do not put in the right effort into making the business happen and get disheartened. Agreed MOBE is too aggressive in their sales techniques and not really offering the proper value for the monies invested into them. I would be happy to see those who invested heavily to get their monies back and that the closure of MOBE should be a stark reminder to other companies to always operate ethically and with integrity. This should shake up the industry but also make other companies wake up and provide real value to their customer base.
I was part of MOBE in 2015 and right away i didn't have a good impression with the business itself. it put me in debt after i had to take a personal loan out and that put me into a difficult situation as i was told to spend more money on paid advertising. Luckily i didn't buy the bigger packages! Personally from what i have seen is that people are forced to put their life savings into this business and really being fooled and leaving people with empty hands. Its a made up business with extremely high prices and people only get a vacation from it to get people excited to invest more and more until they have nothing left. This has to be stopped.
Dear FTC, To start with, thank you for giving all of us this opportunity to give our comment here. Please allow what I'm writing here is from bottom of my heart as a human being. I left home since I was 19years old to move to Australia to attend college and with a hope to have a better life. I was an oversea student at a time and spent nearly $50.000 on tuition fee for college with my saving on several part time jobs. I finished study and had a full-time job as a qualified child care worker to work with children and look after them, but then I started to look another income to support my parents back home and family because government in Vietnam won't support old people and with my old job I couldn't afford my parents. And All I do is to just support my parents to have a better life and don't get me wrong everyone wants to have a good life. With the knowledge I have learnt and become a qualified child care worker. It took me years to applied what I learnt and become professional in my career. In everything we do as human being always take time it is not overnight result. I found MOBE in November 2017 and recently become coach as well which stands for "My Own Business Education", a company founded by Matt Lloyd, an Australian Entrepreneur to provide businesses and Entrepreneur with all business training and "EDUCATION". Straight away I knew that this is what I been looking for, I invested in 21 step, Silver master class and Titanium mastermind. The best training ever even it is my very first investment and with my background I have no idea of the definition "what is BUSINESS". With all the course I receive hard books and videos training as well as a coach to work with me. With Matt's training videos, books and materials taught me a lot in how to do business. Even though, I haven't earned much with the system but the knowledge I have is so much valuable and apply in my business. And I know in anything we do not just business it needs to take time to get result. A very reality example that with my study before it took me years to finish. If we can get rich in overnight, then I would call it is a "SCAM". With MOBE is different, I have training, I have books to read and material to use. Then apply into business while I am learning, and it is my only income to survive and support my parents. The FTC (Federal Trade Commission), a regulatory body in the United States has halted MOBE operations on the 11th of June 2018. This is after several days where all MOBE's sites were down unexpectedly. I understand the job of FTC need to take in place, however, my question is the people that have been complaint about this "EDUCATION SYSTEM "actually do what they learn or they just want to make "MONEY" AND GET RICH OVERNIGHT. In any "EDUCATION" have to pay for it to study I spent thousands of thousand before to get my qualification at college. All I see here is people just want to have money back, I doubt it in college you can refund your money back once you enrolled a course, none of what I know. And even if you have a respect complaint please do, as the CEO Matt Lloyd took him years to create an amazing training and education for business owners and entrepreneurs around the world. Matt taught me how to do business and work for myself where I can spend time with my nephew here who is autism and need my support as I can work from home. Matt not only teach me how to do business, but also teach me how to treat people right and help other to have a better life. Now with FTC's action I'm unemployed because doing MOBE is my full-time income to support myself and my parents back home. And I can't access to my studying because all the websites frozen. I paid for it with all my saving and I would like to access into it to keep continuing my studying and build my own business, so I can keep working and support my parents. For those who complaint and want money back I totally understand maybe business is not for them." You can't invest 0 dollar and return thousands of dollars". In everything you need to INVEST to have RETURN and that is just the way how it is.And you have to put effort into it. With MOBE I have receive so much value knowledge and skills and It is hurting me what is happening. An amazing education shut down, one thing I'm sure that as human being we all need "EDUCATION" to gain knowledge and pass on for next generation. And MOBE provide me knowledge how to do business and how to treat people right. "always treat people the way how you want to be treated". From bottom of my heart been hurting of what happening because now I have to find another job to make income while my parents rely on me. I would please to see my training coming back the education system that changed thousands of people lives including me. Please consider and let me keep going with my beautiful journey. MOBE IS ABOUT EDUCATION and i want to have my training back. Again, thank you very much FTC for taking your time and read my words.
According to FTC logic.... FTC should shot down all colleges and universities because they encourage young people to take out student loans and get a job that you will be struggling to pay those loans off with. Where can I complain about this colleges university SCAM? we should stop this nonsense.....
Though it is true I have a lot of respect for Matt Lloyd a a businesman, MOBE does misrepresent how one can make income with their products. I'm a Diamond member and I invested more than $40k and earned a little over $20k as an affiliate. Since I'm a marketer, I knew how to recruit people and I did see the huge potential to make incredible amount of money. But I just didn't see how an average person would be able to learn all this marketing and start making income because learning online marketing takes years. And the average people who marketers target is above 55 and that makes it harder because most of them are not computer savvy. Since MOBE has been running business for many years, they are aware of this problem. More than 98% of the people won't make a dime promoting this opportunity. But they kept on running these live events and sold this opportunity asking people to get new credit cards and increase their max. They were all about squeezing more money out of people and never really tried to help anyone. I just can't imagine how hundreds of thousands of people with all that debt in their retirement will manage to survive. I really hope MOBE would return money back to everyone and gets shut down permanently.
I paid the $49 and went through the training as far as that would take me I saw some good explanation of sales funnels. Which I kept asking myself if I was in one. I also kept asking "what is the product they will provide that I will promote?" It was just to enroll people in the program that I was in. I thought well that sounds kind of pyramid schemey to me. I asked my "mentor" what the other products were and he only gave me a list of the ones to promote more people into the same program I was in. That is when I said stop. You can't have a business model where your ownly customers are your employees/contractors. Sure employees can be customers in conjunction with other customer bases but, the way their system is setup you can only sell to new incoming employees/contractors.
TOTALLY AGREE WITH CHARLI, MOBE is not a scam at all, it has to be the most legitimate business model I have ever come across. The only scam I was a victim of was believing the school, university and mass education system was going to give me time freedom and happiness. MOBE has been my huge blessing, as soon as i joined I was in bliss, I was shining, I met my soul mate through MOBE, it was my passion, desire, dream to build this business, i was finally ambitious, it unleashed the entrepreneurial spirit in me. i am forever grateful to MOBE and poured my heart and soul into it and now FTC has attacked and shut all our dreams, hopes, desires down. FTC is the real scam here, trying to make us believe we don't have control of our future and world and we have to be slaves working 40 years of your life, whilst 40% of our hard earned money feeds the government so they can use that money to continue to scam the world. MOBE was the light in shining armour, how dare you shut poor MOBE down! you have destroyed so many people's lives by doing this.
For years I have been looking for an alternative of business using the internet. After many research I found MOBE this year. I read every single information available in Google, YouTube and Facebook. I read the Compensation Plan. I complete the first two online trainings and they are EXCELLENT!!! The products work if you do your homework, and read, and apply the concepts. The live trainings and the resources that provide information are exceptional. There are many comments of people requesting refunds, etc. But, do they get informed BEFORE putting their money on this? This is like the comments people posted on Amazon after every purchase. Some customers are happy with their purchase, some are not. What is the percentage of people doing the business correctly vs the ones complaining because they paid but have not complete anything, even the first 21 steps? That is the question! I am surprised that with the amount of schemes and illicit business that really need to be investigated, the FTC is wasting their time with MOBE and Matt Lloyd. The majority of the affiliates making money with MOBE have a business relationship with Matt, they know each other and support each other. This is not based only on putting the money and that's it. The FTC works protecting America's consumers. This includes providing consumers with an alternative, legit alternative of making money online or with different business that are not a 9-5 desk job. It is FTC responsibility to find out if MOBE could provide this alternative with some "changes" in business strategies or providing a better refund policy. Provide MOBE with the appropriate guidelines to comply with the FTC regulations and with this provide the customers with a business alternative that works. Thank you for the opportunity to include my comment. I am looking forward that results of the June 26 hearing will be satisfactory for all the parts involved.
Here is where I am. I purchased the My Top Tier 21-Step product for $97. About Step 8, I realized that the 21-Step fee was more an application fee than a product. There was good information in the first steps about owning an online business and the mindset required. I read many good books as a part of that program. I was convinced that MOBE had something of value to me. MY expectation was that I could learn internet marketing and apply what I learned in order to earn maybe a $1000. per month to supplement our income, and at the same time, help others learn to do the same. I brought my husband into the process as the upsell would cost $2500. He was fully supportive. This was required to continue working with a coach, and we were both intrigued. I was stopped at step 20, and told NOT to proceed with the Traffic Academy portion, which would be open as soon as we were fully positioned. As we proceeded through the steps, we were transferred from our initial coach to a "closer" and learnded more about other upsell products that offered better comissions, but also a bigger investment in both time and money. I am disabled and have plenty of time. MY husband didn't like the thought of leaving money on the table. The educational products purchased at the Silver/Gold levels were limited to earning commissions only at that level, and in the event that one of our downline bought up above us to Titanium, Platinum or Diamond.....those commissions would go to our sponser along with residuals. It was only logical to position ourselves to earn the most, which at Diamond was $10,000 plus residuals from our downline. The investment was HUGE in order to do this, nearly $60,000. We also expected to require at least $10,000 for advertisements. I set up a FB page to brand myself (NOT MOBE) and to help acquire leads. At around Step 13, our coach introduced us to a company that "worked a lot with MOBE" called lendingamericallc.com. Two people Chris Celano and Evan Arancebia were working with us to secure more funding. WE were a bit wary that it seemed to the objective was to "blindside" the banks, and have multiple credit cards (most at 0% interested for up to 12-18 mos.) applied for simultaneously presumably by a computer all at once. We were told NOT to tell the banks any of our applications were being submitted by a third party. We were then "parked" into a Super Special Training Group, where we received more group coaching and individualized attention. This "extra training" was beneficial, but mostly consisted of much effort to keep up the momentum and keep us actively engaged. At one point I asked our coach if we were buying into the opportunity rather than the product and he was most defensive and explained the value of the products repeatedly. The titanium was to provide networking opportunity and education on joint ventures, and increased traning on how to get sells and drive traffic. The Platinum was to educate on many ways to structure income and invest (my husband was particulalry interested in this as he wants to learn more about real estate and stocks, and that was promised). The Diamond was an exit strategy in which we were to receive many done-for-you products in addition to creating our own product, including professional videos. Each of these Masterminds, as they were called, were in exotic locations and time would be allowed between business sessions to be able to enjoy the locations and what they offered. There was also a MOBEmotors program that promised a nice leased automobile/boat...whatever...if you reached a certain point of success with your company (we were all told that we were to set up our own company...my husband and I created an LLC). WE were in the process of receiving up to 20 credit cards from multiple banks when MOBE was shut down by the FTC. WE had not yet received all of the cards that were coming to us and still have not. We were told by Xavier, with the "lending" company NOT to do anything with the cards prior to the shut down. It was our understanding that they had a special way to contract the money over to MOBE, although that was not explained to us. Our coach, whom we had grown to trust, said that he would be taking the final payment and making the transition. That transaction, of course, never occurred. We had paid leandingamericallc a $350 deposit, and a $3500. balance was owed to them upon receipt of the cards. In as much as the lending company has not been able to fully deliver on closing the transaction we have retained an attorney. During the discussions via SKYPE with my coach in the group setting, I commented that some of the other lead products for the 21-Step program seemed less "hypey" than Matt's and questioned whether we could use those instead. My coach was obviously annoyed by my comment and retorted, "What you see as hype, is not necessarily what others regard as hype." I was asked to have understanding. I deleted my comments. Honestly, although we were sucked in by the hype, our goal was to acheive and to help other people acheive, and was searching for a method that best suited me. Also, upon looking at a video shot by Matt Llyod on Serenity Island, he answered a young man's question about where Matt saw MOBE in 12 months. Matt said there would be less focus on afilliate marketing and more focus on getting the websites set up so that people could purchase directly from the sites. That shocked me and I commented, "If there is less focus on afilliates, what are we doing this for?" Matt responded, "Where did you hear that? How did you get that?" I responded, "It's what I heard you say in the video." There was no further response. MY take is that MOBE offers some very exellent training both in the mindset it takes to be successful in business and in how to work a business. I am 57 years old, my husband is 64. We have been successful as employees, have a 401k, pension, and SS. We feared the loss of any one of those componenets would predisposition us to a lower standard of living and sought to find a way to prevent being totally dependant on savings and SS. Most people today, including myself, don't even have pensions as part of the retirement equation. I feel that MOBE is no different than any University or school of business. There is always the cost of tuition, and MOBE made an offer to reimburse tuition 100% if you worked hard enough, plus paid for the inner circle magazine that would cost nealry $300 per month. My conclusion is that people who possessed both the skills and character to succeed with MOBE would do so. Unfortunately, there was no vetting process to determine who those people were other than their willingness to proceed with the steps and buy in. There were many, a greater percent, who were taken advantage of, and that is why the FTC brought the hammer down. The high expense, shady financing practices involved, overhyped claims, pushy sales tactics, parking people in their steps so that their refund time would expire, might all have played a part in the FTC decision. I am gald that we did not actually pay the $60,000 NOT because I have no faith in myself or the company, but because MOBE's reputation is now tainted and prospects, even if MOBE is reopened in 2 weeks, will be even more wary and sales will be even harder for people trying to sell online education or business products through MLM. Hey, Amway is still going strong, their name is splashed across the arena in my city...they must be doing okay. The difference is in the distribution of their products. This is a new world with internet distribution. I feel really sad for the people who bought into MOBE and cannot even get started because of the FTC's actions. I expect a refund of my $2500 for Silver/Gold because, despite having the knowledge acquired through the education product---the other half of our bargain cannot be accomplished at this point. I feel most sad for the people who depended on MOBE as their only income stream...but in all honesty....MOBE tells you NOT to do that...at least our coaches did. But these people now have no access to their money to pay their bills, to pay back their debts, to invest further in themselves. There are hungry children, people in a worse position than us, and people older than us who will suffer. For that I pray.
More from the Business Blog
Get Business Blog updates