The company's name is MOBE – pronounced Mōb, not Moby – but according to a lawsuit filed by the FTC, the defendants tell quite a fish story to the consumers they hook with money-making promises.
The nine corporations and three individuals named in the complaint sell "business education" products through web ads, direct mail, and live events. (MOBE stands for "My Online Business Education.") The defendants claim to have a "simple 21-Step" system consumers can implement to make substantial income "without creating your own products" and "without dealing with customers." Pitching a "master plan to massive paydays with ease," they promise that "average people with no prior experience online are depositing $1,250, $3,300, and even $5,500 commissions " into their bank accounts "on auto-pilot."
When consumers visit the defendants' website, they're taken to a registration page for the 21-Step System, which the defendants initially offer for $49 or less. But that's just the start. The 21-Step system turns out to be a series of videos. The initial ones offer vague teases about "funnels that have paid out millions and millions of dollars in commissions to people just like you who went through this training" and assurances that later steps will reveal the "secret" method for generating substantial income online. Ultimately, the defendants explain that the "missing ingredient" to making money through the MOBE system is to buy additional tiered memberships and then earn commissions by getting other people to sign up with MOBE, too. According to the defendants, the higher the membership, the greater the commission. Just how pricy are those upper-level memberships? The "Gold Masterclass" costs consumers $4,997 while the "Diamond Mastermind" sets people back a staggering for $29,997.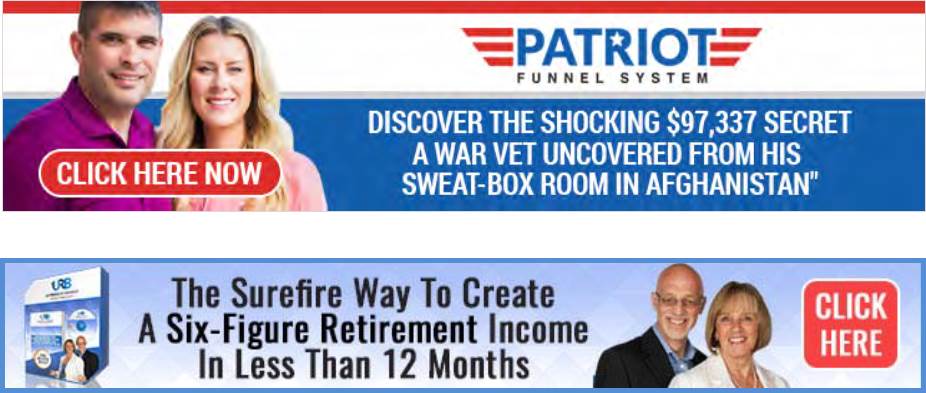 According to the complaint, the defendants encourage people to place their own social media ads, create websites, use copy-and-paste emails, and record testimonials to get others to sign up for MOBE. They also sell members add-on products – like the email addresses of people likely to buy business opportunities. In addition, the defendants repackage their "system" and sell it under other names. According to one ad, consumers can "discover how a poisoned, brain-damaged man … RAKES IN A 6-FIGURE INCOME FROM HOME AND HOW YOU CAN TOO, GUARANTEED." (The … and the ALL CAPS are in the original ad.) They also market the "Patriot Funnel System" with the promise that people will "DISCOVER THE SHOCKING $97,337 SECRET A WAR VET UNCOVERED FROM HIS SWEAT-BOX ROOM IN AFGHANISTAN." The pitch to older consumers and retirees is a so-called "Surefire Way to Create a Six-Figure Retirement Income in Less Than 12 Months."
But regardless of how the defendants package the system online or at live events, the FTC alleges that the primary thing MOBE sells is more MOBE memberships. As a result, the FTC says that very few people – if anybody – achieved the advertised results and that many consumers found themselves in an even deeper financial hole. That should come as no surprise to the defendants, who themselves admitted in a buried fine-print hyperlink that the "average Consultant, which includes both active and inactive members, generates less than $250 per year."
What about buyers who want to take the defendants up on their prominent "100% risk-free" promise that "We Guarantee You'll Be Satisfied With Your Course and Coaching In 30 Days, Or We'll Happily Give You Your Money Back"? According to the complaint, the defendants often failed to honor their refund policy or imposed onerous hoops through which dissatisfied consumers had to jump.
Filed in federal court in Florida, the lawsuit challenges the defendants' earnings claims and refund representations. The Judge issued an ex parte temporary restraining order against principals Matthew Lloyd McPhee (in most MOBE promotions, he goes by Matt Lloyd), Susan Zanghi, and Russell W. Whitney, Jr.; MOBE Ltd.; and eight related corporations. But even at this initial stage, this case – and other recent FTC actions challenging allegedly deceptive money-making promises – suggests that people interested in supplementing their income should be on alert.
Small business owners or others interested in additional earnings are wise to be wary of "systems" that promise substantial passive cash, especially when the system depends on selling others the same "opportunity." When promoters claim to have the "secret" to making big bucks online, the needle on your malarkey-ometer should be in the red zone. The FTC has free resources to consult before sinking cash into a purported money-making venture.
Edited on August 16, 2018 to add:  Looking for more information about this case? Read What you need to know if you were a MOBE customer on the FTC's Consumer Blog.
Thank you! What about policing those Real Estate seminar folks that offer you to Flip properties and Wholesale properties?!? They are NOT telling the folks that they need a lot of regulated purchase agreement contracts and to be in compliance with the escrow and title companies....! They leave out too much information They are not selling the idea of the business, because a lot of it is missing - you have to buy more into it! Then there still is a lot of legal compliance stuff missing.....
This scam has been going on a LONG TIME! These crooks should all serve time and repay all of the "investors" that they "STOLE" from.
Hi, I am from Canada. I have been ripped off by these guys. Is there any solution to get a refund. I have just paid them more then $3000 USD 11 days ago. Where can I submit my refund request..? All websites are halt. What is the best way out to get out of this Scam business. Many Thanks.
I have invested 30,000$ in MOBE just a short month ago. My personal experience with MOBE has been that unfortunately as this article suggests, many MOBE promoters are treating it as a "money making" scheme, very similar to Pyramid scheme orgs. However, as a scientist and a business woman, I have to say that the actual course material is good, and it is applicable to any business, not just for people who want to join MOBE - which is what I was planning to do and only reason I invested in it. I personally hope MOBE can come out of this "cleaned-up", which means they have to enforce business ethics into the way their products are promoted by their affiliates, and instead of making getting rich promises, simply sell what they have which are good quality business education courses. The educational products have value (I have an MBA from a reputable university, I have some idea what a business course should entail). The problem is with the way this system was taken advantage of by many MOBE promoters - including MOBE official reps. That needs to be properly addressed.
More from the Business Blog
Get Business Blog updates