The company's name is MOBE – pronounced Mōb, not Moby – but according to a lawsuit filed by the FTC, the defendants tell quite a fish story to the consumers they hook with money-making promises.
The nine corporations and three individuals named in the complaint sell "business education" products through web ads, direct mail, and live events. (MOBE stands for "My Online Business Education.") The defendants claim to have a "simple 21-Step" system consumers can implement to make substantial income "without creating your own products" and "without dealing with customers." Pitching a "master plan to massive paydays with ease," they promise that "average people with no prior experience online are depositing $1,250, $3,300, and even $5,500 commissions " into their bank accounts "on auto-pilot."
When consumers visit the defendants' website, they're taken to a registration page for the 21-Step System, which the defendants initially offer for $49 or less. But that's just the start. The 21-Step system turns out to be a series of videos. The initial ones offer vague teases about "funnels that have paid out millions and millions of dollars in commissions to people just like you who went through this training" and assurances that later steps will reveal the "secret" method for generating substantial income online. Ultimately, the defendants explain that the "missing ingredient" to making money through the MOBE system is to buy additional tiered memberships and then earn commissions by getting other people to sign up with MOBE, too. According to the defendants, the higher the membership, the greater the commission. Just how pricy are those upper-level memberships? The "Gold Masterclass" costs consumers $4,997 while the "Diamond Mastermind" sets people back a staggering for $29,997.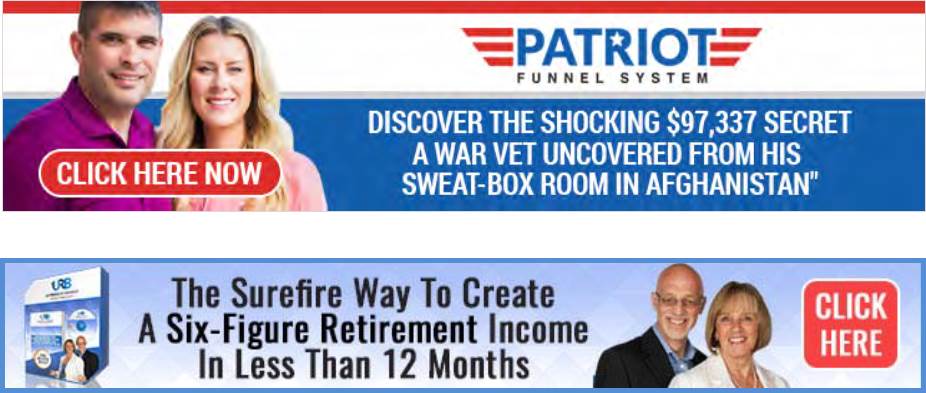 According to the complaint, the defendants encourage people to place their own social media ads, create websites, use copy-and-paste emails, and record testimonials to get others to sign up for MOBE. They also sell members add-on products – like the email addresses of people likely to buy business opportunities. In addition, the defendants repackage their "system" and sell it under other names. According to one ad, consumers can "discover how a poisoned, brain-damaged man … RAKES IN A 6-FIGURE INCOME FROM HOME AND HOW YOU CAN TOO, GUARANTEED." (The … and the ALL CAPS are in the original ad.) They also market the "Patriot Funnel System" with the promise that people will "DISCOVER THE SHOCKING $97,337 SECRET A WAR VET UNCOVERED FROM HIS SWEAT-BOX ROOM IN AFGHANISTAN." The pitch to older consumers and retirees is a so-called "Surefire Way to Create a Six-Figure Retirement Income in Less Than 12 Months."
But regardless of how the defendants package the system online or at live events, the FTC alleges that the primary thing MOBE sells is more MOBE memberships. As a result, the FTC says that very few people – if anybody – achieved the advertised results and that many consumers found themselves in an even deeper financial hole. That should come as no surprise to the defendants, who themselves admitted in a buried fine-print hyperlink that the "average Consultant, which includes both active and inactive members, generates less than $250 per year."
What about buyers who want to take the defendants up on their prominent "100% risk-free" promise that "We Guarantee You'll Be Satisfied With Your Course and Coaching In 30 Days, Or We'll Happily Give You Your Money Back"? According to the complaint, the defendants often failed to honor their refund policy or imposed onerous hoops through which dissatisfied consumers had to jump.
Filed in federal court in Florida, the lawsuit challenges the defendants' earnings claims and refund representations. The Judge issued an ex parte temporary restraining order against principals Matthew Lloyd McPhee (in most MOBE promotions, he goes by Matt Lloyd), Susan Zanghi, and Russell W. Whitney, Jr.; MOBE Ltd.; and eight related corporations. But even at this initial stage, this case – and other recent FTC actions challenging allegedly deceptive money-making promises – suggests that people interested in supplementing their income should be on alert.
Small business owners or others interested in additional earnings are wise to be wary of "systems" that promise substantial passive cash, especially when the system depends on selling others the same "opportunity." When promoters claim to have the "secret" to making big bucks online, the needle on your malarkey-ometer should be in the red zone. The FTC has free resources to consult before sinking cash into a purported money-making venture.
Edited on August 16, 2018 to add:  Looking for more information about this case? Read What you need to know if you were a MOBE customer on the FTC's Consumer Blog.
What happens to people outside the USA. Having spent the last two hours reading all the comments I say Matt if you or someone close to you read this: Come clean with all those who feel let down. Refund all those who want there money back. Me a man mate! front up. When all is said and done you will laze on your island sipping cocktails planning your next move. Lo and behold someone cracks mate and takes their life in utter despair having lost it all..you will have BLOOD on your hands for the rest of your life,,and not all the water in your island will wash away that stain...and mate you will have to look yourself in the mirror everyday...so be a man now and front up. Reach out now to those people who were not under your radar...you only had eyes for the top earners..as that kept you afloat..Be a man Matt Lloyd!
I had a very successful Information Technology career since 1979 having worked for large corporate companies developing software and maintaining software products. During that time I spent a lot of my own money on training that I thought would help me get to a senior management level in any of the organisations. But I soon realised that the training being offered gave no guarantees for career advancement and that the training was so far removed from the real world, that the certification and formal documents handed out with great pomp and ceremony, where not worth the paper that they were printed on. I also realised that I had no recourse against the scammers who took my money, promising me the world if I completed the course and then once I had successfully completed the "Life Changing" qualification, I never got responses to any of my communications with them. Where is the FTC in these situations? In 1995 I decided to enter the world of entrepreneurship and started an IT Contracting and Recruitment business and from thereon I have owned and operated many businesses, including all forms of (mostly scams) online businesses. In July 2014, I was introduced to MOBE and after attending a live event and doing my due diligence, I decided to willingly and without any unfair pressure, invest as a Diamond Consultant. This year I turn 62 and since investing in my education and online business with MOBE, I have learned more in those 11 months, than I have learned from any educational institution. What Matt Lloyd has put together in MOBE has enabled thousands of people from all walks of life and of all ages to educate themselves in practical business training. To create their own businesses and take charge of their destiny. Many of these people have only recently started with what promised to be, their breakthrough in life. Every week I set my goals to complete a section of the vast amount of training material available to me, for life, and then….. FTC shuts MOBE down and with that action, deprives me of the training modules I have paid for. The reason for this shutdown, based on my understanding from the information available, is that less than 200 people complained to the FTC. Where is the justice in that? Less than 200 complaints have now deprived 1000s of people access to the training programs they paid for and in many cases the income from a business that they have set up using the knowledge they have gained from the MOBE training! About 4 months ago I was appointed as an independent contractor to perform as a Business Coach to new clients who had invested $49 in the 21 Step System, to learn how to set up an online business. A large part of being a coach was to attend 3 weekly meetings with management and every meeting addressed the importance of representing MOBE with honesty, truthfulness and integrity. The importance of providing all clients with the MOBE Income Disclosure document was always emphasised As a coach, I have dealt with many new clients who paid the $49 for the program and simply did nothing with it. Numerous attempts to contact them go unanswered. Even though they know there is a 30 Day Money Back Guarantee, still no response or action. However, the clients who responded and decided to go through the 21 Steps, are the people I will remember for a long time. To witness and be part of that moment when they realised that the opportunity to start their own business was within their grasp, will always remind me of what being a business coach with MOBE was all about. So many lives have been forever changed during the 21 Step training and all for only $49. The sadness about the FTC action is that all those dreams and goals have been shattered by a small number of disgruntled losers, who more than likely ignored the money back guarantee time frame, or who simply gave up on creating their own business because it involved personal commitment. How can the FTC, whose purpose is to champion the consumer, be so biased towards a minority complaint, yet ignore the successes and value created by the majority of affiliates?
It's rip off I lost over 3k and I wanted a refund but I couldn't and I tried there method it was a lie especially mike and mike about making auto pilot money. I want my money back plus they use the web my online success.
I hear a lot of people on here who are pro-MOBE credit the trainings that MOBE provide. Personally after attending the Titanium Mastermind and the Summits I haven't learnt anything special that I didn't already know or could have gotten anywhere else for a more affordable price or even free. I also notice that some people are quick to insult affiliates by calling them lazy for not getting the results they desire. I strongly disagree with that stance. A huge part of getting good results is having a large advertising budget. I haven't heard any of the pro-MOBEers who like to blame affiliates for not doing the work mention this in their comments. Believe it or not I am not even anti-MOBE because I have met some wonderful people and had a great time at some of the events. However whether we are on MOBE's side or not the truth is that MOBE was greedy and this ultimately led to its downfall. The screening process should have been more thorough and also MOBE should have done more to protect their affiliates by doing things like warning them about the importance of having a large Advertising budget for their campaigns to ensure that they are in a position to get the best possible results. They should have focused more on educating the customers/affiliates at the summits and masterminds instead of a pitch fest. So to all those who are accusing others of lacking results because they are not doing the work I would like for you to share the following with us. (1) Your financial situation before joining MOBE (2) Your position level (3) Your Ad budget before promoting MOBE products (4) Your commissions earned (5) Your Business and Marketing experience prior to joining MOBE (6) Total amount spent on advertising (7) What kind of mentorship did you receive and how much did it cost? So not because you may have had some luck come your way because you were making a some decent commissions and possibly driving a dream car courtesy of MOBE motors that doesn't mean you are entitled to call others who were less fortunate with their results lazy because guess what luck has ran out on all of us. I'm only hoping that we all get what we want at the end. Some may insist that they want MOBE up and running again, others may say they want MOBE gone forever but I am in the group that just want their refunds for the trainings not yet received and get on with our lives.
I have been a Manger with what was the Worlds largest retailer for over 30 years, as the digital economy became more prominent at the turn of the century, it was clear that this was the future. So I started looking for ways of earning utilising the Internet. Over many years I have invested in programmes and courses that promised loads, and delivered squat, In 2017 I came across MOBE, firstly through a copy of the Limitless book, having read this I felt a resonance and went on to further investigate this Company, investing as a standard consultant (affiliate), no pressure on me to do so, it just felt right for me. I found that the available product and content was excellent, the BEST I had found Online, and answered many questions I had about operating in this industry. I went on to sign up and complete the 21 Step programme and the Traffic programme, the content and coaching was excellent, far more valuable then the costs involved. (remember as an experienced retailer offering VALUE is what brings you success) and I was happy to position myself higher within MOBE. I have met many people in my short time with MOBE, there are many that bought this then did nothing with what they had, just left it sitting there, some had paid 10's of thousands of dollars and did nothing. As a Business Coach for MOBE, when starting one of the main roles for MOBE was to attempt to connect with clients who had 'Gone quiet' and there are many who have done this, the role was one of diligence by the MOBE as these individuals had paid money to MOBE and then for many reasons, done nothing with the Company. To me this shows the integrity of the Management of MOBE, trying to make sure everyone get what they had paid for, and - VERY Important to this case - clients who then - Many days, months and sometimes years, after their original purchase- requested refunding have been granted it. This brings me to my main beef with the FTC action, as MOBE is a Digital Company, taking the action to shut down all links means that customers of MOBE, now cannot access Products they have purchased, This is Illegal, you are not allowed to deprive someone of something they have bought of their own free will. The learning products that re online have to be made available to be downloaded and taken. In the Retail World, even if we caught a thief, we would be as guilty as the thief if we then took product from them that they had proof of purchase for, On that basis this action by the FTC is illegal and should be stopped. The FTC have overstepped in not allowing genuine satisfied customers access to product that they purchased. The FTC now have actually STOLEN from MOBE's customers. Without good reason. The FTC must now redefine this action so that the Genuine MOBE clients are not impacted.
I also signed up for the Silver/Gold masterclass 2478$, and grew kind of frustrated with the process. 21 steps is ok. I never paid the full amount because I'm too broke. Perhaps it's because I wasn't applying myself very hard to this new venture. I want to believe you're right about this. Time will tell.
i had 52 sales and out of those i had 1 $1250.00 backend sale which is piss poor sales matt talks about the sales force is the best but 1 in 52 not what the ebook he has says. If his people close the sales like he says in his ebook i would have over $80,000 but no $3300.00 now i'm broke because i did the work but mobe not living up to what they say
I believe the FTC has no right to stop trading anywhere else but the US. I want my business back.
MOBE is a MLM education company, and I understand that many people have bought MOBE's course but receive nothing yet. You don't have to worry about that, this big company has run for years and it won't risk its existence and trust just for dollars. Although those advertisements are not completely accurate, I learned this company's courses and believe that, you will have results, but you can only have result if you take actions, not just learn. I'm in MOBE for 1 month now and some people in my team, as I understand, implement MOBE's strategies successfully into their business (not about selling MOBE). Stay calm guys
Based on what I read by FTC, I have to say that success is not an easy path in any business. Successful people are always taking actions instead of complaining. I have been a business owner almost half of my life and I know it's very hard to be successful. In Mobe, I see every message, every training, every aspect of the business legit and authentic based on the success that other affiliates have had in this business opportunity by working hard and applying the things that Matt teaches in his programs. The majority of the people join different business opportunities and they are not successful not because of the business but because of they are not willing to: 1. Learn, 2. Take action, 3. Work hard, very hard, and 4. Be persistent. Unfortunately, people think that the fact of having invested money in a business opportunity or any business, will make money come back magically. It's like trying to shut down every martial arts academies because the students paid the subscription and the monthly fee, invested in the implements that they need or will need and the majority don't get their black belt. The majority may think that they did whatever they needed to get the black belt but, did they work enough and were committed get it? The results talks by itself, so the problem in not the martial arts academies but the students that don't work hard enough to get it. Or, it's like trying to shut down the universities and the colleges because the majority of the students don't graduate, or the ones who do it don't get a good job with a good payment as the society teach us that you will do. How much money do people invest in college? How many years they spend studying a career to get a college degree? How many of them earns more than $5,000 or $6,000 monthly to live a decent life? Are the universities and colleges a scam because students don't get a good job or any job in the field they studied when they graduated? Most of the people who studied and graduated, don't get what they were promised they would get. Is that a scam? The world has shown that you need to work a lot in order to get extraordinaries results in life. So, what's the scam with Mobe? I don't get it and I support this company and I support Matt Lloyd.
I joined MOBE in February of this year and have gone through the 21 Steps Program and was finishing up on the Traffic training setting up my Facebook , Aweber, domain name, and Clickfunnels. Now I have invested over $45,000 in my online bussiness and will have to file bankruptcy because of the FTC shutting down MOBE. I don't blame Matt for this, I blame all the false naysayers who did not have the first clue as to what MOBE's education process entails. There are comments on this site from people who are not even connected to MOBE giving their opinions. This is a scheme to shut down their competition. Matt sued and won a case from a copycat company recently. The FTC has no right to shut MOBE down causing irreparable harm to us. We have no means of making money now and paying our debts. Are you happy now FTC? You've caused more harm than good. You should have investgated more thoroughly before passing judgment on innocent people. You're letting 168 people destroy thousands of lives of hard working individuals. So no, I blame the FTC if I have to bankruptcy at age 68.
Dear FTC, I'm a young girl. Yes! I'm very young. I was born in a poor family in the countryside of Vietnam. My parents are farmers, they work very hard on their farm each day to bring up 4 children including me as the youngest child. Now they are over 60 years old but still work hard to get enough money for my good education. When I see they work so hard, I tell myself that I need to do differently to have a better life than them. And I wish I can do something to develop my country and help community. Then I decide to involve in business. However, the knowledge at my university seem to not enough for me to start a business. I need a real experience. It's time when I knew MOBE. I come to MOBE not to make money online but to learn how to start a business in the right way with right mindset. Thanks to MOBE, I learn a lot. I'm happy and willing to invest in my knowledge so that I can give value to community. I started to become a business coach. MOBE has a lot of value training. We have meetings every week. We share knowledge of like-minded entrepreneur. I learn a lot. I also help a lot of students and inspire them to help you get success in their life. I have a big dream is that I can become a coach, a mentor, a speaker, an author and I travel around the world to help other people. And as I told, I'd like to have a better life than my parents. I want to send money back to them each month to give them the best treatment for their health. And I know that MOBE is here to help me reach my passion, my goals and turn my dream become true. I hope that you treat fairly and take a real look into MOBE. Don't sue MOBE. Don't ban MOBE. Don't stop MOBE. Please give me a chance to go on the right way with MOBE to become an entrepreneur and help other people in our society.
Its so sad to hear all these people screaming scam on here and wanting refunds . Mobe was a business like any business it involves risk . In the income disclaimer it makes it clear the percentage of people who earn a profit in mobe .in the agreement that everyone signs with mobe it makes it clear what the business is and the percentage of people who make a profit who join mobe. If mobes advertising is misleading then the ftc should have worked with mobe to make it compliant . If the ftc felt that mobes sales practices were not complaint then again they should have worked with mobe and given mobe a deadline to comply .But instead the ftc have put around 500 people out of work and killed the business's of thousands of affiliates many of whom were making a success of their mobe business . The reason anybody fails in business is usually they quit to soon and or run out of money . America's student loan problem just surpassed a depressing milestone. Outstanding student debt reached $1.521 trillion in the first quarter of 2018 . A large amount of these young vulnerable students were seduced by claims of getting great well paid jobs with their education now work in fast food restaurants or call centres with little or no hope of paying of their loans.The economist reports the average student debt in the usa is $37,172. .Now thats what i call a scam . Lastly if the court decides in favor of the ftc and mobe is closed down there will be little money left for refunds once the ftc and the receiver take out all their fees .
You have to work hard to achieve goals this system works and it has worked for years. People think they can push a button and money will rain down. You have to work implement follow the leaders that are teaching you exactly how to do it. This a real business not a scam. People complain they are making no money but I assure you they did not invest the necessary time to implement and expectation to get paid quickly. So Dissapointed that this is Happening to MOBE and all of us that are successful.
All I know is move has changed my life in a positive way. My way of thinking has changed my business skills have changed I have a totally different view of online business now and life in general all thanks to mobe. You have to work to earn if you are given knowledge and opportunity and you fail to use it please blame yourself. A lot of people have used it and have benefited so why couldn't the failures succeed ?? The answer is simple, they didn't work for it. They just want to lay down and wait for money to come in. It doesn't work like that. Many people go to engineering schools , how many people actually get an engineering job ? Its like that in everybusinsss by the way I think mobe has a very high success rate compared to other business's . have you every read a statistics of new businesses opened and the ones that last even 3 years ?? Please go check that. Well who are those people going to blame ? A bad mechanic will always blame his tools. That's the sad reality of life. Nobody wants to take responsibility of their failure. In my opinion its not fair to shut down a company that thousands have benefited from because 2-3 hundred people complained.
Hi, I am an affiliate of Mobe and even though my investment was not at the $30,000 level, I found the course I had purchased worth every penny, and I would purchase it again and again. Furthermore, I was also promoting Mobe products as an affiliate. and all of those I was promoting had a clear disclaimer stating that the good results shown were not typical and those just starting out should not expect great results. It was clear and stated that it was up to each individual how much money they could make, based on the time they would put in and their effort. Mobe was providing us the courses and the tools we needed, but then it was entirely up to us. All of this was specified in the sales pages and also told in sales videos. Also, as Charli commented above, those who purchased any products (including me) should still have access to them, regarding the investigation in progress.
My name is Ivan Willert, I am a Canadian, I am 70 years old and have been involved with MOBE for approximately 19 months as a Diamond consultant (upgraded to Platinum & Diamond in March 2018) marketing the business education products and online opportunities that MOBE offers. I have also been a MOBE business coach for approximately 13 months and am very proud to say that I was able to help numerous people embark on this remarkable journey. I have owned my own businesses since 1980. I've had some business successes and some business failures. I had one company that went bankrupt, which cost me my life savings and almost put me into personal bankruptcy. I'm an entrepreneur. I didn't complain, I didn't quit, I started over! I retired approximately 8 years ago and since had some unfortunate luck with my investment portfolio which meant I had to find an income source to subsidize my retirement. I considered numerous revenue making options and none of them were very appealing. I found MOBE. I was skeptical at first. The testimonials that I heard sounded too good to be true. Something inside of me said "do it Ivan, give it a try. If nothing else you will get a great education in online marketing for $2,497 USD". Although it was a struggling financially I signed up, positioned myself at the Titanium level, worked with my coaches and started marketing MOBE and what I heard was true. The system actually works. I was making money. The coaching opportunity came to me approximately 6 months later and I assumed that because of my previous business experience that this task would be a breeze. I really enjoy working with people but what I discovered during my coaching role is that most people do not have a strong work ethic, are not prepared to except responsibility, set their expectations far too high, look for excuses when unrealistic goals are not met and are quick to blaming others for their failures. What I mean by this is that most people expect results with a minimal amount of effort and just quit far to early in the game if they don't see results. Most people live in fear and make feeble attempts to accomplish their goals. If unsuccessful they are quick to cry foul and blame others for their failures. This is just human nature. Success takes time!! MOBE is an excellent opportunity for the right people but unfortunately a lot signed up for the wrong reasons and don't belong here. MOBE is not a Scam, it is not a Pyramid scheme! It is a legitimate business. It provides a valuable education and a real business opportunity. There are no guarantees in business. That's life! How many people get a formal College or University education and are not able to make the money what they expected once they got their degree? I've talked to some of them. They came to me as their coach because they are stuck with these huge student loans and cannot make the income that they expected (or were promised). They came to me looking for a fix to the problem! The FTC action against MOBE is wrong and is destroying the entrepreneurial experience for thousands of people throughout the globe. The monetary loss for all MOBE consultants because of this action is irreplaceable. If FTC would have thought this through and done their due diligence properly they should have summarized that most of the complainers are exactly that complainers with unsubstantiated claims. Sure, MOBE is not perfect but what successful company is. Point out the flaws and give Matt the opportunity to fix them. As a MOBE business coach I've learned Matt Lloyd is a remarkable individual with a strong vision to give everybody an opportunity to be an entrepreneur and find his or her way in life. He is a stickler for compliance and as a coach is on our case continuously to ensure that we are being truthful with our clients and as a consultant that our marketing campaigns are not misleading. Unfortunately, some consultants push the envelope and post ads that are misleading. When this happens, Matt has the ad shut down for non-compliance. The FTC action is uncalled for and they need to be held accountable.
I have been working with Matt and More for a year. What MOBE does is gives you a way to create your own business. After you learn all about online marketing, you may decide for yourself if you want to sell his educational products or use what you've learned to produce your own product to sell. I chose to sell his educational products BECAUSE as a teacher with a Master's Degree in English/Curriculum and Instruction, I found his curricula to be EXCELLENT. Those who complain are the people that want something given to them , not to work and/or start their own LLC . Once you get your own business started, you're on your own. They want it given to them. I will stand up for Matt Lloyd.
I have just paid for gold/silver and paid most of the money for titanium, until one week later unforeseen personal circumstances lead me to revoke my titanium membership and just one day before i heared about Mobe shut down I'm in urgent financial need to cancel both memberships because of hospitalisations of my son and my sister. I urge Mobe and FTC to reimburse the so far paid money before so many people face far worse situations. I'm now left in a financial crises scenario, trying to hold onto my house and somehow support my family in desperate need.
This is a money pit. Even after you set yourself up ($30k plus) to "position yourself for better commissions", you still have monthly dues and other mandatory fees & "training" expenses.. And those never stop. I'm in for around $15k plus the money spent & lost on advertising, so hopefully down the road I can get some of that returned.
I joined Mobe three years ago when I was in my mid-sixties. I had been working and learning online at that time for over 2 years after a 30+ year Corporate Career during which I had been in top management positions in companies of all sizes. I qualified as an accountant when I was 21 and went on to complete my Master's Degree in Business, a few years later. But my education didn't end there. I spent my entire corporate career investing in education and training for myself and my people. That's how we grow and how we stay relevant in this ever more dynamic world. And high quality education and training is not cheap. The reason I found Mobe in the first place was that I had carried out an extensive search online to find a business opportunity that I was prepared to recommend to people who were interested in my other business, where I am helping mature people like me, to create a long, healthy, prosperous and abundant retirement life for themselves and their families. My search for the ideal online business opportunity for those people took a lot of time and effort because there were so many opportunities out there. I reviewed most, if not all of the more popular systems available online at that time, and frankly I was becoming despondent because, in one way or another, I could not find one that met all my criteria, and frankly many of them looked like scams. Then one day, browsing online, I found an advert for Mobe and somehow it seemed different. I watched a video presentation by Matt Lloyd and was so impressed I decided to invest a mere $49 to take the 21-step introductory training to learn more. I had not intended to join myself, but after doing the 21-step training with my personal coach I had learnt so much and was so impressed, that I joined at Platinum Level (The top program at that time). What I had learned from this initial program, for anyone serious about starting their own online business, was easily worth $1,000, probably much more; regardless of whether or not they ultimately decided to move forward with Mobe. If people stuck it through the 21 steps, they were well-aware of the investment they would be required to make to move to the higher levels and what they would get by making those investments. This knowledge would "Weed Out" many of the 21 step buyers who were not prepared or able to make the investment, not confident they could do it, or just not willing to put in the time and effort to get their business started. It was made abundantly clear to them that if they were looking for overnight success they were in the wrong place. Mobe was a real business and real businesses take time, investment and effort before they make money. Two years ago, I applied to become a traffic coach for Mobe. I wanted to learn to coach the system myself, so I be able to coach people in my other business personally. Being a Traffic Coach has been an amazing experience for me. I worked with a small, elite team of people, many of whom have been successfully involved in Internet Marketing for up to 10 years. We shared regular weekly trainings and the skills and knowledge of the more experienced team members was shared freely with the other team members. The step by step video-based "traffic coaching training program" developed by the Traffic Coaching Manager and his business partner was, in my opinion, by far the best online business training program available in the online world today and was available to all consultants from Silver to Diamond levels. Once the new consultants completed this program, they were fully set-up to promote their Mobe Products (Or anything else they chose to promote) online using the various 3rd party platforms available. As traffic coaches we were required to follow this strict curriculum so that the students we coached would, if they followed the training and put in the initial effort and investment in marketing, be able to set up their promotional funnel, write effective ads, place their ads and understand how to monitor and fine tune them progressively based on their results. We were consistently reminded by our manager and Matt Lloyd personally, that the interests of our students was always our number one priority. I am proud to say that, with my guidance through the curriculum, many of my students achieved success and were fully prepared to manage their own Mobe businesses going forward. I am shocked to learn that the FTC decided to unilaterally shut down MOBE without getting all the facts, and instead relying on the moans and groans of a very small minority of Mobe Consultants who, for whatever reason, failed to take advantage of this amazing opportunity. Unfortunately, there are many people who fall into that category in every business, and I experienced many of them in multiple companies, throughout my long corporate career This FTC action seems to have been initiated without taking the time or making any attempt to get an understanding of the views of the many thousands of Mobe consultants who were making the time and effort to make their Mobe businesses an ongoing success. The damage this has done to these hard-working people will far outweigh the damage done to the minority who initiated these actions. By failing to do this, the FTC is causing irreparable damage to those pro-active entrepreneurs and their families by depriving them of income from their businesses which were actively promoting MOBE and investing their hard-earned money in marketing campaigns. And of course, massive damage to the Mobe brand that Matt Lloyd has devoted at least the last 10 years of his life to tirelessly building. Based on my understanding, the reason for this shutdown, seems to be that a small minority of the people who invested in MOBE's education, were unwilling to put in the work and commitment to make their business successful are whining about losing money, even though the loss of money was the Effect, not the Cause of their failure. People need to accept responsibility for their own decisions. That's what entrepreneurs do. They were certainly fully informed before deciding to invest and upgrade. MOBE provides all consultants with great education to begin their own journey and build our own business, but at the end of the day, the results will be determined by their own efforts and determination to succeed. In concluding, I want to make it clear that I understand that the FTC has a difficult job and has had great success in protecting innocent people from unscrupulous businesses. But Mobe and Matt Lloyd are neither unscrupulous or a scam. Quite the contrary I urge you to consider my submission and take urgent action to implement a more balanced and broad investigation and allow Mobe to get back to business ASAP, working within any new guidelines you decide are appropriate. Thanks for taking my views into your decision process.
I have been part of MOBE as a consultant and affiliate since 2014 and MOBE always has offered the best service but before I made that decision I was always looking for new ways to improve and boost my current restaurant business from sales and marketing standpoint when I decided to invest in the marketing courses to learn and apply in my current restaurant business it was never disappointing my current business is doing alot better then what it used to be and I could of not been any happier until FTC took that away from me and my family as I learned and applied all the marketing concepts that I was taught in the courses and actually put it to work. As per afilliate and consultant standpoint MOBE was always straight forward with the rules and always paid my commissions on time and never had any issues as I followed the trainings that was designed the 21 steps and always put to practice what I was taught and saw good results in return. From my perspective this should of never happened to MOBE as I have been reading alot of those comments that people lost money in MOBE and honestly it was all because of lack of work from those individuals that never applied the concepts that was taught in the trainings and expect the business to make money for them, putting work is essential on daily basis to successed in the business world as no one else is going to do it for you as you know when you own a online or offline business or any franchise system you will need to have capital and funds to invest to keep up as you going to work 10 times harder to make it all work and that is what entrepreneurs are about. For example there is two people and one of them is putting all the work and following the training step by step and has put in what has taught in practice on daily basis and getting good results in other hand the other individual joining the system paying money for it and never actually put in any work or has not followed the training exactly and never put nothing in practice and failing and wondering why the system is not working and I think by now you understand the point. As more people woke up and saw the truth on how our economy is made MOBE was attacked to ruin its reputation as it was becoming the best online education platform out there until this issue happen that effected thousands upon thousands of individuals that includes me.
I am surprised at the lack of personal accountability & responsibility for one's own actions! As adults we must due our diligence before making any big decision. I chose freely to enroll with MOBE as my business education Company & platform of choice. I invested $75k in the last 15 months & it is the best investment I've ever made in myself! It's been a ton of work, blood, sweat & tears but I have built 2 companies because of the real world training I received from successful Entrepreneurs! Matt Lloyd is an incredible & honorable businessman, a mentor to thousands arcross the world who he has inspired to live bigger & go after their dreams of entrepreneurship. Interesting that the 70% of college graduates who can't get a job in their chosen field do not blame the University. They ask for their tuition to be refunded & they don't accuse their professors of fraud?! So why on this platform which is taught by successful Entrepreneurs with real world experience is it different? It is up the individual to take what they learn & apply it. I did & I made almost all of my original investment back in the 1st 12 months. Now tell me again how it's a scam??!
I joined MOBE in January 2017 as a 21 Step program student, then became an affiliate, and shortly after became a coach for the same 21 Step program. After extensive university education, and a few decades working, more often self-employed, one of my main areas of concentration was training people in a field where no "traditional" education was available along with ocean-crossing sailing, where improvisation is not even an option. Below are my three levels of experience with MOBE as a student, a coach and an affiliate : all three are solely my personal reflections. As a 21 Step student: I was first skeptical and intrigued: I did my "homework" searching online only to primarily find negative reviews. Too many to be honest…., which got me thinking on how so many off- and online businesses having so little to promote in the first place, burn competition to the ground, hoping to drive attention/traffic to them. Hmmm, now does that sound familiar to anyone?? I more or less instantly decided MOBE was probably very much worth my attention. I was then convinced through the seriousness and high professional standards of the program, in a space these words itself are often meaningless. I finally ended up exhilarated by the business model and the guidance offered and delivered. As a coach: upon reading most of the complaints I feel personally insulted and professionally baffled: it just doesn't even sound like they're referring to the same program. Right from the very beginning of the course, I will always make triple-sure the following is perfectly well understood: otherwise those people will get a refund, unquestionably. - Extreme emphasis is put on the fact this is a business, not a "three clicks, two weeks, one million $ scheme". - Over-insisting on the difference between a business being a scam and people scamming themselves: on average 50% of students have already signed up for 5 to 6 different programs. Few are 1st timers and most have extensively researched MOBE prior to signing up. - A business, whatever business, will require investment, time and persistency (even with a heavily assisted/guided program) - Any potentially successful business requires EDUCATION: MOBE is first and foremost an educational platform, that offers extremely viable alternatives to traditional ways of making a living, living under one's own terms and taking full responsibility for their decisions and results. - Entrepreneurship is the extreme focus of this program, it will be ongoing and in-depth: that journey is personal, and no one will do it for them. Condition sine qua non. Once the above is perfectly understood, the fulfillment as a coach is tremendous in positively impacting people on how they can become crafters of their own lives. The vast majority will drop out, not feeling entrepreneurial enough to make change happen in their lives. The $49 program is refundable within 30 days of sign up. Some will start off with no further investment: either by lack of funds to get positioned or needing/wanting more information. The initial $49 give access to all of the training and affiliate links: up to them to use all tools available, before sometimes investing later on. The remainder will invest at the different levels offered, choosing according to their personal criteria, exactly like in any formal business. Some are already business owners and find great value for their current occupations and/or as a business opportunity. Bottomline, it is all a matter of choice, in a documented and educated way. As an Affiliate: I am fully positioned at Diamond, considering the business model unique and incredibly valuable. The investment is well worth the potential ROI, and degree of knowledge available along with the implementing tools are at top-notch levels. The TRO "ex-parte" (the "ex-parte" is what shocks me the most) has slammed the brakes on my sole income stream, along with many thousands of other consultants'. We all need back what we invested in, and I am trustful that the FTC will obtain the required evidence leading to lift the TRO Matt Lloyd is an extremely meticulous and visionary young CEO, and he seems to me very proactive in making sure everything is ethical and compliant for the good of all. Some aspects need to be worked on, exactly like in any industry or particular business. Having met Matt Lloyd, I cannot imagine him not striving to set forth every possible way to ensure that promotions consultants (affiliates) send out are not subject to misinterpretation. In the event they were, and this is absolutely key, regardless of how someone discovers this program : every single prospect affiliate will be coached through the training in order to very clearly understand how the system works : at that stage, there is no way anyone can claim to be misled. This program fills tremendous gaps in our traditional educational space, whether off or online. It offers real-world knowledge on how to start and scale a high ticket online marketing business: the results will exclusively depend on one's determination and persistence in using all possible tools available. This business model is definitely very close to what tomorrow will look like: already nowadays companies are externalizing, and many fields use home-based personnel. Current degrees and the corporate world are so often failing to even enable decent living conditions: we need to consider this model very seriously as being part of our real world education system. Let's not forget, only a few decades ago, franchises were considered barely legal: who today would put them to doubt?? Matt Lloyd has my unconditional support, now and in the future. I trust he will have a fair hearing, here in the USA, where we stand for innovation, free-enterprise and equal rights.
I joined MOBE 3 years ago and never earned a cent because I didnt promoted, but I was earned MILLIONS OF $$$ of THE BUSINESS knowledge, just from free training video which Matt offers in ASK MATT LLOYD where he answers all questions related to business, plus they also offer free high-valuable contents of in their blog, in different subjects including: start a business, Grow the business, Grow wealth. Which this personally boost my business knowledge and make my mindset fresh and also implement whatever I learnt in my own company,.and it really helps me to scall up my business to the next level. On the point once someone joined the 21 steps, there is no one force them to upgrade to the higher membershops and no promise them with gurranteed results, that depends of how anyone take action, work hard and follow the system and implement the steps effectivell. Otherwise MOBE is a great business seminar international training company, thay offer high quality training products, events , to small business owners and entrepreneurs, it LEARN and EARN biz opportunity, means that it not mandatory to promote MOBE as affiliate, but anyone can just buy their products and events to learn and implement that whether in their companies or other online businesses. Finally MOBE is not scam, it a real business global company and awarded with THE BEST ONLINE EDUCATION company. I hope FTC will take considerations of all positive comments and return back MOBE to operate their business as usual. Thank MatT Best regards MR. ISMAIL ELOUATIK from MOROCCO
Dear FTC I'm Canh. I live in Viet Nam. I try a lot of time to find a right way for my business and it's empty way until I know Mobe. And the result better than I hope. Through Mobe's training, I got right Knowledge for online marketing and My life became happier. I hope MOBE can be opened back soon. And share the value to everyone like me Thank for reading my letter
I have invested a ton of money in mobe and now I'm stuck. If all of our products that we purchased are shut down, then this is product that we should be refunded for. I have coaching sessions, training events, membership items that I have not received. We need to be compensated for the products and anything we haven't received. How should we go about getting refunded? Call the credit card companies? Please advise
1. Forgive me for being blunt, but from where I stand it looks as if the FTC has behaved recklessly, and has hardly done themselves any credit in this case.. I am a 65-year old entrepreneur, and who has worked on 3 continents and on 34 countries in various businesses, having first qualified as a UK professional (Chartered Surveyor) in 1981. I had spent more than 10 years examining various ways I could educate myself to run and expand my small businesses and leverage the online world: at long last I eventually found MOBE. I have invested in my education with them, and it has cost me thousands. Often I used money I found difficult to afford. 2. I was always happy to do so, because I found a level of practical education that far exceeded any of the University courses I had attended from the UK (Manchester, Cambridge, Warwick, and Reading Universities), in France (Paris University VI Sorbonne), in Italy (Collegio Ghisleri, Pavia University) and in Australia (Curtin), and even the professional education courses I had to undergo to qualify professionally. Everything I have seen in MOBE is extremely valuable because above all, it is practical. It is very beneficial to me as a small business operator because I can learn how to make more money by finding more clients. Partly that can be explained because almost all colleges and universities are intent on providing the business education that major corporations want; which is systems whereby employees can be subdued and kept hard at work, and the competition can be stifled. The LTC remit in the anti-trust area implies, amongst other things, that the creation of monopolies is not in the public interest. As administrators of anti-trust legislation the LTC must surely know that big corporations destroy economies: any healthy economy is made up of many thousand times the number of small companies than large ones. The public is also well aware of this, and in fact this is borne out by the phenomenal numbers of people (as I have seen at first hand with MOBE) who want to leave the status of an employee to become their own boss, in their own small firm. MOBE taught people everywhere how that was possible and accompanied them in doing it step by step, in courses and by using coaches to ensure that they actually applied the lessons until they produced the profits they were seeking. 3. However, I personally have not yet had the time to benefit as fully as I would like from that education. In order to earn and so be able to access more MOBE education, I also joined as a coach in addition to my other business commitments. In this way I was able to access their topmost education level, which I completed just 2 days before the FTC stepped in. In the meantime, what has the FTC done? It has taken away any access to the very courses I spent so much on. This is a tort the FTC has done to me and to thousands of other paying clients. Where is the equity in this behaviour? I want my access back! I paid for it: I wanted it when I bought it and I still want it! 4. It is said the FTC only acts upon complaints. But should that excuse it from examining the validity of the basis of claims? Truthful statements were made by people who made a fortune, saying that others could do the same. That is quite literally true. There were frequent and prominent disclosures stating these cases were exceptional and that the majority of customers did not make anything like those amounts. Maybe the disclosures should also have stated that the majority of customers are too lazy to do anything – even to answer phone calls! This has actually been my experience in many cases. Regardless of the above, does anyone really believe for an instant that people cannot tell that these are exceptional cases, with or without disclosures? This head of claim looks to me as simply a case of bad faith. 5. Similarly, does anyone believe anyone cannot tell when they are being pitched to or sold to? Does anyone at the FTC really believe that people are THAT stupid? Yes, some people are complete idiots, but they are usually protected by personal court orders. 3 And even if some are stupid, why does that justify getting rid of the 2000-year old legal principle of caveat emptor (let the buyer beware)? The FTC is not there to protect the stupid, but if it accepts the claim it will in fact be protecting the lazy (those who have not tried) and the dishonest (those who want something for nothing). 6. Why attack the best resource out there (as far as my 10-year search could find) to help people set up on their own? This leads to a question of principle: how is anyone supposed to teach people how to make money legally without making earnings claims? Making money is quite simply the only essential feature that all businesses have in common. Proof of earnings, in the form of credible testimonials, is the only viable way to show small business owners that a system works. Of course, they have to be accompanied by appropriate disclosures, which they were at MOBE. However the suggestion above about calling lazy clients what they are cannot be easily used, because it is mostly considered bad form to insult customers: even when it is true. That is in essence the old principle of "the customer is always right": which explains why things were the way they were at MOBE. 7. Now for the issue of refunds. Reading the proceedings, it seems some customers were not satisfied with MOBE's refund policy. But is the FTC aware of what that policy was? During the 21 Steps, if any customer was dissatisfied for any reason (including if they did not like the shape of Matt Lloyd's nose, for example) they were reimbursed without question at once. They only had to write to the Support department to state they wanted this: surely this was not unreasonable? Once they had been refunded, they were also invited to carry on and complete the rest of the training free of charge, if they so wished, provided they disclosed the reason for their asking for a refund. Surely that is not unreasonable either, and in fact I know it was even used in the case of certain clients who simply asked for a refund in error! 4 If they completed the 21 Step training (which almost always took at least a couple of weeks, in which time they had plenty of time to consider the wisdom of purchasing the next level of training), they could then upgrade to Silver level and higher. Because each successive level beyond the initial 21 Step training was something that each customer had plenty of time to consider beforehand (we coaches were encouraged to discuss financial arrangements with customers, including enduring they had a budget for advertising) there were no similar refund provisos beyond that level. Is that unreasonable? We are talking about adults in full possession of their faculties, who were also being trained during the early 21 Steps about how to better manage their income and perform budgeting, amongst other things... It seems to me the claims about refund policy are simply spurious...how can one claim a refund if one has never used a product to see if it works in appropriate conditions? If customers have not been in touch with MOBE's specialist coaches who explain in detail what to do in order to be profitable, how is it reasonable to refund those people? To use reductio ad absurdum to illustrate the point, if MacDonald's customers try and say they do not like a Big Mac, should they be refunded? With a bite out of the burger? Or how about if they only licked it? 8. The legislator gave the LTC a sledgehammer...which is needed in order to deal with anti-trust provisions. But really, was it necessary to use this kind of total business suspension to crack a nut about alleged inadequate disclosure and about refund policies in MOBE? Why is the FTC unable refer the case to the Better Business Bureau, since it is a more appropriate forum? The BBB can serve compliance notices, and discuss with management what is required to become compliant, without shutting everything down, and depriving customers of their purchased items. Is the FTC truly required to claim jurisdiction over all complaints? That hardly seems reasonable, and it looks mightily like an abuse of power. Whatever happened to the principle of de minimis non curat lex (the law does not bother with small matters)? 5 9. Who does one complain to about abuse of power by the FTC? The US Supreme Court? It seems likely to come to this given the level of tort done to innocent third parties by the FTC in this case, apparently without much care aforethought, by acting in a high-handed manner, and with no prior notice (as far as I am aware). Many people around the world raise the issue of the lack of the test of reasonableness in US law. This is evident in civil cases where judgements do not separate damages for reparation from penalty awards, and in criminal cases where people are sentenced to hundreds of years (many lifetimes) behind bars. This does not do the US legal system any credit and makes many observers think US law is more an ass than is usual in major democracies. Is it not about time simple reason was applied in the very country that is supposed to be the home of enlightened thinking? Surely this is a case where an FTC ruling can help to rectify years of unbalanced judgements, and offer a better way forward for the future. In the end, the issue is, is the FTC led by sufficiently enlightened minds to make the right judgement and correct the wrongs it has committed itself?
I made $176 on a $126,000 investment, putting everything on credit cards MOBE got me from Fundwise.. I was in the middle of One on One Mentorship when the FTC shut down MOBE. My charges were almost a year ago, and instead of helping me curtail any more costs, the coaches continued to bombard me with suggestions about how to make money faster and faster and faster. I did the work. I studied. I watched the endless litany of videos. I learned, but the ROI sucked beyond any reasonable person's understanding. I truly believe MOBE is a Ponzi scheme because the highest commissions go to affiliates who sign up others to go Titanium, Platinum, or Diamond. That carrot is always dangled out before you. I was taken, I was conned, and I cannot get the bank to reverse the charges because they were more than 120 days ago. I believed in myself that I could succeed as an affiliate marketer, and MOBE just ripped me off. I hope the FTC rips them to shreds.
Everyone defending MOBE is pointing out the "great education" you get from MOBE training videos, sessions with coaches, etc. etc. I paid $126,000 "tuition" for my education. I believe that's higher than one year's worth tuition at Harvard Law, and I have NOTHING to show for it. MOBE"s operations are down, perhaps permanently, so I have no products to market. Unbelievable. I knew months ago that something smelled fishy when I realized that the highest commissions are achieved by bringing in new bodies at the Titanium, Platinum, and Diamond levels. Classic Ponzi scheme. Think Bernie Madoff or the Big Tobacco cases. The people who were hurt did not get a dime, but the attorneys sure did.
I was lured by a free live event then hooked to buy a 3 day workshop of $497 then they made me strongly believe that this is a system that can make money easily by upselling me into a Diamond membership of $60,000! Then, the Coach tried to upsell "We Sell Good Traffic" where they sell $49 buyers for about $250 each buyer. I believed her and paid nearly $8000 for 32 buyers. There were more than 10 buyers requested refunds and only 2 out of these upgraded to Silvers and the rest was not. So, I made a loss here! The Coach also advised me to buy MOBE's Solo Ads, I listened and spent around $1000 but nothing worked! MOBE encouraged me to go to Super Charge Summit where I went and they tried to upsell me a mentorship of $25,000 of which they claimed that anyone who wants to be successful, she/he needs a Mentor! I bought the mentorship from if of their top earners for $20,000 (instead of $25k) just learn how to run live events through facebook. I spent for nearly $7000 on my first campaign and made only $$2500, clearly a big loss again! It was not easy to make substantial income at all. By the time achieving to that level, they asked me to spend more money on WSGT or more on advertising on live events, or more on advertising $49 for 21 steps. But have accumulated a massive loan of which I am struggling to pay at the moment and wont't be able to obtain more funds and run the ads any more except I have to do warm traffic and was extreemly difficult! MOBE business is not just "referral" but you have to do ALL the hard work to make the sale happens. Most of the Coaches are not helpful and MOBE's support was extreemly unresponsive! Their Call line was NEVER picked up and they never called back! I really want a refund for my Diamond membership beacuse this system was a Scam and not as easy as what they promised! I did not make substantial income as at Diamond level as they said, it was not that easy to lure someone to buy Diamond to gain big commission. In obtaining that, you have to spend thousands and thousands of dollars on advertising to lure people into live events alone with a slim hope that someone would buy a Diamond!
My husband and I have been with MOBE for a couple of years, went to their events, followed all their trainings...learned so much, learned to acquire leads, run a business and produce an income. It was not easy, that's why we pay a tuition to study, get coaching and learn how to do it. The "expensive" tuition fee that we paid for all our MOBE courses was well worth it and the results that we got, probably beats the results of taking up another "expensive" college degree in Business Management or Marketing. We have paid off our MOBE tuition within the past 2 years of following the courses and running the business. As for folks who take "expensive" college loans, how many years before they pay off their tuition loans? We choose the rate at which we pay off our loans. We have learn so much skills from MOBE. This has empowered us to help others. With our MOBE-acquired internet marketing skills, we have volunteered and helped a non-profit, autism-empowerment group, to reach out, find, and truly help many other families with loved ones with autism. This group saved more than 90% on advertising and reached almost twice as many people, thanks to what we have learned from MOBE. There is so much we can do with the skills we acquire from MOBE. No other company teaches internet marketing, and all the requirements of running a business, better than MOBE. The good students know it, and know how to utilise what they have learned. We hope FTC makes sound judgements after collecting all information from all the people who are truly affected by their decision.
Matt Lloyd is an entrepreneur who has devoted the last several years to sharing his knowledge and success with many, many people around the world. MOBE is not a scam - Matt has provided some of the best training and education in the industry. I am a 30+ year veteran from the business training and education arena. Until 2014 I worked in the ERP software industry and during my tenure created and maintained training material - written user guides, videos, hosted webinars and led in person one-on-one and group training programs. I am considered an expert in my field as a consultant, trainer and implementer. And it is the level of expertise and the quality of training material that initially drew me to MOBE and the ongoing training that Matt has provided through emails and webinars, and through upgrades to existing material, through mastermind programs that deliver training from some of the entrepreneurial worlds best, that has kept me going back to the training and applying what I learned over and over. The one thing I learned over the years as I worked with end-users, business owners and also Partners of the software company, is that there are always people who complain, there are always people who will do nothing and literally expect you to open their heads and pour the knowledge in so they can continue to sit back and do nothing but still reap the benefits. It is unfortunate that MOBE has fallen prey to such people and that those of us who made the monetary investment, and the time investment have now been deprived of the training and Matt and his teams ongoing support in our own businesses. The marketing knowledge and clarity of understanding I gained over the years I have been affiliated with MOBE has taken me from being completely ignorant in the world of marketing to someone who now has the skills to continue building my business. I would however very much like to have MOBE back on track so I can continue to have access to the training material that has been shutdown. I am in the blessed position that I have taken to heart the training and education that so many leaders repeat over and over of ensuring multiple streams of income however there are many who have not yet reached that place in their businesses and are now finding themselves stranded. It is my avowed hope that the FTC and courts will consider the good that Matt and MOBE have shared and the exceptional value of the educational material that was provided and not only look to those who complain, always complain no matter what and also give consideration to those who actually reaped benefit from what we learned. Thank you.
Mobe was a great business model and Matt Lloyd was anything BUT a scam artist. The guy worked his butt of for 10 years to successfully produce, from the ground up, a company that benefits others. For someone like Kevin Harrington, one of the shark tank originals, to put his name on to the company... I'm pretty sure things were legit. I'm pretty sure they were legit because I took part in them, AND was on track to doing well until the company for shut down. It took me 5months to make my first big commission, and then I did it again the next month, because I followed the training and put in the work. For a legitimate online business, that's still fast. So many people give up if they're not raking it in in a month. Use your head! You have to learn something completely new!! You're basically going back to school! Mobe is a business for people that aren't afraid of hard work. You have to motivate yourself to learn. No one holds your hand...that's why it's called entrepreneurship and owning your own business. Matt created something great. Expert business advice of "THE NOW" being taught by experts IN the industry. That's amazing!! I wish I had gotten the chance to actually get the live training I was on track to get. I was suppose to go to my first Titanium event this summer. Thanks FTC. God forbid something gives people freedom.
The only SCAM i see happening here is that the FTC shutdown my training materials and my access to the tools that i needed to get a start in the online business world. Until this happened I never have heard of the FTC, i'm not American, never visited America and i don't live there. Where is America anyway? How can a government from another country Stop me from learning something that I found value with and paid for? Are the FTC going to refund me? I looked up the FTC on the internet and found that only 2 years ago that the FTC investigated Herbalife. Did Herbalife get shutdown, I don't think so. Is that because it is an American company? I want the FTC to enable people like myself who paid for training to have access to it. Open up the bloody websites so i can continue training. Like i said the ONLY SCAM here is that a foreign government has stopped me in my tracks from learning
...im sorry but if youre one of these peooke that signed up and got scammed. Either you are not very intelligent or didnt read what they were selling. They straight up tell you that you are going to be selling mobe products... and there products are online courses.. to sell mobe products.. which is online courses on how to sell mobe products lol.... its a mobe products you ate very first introduced too.. yes they are crooks and should be shut down. But you guys should have been more smart with your money.
I would like to agree with Breeze's comment also. I have invested a significant amount of money in the MOBE courses and licence rights - and so far, I have found the education to be excellent, and applicable for any manner of business - certainly not just for promoting MOBE products! Up until the moment the FTC withdrew it all, I absolutely felt as though I was getting value for money from the courses, systems, analytics, and personal one-on-one traffic coaching. I'm not saying it was perfect, and personally I did find the continuous selling of further product and learning opportunities a bit pushy and annoying - but it was always 100% my choice whether to go for it or not. I would perhaps recommend a change to the $49 introductory course offer - it can seem as though people have to invest further before being allowed to complete the course, but that's not actually true- a number of my people have been given access to the rest of the 21 Steps and the subsequent traffic training, without purchasing anything else. So my recommendation would be to make this clearer to people when they reach that stage, so they don't 'feel' as though they've been had. With regards to refunds - I know many people who did get these refunds with no problems at all (as long as it was within the stated period of course), so I'm sorry and surprised to hear if some people had a different experience. Overall, I hope that this issue is resolved quickly by the FTC, that MOBE is allowed to continue operations, and continue providing the education, support, and coaching that many of us benefit from.
I joined MOBE in March 2018. Purchased 21 Steps for$97 with an upsell for and extra $97. In the month of April I was instructed through the 21 steps to purchase audible books from Amazon for a total of $47.90. I purchased the silver masterclass for a total of $2,497 on 4/17/18. Purchased the annual inner circle on 4/23/18, which you are instructed to do to be a consultant for a total of $512. To have MOBE check to see if you qualify for funding they get you to purchase a credit report with Credit Check. I purchased this on 4/20/18 for a total of $61. You are yo pay a monthly consultant fee of $19.95. I paid annual on 4/30/18 for a total of $179.55. You are also required to purchase click funnels, Aweber, domain from Go daddy and word press. I purchased go daddy for $52.41, word press for $350.00 on 4/27/18. Purchased Aweber on 4/30/18 for a total of $32.67. Purchased click funnels on 5/11/18 for total of $19. I still have a coaching session with my traffic coach. I have not had a chance to promote MOBE to make money. I put my life savings into this. I would like a refund please? Email
lacymainor@yahoo.com
. Thank you.
I'm disappointed reading some of the comments that people resent having to pay for education purely because they made no money. In the real world it's almost impossible to be in direct contact with market leaders that will sit in a Mastermind a share everything they know. Sure, it's not free, but you're paying people for their experience and their knowledge. That's intellectual property, and time; the most expensive commodities there are. Ask a industry leading lawyer how much they charge per hour. I've learn something new every day from people I met through MOBE. I'm connected with people I can call on to resolve problems or tell me where to find the best solutions, or I can find it in my training programs. If the FTC believe Matt's sales methods are heavy-handed, then that's their call. But the bottom line is that there is a clear Income Disclaimer that states average earnings. If you're going to hand over a check, then you have a responsibility to yourself to read the details and the contracts. Further more you better be prepared to put some work in and focus on using the training to build your own business, not just being a MOBE consultant. That's what they are teaching you to do. It's called My Own Business Education...or are some people missing the headline. Matt openly built training resorts in both hemispheres to give access to people from everywhere in the world. He automatically paid people every week or two weeks for the commissions they earned. The company structure works the same as any other American or global corporation. Subsidiaries do the work, and get paid a slice for being allowed use the resources and branding. Some do well and others don't. If FTC believe certain statements have been outside regulations, I respect that, it's their role to investigate. But, please address those issues rapidly and get MOBE back in operation. There are tens of thousands of people who HAVE got the stomach to create small businesses and are relying on the education and resources that has been taken away. Education and resources we have paid for. I'm sorry for the people who got cold feet after spending a couple of grand, or spent big money in the the wrong area of their business and are looking for someone else to blame, but the rest of use want to carry on with our education. If you don't get the kind of job you were promised within a couple of months after leaving the university system you don't ask for your fees back. You go back over your school books and get better at what you've been taught. Then you work hard until you've paid off your school loans. FTC, Please see common sense.
To whom ever this may concern I am a college graduate in Business Administration and ever since i graduated in 2004 I have been in debt with numerous students loans and never the ability to payoff. Graduating any University will never guarantee a job or your success but one thing is for sure you have to pay your student loans. With that said for 10 years before I found MOBE I was a successful mortgage broker trying to just survive. MOBE has provided the 1 thing i was missing in my life Time Freedom to spend time with my daughter and family. When i went thru just the 21 steps i learned and became more knowledgeable than all my years in the university. Why I joined MOBE my experience far exceeded any expectations I ever received in any online system I spent thousands of dollars. Not only did I receive a coach, training, guidance, mentorship but all the tools to be successful in my own online business. It doesn't stop with the 21 steps but with training products, traffic coaching, ongoing support, daily webinars and online training modules but also received all physical products and books. Why I joined MOBE's team as a coach. Do to my exceptional experience one thing I love is to help and guide others to have the same experience with an experienced, ethical, legal and moral way with MOBE. We have changed so many peoples lives everyday. This is a business and in the end we have never guaranteed anyones success that is only dependant of yourself even if we provide everything to be successful. One major thing I've learned is Mindset, Discipline and Commitment are 3 keys to be successful in any business and what you put in is what you will get out. During this Tro from the Ftc we have put a stop to so many lives, families and their success. Financially and spiritually. We hope this matter can be resolved quickly and in a Fair manner and realize the positive influence MOBE has had to so many people around the world. Sincerely, Keren Ubinas
Me ayudado en ganar dinero en dólares, conocer personas de otras partes del mundo y aprender técnicas para generar dinero y como capacitarme!!!
Being in MOBE for over 4 years, I could see the change in the company ethics and people. I also saw as a coach that people were being told they would not need any technical knowledge and MOBE would do everything for you. This is not correct, it is a business and people have to be accountable for their own business. This was usually a wide awakening to people. MOBE targets the elderly and I have seen forceful pressure at events for people to apply for funding or get a lot of credit cards and go in debt tens of thousands of dollars. A lot of people are devastated by the money they lost investing in MOBE. I have seen people cry, file bankrupts and commit suicide over the helpless sinking feeling of investment. I personally quit promoting MOBE several years ago, since I did not agree with what they were promising people, but I did continue to coach. Only about 6% of the affiliates make any money. Yes the education and training was provided but I could also see the quality of training go down and coaches forced to make a quota of sales each month and if the student would not spend more money they were dropped like a hot potato. As a contractor, we were required to attend 5 - 8 hours of meetings a week on our own dime. This alone is not legal. Now I am out 90K investment and 5 weeks of contractor pay! Someone needs to stop MOBE and why do people who make a lot of money want more and more no matter what they have to do to get it. MOBE could have been a good company if they would have not forgotten the quality instead of quantity. Shame on you!
I'm not sure of all the details here, but I believe Mobe is an International company in which there have been US-based complaints. How does a Federal agency get to turn off a company based outside of the US? My thinking is that they have US-based hosting and are using US banks for their accounts, otherwise they would be in the same realm as off-shore gambling?
I invested $126k in this company with a $176 ROI, so I want MOBE to prosper, as my livelihood depends upon it..
I joined this in October 2017. I was very excited about the company. I signed up and went to Business Summit which cost me $497. I also paid my membership for Feburary and March the next year (2018). I never got my package until I posted on Facebook that I did not received it and when I explained I wanted a refund I couldn't get it. I do agree that MOBE is a more education program than making money. I didn't have a help with posting when I finshed my 21 steps and the videos didn't help me. I really appreciate the coaches that tried to help me through Facebook. When I finshed my 21 Steps I just knew I would be posting but that did not happen and still nothing. I tried to contact Matt Lloyd personally because he is the one who got me in this business but I got no where. I was never able to get on Sykpe to write to the MOBE community no matter how many times I tried. My coach did not help me with this or with me posting. My coach told me to keep listening to the videos. When you do the 21 Steps then you have to do the 30 Steps which I did not mind doing if I could post my ads and make some of my money back or money period. I think that the coaches should make sure that you understand what you are doing. As a beginner you should get a one on one to help you start as you continue to listen to the videos. YES MOBE is a lot of reading and videos. I believe in MOBE but after finishing my 21 Steps to get no where is very frustrating and I lost faith and believe. Whatever the truth is it will come out so we will see in due time. I very much want my money back. Whatever happens thank you FTC
More from the Business Blog
Get Business Blog updates