Advances in payment methods could end those open-wallet debates about who owes what for the pizza. But as innovative technologies change how people pay for things, established consumer protection principles apply. An FTC complaint against peer-to-peer payment service Venmo – now operated by PayPal – alleges that the company failed to disclose material information about the availability of consumers' funds. In addition, the lawsuit challenges aspects of the company's privacy and security practices. A proposed settlement in the case requires Venmo to make clear disclosures about certain business practices.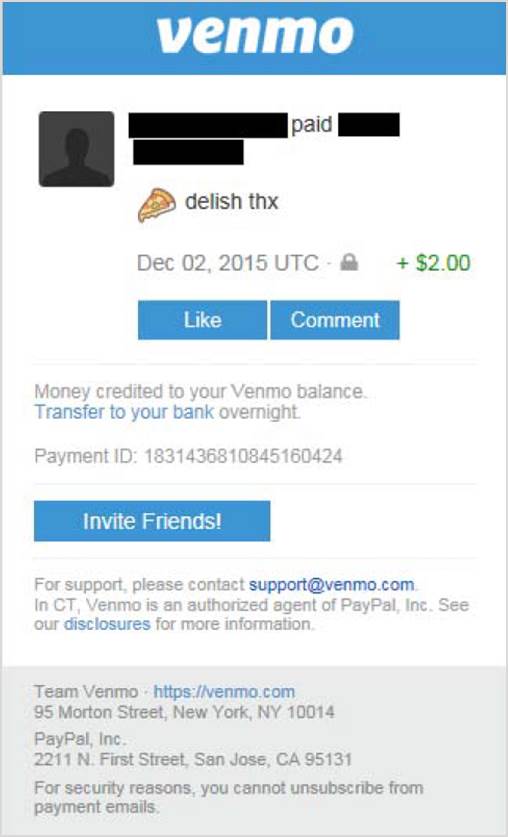 How Venmo works. When consumers download the Venmo app, they create an account connected to their bank account or credit or debit card. They can receive money from other Venmo users, transfer money to them, or transfer some or all of their Venmo balance to their bank account. So let's say a Venmo user wants to pay another user $10 for that pizza or to get the other person to kick in their $10 share. To initiate a transaction, he or she either sends money to the other user or submits a "charge request" that asks the person to pay. Users must include a short message with each transaction. Within seconds, the recipient gets a notification about the transaction. The language changed over time, but Venmo typically said things like "Money credited to your Venmo balance. Transfer to your bank overnight" or someone "paid $[X] to your Venmo balance [description of transaction.] – Leave it in Venmo or transfer it to your bank account."
Venmo's transfer policies. According to the complaint, the company's representations led many consumers to believe that when they received payment notifications from Venmo, the funds were ready to be transferred to their bank account. But that wasn't the case. The complaint alleges that in many instances, consumers weren't able to transfer funds as promised. That's because Venmo waited until a consumer attempted to transfer funds to his or her external bank account to review the transaction for fraud, insufficient funds, or other problems. For many consumers, once Venmo undertook that review, it resulted in delaying the transfer or even reversing the transaction altogether.
Those delays and losses led thousands of consumers to complain to Venmo. Many people reported that the company's practices resulted in significant financial hardship – for example, not being able to pay their rent even though it appeared they had enough in their Venmo account to cover it. The complaint alleges that even in the face of mounting consumer complaints, Venmo continued to claim – without any qualifiers – that once money was credited to consumers' Venmo accounts, users could transfer it to their bank accounts. The FTC alleges that Venmo's failure to adequately disclose to consumers that funds could be frozen or removed from their accounts was deceptive.
Venmo's privacy practices. Consumers' access to funds wasn't the FTC's only concern. By default, all peer-to-peer transactions on Venmo are displayed on Venmo's social news feed. That includes the names of the payer and the recipient, and the accompanying message. In addition, each Venmo user has a profile page that lists their Venmo transactions. By default, their five most recent ones were visible to anyone on that page, including visitors who don't have a Venmo account. (People without an account could still see a user's Venmo account either by clicking on a link to the user's Venmo profile page or by using a search engine.)
Consumers who didn't want to share their transactions could go to a Venmo menu to edit their privacy settings. By changing the "Default Audience Setting," people could set the default visibility of their future transactions on the news feed to specific groups, like "Participants Only" or "Friends." The problem, alleges the FTC, is that setting the Default Audience Setting did not limit how the other party to the transaction could share the transaction. To ensure that their transactions remained at their chosen default visibility, consumers had to take a second inadequately disclosed step involving what was called the "Transaction Sharing Setting." If people didn't change both settings, some of their transactions remained visible. The same problem occurred if consumers took action to limit the visibility of a particular transaction, but didn't change the Transaction Sharing Setting.
Venmo's data security promises. The FTC also challenged as false a Venmo claim that it protected consumers' financial information with "bank grade security systems." According to the complaint, until March 2015, Venmo failed to implement some basic safeguards. For example, Venmo didn't notify consumers about changes to their settings from within their Venmo account – for example, that their email address or password had been changed. (Notifications like that can alert consumers that an unauthorized person is monkeying with their account.)
Alleged GLB violations. The complaint includes allegations that Venmo violated the Gramm-Leach-Bliley Privacy Rule by failing to provide users with a clear initial privacy notice, by failing to deliver it in a way that each consumer could reasonably be expected to receive it, and by distributing a notice that didn't accurately reflect its practices. In addition, the FTC says Venmo violated the GLB Safeguards Rule by failing to have a comprehensive written information security program in place before August 2014 and by failing to implement safeguards to protect the security, confidentiality, and integrity of consumer data until at least March 2015.
The proposed order. To settle the case, PayPal (which now owns Venmo) has agreed not to make misrepresentations about material restrictions or limitations on the use of any payment service with a social networking component. The proposed order also requires PayPal, when making representations about the availability of funds to be transferred or withdrawn to a bank account, to clearly disclose that the transaction is subject to review and that funds could be frozen or removed. In addition, PayPal must provide clear disclosures about how any payment and social networking service shares transaction information with other users and must tell consumers how to adjust privacy settings to limit how that information is shared. PayPal also must get every-other-year data security assessments for 10 years.
The FTC is accepting public comments about the proposed settlement until March 29, 2018. In the meantime, prudent businesses can take some tips from the case:
Be clear about consumers' payments. When you're dealing with payments – including when new financial technologies are involved – be clear with consumers about when payments are sent and when they're actually received. If there are material terms or limitations, disclose them clearly. Transparency is a key to winning consumer confidence.
Think through your data defaults. Yelling "Surprise!" may be fun at birthdays, but consumers are decidedly less jovial when they're surprised by how companies use their information. In deciding on your default settings and how to educate consumers about your product, factor in reasonable consumer expectations.
Keep privacy options accurate. Consumers appreciate choices, but they need to understand what they are choosing. If you provide privacy options, make it straightforward for consumers to select the options that best match their privacy preferences – and then honor their choices.

Is your company covered by GLB?

The G

ramm-Leach-Bliley

Privacy Rule and Safeguards Rule apply to "financial institutions," but

the law defines that term broadly. The scope of the statute extends beyond businesses with

tellers, vaults, and ballpoint pens chained to the table

.

You need to know if your company is covered by those rules, especially if you're part of the rapidly growing peer-to-peer payment industry.
I have a Venmo account .what should I do to keep it private.
Financial transactions are required to be as transparent and safe both for payers as well as payee as possible. But under the cover of protection of rights of the parties, companies do take unnecessary advantage. There is a need to take notice of violations or unnecessary advantage on the pretext of protection.
I have an unauthorized transaction form Venmo that cause my bank aacount to overdraft, never heard of Venmo before this
So if one has issues with Venmo not releasing funds as they said they would. They keep dragging things on what is the best course of action?
For years, parent company PayPal has used arbitrary algorithmic decision making that locks users out of their accounts and away from their funds at a moment's notice. Their subsidiary Venmo did this and more - presuming that all customers want their history of financial transactions to be public by default, even to users not signed up for the service. I thank the FTC for stepping in and putting them in their place, and hope that this week's hearings in Washington with Zuckerberg will lead to some greater regulation of the technology industry in general.
For years, parent company PayPal has used arbitrary algorithmic decision making that locks users out of their accounts and away from their funds at a moment's notice. Their subsidiary Venmo did this and more - presuming that all customers want their history of financial transactions to be public by default, even to users not signed up for the service. I thank the FTC for stepping in, calling out Venmo's fraud, and putting them in their place. I hope that this week's hearings in Washington with Zuckerberg will lead to some greater regulation of the technology industry in general.
Venmo has told me my funds are processing with my bank, but it should be expected to clear yesterday. They are holding a large sum of money from me and they used my bank as an excuse. I called my bank two weeks ago. I have in writing this statement is false. The funds are originally from my bank account, and I've gone over the user agreement - I have not violated anything. Is there a class action suit I can be a part of?
I received emails confirming money transfers from Venmo account emails and then there were delays in Venmos banking processing and suddenly the Venmo customer service agents sent emails that claimed all the emails were not from them at all.
Is there anyway to file new complaints. I joined Vemno only a couple days ago they took three bank accounts then asked for my passport I am a US citizen. Then they told me the transactions I accepted were violations of TOS the customer got their products and their money back. While Vemno chose to freeze me out entirely and told me good luck getting my $400 USD back. I feel like I was scammed 110%
I am quite upset with the course of action that Venmo has chosen to take. I have only had an account a short while because it was the only way for me to recieve payment from someone out of state at their request. The money came through just fine but I needed the funds withdrawn immediately so I transfered it to a friend who had a card linked to his account. It wasnt until he tried to move the money on to his card that Venmo notified him that the card wasn't supported. So he transfered the funds back to me at which time I found another friend who uses the app often who said he would help me out. The next day both my friends get an email letting them know that their accounts were frozen and then terminated with no explanation of what policy was violated. The $200 went back into my account and overdrew my other buddy's bank account, and Venmo froze my account. They asked for a photo of my id, which I sent in only to get a reply to that my account also is being shut down and all the funds in the account were being absorbed by Venmo as a "investigation payment" and that no funds would be transferred to me. Not to mention the flat out refusal to offer My explanation as to why they are terminating the account and keeping the funds. I reread the policy and I did nothing that broke that agreement. The official notice said "if you have questions regarding this decision please know that we do not divulge our decision-making criteria in order to protect the systems that monitor activity on venmo. I apologize that we are unable to assist you further." So basically they did this and refuse to even tell me why they are taking my money for themselves... Any advice
I can very much to interested get it for me refund claim money.
I have the same bad experience. Two weeks ago a friend borrowed some money to try to cover some personal debts and he asked me to open an account with Venmo because he was using them and I need to pay back thru that system. I opened an account on May 17 and at the end of that day I got the funds from my friend, but when I tried to transfer those funds to my bank account my nightmare begun. After couple tries my account was immediately frozen. At that time I noticed they don't have any real customer service and everything hast to be handled by email or chat, which is useless because they don't give you any information at all. I decided to check all reviews for this company (I should be doing it before open my account) I discovered what kind of company is Venmo and the tricky methods they are using to play with the customers money. I emailed them asking to close my account and to return the money to the sender, thinking it was the best solution to this. But I was completely wrong. They answer me stating my account was closed and funds returned to the sender, but it was really far to be the end of this nightmare. My friend got the funds but since then those were frozen and again the nightmare started to be worst. My friend got back and forward few emails from them asking for no sense documents, information and some additional things but with the final email yesterday stating "they are waiting for an answer from the system to give him additional information for the status of his claim and usually it will take 2 business day". As everybody could noticed this is a joke and the way they are manipulating and playing with our money. Federal and local authorities are aware about this practice but for whatever technical or legal reason, they are allowing to continue this practice. WE MUST STOP THIS COMPANY TO STILL PLAY SAME GAME!!! I suggest following steps: 1) File a complaint with the Federal Trade Commission and get the reference number. 2) File a complaint with the Attorney General of every state where there are affected customers. 3) File a complaint with the Business Better Bureau of every state where there are affected customers. 4) Post reviews on different customer service websites, social media and similar. 5) Post or write letter or text or memos to different local, state or nationwide press media sources like newspapers, TV or internet news and all magazines related with customer service issues or economical sources. 6) Create a website for VENMO Customers affected to get more feedback and creating a join effort group to do further legal actions against this company and its giant parental company PAYPAL. 7) Additional steps that other customers could suggest. Thanks for any response.
We used Venmo four times because freelance writers requested that we pay this way. We paid three different people then this company froze our account and kept our money. We have emailed, called and emails since June 2018 with zero replies. We even emailed via Linkedin the COO and nothing. What can we do to get our money back, is there a class action suit, or an attorney who is working on a case against Venmo? What are our rights? Scary, their office requested that we give them my corporate papers, license, and more recent bank statements to verify who we were. I know that we should never have done this but this was the only way to have them release our money. Still nothing! Any advice?
Beware of Venmo, not quick and easy. I would not recommend this app/service to anyone. Your money can get hung up for weeks, "frozen". I am contacting attorney general of my state.
I find it concerning tha when I call in to their support, they authenticate me by having me email my drivers license through unsecured email. I've protested that this is putting my personal information at risk. they said that's the oly choicei have ...shouldn't this be against the law?
I have a Venmo account with $614.00 in my account and Venmo has decided to permanently close my account with no explanation and will not give me my money. How do I get my money
Also Venmo should make it abundantly clear that certain banks used by check card institutions are not able to be used in the event that manual bank account information has to be entered to receive funds that may be flagged in their system. Also Venmo should not practice discrimination on the basis that consumers use alternative check card services and banking institutions i.e. Metabank etc... Please make this known to customers and if those banking institutions are not considered viable do not allow customers to register to use Venmo services on that same card period. I wish I could sue for the anguish and loss I have experienced with this same problem. Please if there is any way I can join in this lawsuit please help me to do so. Thank you, Kourtney Hunter
So I tried to send my brother money ($300) through Venmo, unknowingly that his account had been frozen, and for that reason, he didn't have access to the funds. So I tried to request the $300 back, and accidentally paid him another $300! That's a total of $600 transferred...yikes! My brother had no access to try and send them back to me. It was later on a Sat, and of course, there is no customer service on the weekends, so there was no one to talk to from Venmo (bummer) And it's a holiday weekend.. So come Tuesday, I chat with a rep....(several reps, actually) ... as well as my brother. We both got the same answer....they cannot reverse the funds and send them back to me. They said once they unfreeze his account, the funds would go towards a balance he owes Venmo....So currently, $600 of my money is sitting in limbo, and I am left with $15 in my bank account for 2 weeks for me, and my 2 kids. :( They refuse to work with us, or help out. This has left me completely stuck. Its an awful feeling.
Seems we need to all march down to there headquarters to get results. As they continue lie, cheat and steal. We can't let this continue.
They froze my account we well and won't release $1500 that was transferred to me by my roommate. They told me my account was "frozen" after I tried to transfer the money to my bank account and asked me to send them a copy of my ID, my Debit Card, and my bank statement which I did within 20 minutes of receiving their email. They haven't replied to me since. I have sent some follow up emails, and called customer service who told me that "a different department handles these types of issues but they don't have a phone number" and when asked the timeframe I was told "we have been instructed to tell you there is no timeframe, but you will be contacted by that department directly". I have filed a complaint with the FTC, the BBB, and the Attorney General in my state. Hopefully this resolve the issue. I am very afraid I will never see my money.
The disclosures still are not clear enough. If Venmo can indefinitely hold your funds, that information should be displayed with every transaction and warnings should be issued by FDIC and other regulators that your money is not safe with this vendor. So far, Venmo has chosen to keep over $1500 that I need to pay my mortgage for over a week. No timely resolution in sight. There should be limits on spending if companies like Venmo handle funds so irresponsibly as they are in my case. These types of companies offer great services...until you rely on them.
Venmo was a rip-off nd should not be allowed to stay in business.
More from the Business Blog
Get Business Blog updates