Have you seen the ads where a popular celebrity touts DIRECTV on his own behalf and as the Painfully Awkward, Overly Paranoid, or Crazy Hairy version of himself? Applying that to a lawsuit just filed by the FTC, there's DIRECTV – and then there's Deceptively Advertised DIRECTV.
DIRECTV is one of the biggest names in the business with more than 20 million customers. Through TV, print, direct mail, phone, and online promotions, the company advertises satellite TV packages for as low as $19.99 a month for 12 months. What's more, DIRECTV said premium channels like HBO and Showtime are "free for 3 months." But according to the FTC, DIRECTV failed to adequately disclose the true nature of the deal, meaning that consumers got stuck with higher prices and unauthorized charges.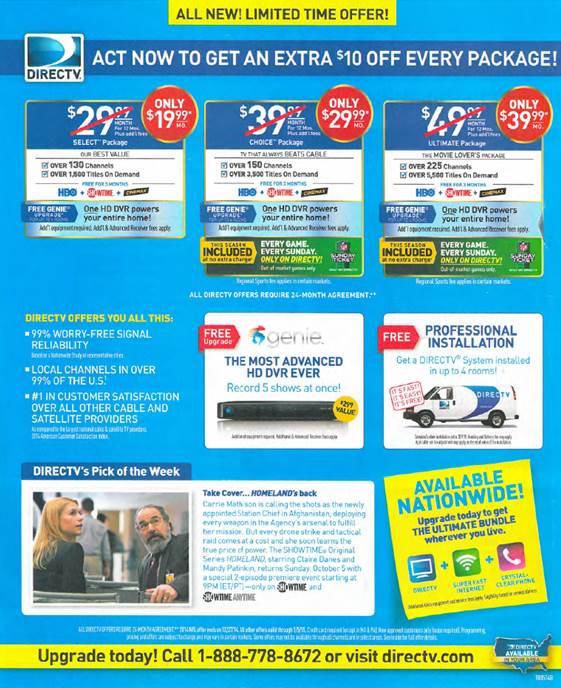 The complaint offers a closer look at how the FTC says DIRECTV's practices were misleading. For example, DIRECTV touted that eye-catching $19.99 monthly rate for 12 months of service without clearly explaining that: 1) Consumers couldn't actually sign up for 12 months of service because DIRECTV required them to commit to 24 months; and 2) In the second year, DIRECTV typically hiked up the monthly fee by between 50-70%. Consumers who experienced bill shock at the start of that second year and wanted to cancel faced hefty termination fees.
The FTC also says DIRECTV's "free for 3 months" premium channel offer was a deceptive negative option promotion. How did it work? DIRECTV typically enrolled consumers in the promotion automatically without clearly stating that unless consumers took the affirmative step of canceling before the end of the three-month period, DIRECTV would bill them extra for it every month. According to the complaint, after the "free" period ended, DIRECTV went ahead and used consumers' credit or debit card information without their consent to charge them for the service. And we're not talking chump change here. The FTC says the monthly fee for those channels was around $48.
The lawsuit is pending in federal court in California. Meanwhile, here's something for businesses to note in the pleadings. In addition to alleging that DIRECTV failed to disclose – or failed to adequately disclose – subscription prices and the nature of the premium channel offer, the FTC says the company's online practices violated the Restore Online Shoppers' Confidence Act.  Passed in 2010, ROSCA makes it illegal to charge consumers for goods and services sold through online negative options unless the seller:
clearly and conspicuously discloses all material terms of the transaction before getting the consumer's billing information;
gets the consumer's express informed consent before making the charge; and
provides a simple way to stop recurring charges.
This is a case you'll want to watch.
493 Comments
Att and DTV are the WORST!! Don't follow through on their commitment, but bill customers thousands without their knowledge!! How does a person get out from under without paying all the false charges!! It's highway robbery!!!
This is what I am trying to let them know but of coarse no email for direct TV .I guess they want nothing in writing. I am in Hutto Tx. account number xxxxxxxxxxxx My wife Sue Worcester her email xxxxxxxxxxxxx I was a long time customer of direct TV and really appreciated the good service. Well I bought a new house and received Spectrum for one year .After that there prices went through the roof SO I decided to look around again for TV service.I have always used cable for internet because of the speeds.My wife told me she called Direct TV and they were offering the first year for 50.99 + 8% tax and the second year at 70.98 + 8% tax .She was told there was no setup fees at all. At that time I told her to signup in the autopay. Well the technician came out and we found out it did not come with the DVR but he called and said it may be an extra 10 a month. After he completed the call he told us no worries because we were a previous customer there would be no extra charges.I thought now I know why I went back to direct TV. Well it is 2 days later all of a sudden I see a bill against my visa card for 285 dollars? I call and the support that I could hardly understand and she states it is a one time charge.If you check the calls and the order you will here your salesman stating what I have written above.I have to admit I am very upset at this point.This is the bill and as you can see it is really confusing. Payments Previous Balance $0.00 BALANCE 0.00 DIRECTV Channels 1. SELECT 19.99 $26 off $55.99 for 12 months (1 of 12) $10 off $55.99 for 12 months with Auto Bill Pay (1 of 12) 2. HBO, STARZ, SHOWTIME and CINEMAX 0.00 $53.99 off HBO, STARZ, SHOWTIME and CINEMAX for 3 months (1 of 3) SUBTOTAL 19.99 DIRECTV Equipment Services 3. Watch DIRECTV on Multiple TVs 21.00 4 TVs at $7 each; Save $7 off 1st TV 4. Advanced Receiver Service 25.00 5. DIRECTV Protection Plan 0.00 Begins in 30 Days: $7.99/month on 04/25 SUBTOTAL 46.00 Activity Since Last Bill Equipment Orders 6. Cinema Connection Kit 99.00 Charged on 03/25 Order: #283673474 7. Equipment Instant Rebate -299.00 Credited on 03/25 Order: #283673474 8. Equipment Instant Rebate 99.00 Cancelled on 03/25 Order: #283673474 9. Equipment Instant Rebate 99.00 Cancelled on 03/25 Order: #283673474 10. Equipment Instant Rebate 99.00 Cancelled on 03/25 Order: #283673474 11. Equipment Instant Rebate 99.00 Cancelled on 03/25 Order: #283673474 12. Equipment Instant Rebate -99.00 Credited on 03/25 Order: #283673474 13. Equipment Instant Rebate -99.00 Credited on 03/25 Order: #283673474 14. Equipment Instant Rebate -99.00 Credited on 03/25 Order: #283673474 15. Genie 299.00 Charged on 03/25 Order: #283673474 16. Genie Lite -99.00 Cancelled on 03/25 Order: #283673474 17. Genie Mini -99.00 Cancelled on 03/25 Order: #283673474 18. Wireless Genie Mini 99.00 Charged on 03/25 Order: #283673474 19. Wireless Genie Mini Setup 99.00 Charged on 03/25 Order: #283673474 SUBTOTAL 198.00 Other Charges, Adjustments & Taxes Taxes 20. Sales Tax 21.37 SUBTOTAL 21.37 Total Amount Due 285.36 Payment charged on 03/26/18 - VISA -285.36 CURRENT AMOUNT DUE $0.00 I asked my wife is there any charge for equipment when she first signed up and she stated no.They told her the total was 50.99 + 8% tax I would appreciate any help you could give me in this situation. I am planning on contesting the 285 with my credit card company if need be. I feel it was an honest mistake and we can fix this. PS: your support stated they would be in touch within 5 days but I doubt that. I know when I use to call your support it was great even though I never had to use it very often. Thank you and hope to receive a response.
I called direct tv to complain about my bill and the sales rep. told me that I was due for a free upgrade, because I had the geni boxes and I ask her 2 times is the upgrade was free she said yes both times. The tech. Came to my house installed the geni boxes (3 of them) and My bill this month is almost $490 so I called to complain, 2 make along story short the tech. installed wireless mini genies and my 87 year old mother sign a paper. they are making me pay this bill, plus it locked me into a 2 year contract with them which I will be penalized almost even more money for braking their contract. If there's a law suit against them I WON'T IN!
Directv is a crooked company that, judging by all of these comments, needs to be shut down. Me and fiance have been sick and having surgeries since 2016 so we got behind but we always paid what we said we would and never had any interruptions of serviceuntil 3 weeks ago. I got confused on the date of my fiances check so i couldnt pay till next morning when bank opened. They said no i had a payment arrangement if i didnt obligate it my service would be suspended. Next day i called to pay it went from 130 to 268. Well i didnt have it so i called them after missing 2 phone calls from them on 4/3. The lady i talked to offered me a one time deal if i paid 140, direct would pay the other 140 and restore my service as long as i let them know by 4/9. I called 3 times on 4/8. The first lady finally found the notation on my account but transferred me to anotber dept. Theguy i talked to said my service would be restored when the 280 was paid!!I busted my butt coming up with that 140 and now they wont meet their obligation. How can this be right? If you tell a customer that the deal would be honored until a certain time then here comes all the excuses! Im done with it and Dish network is my new choice
Dtv is now giving cust one time credits up to $600.00 to stay since at&t contract renewal is coming.
I had dtv for 10 years and got rid of them because it was getting too expensive. I went without cable for a month and decided to try Comcast. What a joke. Was worse channels and just as expensive. I called direct tv and signed up with them again. They said great we will give you a prepaid card for $200.00. I said heck yes! I got a prepaid card for $113.94. Not sure why that amount but whatever. I got my bill and this $113.94 was charged back to me! If I had known they were going to charge me for it I would never have accepted it in the first place. I spoke with 3 different csr's and all they kept telling me was that I was not supposed to get that card. I asked to speak to a manager realizing later that they can't have enough "managers" to deal with pissed off people on the phone. I called back and repeatedly told them it was not my fault that they gave me a promotional card. My sister got a $200.00 card and was not charged again for it. What a scam!!
Me too gouged; requested paper bills mailed for 2 months billing periods, but did not receive until additional requests and complaining. Was charged for late payments without knowing bill was due. Finally received paper bill, and was excessively charged. Asian foreigns give double talk, too fast in efforts to avoid clear definitions of charges --- must talk to supervisor who also tries to verify excessive charging --- and didn't care about 'not receiving requested bills by mail' . NOT happy!
We were in a vacation house and tried to hook Direct TV to our ATT account. Lots of advertising, but they did all of the things to us that the comments above indicate. We were charged $199 the first month instead of the $35 activation fee, then nothing, then $85--not a figure we understood, then they did not activate my documented request to stop the premium channels, then I tried to get the $200 visa I was promised by the ATT store manager, Rastel Aguliara in Casa Grande, and Direct TV disavowed any knowledge of it. I'll sign on to any lawsuit, and I have lots of documentation. I will look into changing the credit card number right away.
Left direct---charged a 30.00 early cancellation fee----now they are saying I owes a back bill plus a late fee.
Dear Sir/Madam: I would just like to say that I was a caregiver for my parents who passed away back in 2017! I was unemployed during that particular time, but when my parents passed away, they left debts behind and that included having to deal with 'DIRECTV!' I am struggling as it is now trying to find a job position that will help with the bills but to no avail! I can't even go to family members for help because they are struggling as well. DIRECTV shut off my services as of this morning of May 29, 2018 and from what they are telling me that it will cost me $206 plus a few odd cents to restore services so that I can watch television again! I am reaching out to various foundations and nonprofits organizations for financial help, but to no avail! So I am just wondering if there are any federal programs that could possibly help me in this dilemma? Somebody tell me!
I've been recently charged 300$ for terminating a supposed 24 month contract free agreement after paying my bill on time for months. I was not told of the fee before they actually canceled my bill which was already 100$ including 80 for the next month when I canceled it took out the 80 but now as I'm receiving bill the 80 was added back on and I'm receiving continual late fees. I canceled because I didn't have the money to pay my 180$ bill. And isn't it supposed to be contract free? As in no cancellation fees for when I would like to stop paying for service. I was told to either pay to ship the equipment, take time out of my day to bring the equipment to the post office who will ship it for free, or outright pay for the equipment. I'm am 20 years old and will probably be working to fix my credit from this point on. I want in on this lawsuit I wasn't informed of any of this before applying and paying for service, and any attempts to speak to customer service is met with automated machines or foreigners. The one time I spoke with someone in the United States was when I canceled the bill and like I said she cancelled it before I was told the amount of money for the cancellation fee. Thanks DirecTV
I have a contract with direct TV that will get a discount for $56.00 for 24 months then after 12 months my bills increased significantly.. so I called their customer service asking why my bill has increase they said that after 12 months my promotion has expired but i told them that i have a 2 year contract but anyway they still charge me extra so I terminated my account is there anything i can do about this issue?
Our household with five tv sets was promised several deals including $500. total gift cards from Direct TV & AT&T to persuade us to switch from Dish network, which we had for 8 years. We were guaranteed that amount in increments of $200, $200. & $100. This was promised by three different employees & 2 supervisors while they were recording the conversations! Now after receiving 2 %200. gift cards, they told us that we would not receive the last increment of the deal, also they try to raise the bill after the first month. I would like to know why one of the consumer protection agencies can't or won't do anything about these deceptive & fraudulent business practices. If they are really recording the phone conversations, the consumer should have equal access to the recordings!
For 3 months after making full payment, AT&T charges me a monthly direct tv reversal fee which is considered late. I was told it was due to local taxes. So they must not have correct tax rate in system or it is sales tax fraud. They said to add it to payment???
Why is it that DIRECT TV keep hiring 3rd parties to harrass former customers for NON RETURN OF EQUIPMENT CHARGES OF $775.00 .When they know you returned the equipment .Because they sent their own boxes giving you full detail to return them to the nearest UPS STORE. DIRECT TV IS A RIP OFF OF CONSUMERS HARD EARNED MONEY!!!
I was a customer since 2009 and had no issues until recently I was told I needed an equipment update and was not given any information that there would be equipment charges. My bill almost doubled and I have been put on a run around from customer service for over four months. I felt very decived and am filing a formal complaint because they refuse to correct the issue.
i hate these crooks i have been overcharged 4 times by direct tv making me miss surgery's unable to fill my medication this month . i have been charged for early disconnection which i am still a customer i have been charged twice for equipment not returned which i am still using . And this last time i was charged for a box that was burned out i was not told to return it i was charge because they sent box for return to wrong place and i can not feed myself or my animals this month because of it sitting here hungry .
I was "sold" Direct TV at the California State Fair with a promise of Unlimited Data for my cell phone. THEY LIED TO ME AND OTHERS! I have tried calling and get nowhere except lied to some more. "A supervisor will call you back", and that kind of thing. AT&T cell phone knows nothing about the promises their Direct TV salesman promised people at the State Fair. I went to UPS to drop off the old boxes and the rep there said other people have said the same thing. ATT LIES_DIRECT TV LIES
I have been getting charged $ 7.99 per month for the last 12 months, I called 6 months ago to ask them why where they charging me for a Protection plan, they said that they were going to credit but never did, I called back again today and they just credit me for 24 dollars ITS A FRAUD
I just got a bill for 496 dollars from Direct TV and I never had their equipment installed at my residence. When the technician came out he told me that I can get 768 kb of internet at my residence so I told him that I didn't want the internet service or direct TV installed at my residence. The technician gave me a number to call to cancel the service within 24 hours which I did. All of a sudden a month later I get this bill for 496 dollars. I call customer service and got the run around finally I got in contact with someone in customer service and I told her the situation and she said that she would cancel the amount that I owe because I never got direct TV. Today which is a month later I get an email from Att saying that I still owe 496 dollars for a service that I never received. Called customer service again got the run around again finally I got in contact with a supervisor in a call center in India and she basically just blew me off and gave me a number for collections and told me to call them in the morning. Smfh!!
Something needs to be done I ask direct why my bill keep changing from month to month I even ask them to take certain stations off they never did they are a rip off
Cancel my Direct in March 2018 under no contracy. They billed me for two extra months which equated to 300.00 off my Discovery Card. It's now sept 2018 and they have yet to refund me my money. I've been on the phone 6 times within the past 5 months, with an to an 1 hour 30 mins to 2 hrs each time. One day I spoke with over 10 different phone reps. This is a very sad corporation. Don't let them auto withdraw from any account. Still FIGHTING!
How to pay by check they cash it never post the payment report never paid turn your TV off
I certainly hope the FCC is paying attention to the fact that there are TEN PAGES of complaint paragraphs here. These are only a small fraction of complaints out there! I'm having my own dilemma with poor customer service, and we've decided AT&T DirecTV really just wants to empty our pockets as quickly and frequently as they can. We can't even reach a call center person who will cancel our account. That is ridiculous! My question to the FCC is, how can this company continue for YEARS to overcharge, bait and switch, and intentionally train call center staff to get customers fuming mad and frustrated so they may be manipulated further? This is fraudulent business practices, and the company is so big, they can act like bullies with no recourse for customers. Please help fix this!
I too am now a victim of Directv's shady business practices. They promised a promotion for the premium channels and I assumed (logically) that when the promotional period ran out, I would no longer have access to those premium channels I had access to under the promotion. That is apparently not the case. I have been charged 2 months worth of unapproved charges. Each month added $53.99 plus taxes and surcharges to my bill. We specifically chose the "choice" package because it was cheaper than Spectrum's packages and we didn't want to pay for premium channels any longer. Well, that went out of the windo apparently because they will not refund me for those two erroneous bills. I am currently disputing the charges with my credit card company (Capitol One). I am hoping for a successful dispute because I never gave verbal nor written approval to be charged for premium channels that I did not want nor choose from the beginning. I am not sure how they are still getting away with this...
I have been reading these comments and stories and mine also is a nightmare. I feel foolish, stupid, and yet I was lied to plane and simple. All these people, so many.WHERE IS OUR PROTECTION? WHY HAS THIS GONE ON FOR SO LONG..A LAW SUIT!! WHERE DO I GET HELP? I AM A WOMAN ALONE AND FEEL LIKE A USED "QTIP"..I AM THE FOOL FOR TRUSTING EHAT I BELIEVED WAS A SOLID BUSINESS. I WONDER HOW DO THE EMPLOYEES FOR SUCH A CRUEL DECEITFUL BUSINESS FEEL ABOUT THEIR PART? THEY KNOW, THEY ? THEY KNOW AND THIS IS FRIGHTENING TO NOT BE IMPORTANT ENOUGH TO DO THE RIGHT THING. WHY IS IT FAIR TO MAKE "ME AND "YOU" PAY OUR BILLS? WE ARE OBLIGATED? THE BUSINESS SHOULD BE RESPONSIBLE ALSO.
I just had this problem! My service goes out regularly and I was told that even though I am paying a monthly equipment fee that any service call would be a charge. OR I could purchase their protection plan? Well why am I paying for equipment then paying again for them to maintain their equipment!
They charged us an extra 25.98 a month for more than a year and a year is all of the statements they will let me see and are unwilling to refund any money and we have been lied to 4 different times from customer service.
I have recordings of Direct t.v telling me lie after lie. By far, the most deceiving company ive ever dealt with.
We have had a DirecTV account for about 24 years and paid our bill faithfully. We live in rural area and were able to get fiber drop from local phone company this summer. We decided to use local provider for access to TV. When we canceled our account with DirecTV they sent us a bill for over $400.00, and said we had to send back the receiver. We had just got a new receiver and paid over $100.00 to get it. The old receiver had quit working. We were told that in order to get the new receiver we had to sign a 2 year contract. We never signed anything, just told person on other end of phone that could not speak English that the receiver was broke and needed a new one to watch TV. Had no idea we had renewed a contract. Moral of the story is we paid DirecTV for about 25 years every month and when we left they shafted us. You could not Jget us to every use DirecTV again in this lifetime. Ungrateful large company that does not care anything about its long time customers, just care about getting new customers.
They told me I would receive a $300 gift card in the mail for signing up and then never sent nothing but $100. And then I cancel and they wanna charge me $374.00
Direct charge me 160 dollars for caneling my service missing cutoff date by one day
I am a victim of Direct tv fraud. I gave my auto pay information to them, they were charging me too much money. So every time I called in, they opened another account and charged me again. To the tune of $750.00 in 5 months. I should have paid $57.00 per month. for a total of $ 285.00. Senior citizens don't have a chance. The only way that I stopped it was to cancel my card and they got very upset. We have been all the way in the company to the checks in the mail. but surprisingly enough it has never come.. Many hours on the phone periodicly for over a year. i have reported this to better business bureau. and others. No response. Now they are charging me for the NFL package that I canceled WE DON'T WATCH FOOTBALL. We declined it when they gave it to us free. I'm so busy working overtime to pay all these scammers I don't have time to watch TV.
Yes I am having same problem trying to cancel the 90 day free hbo, showtime stars package about $54 monthly. They will not allow it to be done on line but you can add any packag but not delete a real scam! Marvin Taylor
I closed my DTV account in 2014 with a balance of $0.00. Today on my credit report it states I have a negative report. I called them and they are stating that was for a fight in 2010. Beware of this company. There is no corporate number besides the P.O. Box #. Save your bills.
Because of this I have bad credit history. My bill was $70 and went up to $248 its insanity. They didn't even give me the option to pay in installments. So I gave them their equipment back and left.
This is executive robbery. Most cable companies and electric companies embark in this type of underhanded practice. I recently experienced this with Direct Tv myself. My bill went from 113.00 a month to 143.90 a month, with no explanation of why. When I inquired, the person on the other end could not substantiate the additional charges. It's pathetic to think that this is allowed in any way, shape or form. They deserve to be sued for taking advantage of consumers.
I disconnected 2-13 & had dish installed because the 2nd year my bill doubled. They put the disconnect in for the 3-3 which is the billing date. How is it legal for them to keep 2 weeks of service pay when it has been fiscally disconnected? I told them it should be prorated which is what most companies do and they said they don't!!!
More from the Business Blog
Get Business Blog updates