Like the three sides of a triangle, ROSCA – the Restore Online Shoppers' Confidence Act – has three basic compliance requirements for online sellers who enroll consumers in continuity plans, often known as negative options. The law bans online negative options unless the seller: 1) clearly discloses all material terms of the deal before obtaining a consumer's billing information; 2) gets the consumer's express informed consent before making the charge; and 3) provides a simple mechanism for stopping recurring charges. An FTC lawsuit alleges that online negative options used by San Diego-based Triangle Media Corporation didn't give consumers a square deal.
It's a business model the FTC has challenged in numerous cases. Using third-party websites, blog posts, banner ads, and purported surveys, Triangle Media lures consumers in with the promise of a "risk free trial" of a skin cream, dietary supplement, or e-cig. Consumers who respond have to provide their credit card number, but are left with the impression that it's just to cover the cost of shipping and handling – typically $4.95 or less. But once the defendants have consumers' credit card numbers in hand, that's when the FTC says they really go to town.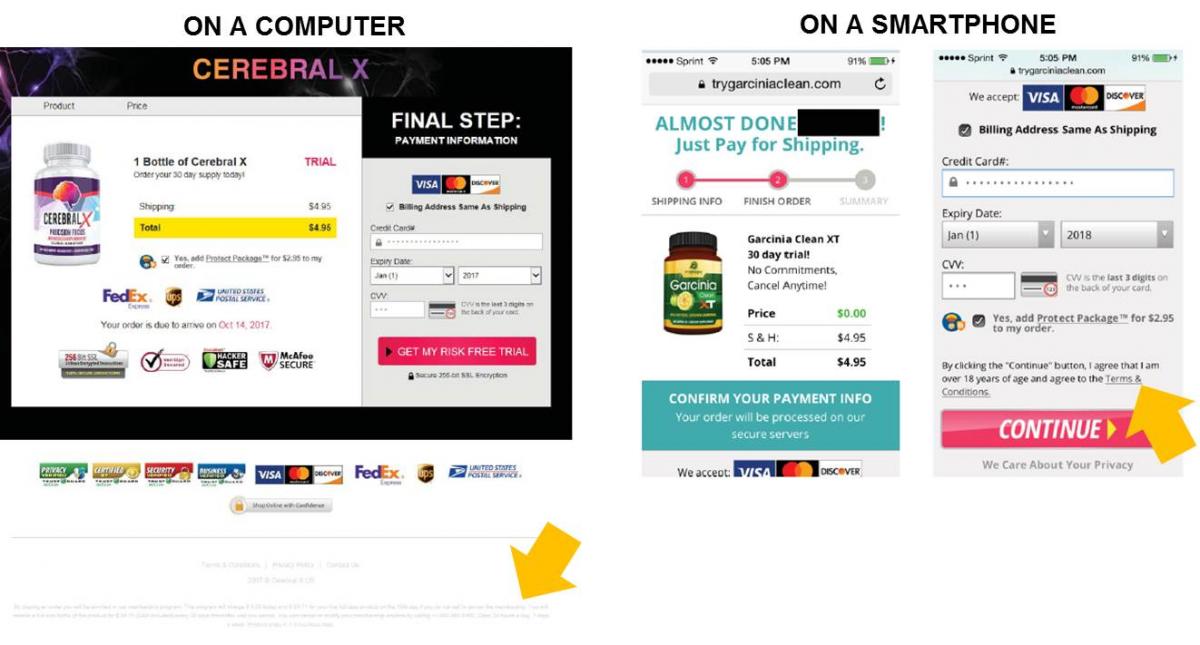 Here's a sample of a Triangle Media payment screen showing a charge of $4.95. But now look at the bottom of the page. No, not the initial row of security logos. No, not the credit card and shipping logos below that. Lower. Lower still. OK, if you look waaaay down at the bottom – and bear in mind on many computer screens, consumers would have no reason to scroll that far – you'll see the tiniest of faint type on a white background. (We've added the yellow arrow to call your attention to the hard-to-spot language.)
And here's what it says: "By placing an order you will be enrolled in our membership program. This program will charge $4.95 today and $84.71 for your trial full-size product on the 15th day if you do not call to cancel the membership. You will receive a full-size bottle of the product for $84.71 (S&H included) every 30 days thereafter until you cancel. You can cancel or modify your membership anytime by calling +1-888-963-8460. Open 24 hours a day, 7 days a week. Product ships in 1-3 business days."
For consumer viewing on a smartphone, that information is buried behind a Terms & Conditions hyperlink.
In other words, if consumers agree to a $4.95 "risk free trial," the defendants sign them up for an $84.71 a month automatic shipment program and bill their credit cards without their express authorization. (Some variations are even more expensive.)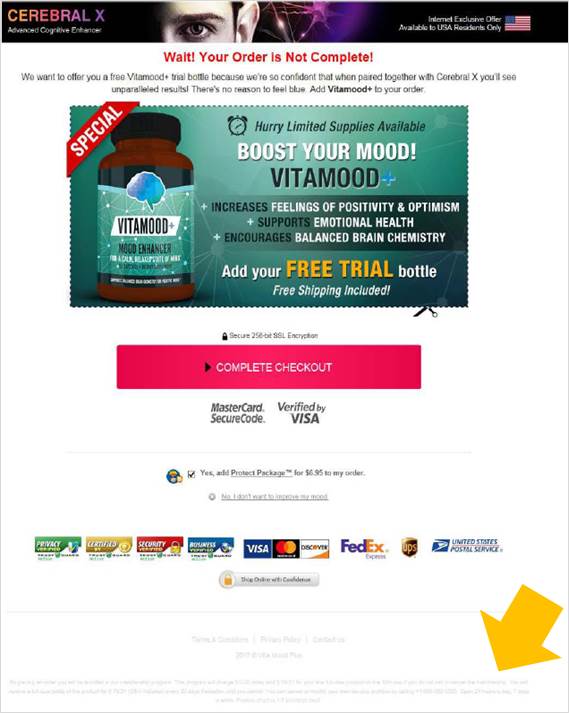 The FTC says the deception doesn't end there because once consumers click to finish, the defendants send them to a page that says Wait! Your Order is Not Complete! According to the complaint, when consumers clicked the COMPLETE CHECKOUT button, the defendants sign them up for another automatic shipment program involving additional monthly credit card charges of, in this example, $79.31 for a dietary supplement advertised to "increase feelings of positivity & optimism." An ironic claim given that in our experience, multiple unauthorized credit cards charges aren't likely to leave consumers with feel-good vibes. In addition, the FTC says the defendants' restrictive cancellation and refund practices do nothing to boost consumers' moods.
Filed in federal court in California, the complaint charges the defendants with multiple violations of the FTC Act, ROSCA, the Electronic Fund Transfer Act, and Regulation E. The court has entered an order temporarily halting the operation, freezing its assets, and appointing a temporary receiver over the business.
The message for marketers is simple: Comply with the ROSCA's three requirements for online negative options. Clearly disclose all material terms and conditions up front and don't bury key information in hard-to-find or hard-to-read mouse print or behind obscure hyperlinks. Get consumers' express informed consent before charging their credit cards. And offer an easy way to stop recurring charges.
It is your choice whether to submit a comment. If you do, you must create a user name, or we will not post your comment. The Federal Trade Commission Act authorizes this information collection for purposes of managing online comments. Comments and user names are part of the Federal Trade Commission's (FTC) public records system, and user names also are part of the FTC's computer user records system. We may routinely use these records as described in the FTC's Privacy Act system notices. For more information on how the FTC handles information that we collect, please read our privacy policy.
The purpose of this blog and its comments section is to inform readers about Federal Trade Commission activity, and share information to help them avoid, report, and recover from fraud, scams, and bad business practices. Your thoughts, ideas, and concerns are welcome, and we encourage comments. But keep in mind, this is a moderated blog. We review all comments before they are posted, and we won't post comments that don't comply with our commenting policy. We expect commenters to treat each other and the blog writers with respect.
We won't post off-topic comments, repeated identical comments, or comments that include sales pitches or promotions.
We won't post comments that include vulgar messages, personal attacks by name, or offensive terms that target specific people or groups.
We won't post threats, defamatory statements, or suggestions or encouragement of illegal activity.
We won't post comments that include personal information, like Social Security numbers, account numbers, home addresses, and email addresses. To file a detailed report about a scam, go to ReportFraud.ftc.gov.
We don't edit comments to remove objectionable content, so please ensure that your comment contains none of the above. The comments posted on this blog become part of the public domain. To protect your privacy and the privacy of other people, please do not include personal information. Opinions in comments that appear in this blog belong to the individuals who expressed them. They do not belong to or represent views of the Federal Trade Commission.
Thank you! I've been hit with this trick more tgan once!!!
I'm wanting to find out about the AMG refund checks because i have moved and if they sent me a check i did not get it and how come i no they are sending out checks my son got one i got money from them up to 2013
I ordered a product and returned before 30 days. This was in August, now December and they won't return money for something I returned. Keep giving me the run-around.
More from the Business Blog
Get Business Blog updates