"Take out" takes on a whole new meaning when it involves your data. Consumers and industry members are giving more thought to the issue of data portability – the ability of consumers to move data (such as emails, contacts, calendars, financial information, health information, favorites, friends, or content posted on social media) from one service to another or to their own files. That's the topic of a September 22, 2020, virtual event, Data To Go: An FTC Workshop on Data Portability.
There's one thing notable from the outset about the workshop. It's a joint project of the FTC's Bureau of Competition and Bureau of Consumer Protection. That makes sense, given that the issues surrounding data portability have implications both for competition and consumer protection.
The FTC isn't alone in its interest in this issue. Both Europe's General Data Protection Regulation (GDPR) and California's Consumer Privacy Act (CCPA) provide consumers with data portability rights. Other regulators have adopted new policies requiring the transfer of certain kinds of information to consumers and to the businesses they choose to provide them services – for example, banks and health care providers. And major technology companies have created the Data Transfer Project with the goal of creating an open-source, service-to-service data portability platform.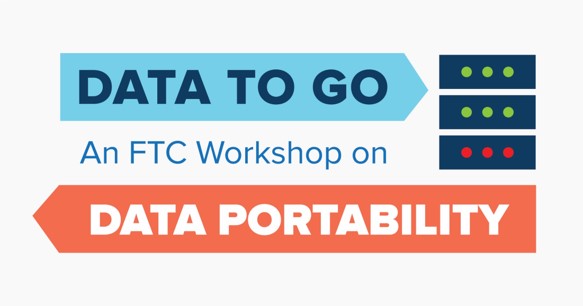 Data portability offers obvious conveniences, but porting data comes with risks. The workshop will address questions such as the potential benefits to consumers and competition of data portability, the potential risks to consumer privacy and how those risks might be mitigated, how to best ensure the security of personal data that is being transmitted from one business to another, the merits and challenges of interoperability, and who should be responsible for ensuring interoperability.
Join us on September 22th for Data To Go, where FTC staff and guest speakers will explore the potential benefits and challenges to consumers and competition raised by data portability. Check out the recently released agenda to see the breadth of perspectives we'll bring to this issue during our virtual event. Here's a preview of what we have planned.
Andrew Smith, Director of the Bureau of Consumer Protection, will open the workshop at 8:30 AM Eastern Time.
Panel #1 will feature experts from around the globe who will discuss data portability initiatives, including GDPR and CCPA.
Panel #2 will explore case studies from the financial and health care sectors, including new health IT rules from the U.S. Office of the National Coordinator of Health Information Technology (ONC) and the UK's Open Banking Initiative.
Panel #3 will discuss the benefits and risks of data portability, with an eye toward the twin aims of protecting consumers and promoting competition.
Panel #4 will consider the challenges of data security, privacy, standardization, and interoperability.
Ian Conner, Director of the Bureau of Competition, will offer closing remarks at 2:45 ET.
Data To Go, which is free and open to the public, will be webcast live. You don't need to pre-register, and you can watch from the webcast link that will go live moments before the 8:30 ET start time on September 22nd. After the event, a video of the day's discussions will be posted on the Data To Go page.
 
It is your choice whether to submit a comment. If you do, you must create a user name, or we will not post your comment. The Federal Trade Commission Act authorizes this information collection for purposes of managing online comments. Comments and user names are part of the Federal Trade Commission's (FTC) public records system, and user names also are part of the FTC's computer user records system. We may routinely use these records as described in the FTC's Privacy Act system notices. For more information on how the FTC handles information that we collect, please read our privacy policy.
The purpose of this blog and its comments section is to inform readers about Federal Trade Commission activity, and share information to help them avoid, report, and recover from fraud, scams, and bad business practices. Your thoughts, ideas, and concerns are welcome, and we encourage comments. But keep in mind, this is a moderated blog. We review all comments before they are posted, and we won't post comments that don't comply with our commenting policy. We expect commenters to treat each other and the blog writers with respect.
We won't post off-topic comments, repeated identical comments, or comments that include sales pitches or promotions.
We won't post comments that include vulgar messages, personal attacks by name, or offensive terms that target specific people or groups.
We won't post threats, defamatory statements, or suggestions or encouragement of illegal activity.
We won't post comments that include personal information, like Social Security numbers, account numbers, home addresses, and email addresses. To file a detailed report about a scam, go to ReportFraud.ftc.gov.
We don't edit comments to remove objectionable content, so please ensure that your comment contains none of the above. The comments posted on this blog become part of the public domain. To protect your privacy and the privacy of other people, please do not include personal information. Opinions in comments that appear in this blog belong to the individuals who expressed them. They do not belong to or represent views of the Federal Trade Commission.
More from the Business Blog
Get Business Blog updates