From the perspective of consumers, the whole purpose of prepaid debit cards – their reason for living, if you will – is to give consumers immediate access to their money. Those cards are an especially important financial lifeline for people who don't have traditional bank accounts. In pitching its reloadable prepaid cards, NetSpend Corporation promised consumers "immediate access" to their funds with "no holds, no waiting." But according to an FTC complaint, the defendants' business practices rendered that claim and other representations deceptive.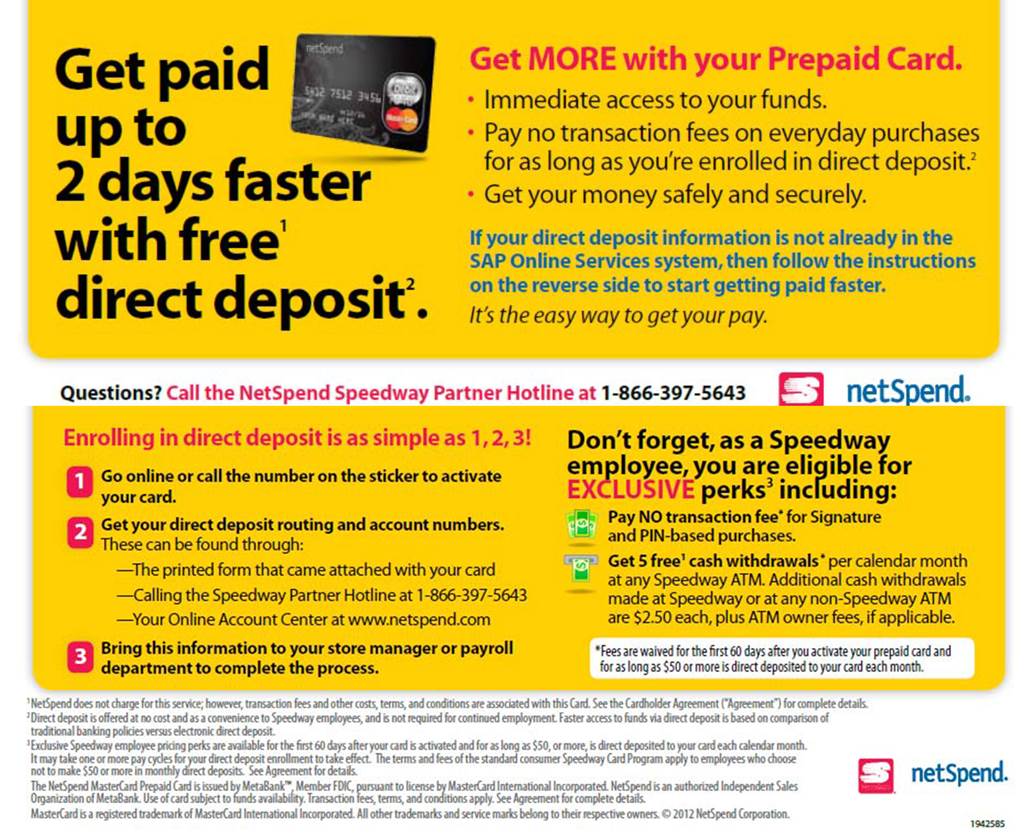 "Immediate access"? Not so fast, alleges the FTC. NetSpend's ads were replete with claims like "No Waiting!" and "Use your card immediately." But the FTC says many consumers experienced delays in accessing their funds both in the initial activation process and later. For example, despite the company's "use it today" claim, consumers have to go through an identity verification process required by law before the prepaid debit card can be activated – a process with requirements many people have difficulty satisfying.
The upshot? People who loaded funds onto NetSpend cards often had to wait – and wait and wait – to access their own hard-earned money. The FTC says those delays resulted in severe financial hardship to consumers, including evictions, repossessed cars, and late fees on bills.
The complaint also alleges that many customers who closed their accounts and asked for refunds had to wait several weeks to get their money back. In other cases, NetSpend imposed fees that depleted the funds from cards after consumers were unable to activate them.
The complaint takes on other instances in which NetSpend's business practices were at odds with its marketing claims. For example, the lawsuit challenges as misleading NetSpend's representation that consumers are "guaranteed approval" for a card. The FTC also alleges that NetSpend said it would grant provisional credit when consumers dispute charges on their cards, but often failed to live up to that promise.
The lawsuit was filed in federal court in Atlanta. If you work in the financial services sector or have clients interested in alternative payment methods, this is a case to watch.
Need to know were I can file suit at against net spend please call
I wasnt able to get my money either,this company has caused me so many hardships for just having put money on the card and only not be allowed to get my money back.This company made my day to see the FTC sued this worthless company.I would like to tell the FTC I put over $500.00 bucks on the card and lost my apt.Lost most if not all of the 500 bucks except for maybe 20 dollars,and I had no clue how to file a claim against this worthless company.Please Help FTC to get my money back....Thanks for a Good Job well done...
I had more then one run-in with the card company net spend
we did not get our credit card till now why.
Then they would place the card in your name and place a unidentified pass code onto the account then when you couldn't identify they would tell you to call back when you figure it out, or open another account. Knowing well that once they had your electronic approval they used your signature and the customer just go on as eye did and netspend gets the profits, customer gets nothing
I need to be involved in this Lawsuit. Netspend has been ripping me for 5years now.
I been a netspend card holder with direct desposit got 5 yrs. do I qualify.
I too want to know how to get my money back. I bought two cards that totaled $800 and wasn't able to use it.
They sent a card to my 11-year old. She signed up to fill out a survey. They sent a card to her, presumably so that she could receive the 50 cent payout she earned for doing the survey. The card had an $8.95 monthly fee! No thanks!
i,'am first, an American Citizen, and American consumer, Everyday, an American citizen get ripped off. it does not. Cease.It was America the great, that rushed si many over for better and what's fair. Yet with migration, and the unpredictable scams that cane with some. American businesses, and un-saavy business owner's continue in capitalizing on it's on. Its taxing when you are trying too keep up on a day to day basis working for pay check to pay check on a job.....and get scamed. the new trend is....dont get incarcerated and have any amount of cash on you it is transferred on a debit card and you are taxed your hard earned cash , money taxed $3.00 in being released given a debit card in exchange for the cash that was on your books and later charged $3.00 to regain your cash it simpky makes me regurgitate. We never seem too cease in letting the gold dust that mist one's eye's soon ching ching ibto bars of gold....when will make America great again? Janette Fketcher Dorsey By way of the Caoitol of Texas Currenty residing in Dallas, Texas
Someone stole my card and used my funds I filed a police report then filed a dispute. I sent my dispute letter in and told me I would be eligible for a provisional credit. When I call yesterday to check the status, I was told to call back the next day. I called the next day which is today and they told me that they won't have an update until May 4th. So basically I've been giving a run around with this company and also I just won't have any funds to use until then. Netspend is just full of BS. I'M SO TIRED OF THEM .
Fo I really have a cards? Why I dont get any?
Even after they settled a $53 million suit with the FTC, to this day NetSpend is still deceptive and I just spent two weeks fighting with them over the new PayPal Prepaid Debit Card, which unfortunately PayPal contracts for with NetSpend. If I had seen the C- rating on BBB and the FTC info first, I would have NEVER even signed up. This has been a total nightmare to get a simple prepaid card for while my mother travels as I did not want her bringing cash with her. Many things stated on the FTC and BBB websites are nearly identical to the what is happening with me, the identification process, cards being canceled, cards not being sent, different reps giving different answers, and no accommodations or remunerations from NetSpend, such as expedited shipping of cards due to THEIR delays or comping me the monthly fee on the prepaid account for a few months. Yikes!
I have used this card in the past. and it sucks with all of its hidden charges. I want in on this lawsuit
Is there anything that can be done about them only posting Gov't benefits to some peoples cards on a friday and making other people wait until Monday when in fact we all pay a monthly fee.Also when you call customer service it is nothing but lies I called on April 28th to inquire about my deposit because I seen other people were getting theirs and was told that no SSA would post until Monday and when I asked why some people's were posting.I was told the same old rehearsed line SSA won't post until Monday ignoring completely what I asked about other people's SSA deposits posting.They post SSI deposits every month 4 to 5 days early like clock work why is SSI recipients treated better then SSA recipients we both pay a fee.
I'm officially done with netspend they have robbed me multiple times. Stole halfofmy tax money then had a nerve to tell me that I need to send my personal info after I sent all of these things they told me that my info wasn't correct andkept my 2989 dollars. Then my best friend put 70 on another card for my son an they blocked the card asking for 3 pack numbers after Icalled and explained that there weren't any other pack numbers they said I'd get a call from someone never did.
NETSPEND HELD FUNDS AND NOE REFUNDS
I have computer data print outs,with 4 years of fraudulent netspend transactions ..Stealing my money and loading netspend prepaid cards..Transferring monies from my checking accounts.i have proof in black and white
How do I. Because a class member of this lawsuit
how is it right they receive ssd benefits and split them up?? that practice alone is shadey!!!!!
I'm just waiting for the lawsuit to get started so that I can join. The way they took advantage me & others is just down right shameful
It is not a good card at all
I bought a prepaid netspend card loaded it with 40.00 and when I tried activating it was told that I had NUMEROUS cards and one had I overdrawn balance of 200.00 how in the he'll that is true I don't know because it's a PREPAID CARD. anyway I couldn't use that card and they closed my accounts without explaining to me why? I would love to sue tbem.
I made a mistake buying 1 of these cards and now Im out money with no way to access it.. FRAUD!!!!!!
Beware of PayPal prepaid MasterCard! This is the second occurrence for this problem, and the fourth day no one from the company has reached out to me. I called them regarding not being able to transfer my funds from my PayPal account to my PayPal prepaid MasterCard account. They blew me off. And I haven't been able to call them again because since I can't get my money my phone service is disconnected. I've sent them emails, this is the fourth day and its like I'm being ignored. Their customer service is beyond horrible, and it's dreadful to contact them! BEWARE, BEWARE BE AWARE!!!! I am filing complaints against their shoddy practices and warning whomever will take heed.
Its just like Ms Everson said and I had numerous cards and my daughter also had one and they would place the card in your name and place a unidentified pass code onto the account then when you couldn't identify they would tell you to call back when you figure it out, or open another account and you didn't know these codes so your just lost your money. I probably lost about 400.00 and my daughter 200.00. such scams
When my mom died and rent was due they tied up my money for three weeks and I could not pay my rent and got charged of 200 and this was one thing out of many 00
I was issued a refund of over $500 for a returned purchase and netspend said it was fraudulent and closed my account when it wasn't. I even contacted BBB and filed a claim
i just paid for one. i did not activate it when i found out about this institution on the net. the store i bought it from, refused to refund it after 20 minutes passed from purchase time.he said he'd call about it.there is no-one to talk to. only to activate it. ONLY then can you talk to some-one; after you give invaluable info first. too late for ANY refund then. so he flat out lied about talking to some one. he was the manager too; so he must be in on it. the cashier was laughing the whole time while i paid for it. their corporate rep blew me off too! thanks for the head up on paypal. i was considering them too!
I was with netspend I believe back in 2010 up to about 2016. I had direct deposit of two checks from the government in which was 1st & 3rd. They blocked my card saying that I owed money dating back to 2010. How is that possible when I have direct deposit. They will not allow me get another card from them or brink. And the mistake was on their behalf. Anytime there was an overdraft they would take their money out but why come I wasn't notified of the problem. I didn't find out until 2016 but I was still using the card. Why come they didn't catch the problem than for amount of 86.00 dollars. There's a serious problem with this company. I am blocked.
The Netspend card is a joke they send you cards without requesting them then you put money on the card and cannot access the money after you have put it on they promote you buying from specific websites I will no longer use the cards
More from the Business Blog
Get Business Blog updates