Have you seen the ads where a popular celebrity touts DIRECTV on his own behalf and as the Painfully Awkward, Overly Paranoid, or Crazy Hairy version of himself? Applying that to a lawsuit just filed by the FTC, there's DIRECTV – and then there's Deceptively Advertised DIRECTV.
DIRECTV is one of the biggest names in the business with more than 20 million customers. Through TV, print, direct mail, phone, and online promotions, the company advertises satellite TV packages for as low as $19.99 a month for 12 months. What's more, DIRECTV said premium channels like HBO and Showtime are "free for 3 months." But according to the FTC, DIRECTV failed to adequately disclose the true nature of the deal, meaning that consumers got stuck with higher prices and unauthorized charges.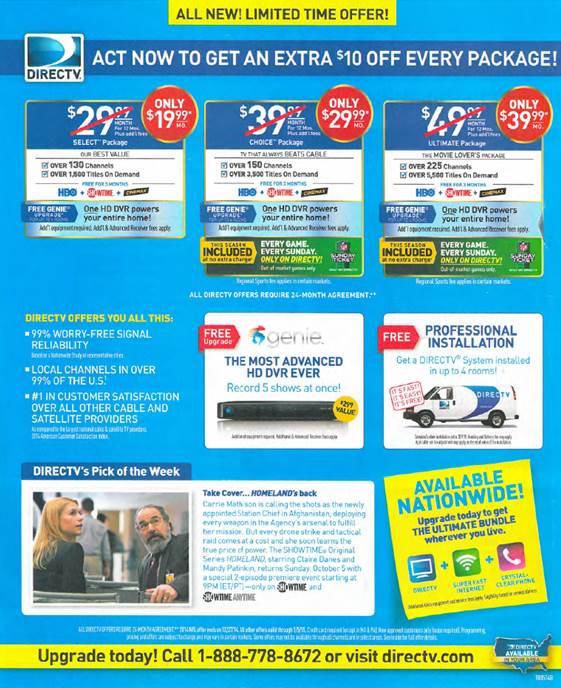 The complaint offers a closer look at how the FTC says DIRECTV's practices were misleading. For example, DIRECTV touted that eye-catching $19.99 monthly rate for 12 months of service without clearly explaining that: 1) Consumers couldn't actually sign up for 12 months of service because DIRECTV required them to commit to 24 months; and 2) In the second year, DIRECTV typically hiked up the monthly fee by between 50-70%. Consumers who experienced bill shock at the start of that second year and wanted to cancel faced hefty termination fees.
The FTC also says DIRECTV's "free for 3 months" premium channel offer was a deceptive negative option promotion. How did it work? DIRECTV typically enrolled consumers in the promotion automatically without clearly stating that unless consumers took the affirmative step of canceling before the end of the three-month period, DIRECTV would bill them extra for it every month. According to the complaint, after the "free" period ended, DIRECTV went ahead and used consumers' credit or debit card information without their consent to charge them for the service. And we're not talking chump change here. The FTC says the monthly fee for those channels was around $48.
The lawsuit is pending in federal court in California. Meanwhile, here's something for businesses to note in the pleadings. In addition to alleging that DIRECTV failed to disclose – or failed to adequately disclose – subscription prices and the nature of the premium channel offer, the FTC says the company's online practices violated the Restore Online Shoppers' Confidence Act.  Passed in 2010, ROSCA makes it illegal to charge consumers for goods and services sold through online negative options unless the seller:
clearly and conspicuously discloses all material terms of the transaction before getting the consumer's billing information;
gets the consumer's express informed consent before making the charge; and
provides a simple way to stop recurring charges.
This is a case you'll want to watch.
After extensive efforts to obtain the $150 promotion that I was offered in March, I can not receive what was promised. I was not instructed how to obtain this promotion and now I am told that I must request in writing the numerous tapes of conversations on this topic. Not really worth all the efforts to obtain this other than to assure this is handled appropriately for everyone, I have written to DTV PO Box 6550 Greenwood, Colorado 80155-6550. I have spoken with several supervisors and agents and emailed the situation to DTV "president email". I have lodged the issue respectfully, clearly and in a kind manner. I will wait response for the next week or move forward on this issue also.
I am going thru the same thing add my name to the list I got foulest with them yesterday after 4 mos. they took $627.00 out of my account. Could tipsy my insurance orbit groceries. I am Donald. Now I get an email from them saying my Bill is do of $180,00. I am so upset. They are nuts
Even if they lose this case, they already made so much money with the deception. The risk of litigation is a small cost for such a lucrative scam. Even if DIRECTV loses the case, I highly doubt the FTC would get full refunds for those affected. Many people do not even know, they are on auto-pay. Lawsuits are just the cost of doing business - its all calculated out, such as, if we add hidden change of $5 a month times 20 million accounts is $100 million a month in extra fees. A lawsuit would likely settle for a couple of million, hence the incentive for them to do this.
How many people need to be exposed to this crime before someone does something about it, I just closed on a house and had to "pay off" an over 10 years old supposed debt to direct tv, I paid $300.00 for their junk satellite equipment up front, returned it to them at my expense then they turned me over for collections on it????? Read through these complaints..........Does it look like I'm making this up?
Got the directv service in October of 2015 and Now it's November 2015. I'm trying to move in with my girlfriends house and take my directv with me due to in a contract with them. So I called them to setup a move and guess where I found a hidden charges. Why would they charge to move the system to another location with a dish on the house already and me having the directv boxes already. They started to say it was a 500 move fee then they said 199 fee after I complained a bit they got a discount to 72 something. I'm still pissed about it because I was never told when getting the service or told during the setup only when I called to change location was I informed. I do not think I'd would have to pay if they are miss informing customers and the moving as said for one move per year. I hope this law suits goes through because I'm locked in a contract with them.
In just filed a complaint with the FTC against DirecTV for failure to disclose full terms and continued efforts to extort monies not owed. I'm happy to see this investigation!
Everyone please also be aware that if you are on social security (retirement or disability) they CANNOT have a judgment against you and make charges on your bank account with out your express consent of each charge, even i a judge approves it in court! However this only works if your bank account is over 90% money from social security funds... if you meet this criteria and have had money removed from your account contact your bank and request they reimburse you as it is the bank's responsibility to stop payment from your account.
DirecTV charged my credit card without authorization, which they kept on file for over 2-years. It was only used to pay first month bill that they said was required for service. Thank goodness it was a credit card and not my bank account. Lesson learn, NEVER give a company your credit card number again, it its the only way to obtain their services, oh well they will not get by business. How do I get my name on the lawsuit list?
Hi Everyone! I signed up for the $19.99/mo for 2 yrs. I have never seen my bill be $19.99! I want to be a part of this lawsuit. Ever since the billing started it was $60 or more monthly.
Can someone stop this delinquents.
I canceled Directv after 20 years. I have a $60 credit due and they are taking forever paying it back. They charge for programing 1 month in advance and when it comes time to credit your money they drag it out. Instead of crediting the credit card they have on file and used to pay for services, they said they would mail the final check. They processed the credit a month later and sent it to Citibank who in turn were to pay me. Citibank said they have no record it receiving it from Directv. Citibank said when they do receive it they will issue me a visa credit card with the amount due. I DON'T WANT A CREDIT CARD, I WANT MY MONEY! They told me that when I get the card if I prefer a credit to my account then I need to call the number on the back of the card and have them manually transfer the money to my account. It seems Directv all about cash flow, and not customer, they want money flowing in and delay money flowing out. I would never use direct in the future or even recommend them. I am so unhappy with the way I have been treated, after being a truly good customer, that I might even cancel my A T & T wireless services that I've had for 30 years and try another company. Just because they keep telling us that they have they're #1 in customer service, that doesn't make it so. #1 in who's book.
All the TV, CABLE,Satellite (ATT UVERSE, DIRECT TV, TIME WARNER, Dish TV are running these scams. FTC when are you going to start protect the consumers from this Fraudulent crap? We need a class action lawsuit that gets us our money back. Put these companies out of business.
i would like to be added to list direct TV told me one price that i agreed with but the bill comes 50 dollars more i tried calling them couldn't straiten it out so i canceled and know there charging me early cancellation fees
Direct TV engages in fraud. The sales representative makes material misrepresentations about the service provided in order to get people to sign the contract, when in fact, according to the supervisor at the corporate office, are not relevant because they are not contained in the contract. Therefore, the fact that on demand is not really on demand, the fact that the rewind services do not work, the fact that the internet will not connect, is not guaranteed. They claim that the ONLY thing that is guaranteed by the contract is basic service and installation. Once that is done, it costs $20 for each month remaining on the contract to cancel. It is a 2 year contract so that is $480. The sales rep promised a $300 cash card would be sent within 3 days. It took at least 3 weeks. Then, the supervisor would not give me the contact info for the legal department and he would not give me his last name. OUTRAGEOUS!
I am also a customer that was unknowingly billed for services not rendered then when cancelling my account billed $240 termination fee after being a customer since 2011.
I was considering DTV before reading these posts. Thanks for the heads up everyone.
Does Anyone Know How To Get Added To The Lawsuit ????? I have been ripped off through deception like all comments I read and went through the same terrible customer service circus everyone has being transferred many times getting knowhere to find out why my bill keeps going up. I hope Direct gets sued Big Time I share my terrible experience with Direct with everyone I possibly can. I think the better business bureau needs to flex their muscle and rock direct tv's world now. How do I get in on this lawsuit????
I have been a DirectTV customer since 2011. And an AT&T user for much longer. Over the years I have had issues with Direct TV but overall was happy with them and have stuck with them. When they combined with AT&T I was even more excited to be a customer and looked forward to what they could do together. Unfortunately I had to terminate my contract with DirectTV today. As you can see from the other complaints, DirectTV is very deceptive and will suck you dry with hidden fees and trap you with unexpected charges. I spent almost 3 hours today just trying to get it shut off and am so frustrated I would not want anyone to have to go through what I have. Last year I called them about getting the Pac 12 Network. They told me they were working on it but did not yet have. They gave me the NFL Network for free and knocked $25 off my bill per month. Then they charged me for the NFL Network this year without telling me and I did not even want it and they also added the $25 fee back. One of the 3 persons I spoke with today told me they would reimburse me the $200 for the Network so I did not leave so unhappy. Then she left me on hold for 15 minutes and came back to berate me and tell me I should have known. When I asked to speak with a Manager she put me on hold for another 20 minutes. When the Manager came on finally she berated me as well and I had to almost beg to shut down my service. Then tonight another supposed Manager called me and said he was trying to fix the issues. He also offered to pay me back 2 different ways and offered many other things. When I said I appreciated it but did not trust the company and still wanted to cancel, he withdrew any offers and would do nothing for me. If you want to get a service for television, sports, movies or whatever...do not choose DirectTV, they are a ripoff and will find ways to take your money without warning. My brother is very happy with Comcast and my brother in law loves Dish. I will be checking out them both.
Directv is my sisters favorite tv service. She's been with them over 20 years. However every month almost they are slipping unwanted premium channels onto her account. Last summer I remember it was the sports channel package. She doesn't like sports and refuses to pay for them, If I want to watch sports I do it on abc/nbc/cbs etc and I won't ever expect her to have the sports channel package out of respect ... I moved in with her to help her while she was severely ill, and now the roles are reversed and if something happens to me she will help raise my youngest... That's beside the point tho... Tonight my sister was looking at her account online since she was about to pay the bill (online) and noticed the nuddies were placed on her account. Again it's not something that would ever be on her lost of wants. It's not even on mine and as we share residence and I have a very young child it's not something that should be in this house so the little one doesn't get exposed to it. (Yep you can call me a prude cause if I want to see something I'd rather be in a relationship to enjoy it instead of a vicarious attempt) .... My sister immediately contacts me asking WTH?? Only to say she checked with me and knows for a fact either way we would never have placed this on her account either, Add to this there are movies constantly being *Placed* on the watched list that neither of us would ever view,.... And she's being charged for them too without ordering them wanting them or watching them....in the 13 months I've lived here there's been more than a few times this has occurred. I'm passed pissed off about it but she wants to keep the service and I again will respect her choice. Question is what to do because they just keep thinking they are going to slip something past her or get a tech issue over on her and between the both of us this isn't going unnoticed. How to we stop the crap and get them to understand to stop trying to frell us big time so they can abscond more money from her....
I tried to sign up for the 19.99 deal as soon as you add 1 tv the bill went to 47dollars plus hard to watch with out at least 1 tv so why not just be honest and say 1st year is going to cost 47 dollars and 2nd year 77 plus dollar this would be honest
I cancelled DirectTV in mid December of 2015, because the equipment had failed so many times, all documented at DirectTV. The company sent out a workman to confirm that reception was spotty, which he did, at which time he verified to me that I would not be charged anything for the 4 months still to go on my contract, since services were unable to be rendered. I sent back all my DirectTV equipment, which they should have received. I noticed that as of 1/15/2016, I have been billed by DirectTV $296.80, which they say they will take out of a credit card I used for the first few months of payments. I don't know what they are billing me for; nothing is listed on my bill except that I owe that money. I paid up everything to date when I ended the DirectTV account, so what could be going on? I have sent them an email, but calling is a nightmare that takes up to an hour. I will do it, but I am trying to avoid it--advice?
I canceled my Direct TV 3 yrs ago when we had a house fire. I called to explain the situation to them, and by the way they could care less if you were burned in that fire, they will harass you to no end to get money. Anyway 3 yrs later we found the 3 cable boxes were in a basement closet, returnEd them in the box they sent us and now they sent a bill to collections for 430.00 for no reason. We paid them in full the month of the fire and did not have an agreement anymore because we were customers for 10yrs. This is Fraud and I'm so sick of this company getting away with deceptive billing practices. I will not pay them 1 more dime. Please how can I get on the class action law suit? Michelle from Wisconsin Thanks, we all need to keep Direct tv from being in business like this.
Jan. 28, 2016 telephoned Direct TV pursuant to their online advertising of the "Select" programming package for $19.99 per month; the representative stated that his name is D.J. and that he is in Texas. When D.J. asked how many TVs would be connected, I stated 2. D.J. said there is a $7 monthly charge for each television. D.J. stated there is no installation or activation fee. I understood this offer was for 12 months and thereafter it would cost me $51.99 per month (plus any applicable taxes), plus $14 per month for 2 television, for a monthly fee of about $65.99 after 12 months. I then gave D.J. my Social Security number to run a credit check; D.J. said "because of the credit check you will be required to pay a $149 fee based on the report." I told him that I did not understand because there is nothing derogatory on my credit report. I then was connected with D.J.'s supervisor, "Stacy." Stacy reiterated that due to the credit report, I was required to pay the $149 fee. Both D.J. and Stacy said the report indicated I had to pay the $149 fee and not eligible for $10 a month discount, so I would be charged $29.99 plus $14 a month for 2 TVs. I then went online and applied through chat for the $19.99 package. The chat rep. said what D.J. and Stacy said. I then pulled 3 credit reports from Equifax, Transunion, and Experian. There were no delinquencies, and in fact my debt-to-credit ratio showed 7% (extremely low). I feel there is false and misleading advertising by Direct TV, stating that there is no installation/activation fees, however, they automatically tack on the $149 fee due to "credit history." This is out-and-out deceptive advertising on consumers. They tried the "credit report history" deception on the wrong person this time. Filed complaints with the FTC and my State Attorney General today.
I will have to make this perfectly clear, cause apparently no one reads anymore. When you sign up for anything, there is almost always a 2 year contract. Directv doesnt deceive you with the 12 month offer. Yea, the commercials do not state that there is a 2 year contract, but you dont see the commercial, decide that sounds great, and then all of a sudden have directv. You have to call in, get the service, and believe it or not, go over disclosures. You go through two forms of verification before you can even sign up for directv. If you so no to either of them during the process, you dont get directv. Also, unless you have abp, you will not get automatically charged for premium channels through your card. It gets put on your bill, which then gets sent to you. I feel like the bottom line to this whole complaint is "Read what you are signing" as well as "Look over your bill". I don't know about you, but i like to know exactly what im getting and exactly what im paying for. If you dont do those things, then whose fault is it really?
I was cheated and misled by the sales team, I was told it would be a bundle of internet and TV with basic channels for $39.99 plus the charge of $7 for the box and it would be a bundle, she clearly mentioned me that I was paying $48 just for the internet when i can get both internet and Tv for the same price and I was paying way too much just for the internet with AT&T and I could get Tv and internet for the same price for at least 12 months. This never happened I was getting a separate bill from at&t for $48 and Direct TV was sending me a bill for $54 which I never agreed upon. i cancelled the programming with in 45 days once i came to know what was going on, Now Direct TV is telling me that I have to pay a cancellation fee of 20/month for 24month for the period left for the contract. This is open ripoff and cheating has to be stoped
I just called Diectv about my bill that had some sneaky increases. The base package price for the ultimate package went up 5 dollars and I am only in month 8 of the first 12 month promotional time. So when the promtional 12 months are up, it will be even higher than what I originally purchased. The equipment fee for each room went up 50 cents per tv, so that added another $1.50. (the supervisor called it a new eqipment fee, but I have the same equipment I started with just 8 months ago) Shortly after starting service, we were offered a promotion on movie package for 6 months at 22.49 for the 6 months. It is only month 4 and it went up 5 dollars! When I called to inquire about these price increases I was told that directv renegotiated with providers each year and those price increases are due to that. ???Whatttt? The supervisor repeatedly told me that I had been informed by email or regular mail about the increases. I get a paper Bill and save all emails, I read everything and I am telling you I did not receive any notice of these increases. I had directv for about 20 years in Ohio and this price increasing mid package, never happened once. My Florida subdivision allows brighthouse to have a monopoly on the cable , so my husband wanted to try directv. We just got it this past July 2015. If they increased every tv equipment fee in America by 50 cents and most homes have 2 or more tv's, they just just made a HUGE chunk of change. I am smelling something stinky here! I am not sure what to do about this since we are in a 24 mo package.
They did it to me too, upgraded my equipment "complimentary" then when I went to cancel services they said I had a two year contract. No way! I was a loyal customer for 5 years and they do this to me! I'm not going to keep my service. They are going to try to charge me termination fee so I haven't canceled yet just didn't pay my bill. What do I do?
Who do I complain to about overcharging? I signed up for this 19.99 service. ended up to be "under 40.00 month" with NO INCREASES THE 1ST YEAR. Here I am 4 months into the service and already they have hiked it up over 11.00 month. with more to come. I was told by 2 employess at 2 separate calls that there will be NO INCREASES the 1st year. well. now they are telling me theya re within their right to increase my rates? I am on a fixed income and cannot afford more than I agreed to. I was also mislead. They are still billing me for the 3month trial HBO movie channels which I cancelled 2 days prior to the free period ending. help! this company needs to be reported. Im afraid I cannot afford my bill every month due to these increases. let alone what will happen next. where do I go?
Who do I complain to about overcharging? I signed up for this 19.99 service. ended up to be "under 40.00 month" with NO INCREASES THE 1ST YEAR. Here I am 4 months into the service and already they have hiked it up over 11.00 month. with more to come. I was told by 2 employess at 2 separate calls that there will be NO INCREASES the 1st year. well. now they are telling me theya re within their right to increase my rates? I am on a fixed income and cannot afford more than I agreed to. I was also mislead. They are still billing me for the 3month trial HBO movie channels which I cancelled 2 days prior to the free period ending. help! this company needs to be reported. Im afraid I cannot afford my bill every month due to these increases. let alone what will happen next. where do I go?
Direct T.V. definitely has the monopoly on rates....just raise them constantly whenever they want to. I don't understand why there seems to be no regulation on this company. I have watched my bill increase steadily over the last year, and from last month to this month, it jumped from $99.52 to $103.72. I am not far from switching to another carrier. If these prices continue to go up, will do just that.
I also got caught in this deception. Every month my bill is getting higher. I was told my service included up to 4 tvs. Well this month they are now charging me an additional fee for an additional tv. I am still only. using service on 3 TVs. When I called to follow up on this I found out they are billing me 3 times my monthly cost! The explanation for this is they are "getting caught up on billing me for "advance service". I was already billed "in advance" during a previous billing period. No prior contact about this increase in billing and when I requested to speak to a supervisor it never happened.
Direct tv screwed me. And is still screwing me over. Have talked to 3 different agents and all they can tell me is that early termination fee is 400 dollars. But in the mean time want me to pay a 300 dollar bill monthly. They are liers and are still lieing to me. They promised that I would have all the channels I asked for. And when installed that was not the case. Told me one price but am being over charged for everything. They lie about everything.
DIRECTV IS THE WORST TV PROVIDER! I sign up for directtv about 4 months ago, I had seen the discounted advertisements for 19.99$ a month. I called directtv to sign up on the phone, the representatives I spoke with sounded like a African American female who did not care much about her job at all. She rushed me into giving her my debit card number without telling me everything about the service!! She was in a hurry to sign me up! I WAS NEVER TOLD THAT I SIGNED UP FOR A 24 MONTHS CONTRACT !!! I just found out that my first year is 19.99$ a month but then the second year goes ALL THE WAY UP TO 50$ a month! When the package original price was 29.99$ . I am moving away and do not want to keep the services. I called directtv today and told them that I was totally unaware of the 24 months contract and that I wanted to cancel my package. They said I signed a contract when the representative came to install the devices. I KNOW FOR A FACT I WOULD NEVER SIGN A TWO YEAR CONTRACT FOR ANYTHING. So I requested that I'd get emailed a copy of the contract THAT I PERSUMABLY SIGNED WITHOUT KNOWING. But all they sent me is their terms of agreement stating the 24months service agreement without my signature! I have never even seen this 24 month agreement ! THEY ARE A BUNCH OF SCAMERS , LIERS . CORRUPTED CORPORATION THAT WILL TRY TO STEAL YOUR MONEY IN EVERY WAY THEY CAN! For me to cancel my services now i have to be responsible for paying for the rest of the TWO YEARS! They call it cancelation fee. I call it ripping me off . [delete] you very much.
I had an issue with a DVR receiver so they sent me a new one. Then when I ended my contract with them after 2 years the told me since I had received a new DVR that my contract was extended 2 more years and I was going to be charged a termination fee of $200. Direct TV was very underhanded on how they did this. I will never return to them or refer them to anyone.
I am a Aothouized local retailer for Directv. It's to bad that there are so many misleading sales people for directv. These are people that work for big marketing firms. they sell in Walmart, SAMs, and a the flyers you get in the mail . they lie and mislead the customer. For example I was just in Walmart and asked the dtv sales rep how much the price went up the second year he replied $17. It's goes up $ 50 29.99 to 79.99 for choice pack the second year. This is why I do not sale a lot I tell my customers the truth. if they want it great if not I go to bed with peace of mind. My advice is if you are shopping satellite dish or dtv look up your local retailer were in all major city's in the US. Stay away from the big stores,flyers that you get in the mail and even Dish or Directv them selves will have a fast talking rep on the phone that won't give you full disclosure.But us local guys you can have a one on one conversation and after we install it you have someone to talk to about a problem. I hate the liars in my industry they give us honest retailers a bad name
The next time you make a payment to directv, do yourself the biggest favor and buy a prepaid visa card. It costs 3.95 to activate it and .50 per purchase. Directv knows not; nor does anyone else that it is a pretty paid card. Now your old credit card# is safe, they have the new credit card # that has no money, and they can sure TRY to put charges to it, but cannot. You are welcome!
!I'd u know that directv has what is referred to as a 'family package'? It is for ppl who really can't afford their exorbitant rates. It's a cappy package, they claim you get 55 channels, but after subtracting infomercial channels and HD channels, (which they count twice; once.for regular broadcast and once for HD) u get something.like 47 + the ID channel at $29.99 a month. Don't let them act.like they don't know what u are talking about because by God, I swear to you it is true . My friend; who sub- contracted for them told me about it and that is what I am doing now. Yes, they sure did try to act.like I was.insane, but I got pushy, real pushy and all of a sudden , oh, huh, they 'found out about it'! I wish more ppl had known about this sooner. Then maybe the corporate fat cats would have a thinner lining in their pockets, lol!
I am one of the customers that is in a 2 year agreement with directv that has had my bill raised in the first year called they lowered it for one month then charged me the next month new pmt amount and 10.06 for the previous month so my 43.00 bill is now over 56 dollars a month when I called this month they said they had a price increase and that I must pay for it when I told them I would like to cancel my service they said that is would be 450.00 charge for early termination they broke the contract by raising my rate in the first year and now I am stuck I really want out
going this morning to cancel my direct tv install of 4k.. I think the employees at AT&T were miss informed and told me that Direct TV is now broadcasting in 4K and even your other tv which is not 4K will look better. With the deals I was excited and told them I will go out and buy a 70" 4K tv for the livingroom and move the plasma to the bedroom and get two services now with the 4K. I made the switch from AT&T since they said they said make the change now because evenually there will be no tv service with AT&T and there will be no deals. I went for it. I HATE IT. I only get 4K if I pay $8.99 for their 30 or so movies that can be downloaded in 48 hours after I click on it. There are some movies about 10 that are free but they are nature documetries over 30 years old. The buffering is horrible, every 30 seconds have to click to restart. The channels are full of info selling commercials. The changing of the channels are sooooo slow... I was mislead by the company Direct TV and even the installer said you tv will be the best all the channels in 4K.. No way.. it's just HD . .. my Plasma in the bedroom is not any better. I understand now.. but I am stuck with a large 4K tv in the livingroom I didn't need to buy.. I strongly say, don't get Direct TV
I'm one of the customers too they should add the charges that you have to pay for each box for every tv. These guys need to pay for such horrible misleading sales tactics
Signed for AT&T/Directv end of Oct. '15. Rep quoted price of $140.99 for EVERYTHING for 2 years, as well as a $100 gift card, in writing on a sihned contract. Never got a bill under $220. Last bill Mar. '16 was for $240. Spent 3 hrs. on the phone last week and got bill to $147. Pain the bill and service was shut off the following day! After another 2hrs. on the phone, was told if I pay the $90 outstanding, the could switch me to a different plan. Asked, like I did last week, "What about the plan I signed for?". No idea what I was talking about! Offered to fax said contract. What's the point of signing a contract if they're not honoring it?!? Service still off and cable comes back tomorrow. They cancelled my and I'll refuse an early termination fee. Calling FTC and State's Atty. tomorrow. Nothing but a scam!! Stay away...far away!
They say you get 100.00 gift card and you don't get it they say I don't see where you are to riecieve it but everything they send you says it and they both told me I get 100.00 From AT&T and one from direct but that's not the case only AT&T honored there's but direct didn't say their not going to this bad business .
I was going to sign up until the girl told me it was a 24 month contract. I said what's my price gonna be in the 2nd 12 months? She said the bill is going to go up $45. She only told me about the 24 months after i have her my credit card number which is deceptive. She begged me to approve the $1 charge, i said no i don't want to commit to the 2nd 12 months because it was a ripoff. So happy i didn't do it......
More from the Business Blog
Get Business Blog updates