Have you seen the ads where a popular celebrity touts DIRECTV on his own behalf and as the Painfully Awkward, Overly Paranoid, or Crazy Hairy version of himself? Applying that to a lawsuit just filed by the FTC, there's DIRECTV – and then there's Deceptively Advertised DIRECTV.
DIRECTV is one of the biggest names in the business with more than 20 million customers. Through TV, print, direct mail, phone, and online promotions, the company advertises satellite TV packages for as low as $19.99 a month for 12 months. What's more, DIRECTV said premium channels like HBO and Showtime are "free for 3 months." But according to the FTC, DIRECTV failed to adequately disclose the true nature of the deal, meaning that consumers got stuck with higher prices and unauthorized charges.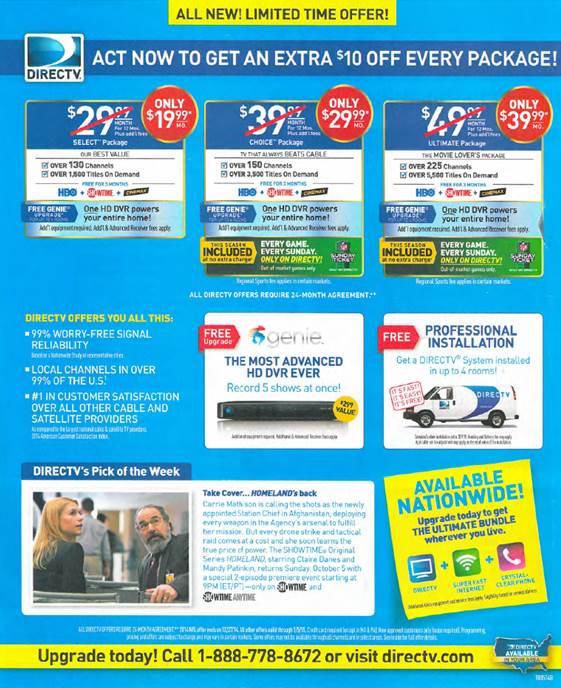 The complaint offers a closer look at how the FTC says DIRECTV's practices were misleading. For example, DIRECTV touted that eye-catching $19.99 monthly rate for 12 months of service without clearly explaining that: 1) Consumers couldn't actually sign up for 12 months of service because DIRECTV required them to commit to 24 months; and 2) In the second year, DIRECTV typically hiked up the monthly fee by between 50-70%. Consumers who experienced bill shock at the start of that second year and wanted to cancel faced hefty termination fees.
The FTC also says DIRECTV's "free for 3 months" premium channel offer was a deceptive negative option promotion. How did it work? DIRECTV typically enrolled consumers in the promotion automatically without clearly stating that unless consumers took the affirmative step of canceling before the end of the three-month period, DIRECTV would bill them extra for it every month. According to the complaint, after the "free" period ended, DIRECTV went ahead and used consumers' credit or debit card information without their consent to charge them for the service. And we're not talking chump change here. The FTC says the monthly fee for those channels was around $48.
The lawsuit is pending in federal court in California. Meanwhile, here's something for businesses to note in the pleadings. In addition to alleging that DIRECTV failed to disclose – or failed to adequately disclose – subscription prices and the nature of the premium channel offer, the FTC says the company's online practices violated the Restore Online Shoppers' Confidence Act.  Passed in 2010, ROSCA makes it illegal to charge consumers for goods and services sold through online negative options unless the seller:
clearly and conspicuously discloses all material terms of the transaction before getting the consumer's billing information;
gets the consumer's express informed consent before making the charge; and
provides a simple way to stop recurring charges.
This is a case you'll want to watch.
493 Comments
DirecTV seems to be doing the same thing Wells Fargo got busted for- they add in services not ordered by the customer hoping no one checks their bill and just pays it. Case in point, they added in a "DirecTV Protection Plan" for $7.99 a month without customer authorization. When you ask them about it they say that they can't trace it to a sales representative but they will remove the charges. However, that isn't the point, they are doing exactly what Wells Fargo got busted for. How do I file a complaint? I call but all I get is someone from another country that gives me a billing problem URL.
I have been lied to by several DirecTV employees stating that I could get a Genie box for free no service fees, no equipment fees, then after talking to about the 25th person not lying about the number of people I found out that I was going to be charged about $23.00 more a month. I have been on phon e with DirecTV for over 15 hours in less than a week. Now I have to take off work for someone else to come out. This company needs to be investigated about the lies that they tell their customers oh buy the way I have been with them for like 9 years not like I am a new customer. I hate that AT&T has bought them because they are nothing but liers too.
They charged me an 80 $ " disconnect " fee; they told me I owed it because my 2 year contract ( started in 2012 ) was renewed in 2015 because I upgraded the DVR; accord to the rep I talked to when I got the new DVR it put me into a new 2 year contract. How does upgrading equipment require you to enter a new 2 year contract ( w/o my knowledge ). They are charging me 80 $ for some drone to tap a few keys on a keyboard to disconnect my service.
I changed from one Directv plan to another after customer service and Directv web site stated that the Choice Plan would cost $ 88.80 / month plus tax. After buying the Choice Plan I reviewed my bill and discovered a previously undisclosed fee of $4.52 / month for a "Sports Package Fee" which I was not informed about or agreed to purchase. The customer service made no mention of this charge when I asked for the total monthly billing amount. The official Directv web site advertisement makes no mention of this fee. Directv says the Sport Package is part of the Choice Plan and cannot be excluded from the Choice Plan. WHAT A JOKE DIRECTV CONS ITS UNSUSPECTING CUSTOMERS AGAIN !!!!!!!!!!!!!! I DEFINATELY WILL BE CONSULTING REGULATORY AND GOVERNMENT OVERSITE ENTITIES TO ADDRESS THIS ABUSE.
ATT's Direct TV; I acquired direct tv 5 months ago, the monthly charge was to be joined with my years old ATT wireless auto pmt. cell account.I never received a bill for the first two months then I received a pass due bill in the mail, I had to use my time to travel to one of their ATT corp. stores to get info about the charges because trying to find answers on their chat line and over their phone contact was fruitless. Five (5) months later its still a mess whatever ether one of these firms did or did not do is sickening, I have spent days trying to find the monthly billing of my direct tv account, after 5 months I did find out they spelled my last wrong and was told this would be corrected, two days later nothing. I image their IT people are from other countries and can not be taught how things work in our USA. What a mess, I must give them my money every month now without knowing or seeing a bill break down. I think ATT should stop telling our politicians how they will do business and turn thing around, possible another class action suite will be coming over this horrible setup ATT is allowing to happen.
I got screwed by AT&T/DirectTV as well. The installer did not know what he was doing. I had poor service from day one, and when I tried to get help I either got disconnected from customer service or was told to reboot the box, which did not resolve the issue. I was told I could close my account but got stuck with a disconnect fee even after being told I wasn't going to be charged. Then they stick a bill collector after me and tell me to suck it up. I cannot get a refund and they insist I must pay up. BS is what this is.
In reply to I got screwed by AT&T by William Lansdale
Same exact thing happened to me as well. Was told my account was closed because the technician was unable to install services, but DIRECT TV charged me for installing a dish and genie, which is false. They never installed any equipment - ALL false charges. I've been calling them for the past six months unsuccessfully. The reps keep pushing me from one dept to another. I recently received a bill from a collection agency for services and equipment never installed. This is ruining my credit score. Something has to give!!! I'm beyond angry, annoyed, sad, etc. I feel this is effecting my health in calling Direct TV / AT&T day after day, for hours on hold without any resolution to their false charges. They claim they installed the equipment on my condo where since April 2017 I had Comcast!!! I offered to provide them with my statements from Comcast, but it falls on deaf ears! I do not plan to pay those false charges, but how can I convince the collection agency of this??
Direct tv did not disclose I would be in a monthly lease. They have gone into my bank and stolen 115.00 for an additional genie that was priced at 7.00 and said it was a moving service charge when the movie g charge was to be free when you move. Then they proceeded to eye d my contract another year because of the genie purchase. I have been going around with every other months because our monthly changes and it continues to go up. At one point it was 120.00. I had then reduce to bare bone basic local channels 29.99 + leading cost. I asked to buy the the receiver out right and I get no straight answers. So bottom line what's the two year contract for, if I will never own the equipment when I was originally told I would.it makes no sense. To be they are in trust worthy thieves.
DirecTV and ATT are both the same in this. We have been told that we have over $100 in overpayment on the account over 6 months time by over 8-10 representatives, however, every time we asked for this to just be credited toward our next bill we were told they couldn't do so, that it would have to go on the following bill. Then, we were told that we would receive a visa gift card for the amount that never came. We would be transferred back and forth between DirecTV representatives and ATT representatives who would blame the other on the miscommunication, and would say the other was in charge of billing, or transferring the credit, etc. The clincher was tonight, when our 5 year old son ordered a Pay Per View boxing match for $64.95 (we have no history of ever ordering a pay per view item, much less a boxing match) and we called immediately, the representative laughed about our debacle, however could not offer us a refund. Yes, I know, we needed to put a parental code on our remote - things happen as a parent. DirecTV hooked us initially with the exact 12 month "deal" without disclosing how high our bill would creep up after the 12 months ended, and we pay almost $300 a month for the same service we received for $19.99 initially! We never would have gotten ourselves into this contract mess had the representatives that sold us disclosed any of the fine print (we signed up over the phone with our ATT customer service) or if we had known we would have any issue with customer service time and time again, or receiving money we are rightfully owed due to overpayment (I won't even go into my feelings on the lack of customer service when it came to the PPV situation)
A DirectTV rep. was coming around our neighborhood selling a promotion, I was VERY CLEAR with what lineup I wanted and who my previous provider was and how happy I was with the line up but just wanted it to be cheaper. Said rep assures me i would have everything I had at a much cheaper price. The day of the install we noticed we were missing channels and the first bill came two weeks later DOUBLE the original quoted price. I've been on the phone with MULTIPLE people for hours at a time and still no resolution to my problem. Now they want to charge me $600 to cancel a product that I haven't even received! This company is a nightmare and I am at the end of my rope.
Five months ago I accepted Direct TV satellite service the monthly charge was to be about $35.00 as of today I can not receive a true monthly statement. I spent days trying to see my bill, 3 months ago a chat person stated the reason was they spelled my last incorrectly, and this would be fixed. So now to date I'm lost as to charges and every time I try to log on to my Direct TV billing I am given my Cell phone account. This is the dumbest firm I have ever come across, the only thing they do right is for themselves by taking customers money and never correcting a false charge, has anyone ever gotten a sorry for our mistake check back for this outfit ??? I think ATT just tells Ms Michael O'Rielly Commissioner of the Office of the Inspector General how things will work period.
I got myself in over my head with bills , directv suggested I put a hold on my account and get it back when financially able. So I did. Then they billed me anyway even though account was on hold. Checking account got overdrawn. Fought with them for months. Reported them to better business bureau. They reimbursed. Resumed directv. They tacked on 159$ worth of bogus charges on my second bill. The statement said it was an adjustment but gave no explanation. I only went back to directv to fulfill a contract. Should have paid early termination and been done with them. Thankfully they have my outdated bank info and bank says they won't give directv current info without my authorization. A nightmare organization
They promised me 25.0 up load speed and I only have 6.9 and now they are charging me 50 dollars a day if I use or don't use the internet they never told me this from the start it was supposed to be 115 unlimited Internet and the optimo mas TV package now to cancel they want $380.00 dollars . What should I do please help
Direct TV & Internet are over charging me and will not send out paper bill, rep promise you one thing moments later i recieve an e-mail with something different. Several call, text to request a bill, with no response. I'm being over charged only recieving local channels for $ 182.00 per mo. They charged me $ 99.00 for a tech visit when the knew i had internet. I can go on and on. Their reps are outsorced, and do not stand behind their promises. I'm going to cancel the service and pay the eairly cancellation fee. I'm disgusted with them.
late fees and service fees, so i look at my bill after my service was interrupted, so they now charge a min. service fee of 6.00 to tell you your service is out due to non payment, then they charge you 35.00 to reactivate, so they can now charge you 41.00 a month if you miss a payment.
Direct TV. Misrepresented their TV package. At the inception of the service I was told to call after 1 year of service to re-enroll for a GUAREENTEED 1st year price .After 1 year they hiked their bill and Said no such re- enrollment fee was availanle. Y As a person with disabilities and limited medicare income i notified them that the hike was not manageble in my budget. The loyalty department later gave me a small break. Unexpectly, within a few months, the bill hiked again. A repeat conversation with Direct TV occurred and referred to loyalty department. No progress occurred. I checked out other packages and companies. I called DirecTV within a few days and attempted to cancel. I was sent to the Loyalty Dept. With a promise of rate decrease within my budget. On that subsequent call of june 14th 2017 another near 55 minutes ( if not more)of precious time was spent. The rep promised me a rate of $68 for the TV but could not guarantee what the taxes would be. I asked her to take the protection plan off and I did not want any movie channels or anything else she intelligeably was offering. I requested an email confirmation of TV services for $68.00, explanation of the services she agreed to, as well as the " new" custom plan she arranged ( to include the 4 stations I use for updates and academic learning) [neck & spine injury doesnt allow longterm sitting for computer use] and removal of protection plan for cost containment. She affirmed she would send All this information in an email. To date it has not arrived. Today July 24, 2917 the bill hike continues and I discovered with the Loyalty Rep that there was no change of service fee, the protection plan had not been removed, and in fact the female representative had the audacity to add in Cinemax and HBO. The only comment the previous loyalty rep on June 14th wrote in her notes was something to the effect that. [Clint called to cancel. I kept her from canceling.] my only recouse was to talk to her supervisor. I did not have the time to do that. I had a rehab care appt.
Beware, they hire phone reps you can't understand. They document nothing. What they tell you and what you get are two different things. Beware Beware Beware.....
went for the 19.95 deal, billed 37.00 for 1 year of basic cable, complained but nothing done, after that billed 62.00 dollars and the next month billed 72.00 had enough cancelled. it's so depressing to know that not only do we have to worry about e-mail scammers phone scammers but to get scammed by a company that is supposed to be legitimate is disgusting.
Had Direct TV for 11 years. About a year and a half ago AT&T offered me wifi for 10 dollars a,month for a year if I combined my DirectTV and AT & T accounts and suposably my DirectTV would not go up. This never happened and my bill was supposed to be 65 dollars a month (10 for the wifi and 55 for the directv). After that my bill would come and be some ungodly price like 130 a month. So I have to call every month to get the,bill down. So directv offered me new equipment not to cancel them and now they say if I cancell that I will owe them 240 dollars even if I return their equipment. Unreal, unfriendly, rude people. I rate their Customer Service a plain -0. This is plain out fraud and needs to be stopped.
This case is active in Federal Court in Oakland. How can we get information and follow ths Case? Is there a direct link or site in internet to get daily up dates?
At Last Direct TV is being held accountable. This case is Now going on in the Oakland Federal Court. (August 14 2017) Trial is expected to last form 6 to 10 Weeks. In a opening statement at the trial Direct TV stated " The FTC case was Boggas because there was no prof That any finacial damage was done to any on." It sound to me that all of you need to get your name on the list for some of the $3 Billion dollars that t5he FTC is asking..
A year after going through 3 months of free premiums, fifuribf out how to cancel a and then cancelling early and it is 200 dollars for a year, and I had to call back twice to cancel service. It wasn't even canceled correctly the first time. How do I get my name in this class action settlement?
They claim 145 channels, BUT they have most of those used by adverting! Even Fox Business channel is used as paid advertising in early a.m.! I am trying to cancel service, but they only take terminations by phone! I only have 30 minutes a month on my Tracfone, and the wait time is often more than that. My new antenna gets 22 stations which have better programs, and more than 5 minutes of program at a time. Then 3 or more minutes of commercials! Only thing I will miss is Fox News. Last time I got thru on the phone I tried to cancel. They offered me $50/month so I stayed. They billed me $69/month! LIARS? Now I am going to the BBB with my complaint.
Just some advice---if Direct TV adds any service during your 2 yr. contract time--they automatically put you into another 2 yr. contract & don't tell you. My contract is up next month, and I intend to drop them. Got a call from them a couple days ago wanting to give me "free" HBO for 3 months. I'm no longer an idiot. That means, "We want to extend your contract for another 2 years without you knowing." I told them not to do anything or touch my account--I am almost done with my 2 years. I plan to change my Debit card after the final payment so they can no longer take money, and I may have a celebration party when I am finally free of Direct TV!
I just emailed CEO about my current situation... we shall see if anything will be done about this. I'm very frustrated and worn out with Direct TV. They are liars and thieves. See email that I sent to CEO for full story: Mr. Randall Stephenson, I wouldn't email if I felt like I hadn't exhausted all other options. I apologize for this lengthy email . One person can only sit on hold , transferred to numerous people and repeat your issue 15 different times at 45 minutes to an hour each call over the course of a couple weeks before one person loses faith and patience . Every time, I feel like there is hope and I'm making progress, the phone calls are "magically get disconnected" and I have to call in again , explain the same story and can never talk to the same person nor a supervisor . I several issues. Every time I work through one issue, another rises. The issue initially started when my Husband and I signed up for Direct TV service. We were told the price would be a certain amount and It never was after the first bill nor what the representative discussed with us upon setting up. At that time, we decided to disconnect our service as it would not be fitting in our budget as it was not the price discussed. The rep then was apologetic and very nice and disconnected the service with us. We were told we would be receiving boxes to return the equipment. Time went by and we never received boxes to return the equipment. It was passed on to collections. I reached out to the collection service asking if there was somewhere I could take the equipment as I had not received the boxes. I was told that I couldn't physically take the equipment to drop it off and that it would have to be mailed in. I was told from collections I would have to call Direct TV to request boxes to be sent to my house to return the equipment. I did that. Boxes were sent to my home and I dropped them off at the Post office and off they went. I followed up with collections that the boxes were dropped off at the Post office and I would follow up the following week to make sure they were received and we would discuss what I would owe. I followed up with a phone call the following week- I was told the Boxes with the equipment were my received and I asked what the total pay off amount would be to get everything cleared up and be at a zero balance. I then paid that amount. $336.92 was charged to my Debit card with My US Bank account on 3/31 . I thought the issue was over with at this point and we moved on. Time went by. We are in the process of getting ready to build a home. I'm working with a bank on getting a construction loan. My credit has always been in the mid to high 700s. It's very important to me and I have worked hard to get my credit this way. I was told my credit was in the 600s. When I asked the lady at the bank why the drop, she informs That Direct TV had just put something on there. I called Direct TV as I had not heard anything, no phone calls, no emails, no mail since we closed out everything in March and we no longer have service. I was passed around to numerous people at lengthy phone calls. FINALLY I believe it was August 29, I spoke with the kindest person that was the most helpful. He did some digging and discovered that the issue was on their end and had cleared it all up. I now owe nothing. He said he spoke with Collections and got everything straightened out and would come off my credit. I asked how long until it came off my credit. He said typically up to 30 days. I said I was in the middle of getting a loan and because of this issue it is going to make me have the higher interest rate and if we could expedite this to get off my credit even sooner would be great. He put me on hold and came back and told me it was all taken care of immediately . I went on… life went on.. UNTIL I received a Direct TV bill in the mail this weekend. I haven't seen one of these since March and now all of sudden seeing one for $51. I spent all day making calls to Direct TV being passed around and again now they are saying I owe $. I explained that all this was cleared up on August 29 and to listen to the recorded calls for proof. They said they were not able to listen to the recorded calls. I begged to talked to a manager/ supervisor. I was told that if I wanted to be clear from all this I would either have to mail a dispute or pay the $84. I said now it's $84? The bill says $51 and I shouldn't even have a bill period. I was transferred to whom I thought was a supervisor which when she answered, her title was customer service specialist. She said she couldn't help me out since I spoke with collections and refused to pay the bill. I explained what happened. I don't want to dispute by mail. I want to speak with a live person and be done with this. She said let me talk to my supervisor and see if I can do anything. Put me on hold ( well I could still hear them barely talking ). I held for around 20 minutes listening to them to discuss when they disconnected my phone call. I literally cried on the phone with this woman as I am so frustrated. My credit is very important . I could pay $51.77 . $51 .77 won't make me or break me but it's the principal as this is not my fault and now I'm looking to pay a higher interest rate because of this issue with direct TV where they have really messed up my account. And if I was to pay this $51.77, who is to say I won't receive another bill again? This just won't stop. Its never ending and I need this to be out of my life. I have two children and I'm trying to build a beautiful home for them and give them the best life possible but this has my whole life on stand still because of this credit issue. I will not take the higher interest rate for the construction loan. I want this to be fixed and get this off my credit. Please help. I apologize for any inconvenience and sorry again for the lengthy email but this issue is very important to me in getting resolved.
I recently cancelled my mothers subscription due to her passing. I find it appalling that their agents would even suggest keeping my mothers name on the account and me just as a "authorized" person on the account just to continue service. I went along with it and started to take the contract and discontinue programs that were not of interests any longer. On the phone for over an 1 1/2 hrs. and consistently being put on hold to "process" individually each service until I mentioned to not process anything until I am understanding the charges that will be billed. For the most part told that I couldn't do things a certain way because I was not a "new" customer. I mentioned if I was not the customer only calling to notify them of her passing. I ended up getting disconnected because of my battery and contacted another agent that told me I would be able to do all the things I earlier was told would not be able to get. Afterward received numerous amount of calls trying to solicit my sale.
Why is the FTC or the Attorney General or FCC not shutting them down for fraud?!!!
In reply to Why is the FTC or the by Kaci Anderson
Hi, Kaci. When the FTC has reason to believe that a company has violated a consumer statute within its jurisdiction, the FTC can file a lawsuit and present its evidence in court.  Of course, the company the right to present its evidence, too.  Based on an evaluation of that evidence, the Judge issues a ruling. 
The FTC filed a lawsuit alleging that DIRECTV deceptively advertised the cost of its service.  That trial is underway now.
Is there anyway to start a law suit against direct tv for deceptive agreements and billing. It appears Directv CANNOTprovide me the agreement I signed with them 2 years ago. They are stating that in their agreement it states they can automatically extend my contract if my services is discontinued for a period of time.
I'm a customer and I'm being ripped off. I was told that my bill was only going to 50$ a month. The 1st month was the only time i paid 50$ and i have been a customer for 1year and my bill has been $111.00. I need some Justice here. DirecTV is wrong for what they are doing. I'm one very upset customer right now. They need to be held accountable for their actions.
I just wasted 1 hour on the phone and transfer 4 different times. What a joke of a company.
I had DirecTV for a year. They DID NOT tell me anything about 2 years. What I was told was that at the end of the year I could check n see if there were any promotions going on. so I could get one and keep it at the same price. For a full year I had nothing but problems. They told me that they could change my due date cuz I'm on disability. Never happened. I called in month after month asking why I was continuing to get late charges after I was told it was handled. For a full year they continued to give me excuse after excuse. Then again would tell me it was handled which it never got handled. At the end of the year there were no promotions, my bill went up 30 dollars and i cancelled. They told me I can't do that because it was for 2years. I was like what? I was never told it was for 2 years. Their reply was " well u know now". I told them I never signed up for 2 years and I want to see where I signed a contract. They told me it was being sent to my email. Never received it. Just what I thought. I've been lied to more times than I care to deal with with this company. I cannot believe the deceitfulness. Just wow. Now they wanna tack on 500 that I owe them. Which will go on my credit report for something I'm not even using. They just keep adding charges to it and this is bullcrap that they can get away with this? I've known people they have used their credit card WITHOUT permission and unknowingly took money out of people's account. How is that not wrong? Something needs do e about this company like ASAP
Recently switched from U-verse to DirectTV. I explained how I wanted my service completed. I also explained again to installer. Unfortunately, the work was not completed accurately.. I have been trying to get the problem resolved but only get run around and lies. I feel for anyone who has this service and I DO NOT RECOMMEND DirectTV to anyone because of the terrible service they give. In the short time I have had the service 1) it was not installed correctly, 2) I tried to resolve this asked to speak with a supervisor and was told no one was available but someone would return my call in less than 2 hours. No one ever called, and 3) he next day I called back and spoke to and individual who said he could get eh problem resolved. He scheduled a service call for 11-3-17 between 8 - 12. (I received a text confirming appointment but no one showed up. I called and was told the appointment was scheduled for 11-7-17. I had to fight to speak with a supervisor in order to try and get the situation resolved. Finally another appointment was scheduled for 11-3-17 between 8-12. Besides they are threatening to charge some $100 for the service call. This is unacceptable if they had performed the service correctly it start with another service call would not be necessary. Besides I am charged $7 per month to cover any repair calls. Thus far I am very unhappy with service. I understand why they lock you into a contract with such high penalties. They obviously know how many dissatisfied customers they would lose otherwise. DO NOT RECOMMEND THIS DIRECTV TO ANYONE!!!!!!
In July I sent the equipment back in THIER boxes and THIER labels. Tracking show's FED EX has them still (in transit). I have gone on line and have read where this is a regular occurrence with Direct tv and returned equipment. Many calls to Direct tv they pretty much say too bad! You still owe us the money. And have now sent us to collections. I am at my wits end ! Can anyone please tell me who to contact to complain about this?
I've had Direct TV as part of the AT&T Uverse package since October 2015. That's 25 months of consecutive service where Direct TV has been paid continuously for that time. But when I tried to cancel their service yesterday, they claimed I was in an "early termination" before my 24 months was up. I asked how I could be terminating before 24 months of service if I've had Direct TV without interruption of payment for 25 months. The AT&T customer support rep was shocked that this is how Direct TV operates. Why did AT&T buy Direct TV? Just to make AT&T customer hate them and their satellite company? Also, when I signed up for a 12-month plan with AT&T U-Verse originally, how does a subservient, satellite company like Direct TV modify their parent company's 12-month contract into a 24-month contract? Impossible in any other company on the face of the planet that a sub-company sets policy for the company that owns them!!!
Do not fall for the 19.99 deal. My bill has never been 19.99. I am scared for year two.
AT&T shut down the internet for over 100 members for over 3 weeks with no notice. When I called AT&T several times a computer was forced upon me. When I ask for A live agent in the US I was connected to Manila, Philippines. The agent spoke English but his agent was so heavy I asked for an agent in the US. He talked Tagalog to someone in his office. I told him I was stationed in the P. I. With the US Air Force and knew Tagalog was their national language. He finally admitted he was in Manila, P. I.and transferred me to El Paso, TX. The male agent was rude and would not explain about the 100 or more customers without the internet connection. He put me on hold for at least 10 minutes. When a female agent came on I ask where she was located. She said Charlotte, N.C. After explaining our problem she very nicely said she needed to put me on hold for a minute. The next agent was very unprofessional and answered by asking what my problem was. I told him it should be in his computer. He said it wasn't. I told him I Was Not going to repeat it again. I hung up very upset with such lack of professionals AT&T had. We have had the same experience with Directv. When we cancelled our service the female agent told wife that we didn't need to return our modem and other things, that we were paying for them. She also said our cancellation was in their computter system. Collection called my wife a few days later and denied that our service was cancelled. They said we owed over $300.00. I talked to the man a minute and told him to slow down. I finally hung up before he upset a 79 year old veteran.
I accidentally sent Direct TV my house payment on 10/6. I have called numerous times about my refund, only to be told lie after lie. They keep sending me statements advising me I have a credit on my account. However, I cancelled my service with them in July 2017. I have contacted the corporate office and spoke to Resolution Specialist and was advised I would have a check in 7-10 days. Again, just like everyone else, NO CHECK!! I turned them over to BABY and am awaiting Direct TV response to my complaint. And they wonder why people cancel their service with them. The money they have is my house payment. Now, I have incurred late fees, penalties, which in turn caused me a trip to the Dr. due to the stress!! There HAS GOT TO BE SOMEONE that CAN can do something about this. I was a customer of Direct TV for over 17 years and I'm sure I was ripped off month after month for some kind of hidden fees.
After being a customer for over 8 years and spending hundreds of hours on the phone getting unscrewed over by direct tv they said that now it is impossible to do the fix that kept me from getting the second year of contract rate hike. Because AT&T are master crooks and changed the policies at direct. My bill went from what was supposed to be $58.00 a month ( $125.00 actual) To a staggeri g $365.00 for one month of the choice package with no movie channels or extras. I spent 2 days talking on the phone with several of their own employees stating they can't figure out why it was that much. I WILL NOT PAY IT AND I WILL NOT PAY THE BAIL OUT OF CONTRACT FEE EITHER.!! They should pay every person who used their service back, especially now with SlingTV , Hulu, Netflix, Crackle, and Roku all combined only costing me $36.00 a month.
We had the direct TV nba package last year but didn't want it this year so called to cancel & was told no problem and it would be canceled. We received the next bill with a $39.99 charge for the nba package. Called again and talked to Richard who said he was sorry and would cancel the package & we would get a $39.99 credit. Received this month bill and we are still being charged $39.99 for the nba package. Called dtv and talked to Semilia who said she would cancel the nba package but we might get a partial refund for the $79.98. we have about 5 months left in our contract so I hope we can cancel dtv then but I am afraid that might be as difficult as canceling the nba package. Any ideas on how to cancel this stupid nba package?
What can I do now if I want to file a dispute against Directv. They have not honored their portion of their "come back" promotion and are ripping me off. Please help!
DirecTV Charges ME too much, how do I stop this?
They don't want to reimburse for bad installation and bad service. Nor will they refund me because they disconnected me before I could complain to customer service within their window to close the account as a new customer without penalty. They deny I had any problems. They deny I tried to contact them. Instead they hit me with a disconnect fee and have a collector after me instead of dealing with me direct.
I got service with them back in 2014. I signed the paper and was aware of half of their not so direct scams. I got the select package. Back then there was a 999 lease fee not sure if they're still is but people keep getting that confused and telling me it's $7 for each additional receiver per month which I've been aware of that but that has nothing to do with me because I never had an additional receiver. I went to the salesperson originally wanting a DVR service but I cracked the salesperson into spilling the truth about getting a DVR with the service. I got suckered into buying a regular receiver to avoid the outrageous fees that they are not upfront with you about when they're trying to sell it to you. This is called advanced receiver Services fees. With any service at all, you are paying a $9.99 lease fee on top of whatever they're going to charge you for your two year contract. Every time you get a sales paper in the mail ignore that red bold / they put across the real price. That really small price next to it is what they're going to charge you in and you're one of two of the two-year contract and then that / doubt one is the one they are going to charge you at Year too so you might as well look at that one and get comfortable with that price and not let them sucker you in psychologically. They want you to think you were going to pay the promotional price for the whole contract and they want to charge you double that the second year wants you accidentally agree to their terms and for this reason, I knew a class action lawsuit was coming. They should understand that not everybody is going to understand this and they are a very brave company for stretching the truth this far because they will if they haven't already pay legal fees for this in the long run regretfully because they don't realize they confuse their customers. So I got my insulation done after having to reschedule it. The very first month I was charged for something I was not expecting and had to call them to get it waived. It was a warranty replacement repair fee that I do not recall ordering. If you sign up for their service make damn sure you tell them you do not want this because they will not tell you anything until you get your first bill for about 7 to $10 more than you expected after you're aware of their $10 leasing fee. Basically not only do you not own the equipment and you are leasing it and paying them $10 a month to have it in your house and not have genuine possession of it, but you are paying or are required to pay 7 to $10 is per month in addition. A total of nearly $20 all together if you want to have it fixed under insurance. That's right if you cancel your insurance fee that they will not tell you about it front, you are responsible for their equipment when it messes up. Even though you are leasing their equipment for $10 a month, they are going to charge you an additional monthly fee on top of that to have the right to get it repaired free of charge. I chose to take my chances and cancel this misleading and unfair fee. Why should I have to pay a warranty fee on top of a lease fee. What do they do with that $10 a month lease fee. They hold you responsible if their equipment gets messed up unless you add insurance to that. If I'm leasing their equipment they should cover the equipment under warranty at all times. I was already aware that they charge $20 for each month earlier than 2 years that you cancel so I was not about to pay the early termination fee. I went ahead and kept their service for the two years. On the final day of my contract I made sure the equipment was cancelled because by then I was so disappointed. One month I turned to channel 501 and realized I was getting HBO and all the movie channels period every month I had to turn to the 500 and make sure I was not getting the movie channels. Everytime I turn to the 500 and found out the movie channels were working I called them to ask what was going on and I'm not paying for these channels. They would get all innocent and say they were offering a free trial but I had to cancel it by the end of the month or that I would be charged. I had to get up with the representative and tell them to set an automatic cancellation at the end of those trials. The thing about DirecTV is they are going to charge you anything for any opportunity they have to charge you. I already knew this Behavior with them after I experienced the first several months with them and this is 75% of the reason why I got rid of them. I don't even know if Dish Network is this bad. I shipped my equipment back when I cancelled and one or two months prior to cancelling when I knew my contract was going to end I kept calling them to get a specific date. I went ahead and cancelled my automatic payments. The only reason I used that was because they seem to force you to go to auto pay if you wanted any of their promotions. It was Tit for Tat. I didn't want to pay that extra $5 a month but it was worth it in the end because I knew they were playing this game. But within 2 months prior to cancelling I made sure I got off of auto pay. I switched to invoice and made sure I had to manually pay within one month prior. That way my credit card information was out of the equation. I still paid with my card to pay the invoice but I just made sure I updated my contract to where they could not charge my credit card without me calling and manually paying. Always do this 2 months it's prior to cancelling whatever service you're unhappy with. Make sure you manually have to pay your last two payments your last 2 months it's before you cancel the contract and do not tell them you are considering cancelling until the final month just tell them you want to get off of automatic payments. If you don't feel comfortable after your off of auto pay with your credit card then send them a money order. I paid the last 2 months and cancelled them and asked any questions about receiving the Box and everything. Isn't it kind of suspicious that they ship you the box via FedEx and have it shipped back to them via UPS? I find this very suspicious because I feel that they are trying to confused their customers deliberately so that they can get money out of them if they are taken to court for any reason I think this would confuse the judge and the attorney and I think DirecTV knows this. Why does DirecTV go through the expense of using FedEx and then switching to a competitor a FedEx for you to ship it back. There's a reason why they do that and I'm pretty sure it's not for a good reason. That's also looking bad on their behalf for business. They just want to make you look like a liar if you have to take them to court and for one of the judges choice of words to be along the lines somewhere of " okay first you said it was UPS but now you're saying it's FedEx so which one is it?" Then that way you look bad and DirecTV when's the case if you decide to sue them for charging you a non-return fee when they get the equipment and lose track of it. They can still hold you accountable and make you look like an idiot if you decide to file a court case against them. So they go through the trouble of using UPS and FedEx which really makes them look bad. That's my theory! So now it's here 2018 and I have not been a customer since mid 2016 I think it was and a friend of mine cancelled their service. They claim that they paid enough months 2 DirecTV before they cancelled that DirecTV didn't ship a box to them. They had a DVR and I'm talking about the up-to-date HD Genie not the old one with the buttons on it. My satellite dish is from 2014 so it's not obsolete. Just needs an lmb. They told me I could have the equipment they don't need it anymore. So I hooked it up and everything's working properly. I'm only getting Channel 100 because the equipment is not activated but that shows it's working and when I go to satellite settings I'm getting 99% on the signal so I called them to ask what they can do for me considering I have the equipment setup and own it. Here's what they basically say. They want me back however they want me to lease the equipment that I own and I heard a rumor that I shouldn't have to sign up for another two-year contract. I should be able to turn on the service and give them the numbers and information on the receiver and they turn it on and I pay month to month and can cancel at any time without a termination fee. Well no I have to agree to another two-year contract and it's basically like I'm a brand new customer again. They always say things apply to new customers only but that's not exactly true because they consider me a new customer if I am a former customer I'm still a new customer and these aren't promotions they are giving you they are the same rules basically. Those terms are way off! Part one of that section States falsely right there the equipment lease section. I think an attorney should review that. Part one of that section only applies to new customers. That is a false statement. They want me to get this receiver activated and they want me to start a 2 year contract and deal with the same headache I dealt with all over again but this time paying an additional fee because it's a DVR this time which I'm already disappointed with but I'll pay the advanced receiver services because a DVRs set up that way where it will not function as a DVR unless you have your service active so there's 30 more dollars right there not only that but they want me to pay the lease fee for equipment I already own. Equipment I set up myself, they won't settle for the full price month to month and me too have a right to cancel at any time without a penalty and not have to return the equipment when I cancel. I have 2 receivers now. An HD Genie DVR and a genie Mini They are all useless unless I re-lease them and honestly I might as well just take the hard drive out of the DVR and repurpose it because I'm not going to deal with DirecTV telling me what I can and cannot do. I would be stupid to go back to this company. I wonder if Dish Network is this way with their customers. Probably not they probably have an option that allows you to on your equipment and not have to pay a leasing fee. If they do the same thing DirecTV does, one or the other is going to happen they're either going to get a class action lawsuit over this and loose customers or they are going to lose customers because they are greedy and have this Looney set of terms in effect that are basically ripping their customers off. This is doing nothing for DirecTV but losing customers and encouraging satellite piracy which is illegal but they're encouraging more people to start doing so because of the simple fact that they don't allow owning equipment and they are losing trust with their customers and if DirecTV is not doing the right thing and losing their morality to their customers then who's to say their customers want fight back via stealing their service with those special cards they make. I've seen news reports where DirecTV fights against this. I don't see how this is because they are throwing fuel on that very fire.
Directv broke my 60 inch LG 4k ultra t.v. and are refusing to repair our replace it.. how would I go about filing a claim
my parents have been with directtv for couple years now and we know it's been that long because we left dish when they took off fox news big mistake . Direct tv has add sport programs and movie channels that are pay that we never asked for. We are tired of it so we are trying to cancel and there say no we haven't be with that long and tacked on 11 more months and before that the costumer service guy said i can see u been going on 2 almost three years so i hung up called again to see if i could get someone that knew what doing but she said i had only been with them for 13 months so how can it change so we have to be with longer and longer Help if u please can i am help my senior parents and i am disabled and doing the best i can thank you alina dumling
I closed out my account with directv almost a year ago & still every month they take $175 out of my bank account. Calling them gets me nowhere.
I'm a victim of att withdrawing money out of my account that I did not give them permission to do and that I did not owe. When I tried discontinuing their services while under no contract I felt like I was being held captive against my will. They only wanted to promote not cancel nor help with my billing
I had DirecTv installed 1/11/18. I knew about having to cancel the "free" premium channels after 1 month and I DID NOT agree to it. Just got a bill dated 2/6/18 and they charged me $17.99 for HBO. They didn't even honor their "free" 3 month trial. I did not know I had HBO until I got the bill and of course never used it because I didn't know I had it. Now I am spending hours in their red tape to undo their error.
More from the Business Blog
Get Business Blog updates