Have you seen the ads where a popular celebrity touts DIRECTV on his own behalf and as the Painfully Awkward, Overly Paranoid, or Crazy Hairy version of himself? Applying that to a lawsuit just filed by the FTC, there's DIRECTV – and then there's Deceptively Advertised DIRECTV.
DIRECTV is one of the biggest names in the business with more than 20 million customers. Through TV, print, direct mail, phone, and online promotions, the company advertises satellite TV packages for as low as $19.99 a month for 12 months. What's more, DIRECTV said premium channels like HBO and Showtime are "free for 3 months." But according to the FTC, DIRECTV failed to adequately disclose the true nature of the deal, meaning that consumers got stuck with higher prices and unauthorized charges.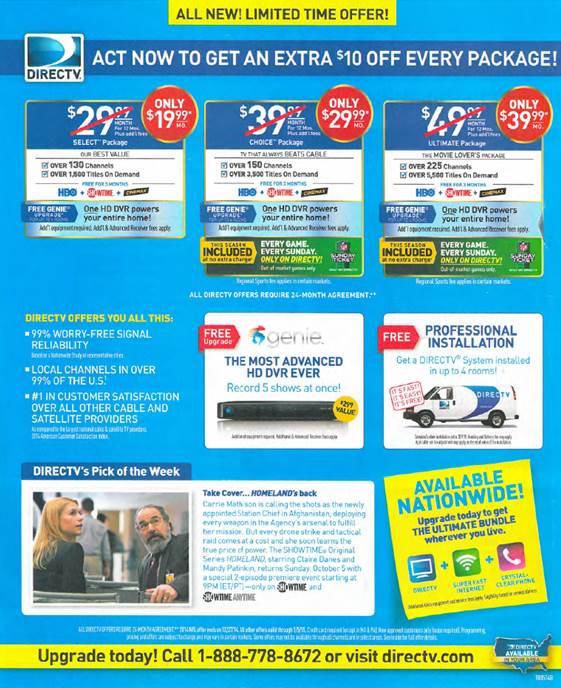 The complaint offers a closer look at how the FTC says DIRECTV's practices were misleading. For example, DIRECTV touted that eye-catching $19.99 monthly rate for 12 months of service without clearly explaining that: 1) Consumers couldn't actually sign up for 12 months of service because DIRECTV required them to commit to 24 months; and 2) In the second year, DIRECTV typically hiked up the monthly fee by between 50-70%. Consumers who experienced bill shock at the start of that second year and wanted to cancel faced hefty termination fees.
The FTC also says DIRECTV's "free for 3 months" premium channel offer was a deceptive negative option promotion. How did it work? DIRECTV typically enrolled consumers in the promotion automatically without clearly stating that unless consumers took the affirmative step of canceling before the end of the three-month period, DIRECTV would bill them extra for it every month. According to the complaint, after the "free" period ended, DIRECTV went ahead and used consumers' credit or debit card information without their consent to charge them for the service. And we're not talking chump change here. The FTC says the monthly fee for those channels was around $48.
The lawsuit is pending in federal court in California. Meanwhile, here's something for businesses to note in the pleadings. In addition to alleging that DIRECTV failed to disclose – or failed to adequately disclose – subscription prices and the nature of the premium channel offer, the FTC says the company's online practices violated the Restore Online Shoppers' Confidence Act.  Passed in 2010, ROSCA makes it illegal to charge consumers for goods and services sold through online negative options unless the seller:
clearly and conspicuously discloses all material terms of the transaction before getting the consumer's billing information;
gets the consumer's express informed consent before making the charge; and
provides a simple way to stop recurring charges.
This is a case you'll want to watch.
When we went to move before the 2 yrs and they told me it would $480 and I told them they were insane they told me they'd charge me my card and I told them good luck cause I would take every red cent out and close the account, then I scheduled a cancelation for the next day. Less than an hr later they called kissing my butt, took off like all but $100 and gave me HBO for free for 3 months. Play hardball and call their bluff.
Directv has done exactly this to us! Tricked us into signing up and it's been nothing but trouble. Worst cable company by far.
I would like to testify against Direct TV. I have proof of faulty installation, as well as recorded conversation full of contradicted statements made by multiple customer service reps and supervisors. Absolutely a Direct TV is a fraud and they will be held accountable.
Just cancel the service, close your bank account, and then take bankruptcy. I'm in hole anyway. I just lost two foster children, almost half my income, now I find out wife has cancer and treatment for that is astronomical. They can't get their money if you' name them and their rate on your bankruptcy petition. As much money that ATT has, would they really hastle a cancer-struck family living only on Social Security. I know just such a family, and I'm going to have my eye on that case. That case would go nation wide and really show the demons that run their company. Man cannot serve both God and Mammon (money). This case is about to happen, let's see if they try to hastle this poor family who lost income and now mounting cancer costs. Who do you think ATT is serving ? It's easier for a camel to go through the eye of a needle than a rich man to enter the Kingdom of Heaven? let's start a little Poll and everyone vote only once. Here' the beginning: Who does ATT and DirecTv serve, God or Mammon ? I'll vote first : Mammon. Vote: mammon 1, God 0. Let's make this vote trend. pleas vote. Who will vote next ?
So they lead you to believe you get a great deal - for a year - and then UP your charges another $45 for the next year. Or else you get banged for a $400 exit fee! I'd have to say this is a pretty impressive way to piss off potential new loyal customers...
WOW!!! Why are we allowing Direct T.V. to have our credit cards on file???? I DID!!! WRONG mistake. I was looking over my bank statement one day to find they had taken the full monthly balance out of my checking account. I have not had service with them for two months. When I called them, I was told I didn't cancel my service on the day I said I did. C-MOM..... We were not even living at that residence anymore. Then... I spoke to the resolution department and was sent a letter indicating I would receive the full amount they withdrew out of my checking account. OH NO!!! They gave me back a whopping 10% of what they withdrew. THEY ARE LIARS there. LIARS... LIARS... LIARS. Who trains these people to steal our money?? Direct T.V. You need to go Direct to somewhere! GO FIGURE.
I currently filed a complaint with BBB Over similar practice. I was a long term customer and got the free movie channel phone call. I always deny it because if you don't cancel its like 45 a month. Well let's just say I got billed and never recieved any channels. Thank you FTC for seeking justice. I will be reaching out to other people to possibly file suit against direct TV.
Direct TV didn't permission from the landlord to install their equipment they are saying it's my responsibility to get this information Why!!!? Now I'm getting the run around about removing this equipment. They were very nasty and had attitudes for what? They won't refund my money for unauthorized payment which it not my account! What do I do,
Have have Directtv for less than a month & have talked to 5 different people (most overseas) I cannot get them to commit (in writing ) to our agreement .... I made the agreement at an AT&T store & Direct will not honor it .... in fact, they denie it exists... I'm within days of sending all there stuff back & letting them try to get anymore money out of me ... I would welcome telling a Judge just how devious DirectTv is.
Direct TV does nothing but try to rip you off. What they tell you your service will cost is way less than what they bill you. When you call them on it they give you a bunch of excuses. My husband just got rid of our phone line and down graded our tv package because the bills were getting so high. Guess what! I just got my bill and it even more than before. One hundred dollars more a month than they said it would be. Get ready for a fight. These people are criminals!
Theft Charges against Directv for overcharging! I was charged 8 times by Directv for a 6 month installment of the NFL SUNDAY TICKET. At this moment, I am still in perfect standing with Directv. If I walked into a store and stole something that costs $110 I would be prosecuted if I was caught. I have caught them red handed and I would like to press theft charges. If this company did not nickle and dime me to death I would be a little more reluctant to following through with theft charges. But, the simple fact of the matter is if a Directv customer is late on payment they charge $10-$15 for late fees. If you need a new remote control because you have been a customer for 5-10yrs they charge you $20-$35 per remote. I would like to follow through with this theft charge so please contact me.
I contacted directv about 6 months ago about closing my account. They told me I would have to send all 3 of my Directv boxes back. I told them that I purchased one of the DVR BOXES from Bestbuy at full price and they told me that I would need to return that box to them even though I bought it on my own. How can this be legal? For about 8 yrs Directv has been charging me a rental fee for the DVR box that I purchased on my own through bestbuy. I would like to be added to list against Directv because they owe me money for years of Rental's fees on a DVR BOX that I own. Plus they believe that they have ownership to said DVR Box that I own. I have read many reviews and I am shocked that this conglomerate can be legally allowed to dictate any rule that they would like that appeals to their position. At this moment my account is up to date and I have never even owed them any money besides my bill. I am currently paying my account even though I am paying a rental fee on a box that I own.
We were hit for 515.00. We didn't even have services with them for 2 weeks. We were told that if we canceled within 30 days we wouldn't be charged. Boy that was a lie. They also said they sent us two bills, which we didn't receive but they had no record of the final notice that we received today after they had already ripped us off. Was told there was nothing they could do, that we agreed to pay that amount. They are the worst Company I've ever done business with and will never do business with them again. I hope they get slapped hard and have to return customers money whenever the FCI is done.
5/11/15 - direct TV stole $580. unauthorized money from us as well. Could not pay bills or get much needed medicine. There are so many stories like ours that I want to know, and I will not stop unail I do, who is behind their flagrant thievery and false accusations (not returned equipment, I have receipt from doing so, and fake fees with a wildly fluctuating mo. Bill when we haven'the changed a thing. They amicably tedious you to shove it. THIS IS NOT LEGAL AND I WANT TO KNOW WHO AND WHAT IS FUELING THIS CRIMINAL ACTIVITY AND IGNORING IT. P.EASE! WON'THE SOMEBODY WITH DIGNITY STEP IN AND ASK THESE QUESTIONS? WHY AREN'THE THESE CO MONOT STAMMERED IN PRISON? THERE IS MORE TO THIS. AFTER THE WAY I WAS TREATED REGARDING THE THEFT OF OUR MONEY IS TOO BAD FOR THEM. I'MEAN ON THEIR ASSETS WITH PLENTY OF HELP. TOO BAD THEY'REALLY SO INCOMPETENT IT WOULD BE SO FUN TO FINALLY CLOSE DOWN THEIR STOREFRONT INTERNET BUSINESS AS OBVIOUSLY THIS IS A HUGE STRANGE SITUATION THAT NEEDS TO BE INVESTIGATED. NOW. TRUST ME. I'MEAN GOING TO BE THEIR BIGGEST NIGHTMARE. FYI - PRESIDENTS OFFICE IS IN EL SEGUNDO, CA. GOOD TO KNOW. I'M FROM MANHATTAN BEACH. I HAVE A HILARIOUS IDEA THAT I WILL CALL THE PRESS TO ENJOY. I HOPE WE CAN PULL THIS OFF. THEY'REALLY IN CAHOOTS WITH ANOTHER SET OF THIEVES. THEY ARE GETTING AWAY WITH THIS AND SOMEBODY OR SOMETHING IS GIVING THOSE WEAK WEAK MEN THEIR CHICKEN [deleted] BRAVADO TO BE SO ABNORMALLY CONFIDENT WHILE COMMUTING THESE CRIMES. ASK QUESTIONS! GET RID OF THESE CREEPY MISFITS WHO ALLOW THEIR CUSTOMER SERVICE HAHAHA HAHA - OH SORRY BUT "CUSTOMER SERVICE" MAKES IT SOUND LIKE THEY HAVE IT. ANY WAY, THEY LAUGH AND MOCK CUSTOMERS WHEN THEY WANT THEIR STOLEN MONEY BACK. GOOGLE CAN GIVE YOU THOUSANDS OF VICTIMS. SOMETHING ISN'T 'THE RIGHT AND I WON' T STOP UNTIL THEY DO.
They stole over $800 from my bank account causing overdraft fees and bounced checks 2 years a go. It was a nightmare. :'( I'm still trying to catch up
I am a very cancerous old man also dealing Parkinsons, ONJ, heart disese, kidney disease, arthritis, osteoporosis, etc. I tried to save money (on fixed income) by switching due to colorful and attractive yet misleading adds by AT & T and Direct TV. I am now so bewildered and in debt to the tune of so much fees and penalties that the sob's cut off my out phone service. I have attempted some type of conflict resolution but I cannot even get a human being to talk with...especially a supervisor with some authority. Damn, how does the government permit such bullying and trickery on us old folks? I am now positive in my mind that both these companies are in collusion to suck us in and then drain us dry. They are just horrible companies and Un American to the hilt. As soon as I can talk with someone I will hopefully be at peace when they go bye bye even though I will have debt galore. Oh for the good old days of basic TV. I don't need all these frills that end up being thievery. What a lousy bunch of Cash Cow lowlifes. Tom in El Paso, Texas
I signed up to this offer in January in NY for $29.99 and was told my bill was a "Welcome Back customer" and would be no more than $71 after a $10off a month for autobill pay.. 5 months later I was taken out of contract due to direct tvs misleading sales after investigating my sign up call with a manager and yet I was never given the discounts even though my account states so for the life of my account. Switching back to my 2nd choice provider for these reasons- their verbal contracts mean nothing to DIRECT TV AND THEIR FRADULENT PRACTICES.
I signed up to get HBO, Stars and ext. Also Internet and none were activated. So I called to cancel these and just keep the basic cable. They canceled the Internet fees but not HBO packet. I called again nothing was resolved again and now it's been a year and they still haven't taken it out of my account nor activated it. But still keep on charging me. I asked for a refund and they don't want to give it to me. I need help. Someone help me please.
My boyfriend and i are having problems with direct tv and they charged his bank account for funds and it overdrafted his account. Can u tell me is this lawsuit still goomg on if not it should be i will never recommend direct tv to.anyone
Has this been resolved... They took $815.06 from me yesterday without notice.. I've begged for a payment plan and they refused. I sold my house and moved in with my parents and can't bring DTV with me because they already have it. What am I supposed to do. Grrr
Pkease can I get someone to tell me if and how I can become part of this Class Action lawsuit? I'm a witness to Dirrecttv is a price gouging,lying piece of work an will love to be a part of them giving me back what they know they lied and stole.
Does anyone know the status of the Class Action Lawsuit???
Were promise 80 dollar mo bill now 129 nothing they can do bout it
I started getting ATT/DirectTV 2/15. When we moved from IL to WI in 4/16 we transferred our AT&T/DirectTV to our new location, supposedly seamlessly. Five months ago I said "ok" to getting their "free" three months of HBO and Cinemax. I have had to call them repeatedly for four months now get them to credit the outrageous charges added to my bill for the "free" HBO, which incidentally, I cancelled the first "free" month and that we never received in the first place. I called them yesterday to find out what my cancellation charges would be, and was quoted the amount for the start date of 2/15. Today when I called to cancel our whole service (price vs service is outrageous), I was told it would be almost $600 - more than double the amount quoted just yesterday. I spoke to a manager and was informed our "transferred" service wasn't transferred at all. It became a new contract, with an end date of 4/18. I've never felt so lied to in my life!
I went to centurylink for a $19.99 a month cable service because I was tired of Comcast jacking bill around. THEY sent DirectTV like a contractor or something. One month later I get a $200. bill from C-link and $100. from dtv, so cancelled them both, returned the equipment and went back to Comcast. Also cancelled my credit card...now, 8 months later, I get a collecton agent wanting $600. for Dtv bill. What can I do? I'm a senior, is ther senior advocates I can contact? Thanks for any help.
I have 5 neighbors that got Direct TV which never worked and there Credit Cards were grossly overcharged by Direct TV and to date they have never got there money back. I would consider Direct TV & AT&T U-verse two of the most dishonest companies in the United States.
DIRECT TV took over $600.00 out of my fiances account . Automatic payment if you dont pay a cancellation fee after 45 days? WHAT? I've never, even if , no one has authorization to take anything without the consent of the customer. Then told him that if he just signs up they will waive the fees? The guy told us that if we didnt pay it , it would be be placed on credit as debt.
please contact me if there is a lawsuit. not only did I get ripped off with that 12 months of service and 24 month commitment and the NFL ticket but I filed a dispute. they said they would get back to me/ the next thing I know its on my credit report and they NEVER credit my account.
I have found that after being charged over $600.00 for dropping T Mobile service, before the two year contract was up, (this was before they decided to not charge for dropping them), I just send them a $1.00 each month. Nothing they can do, because I am attempting to pay the charges. After 12 months had passed, I stopped the payments. Within 30 days I received a call from a collection agent. I told them to send me a bill and I would pay them a $1.00. Haven't heard back and it's been over six months!
I paid a bill for a very ill ladie I was taking care of she was unable to do on her own I used my work debit card that all my paycheck goes onto this was several months ago during that time she has passed away and I went to put gas in my car my card came back insufficient funds I was shocked I went home called my credit card company who informed me that direct tv had 573.24 of my money I was devastated I am now broke with 3 children to support I have called to try to get my money back and they tell me to file a dispute on line I don't know if I will ever get my money back I am freakin out I am now broke it was all I had I never told them they could take my money I just paid a bill help what do I do now??! What is this lawsuit thing about can I put my name on it? I am so uset they have devastated me!!!!!
They misrepresented their program's. Then emptied my bank account without permission.
No one should have to pay $120.00 mo, for infomercials. ATT and Direct TV must be owned by Soros/Clintonsw.
I had this company drain my entire bank account without my permission. How is it legal for a comapny to charge someone's card without their permission. The sad fact is theyre still continuing to do this to people despite a pending lawsuit from the FTC. It shows little regard for their actions to continue illegal activity like this despite lawsuits and reports to the FTC about their activities.
Directv is selling a lie.. The sales rep will lie to you about how wonderful and reliable their service is and it's just not true. Dish tv has a lot of performance issues U-verse and Comcast don't have. You'll spend more time looking at a black screen with the dish service as well as other annoying issues with the remote features. I fell for the hype and now I'm locked into a 2 year contract where I'll have to stay in tv hell or pay a huge fine penalty to break it. I wish some level of government will help us get out.
I called and cancelled the premium channels well within the time period. Still they charged me. When I called them to complain they said that they had no records of my cancellation. After long discussions they finally agreed to credit me but they could even calculate the size of the credit without my help. What's wrong with the company. Clearly unprofessional and openly fraudulent behavior.
I have been on the phone with Directv for 4 hours over a balance they said I owe from 2011. Early termination fee, No Return Equipment fee, and outstanding bills. I have explained over and over I was NOT under contract, I returned my equipment, and I also had moved from the location and they could not provide services to the location I was moving to therefore when I called they should had discontinued services then. I had made a final payment that they confirmed in the month I moved and no payment made there after, also proving I was no longer living in the location, not receiving a bill, and therefore it's their own fault for continuing to provide services to an empty home. I asked to be credited for the bills since I was not living there nor using their services, I asked to be credited for the Early Termination Fee since they couldn't provide services where I was located, and one of the 3 supervisors I've spoken to have confirmed I have returned the equipment so I shouldn't be charged. Now, speaking to the last supervisor, she tells me that all charges are valid and credits will not be issued. Directv is ruining my credit with their false charges and I would like to take action towards them. Can someone direct me to the correct place?
I am having my first experience with Direct/ATT bundle. Have already spent hours on the phone and on-line talking to reps. The installation of my bundle with Direct TV and ATT phone and Internet was stated as "included" in the price on the ad. Nothing in any of the print said that I would incur a $99 fee for installation, the person I ordered from confirmed to me that there was no installation cost, the installer said there was no installation cost. Two ATT customer service reps said that it would be reversed and a revised bill would be issued. No revised bill was issued and now they are hounding me to pay the bill. Today, customer service seems to have no record of the other two calls I made regarding this bill. Deceptive advertising and total dishonesty.
July 18,2016 I went to take my girls school shopping as they received there survivor benefits. Cone to find out $802.42 was taken from my account. Direct TV who I haven't had for 4 months stolen my children's survivor benefits. I cancelled my service with them as they lied about there price. I am very upset and they have refused to give my money back. This is theft and has taken from my children. Something needs to be done about this company I never authorized them to take funds out of my account.
I am having the same problem! I cancelled the service in January that ATT was still billing me for. I have gotten 3 boxes from Direct TV that state you have to have the right RID number of your equipment you are returning, and they give you the RID number to verify. I verified and it was the WRONG number! I called them, and they sent me 1 box! I have 3 receivers! I need 3 boxes with the correct RID numbers on EACH box! I have written down all their names and ID numbers they have provided and I have told them I am now recording our phone calls! I am an angry customer who is owed over $600.00 in refunds for their continued billing. They are giving me a run around it seems. I am now going to get 3 more boxes, and the agent repeated my RID numbers again, and she read them correctly to me matching my equipment. If I get another set of boxes without the right RID numbers, I am getting a lawyer. I am changing my bank cards. I am video taping me putting my equipment into the boxes if they send me the right ones this time and I am getting a tracking number with return receipt! This is FRAUD! How many people can spend hours on the phone with these liars?
In the month of April 2016, I ordered directv and paid up front on my credit card $20 for installation with my credit card. I was told that there would be a early cancellation fee if I disconnected my service, but there was no number of days listed in the contract when I read it. I cancelled within 4 days of the installation because I did not like having to fine channels that I was use to nor the channel set up. I returned all of the equipment and the company did receive but are still charging me $400 for disconnect and I did receive the $100 gift card that is still in my drawer. Because a particular number of days was not listed in the terms and agreement, I don't consider it a good policy to want me to pay that kind of money. I will dispute this contract immediately. Please add me to the list.
Been a customer for 11 years. Finally referred a friend in March 2016. Friend got 10 dollar discount, but six months later, after calling every month and being told I would get discount next month, they now say Finance Dept. denied it. When I ask why, no one knows. Lots of double talk. This is new since ATT merger. I have referred friends in years past with no problem. Can Direct TV offer incentives like refer a friend and then refuse to pay?
Direct TV and AT&T are scam artists and the protection plan is just the start. Tell me why I should have to pay a monthly fee in case their equipment goes bad? This is the equipment they provided and own so that they can provide me a service. In turn I pay them a monthly fee. If their equipment goes bad and I don't receive the service I am paying for I simply am not going to pay them for what I did not get. It is not acceptable to me for a company that wants my business to charge me additional money because the equipment or labor they own or provide does not work or is substandard. Why should we pay them a monthly fee for protection or a one time service call fee to fix what they need to provide their service.
I AM SO TIRED OF ALL THE JUNK CHANNELS WITH NOTHING BUT ADVERTISEMENT AND SHOPPING HUNDREDS NOT TO MENTION ALL THE OTHER CHANNELS THAT ARE TRASH , I AM PAYING WAY TOO MUCH FOR TV UNWATCHABLE CHANNELS.
To all that believe we are dumb people complaining at our own faults of not reading the contract, wait until you cancel your service with them. Then, please come back and tell us about how great an experience it was for you. Ha! I was not a customer that was charged an excessive amount of money for equipment. I simply overpaid. They agreed they owed me, and they never sent the Visa card(refund) that was supposedly issued. They have bad business ethic, and they take advantage of their customers. Get Netflix, Hulu, AppleTV, Roku, and/or ANYTHING ELSE!
More from the Business Blog
Get Business Blog updates