Have you seen the ads where a popular celebrity touts DIRECTV on his own behalf and as the Painfully Awkward, Overly Paranoid, or Crazy Hairy version of himself? Applying that to a lawsuit just filed by the FTC, there's DIRECTV – and then there's Deceptively Advertised DIRECTV.
DIRECTV is one of the biggest names in the business with more than 20 million customers. Through TV, print, direct mail, phone, and online promotions, the company advertises satellite TV packages for as low as $19.99 a month for 12 months. What's more, DIRECTV said premium channels like HBO and Showtime are "free for 3 months." But according to the FTC, DIRECTV failed to adequately disclose the true nature of the deal, meaning that consumers got stuck with higher prices and unauthorized charges.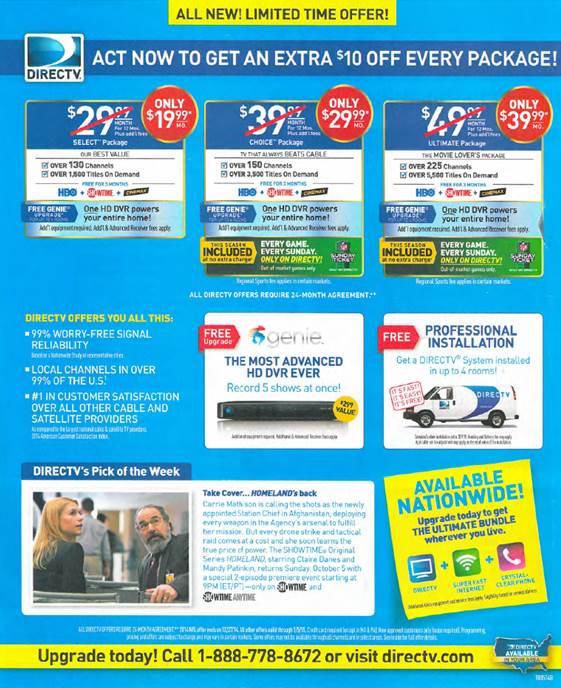 The complaint offers a closer look at how the FTC says DIRECTV's practices were misleading. For example, DIRECTV touted that eye-catching $19.99 monthly rate for 12 months of service without clearly explaining that: 1) Consumers couldn't actually sign up for 12 months of service because DIRECTV required them to commit to 24 months; and 2) In the second year, DIRECTV typically hiked up the monthly fee by between 50-70%. Consumers who experienced bill shock at the start of that second year and wanted to cancel faced hefty termination fees.
The FTC also says DIRECTV's "free for 3 months" premium channel offer was a deceptive negative option promotion. How did it work? DIRECTV typically enrolled consumers in the promotion automatically without clearly stating that unless consumers took the affirmative step of canceling before the end of the three-month period, DIRECTV would bill them extra for it every month. According to the complaint, after the "free" period ended, DIRECTV went ahead and used consumers' credit or debit card information without their consent to charge them for the service. And we're not talking chump change here. The FTC says the monthly fee for those channels was around $48.
The lawsuit is pending in federal court in California. Meanwhile, here's something for businesses to note in the pleadings. In addition to alleging that DIRECTV failed to disclose – or failed to adequately disclose – subscription prices and the nature of the premium channel offer, the FTC says the company's online practices violated the Restore Online Shoppers' Confidence Act.  Passed in 2010, ROSCA makes it illegal to charge consumers for goods and services sold through online negative options unless the seller:
clearly and conspicuously discloses all material terms of the transaction before getting the consumer's billing information;
gets the consumer's express informed consent before making the charge; and
provides a simple way to stop recurring charges.
This is a case you'll want to watch.
493 Comments
I can't believe the attitude these people have... I just called to get some information but these people immediately wanted all sorts of personally identifiable information to start. I told them point blank that I'm not ready to buy yet and that I have no desire to get on their junk mail, spam, phone, or any other marketing list. I tried to put it to them simply, I live in Connecticut and the satellite view from anywhere in this small state is not really significantly different. I even gave them my zip code but that wasn't good enough. My mind told me that this company wasn't going to be any easier to deal with in the future if they are being this obstinate before they even get the sale. I hung up.
I am still getting ripped off, we were to have a bundle with exede and directv, but to this day we cant use our directv on demand or anything because they want to charge me 90. to come out...when its been like that since installed in Feb...of 2014, then they over charged me for the first 5 months and still have not given credit.
I just had a problem with Direct TV. I cancelled with them after almost 3 years, because after being mislead after an equipment upgrade I was put into a new contract, which they did not tell me about. My checking account has been charged twice now from Direct TV (and I did not authorize any transactions and I do not have autopay) and when I called was told it was an early termination fee. I said to them you just told me I was with you since 2012 how can I have an early termination fee on a 2 year contract and was told it was a 3 year contract and I responded with I have never heard of such a stupid thing. So in the meantime seeing as I was not expecting this charge to my checking account it has now gone in the minus with 2 separate fees of 35.00 for not having enough money in my account. I want in on this lawsuit.
In reply to I just had a problem with by peaceful88
I can relate to issues going on. I've been with DirectTV for 20 years or more. I upgraded to the Genie 2. Ever since the upgrade it did not work. Had called them so many times about the issues . Got a replacement and not even a day the picture will freeze and you cannot watch the shows you recorded. I called them complained about it a tech was coming over. Never came. My husband was curious. He told me to cancel the service. I called them. They kept saying I needed to let the technician try to fix it. I told them he never came over. Cancel the service. Well now she tells me okay there will be a charge of $480.00. Unbelievable. I am going to make some. Ore calls. There is only so much patient a person can do before you get frustrated due to the service.
I was scammed by them. And they gave my credit card info to the Internet provider after they told me they were charging me one bill for both. Im needing help suing
When I moved, I left DTV behind and went with another provider. The rep who closed me out said I didn't need to send back the receivers, just recycle them and send back the access cards. I sent back the access cards, but received a box. Then I received a bill for one of the receivers. Luckily, I'm a slow-poke and hadn't recycled them yet. They deducted $45 but when I sent said receiver back, they said I'd be reimbursed by way of a prepaid bank card. Now I get a statement saying they had deducted $3.99 each for two movies ordered by remote in 11/2006. Only nine years ago! Do I have any recourse? Obviously, it's not the money-it's the principle. They steal a few dollars here and there from customers-when you have millions of them, those dollars add up.
AFTER GETTING A BIG BILL FOR TERMITATION CHARGE AND GETTING MY FINAL BILL FOR ZERO BALANCE DIRECT TV GOT ME FOR ANOTHE $200.00 SAYING THA IT WAS FROM VERIZON I CALL VERIZON THE SAID MY BALANCE WAS ZERO NOTHING DIRECT TV PUT ME ON COLECTION FOR $200.00 DOLLERS .WITH A ZERO BILL FROM DIRECT TV AND VERIZON I STILL HAD TO PAY ANOTHER $200.00 DOLLARS
This is also happenning to me now. I was changed over from Uverse to AT&T and promised the same service for a cheaper amount for a year and 3 months later am being told AT&T Promised me the wrong things. How do I get put on the Lawsuit
I just signed up for a package with DirectTV on June 17th, 2015. Not happy with Service called to cancel on 7/6/15. Put on hold for over a hour to speak with a specialist only to be told a termination fee of $480 would be charged. Is there any way to get around this??????
I have been researching another couple of ripoff's the company does. One day when I was talking with them about something else; the rep said that if I dropped the low cost premium channels of $5.00; I could get Showtime and HBO for just $10 more a month. That sounded good so I signed up. But here's how it works. I did that on February 4th; my bill cycle ended on February 25th. So until the end of the billing cycle Directv charged me $36 a month charge prorated for the 21 days. So $23 was charged for the month of February. The rep never discussed that Directv would get this bonus money. Why couldn't they either start the three months immediately or wait until February 25th to implement the changes. At the very least they should explain this because I was scratching my head on they figured the amount. The rep just kept repeating over and over the same points and was very frustrated with me. She was literally keeping me from talking to a supervisor. Then I was on hold for a long time. A chunk of time out of my day but I am sick of them over charging me. Then the protection plan is a complete ripoff. They do not even come close to explaining the hassle of using this service. They never mention that the repairs have to happen somewhere in New England and I am from Boise. So first wait for a mailing label, mail your computer to Connecticut, wait for them to order substandard parts, and have them mail it back. Who wants to be without their computer for a couple of weeks. They claim everything will be done in three days but who are they kidding. Doesn't include shipping time or the wait time for parts. No where in the agreement does Directv explain that they themselves have to do the repairs. In fact the agreement doesn't say much of anything. So the customer has to glean from what the terms and conditions do not say to determine what Directv means. The language is so vague. But when I had the computer repaired by Apple Directv said in one declarative sentence that it was not covered. No where does it say what they are saying. They actually refused to take any more of my emails on the issue. That was final. That was a ripoff. Teri Barton
We tried the Bundle package promotion for Memorial Day 2014. I never got any Internet service connection and they never "bundle" our services. They added a bunch of data overage fees and I received three bills for over $200 each. My TV cable was discontinued and they wanted another $200 plus payment. They lied and we caught them but because my mother is disabled and loves to watch her game shows I still tried to give them a chance to fix the problem. I made several trips to store and the money gram could not be processed. It kept refusing the transaction and would send message "account number is not associated with any account"? Finally after 3 days of them passing the buck and lying I gave up. This is when they started harassing me and tried to make me pay early termination fees on top of all the data I never got and there having my cable TV disconnected. They have filed it with a collection agency and used there theft and criminal behaviors to ruin my credit. I did however talk with a costume service representative out of California and she was very helpful when I was asking about my "Visa cards" and options. She informed me the reason we were being passed back n forth was because the agreement with Direct TV and AT&T was in a company disagreement as to how to make sure that the company that actually processed the order and activated the package is the one who would pay the customer the $300 in Visa rewards prepaid cards refunds so that was probably why I kept being referred back to the other company. Then when I was not able to get the money gram to transfer another payment and spent my weekend with the customer service representative that kept lying to me and refused to return the original service, he was in Atlanta but assured me that everything was finally going to the "bundled account" I was told that the " offer had expired" and I will not be able to use the account and refused receive the the Visa card rewards. There was a limit of Visa cards to be used and my area had exceeded the limit. I was told the three separate bills for Internet service, cell phone service and my cable TV were not bundled yet and that these bills reflected the end of service before my next bill that would be bundled??? I don't have AT&T service and if I had it why would I be charged data overages for this plan reflect this account if it is last bill on previous purchases??? I was using a track phone and prepaid data card. No Internet access had even been established and they had billed me over 6 times the $159.00 I was expecting to pay and added the new customer activation fee that was supposed to be waved. This is when I cussed that liar out and ignored them. This sort of business practice has been rampant in our state and local authorities have been trying to cover up there own misconduct so that we can't get any legal action or even our credit restored. I have had problems with my bank stealing my money this crap with the bundling business and the CPS refusing to report a very serious crime against my elderly disabled mother after my only sister was found dead and it was swept under the rug. I have called the attorney general and I swear I believe her and that DHR case worker who refused to take the complaint were reading the same reply from the same script the bank was reading and now I find it in FTC and CFPB cases that I have run across by mistake. Please contact the authority if you read this and send them to Alabama. I have been trying to get help with all of this and it's like I'm trapped 8n a bad episode of the Twilight Zone. This is still part of the US isn't it?
In 2010, they advertised, buy one DirecTV HD-DVR receiver get the second one free. Plus the reduced 12 months, blah blah blah. It came to $99 + some misc taxes and fees. I even got a receipt for the receivers. When the guy came to install, he shoved a Lease Addendum to me, and said I had to sign it. I said.... wait... I BOUGHT these receivers... I'm not signing any leasing agreement. He spent an hour on the phone, with DTV, said something about needing to swap the receivers I had already bought and paid for, for ones he had in his truck, and all would be good. Never signed a lease agreement, and have a receipt for the receivers. 3 Years later, I called to cancelled, and they wanted their "Leased" receivers back. I was never charged a lease fee, never signed a lease agreement, there is no lease. They billed my credit card for "non-returned receivers". I disputed it, showed my receipt, got my money back from the credit card company for unauthorized charges, and now two years later I'm fighting the second collection agency still attempting to recover fees for un-returned receivers that I purchased. DirecTV's response has just been... well we usually never "sell receivers" but our system says you leased it. We don't keep any documents.
In reply to In 2010, they advertised, buy by Scours contracts
They tried to get me to do this and praise God I refused, but it is exactly what occurs.
In reply to In 2010, they advertised, buy by Scours contracts
I worked for the call center for.5 months until i was fired. I could not continue lying to the customers who called in every day BC their Direct TV bill jumped up 100.00 in one month. We were trained to basically lie to customers and I could not longer do it. These customers were paying outrageous fees especially when they called to cancel bc they had been lied to in order to make a sale by one of the sale agents. I began giving credits out of the ass to.customers not to get back at my employer but to do what is right and to keep them satisfied. That resulted in me getting fired even though all my stats were above what they needed to be and i always ranked 1st or 2nd in my group on the least amount of credits given per call. I justified everything i did in my notes so my credits given back were justified. But its all about the following the call flow and keeping each call under 6-8 minutes or you would be penalized meaning no bonus. Now that is not customer service when you are forced to keep call times down to the point it was impossible to help customers. I never had any failing surveys in over 500 calls but I was fired while the others around me who probably had a 10th grade education could not carry a conversation on due to the lack of their abilities to speak proper English. It was awful to listen to others around me and to find out they are getting bonus then promoted was a fucking joke. I would love to be called and deposited in litigation for lawsuits against Direct Tv A/K/A AT&T. If anyone needs to reach me for help on this matter i can be reached at
billg4667@gmail.com
. I have 15 years experience as a litigation attorney.
This just happened to me. Is it too late to file a claim against Direct TV?
Yeah !!!!!!!!!! They have to be the worst company ever They hold you a prisoner and I had same thing happen My box stopped working and you call and they ever so nicely tell you that you are "Eligible " for FREE upgrade But then rope you into 2 more years I'm moving and they said oh it's so easy to move just take your boxes and when you are at new home call Never once telling me it would cost $200 to set up Now I want to get rid of them and they say I owe $240 after 6 years of service Do yourself a favor and stay from this company They Lie Cheat and Steal from their customers And I'm in same boat never trusting a cable company again Life is short go out and enjoy it instead of been indoors watching all the crap we pay way too much for to begin with
I had direct tv back in 2010 and they screw me. I sign up for 19.99 a month but was getting charged over a hundred a month. Then i try to end my free hbo and stuff before 3 months but they said i was already getting bill for all that. So i had to end my service then i try pay them off they said it was turn over to a creditor but they say they didnt have it. So i couldnt pay it off.
I have been a U-verse subscriber for the last 6 years and was basically pleased with their service. Recently, while in Walmart, I was approached by a supposed DTV representative (later learned he was a 3rd party supplier to DTV operating under an LLC different form DTV) who said he could save me $100+ per month over DTV and I would have better service from a technology and reliability perspective. Additionally, since AT&T had just bought DTV, he was offering a special promotion and pricing that would not only beat ATT U-verse, but would allow me to bundle existing ATT services for an even lower price. When we asked him about channel availability he assured us that all the channels we asked about were in the DTV package. Similarly, we asked if we could cancel the service after we had a chance to review channel listing and other concerns once we returned home. He reassured us that we had 5 days to make the decision to cancel. So we signed up, making a commitment over the phone with DTV, and paying a simple $20 activation fee. When we had a chance to review the offered package we realized we were not going to save the $100 per month, In fact, after the initial twelve months we would actually be paying more. Also, we learned that one of the channels we specifically wanted in the package, was not covered by any of the DTV packages. We immediately called the representative and he reassured us that we were wrong and that it was under the "local TV" package. Somewhat confused we decide to investigate a little further. We subsequently learned that DTV did not have the specific channel we wanted, and we subsequently asked to have our service order cancelled. You might have guessed, we were told we couldn't cancel because we had just signed a 2-year contract, and if we chose to cancel we would have to pay $40 for the next 24 months (this was before the equipment was installed). So much for the 5-day lead time to cancel. We made several attempts to contact ATT and DTV with no luck. A customer service representative did call us to "try" and alleviate our concerns, but ultimately ended up telling us that we made the decision to sign the contract and there was nothing they could do for us...we were stuck. Caveat Emptor
I need to be a part of this lawsuit I was ripped off by them they promise things they couldn't deliver no service for 30 days and they put it on my credit bureau what can I do
I would like to be added to the lawsuit. I signed up for the program with the verbal and written understanding that if I can't get DirectTV installed that I could cancel it. You have to call and harass them to explain what "can't get installed means" which is line of sight. Where in the contract did it say line of sight. Also, I was told I had a few days to try their service, not 24 hours. Who tries anything in 24 hours??? I want out of this contract. I hate this company and the billing makes no sense. Why do I have to pay $15 for the box, 6.50 per each room, and on top of that an additional fee to use the service. A $87 bill has become $148 and I spend hours on the phone getting no where with them. It's not fair. I can't afford $400 to get out of it.
I have the worst experience with DirecTV, and it wasn't one person, it was several people, several issues, reaching several levels. They are THE most poorly operated and managed organization on the planet. Their customer service people are downright terrified of transferring a call to a supervisor when asked. I asked one person 4 times, and she kept saying she was trained to help me. I hung up and called back and got a guy who hung up on ME the moment I asked for a supervisor. When I called a again, I got a guy who did the same thing the first girl did--kept refusing saying they could take care of me. When I did finally get a supervisor, I later found out the information she provided was 100% inaccurate. Relying on it, I set myself up for major fees. It goes on from there. In the end I reached the president's office through snail mail and my issue handled, but the rot was so widespread I doubt anything was or could be adequately done about it without complete personnel turnover.
I too was ripped off by direct TV they just help there self to my bank account without my knowledge. I never signed anything with them they got me for $700.00 and I want my money back
In reply to I too was ripped off by by Feeling violated
I' have had it with these cable companies. Who regulates them ? If it's the FCC. It's not realistic as they take years to be able to correct accounts that have be ripped off by these companies ether by contacts, equipment or being a customer. I am completely disabled and live off and live of $600. 00 per month . I live in somewhat of a rural area, I rely on TV for all my entertainment. I have paid my bill on time yet they say they didn't get it charged month not receiving plus a $ 30.00 late fee. I signed up for direct payment from my checking account for payment of the bill for that month. Come back and say my account could not be accessed so another late fee plus payment . Have 4 other business accounts with draw monthly for payment no problem. Paid from my checking account for a months payment with a confirmation number . No problem . Decided to try automatic withdrawal from my checking account again . I paid for Dec in December got a confirmation code. Got bank statement for month of December, they took another payment out of my checking account. Two payments that month. Called won't admit they did anything wrong . I lost my Fois stamps because of gov shut down . Hoping my SS won't be taken . Will be homeless and no food . There needs to be a licensed lawyer that can take these cases on and do a class action law suit for fraud , unlawful practices, tampering with clients checking accounts that authorities only 1 withdrawal . With Federal Improvement for all parties affiliate with the company . For anyone that can prove deceptive practices by this company can receive compensation for losses , Have a Law that can regulate these companies to protect the customers to make these companies accountable
In reply to I' have had it with these by Montana girl
You can tell the FTC about this at www.FTC.gov/Complaint. The information you give will go into a secure database that the FTC and other law enforcement agencies use for investigations.
I'm going through the same thing now. September marks the end of 1 year of my 2 year contract. Price is about to jump into the unaffordable levels for me.
As I'm writing this we are canceling our service after a year due to being automatically signed up for first the HBO package, that took 10 hours of phone time to get refunded 3 months later, now we got auto enrolled with the 42 dollar football package. Direct tv should be shut down for their shady business practices. Now we owe a 240 early termination fee for a contract that we did not even have, and that I see is a random fee for everyone, all the way up to 500+ but we are done with them, they are scammers. Should not our contact that they say we had work both ways in the fact that I should not be automatically enrolled in packages that I never asked for? We are just done with it all, someone should go to jail over this, and I see that we are not alone in this with the issues with this shady company.
Is it to late to get my name on the lawsuit
received my direct tv bill today & found a $2.14 regional sports fee? called direct tv & was informed that the states with any major sports teams direst tv was authorized to charge this TAX/ to help off set the cost of their sports channel contracts? I dont have any sports channels, don't watch any sports channels . why should I help them with their financial contracts, charge the people who do buy the sports channels, either that or tell direct to suck it up, their tv scheduling is screwed up anyway. most of the double talk from the operators is because they don't know what or how to explain anything that makes since. BEWARE DIRECT TV/////////
FTC should force cable companies to give BOTTOM LINE prices. They all pull this bait & switch- lure you in with low prices..."plus fee"...well WTF are the fees? In the business I'm in we are required to give an itemized estimate of all charges upfront. To me, this is the big problem with both cable & cell providers.
Noticed increase in bill have written contract that states same price through whole 24 months, calls are useless I just emailed them, not sure what else I can do, I have been misled by a representative at a grocery retail store.
I allowed my mother to use my debit card to pay for her installation. She cancelled the service a few months later.My card was the only card on file and I was charged over $600 for the cancellation fees and services. I attempted to file a claim with my card company and the claim was denied. I was never listed on her account and I did not authorize that charge. How do I get my name added to the lawsuit?
im fighting with Direct TV also. The connection always died whenever it rained. I finally moved to a new place that includes free cable TV. Direct TV is now charging me for "breaking the 2 year contract." I anticipated that they would try to steal my money using my credit card on file. I was able to go into my account and switch to a card that I had a few pennies on. It worked! They were unable to steal my money.
Direct tv is a scam and very unprofessional
I have direct tv they told me if I sign up for insurance they wouldn't extend my contact guess what they did not two years but four years nowhere in the contact does it state they can extend u fours years and they didn't send me a notice about extending it neither.
Fraud and deception and switching me to a costly plan. Offering $20.00 dollars loyalty gift that I don't want along with NFL game tickets. I'm still seeking a mail address to send my November 3,2015 termination registered mail. At&t are even bad now that they joined and merge Direct TV.
Almost every year I have a case where they start to charge me for boxes I do not have. The struggle to get this corrected takes hours because they have a "directv doesn't make mistakes" attitude. One year they owed me so much money I didn't pay a bill for several months. I am at it again another phantom box has show up on my bill and because of it they have entered me into another 2 year contract. I do not have nor did I order that additional box nor did I ever call to agree to renew a contract. I am on day 2 of this nightmare!
Wow I didn't have any of this trouble all of this was clearly stated to me when I got directv not long ago
I too have been scammed. I understood I needed to cancel free channels after first three months and the cancellation fee. I found that in the second year my charges skyrocketed to three times the base rate. After two calls, they finally told me that I had ordered the NFL package. I had never done so and asked for a refund. The list of problems continued. When I gave them cancel date (after two years), they wanted to know why. I told them I had not used their service for over 6 months. Then they wanted me to fill out a survey telling them what I am using for entertainment. Now they are calling me about my bill-now that I have paid in full, they care. Today I received a bill for Pay per view movies watched almost two years ago and paid for then. (I know because I called when extra charges showed on my bill. I verified that I had watched the movies.). Luckily, I never gave them direct access to my bank account. I want my name added to the lawsuit list too.
A "Supervisor" got on the line with me after a customer service rep told me..."We don't give discounts to people just because they are a good customer"...what what??????? This "Supervisor" person SOLD me a DVR telling me that it is a "WHOLE HOME" DVR. Of course it didn't work in the WHOLE HOME because you have to have internet service for it to work on all receivers....OF COURSE he did not mention this to me when he SOLD me the DVR. I do not have home internet, only a smart phone with internet. So now I'm in to them for another 24 months...or so I thought. I recently found out that they cannot put a hit on your credit for the cancellation fee. The only thing they can do is require me to pay the balance of the cancellation fee if I want to return to their service. Guess I don't have to worry about paying that fee :) THEY WILL MISLEAD AND/OR LIE TO YOU!!
I would like my name added to this. They are trying to screw me over as well.
DirecTV is a crooked company. They promise you a fixed price for the duration of your contract... they don't explain to you is that you are actually paying full-price, BUT with expiring discounts; the onus is on you to know when those discounts expire and to renew them (IF they even have any available!) See my bills for the last year: Statement Date Due Date Amount Due 10/08/2015 11/01/2015 $112.96 09/08/2015 10/01/2015 $112.96 08/08/2015 09/01/2015 $68.35 07/08/2015 08/01/2015 $157.57 06/08/2015 07/01/2015 $105.58 05/08/2015 06/01/2015 $151.37 04/08/2015 05/01/2015 $124.81 03/08/2015 04/01/2015 $116.16 02/08/2015 03/01/2015 $116.16 01/08/2015 02/01/2015 $105.87 12/08/2014 01/01/2015 $105.87 11/08/2014 11/22/2014 $169.82 10/14/2014 (Initial) $103.57 -Promised price for the term of the contract - 2 years - with no mention of expiring discounts or that they can raise the price anytime because 'my price' is based only on the discounts - I have had to call these clowns more times than I can count to try and fix my bill... you can see the results)
I cancelled the free introductory package 2 days before the deadline. They confirmed this but still billed me $50.99 for this package. They say to pay it and trust them to refund it next month. If I pay this I'm thinking it may look like I am accepting this package and can be billed every month. I trusted the once by taking the free trial that I didn't want in the first place. Why should I trust them again? If they can see that I did what I was told, then why not remove it from my bill this month, unless it gives them the green light to bill every month after I pay. They can say I accepted the package because I paid.
Glad I read what a Rip-off Direct TV is ... reminds me of those days when Nextel ripped everyone off
We have been a Direct TV client for 17 years. Our television quality had begun to fail. We called to resolve and are told that our receiver boxes are due for an upgrade (>2 yrs old) and potentially our issue. We have been paying an $8/month equipment protection plan. We are now being told that we must (1) AGREE TO A TWO YEAR CONTRACT and (2) PAY A $100 SERVICE CALL. What good is the equipment protection plan? We were on the phone for over 60 minutes and were told that they did not care that we were a loyal customer for 17 years and upgrades are not part of any Direct TV protection plan. This is horrendous customer service. A very frustrating and demeaning experience.
Effective October 30th 2015 I contracted DirecTV by phone spoke with customer service to resolve the issue . DirecTV deceptively discontinued our agreement programming package advertising a 12 month discount . Because of this it fails to clearly disclose that my payment package increased to an alarming rate of $131.56 unsatisfactory branch of contract on behalf of Direct TV I do not consent to any charges or early termination fees to be billed to my bank account .. DIRECTV Illegal conduct well as rude customer services. Need to be addressed ASAP
This should be a good case to follow. I think that most cable or satellite companies do this type of practice. It is sad because in reality we as consumers are not left with too many options when it comes to cable and satellite providers with only a handful to choose from. Most providers lock you in at a price for a certain amount of time and the price increase after that initial contract is up leaving the consumer either to pay more or move to a different provider.
That's exactly what they are doing They never told me about the 20 dollars increase... I was never told about the increase ! LIES !
Its pretty sad when you call and ask when is your contract is done.My operator said 9 months and would cost me $20 per month so my last bill would be $180-200 I forgot to mention 3 months pryor our DVR went out so DIRECTV sent a servive tech to fix the issue.Servive Tech said DVR was shot "GO FIG" We paid the $7.99 protection fee . We asked the tech if the replaced Dvr would be covered by the plan ..Of course he said yes and to sign his work order of replacement.3 months later Husband and I decided to cancel the services.. Moth after that we get a bill for $484.02 not $180-200 what the operator had quoted.Husband had called to argue the bill and they said we had signed for another 24 months due to replacement of upgraded DVR.. Husband told them the Service tech never mentioned about an up-graded DVR or anther 24 month contract..The operator got the bill down to $300 and would not budge farther due to the lies. We could'nt afford to pay the full $300 so Aug 2015 we sent $100 another bill came in for $205 "DIRECTV TACKS ON ANOTHER $5.00 FEE" Sept 2015 we sent $105 and $100 in October....Now I get a bill for $4.99 ..What happend to the $300 I owed now I'm payind 309.00 WTF ...PLUS THEY STIFFED US FOR THE $200 PRE-PAID VISA they offered..THIS CARD NEVER SHOWED.. I will never go back to a decieving company
CANCEL your credit card BEFORE calling Directv. Just report it lost. Get a new one with a different account #, but be ready for the phone to start ringing.
Cancelled direct tv after contract was up. They owe me a refund of $61.07 and have been trying to get it for three months. They keep telling me the only way they can refund me the money is by issuing a Citi bank debit card. I keep telling them if they can take the money out of my account they can put it back in. Told them they had ten days to do it or I will be contacting the BBB and an attorney.
More from the Business Blog
Get Business Blog updates