Have you seen the ads where a popular celebrity touts DIRECTV on his own behalf and as the Painfully Awkward, Overly Paranoid, or Crazy Hairy version of himself? Applying that to a lawsuit just filed by the FTC, there's DIRECTV – and then there's Deceptively Advertised DIRECTV.
DIRECTV is one of the biggest names in the business with more than 20 million customers. Through TV, print, direct mail, phone, and online promotions, the company advertises satellite TV packages for as low as $19.99 a month for 12 months. What's more, DIRECTV said premium channels like HBO and Showtime are "free for 3 months." But according to the FTC, DIRECTV failed to adequately disclose the true nature of the deal, meaning that consumers got stuck with higher prices and unauthorized charges.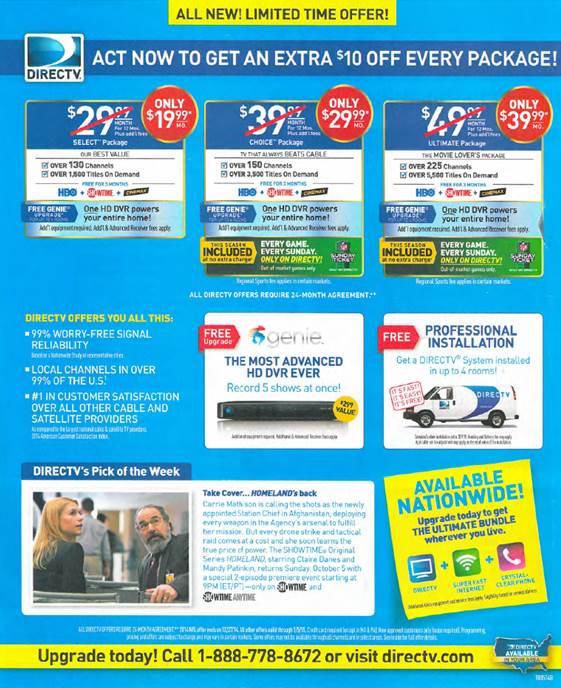 The complaint offers a closer look at how the FTC says DIRECTV's practices were misleading. For example, DIRECTV touted that eye-catching $19.99 monthly rate for 12 months of service without clearly explaining that: 1) Consumers couldn't actually sign up for 12 months of service because DIRECTV required them to commit to 24 months; and 2) In the second year, DIRECTV typically hiked up the monthly fee by between 50-70%. Consumers who experienced bill shock at the start of that second year and wanted to cancel faced hefty termination fees.
The FTC also says DIRECTV's "free for 3 months" premium channel offer was a deceptive negative option promotion. How did it work? DIRECTV typically enrolled consumers in the promotion automatically without clearly stating that unless consumers took the affirmative step of canceling before the end of the three-month period, DIRECTV would bill them extra for it every month. According to the complaint, after the "free" period ended, DIRECTV went ahead and used consumers' credit or debit card information without their consent to charge them for the service. And we're not talking chump change here. The FTC says the monthly fee for those channels was around $48.
The lawsuit is pending in federal court in California. Meanwhile, here's something for businesses to note in the pleadings. In addition to alleging that DIRECTV failed to disclose – or failed to adequately disclose – subscription prices and the nature of the premium channel offer, the FTC says the company's online practices violated the Restore Online Shoppers' Confidence Act.  Passed in 2010, ROSCA makes it illegal to charge consumers for goods and services sold through online negative options unless the seller:
clearly and conspicuously discloses all material terms of the transaction before getting the consumer's billing information;
gets the consumer's express informed consent before making the charge; and
provides a simple way to stop recurring charges.
This is a case you'll want to watch.
It is your choice whether to submit a comment. If you do, you must create a user name, or we will not post your comment. The Federal Trade Commission Act authorizes this information collection for purposes of managing online comments. Comments and user names are part of the Federal Trade Commission's (FTC) public records system, and user names also are part of the FTC's computer user records system. We may routinely use these records as described in the FTC's Privacy Act system notices. For more information on how the FTC handles information that we collect, please read our privacy policy.
The purpose of this blog and its comments section is to inform readers about Federal Trade Commission activity, and share information to help them avoid, report, and recover from fraud, scams, and bad business practices. Your thoughts, ideas, and concerns are welcome, and we encourage comments. But keep in mind, this is a moderated blog. We review all comments before they are posted, and we won't post comments that don't comply with our commenting policy. We expect commenters to treat each other and the blog writers with respect.
We won't post off-topic comments, repeated identical comments, or comments that include sales pitches or promotions.
We won't post comments that include vulgar messages, personal attacks by name, or offensive terms that target specific people or groups.
We won't post threats, defamatory statements, or suggestions or encouragement of illegal activity.
We won't post comments that include personal information, like Social Security numbers, account numbers, home addresses, and email addresses. To file a detailed report about a scam, go to ReportFraud.ftc.gov.
We don't edit comments to remove objectionable content, so please ensure that your comment contains none of the above. The comments posted on this blog become part of the public domain. To protect your privacy and the privacy of other people, please do not include personal information. Opinions in comments that appear in this blog belong to the individuals who expressed them. They do not belong to or represent views of the Federal Trade Commission.
With them 30 plus yeas, complained about a charge now my chann ls are pay to view
My bill was wrong from the start. When I signed up, I specifically told the lady who I spoke that we were in a temporary house and would in 3 months move to our permanent home. I asked if we could move and not incur in any charges, she promised we could. Well... when I moved they charged me $200.00!!! I called and had to complain to at least 5 people. They promise to review the call, but magically it was a third party provided and they had no access to it... smh! Then I called to cancel the stupid 3 month "free subscription" a month later. At the end of the 3 month period, they still charged me!!! I called and complain. The guy tried to say that i needed to call before the three months expired. I said, "I did call! Then he went back and "found" the note. So he credited that to me. Of the moving charge, I only got $100.00 back. AND they won't let me cancel without charging me despite my HORRENDOUS experience with them. EVERY MONTH I had to call to correct something with my bill and get credits applied. This is horrible. They need to get some serious fines and change their practices. They need to be shut down!
Signed a two year contract one year ago and received a discount for 10 months. At the end of this period without any communication; two channels were added to my package without authorization. When I complained the two channels were removed and a credit given, however now my basic bill in double what the discounted price was. i believe the rep at the time I signed indicated the normal cost is around $50-$60 monthly. It is $82 monthly and I am told that is the cheapest package available. I live on Social Security and have a small budget I will have to trim my grocery bill to make up the extra $40 a month I must now pay until the contract expires or pay $20 per month termination fee. I am appalled Direct TV can get by with unfair and shady practices such as this. Anyone I know will hear how this company operates.
Since August, 2015, DirecTV has been charging me an extra $10 every month for an "equipment fee." I have had DirecTV for more than two years and have not upgraded nor changed any of my equipment. Furthermore, I did not consent to any changes or additions to my account.
Worst customer service experience apparently since merging with AT&T. Direct TV customer service number is transferred to AT&T and AT&T call center is confused as the why there were called for a Direct TV issue. Once again transferred to 10 different departments that all delegate responsibility to another department. Have fun talking to an automated telemarking answering service with no real intelligence, all while telling you how great this horrendous company is. Their online support and incompetent phone attendants advise to "write to the presidents office?" Never had similar issues after being a long-standing customer with COX COMMUNICATIONS. Will never do business with this type of company again and will advice others to do the same.
I was with DirecTV from 2012 til November 3 2016 and they are charging me an early termination fee of 60.00. I have called the company three times to take that charge off my final bill. Which DirecTV will not do. Luckly I was able to stop the charge from going through my credit card. I do owe them but will not pay until they correct my bill which they refuse. Can I get help anywhere so that it isn't on my credit report.
Direct TV has a nice picture but their billing practices are a rip off. The sales people will tell lies about what you will be saving when switching to Direct TV. Technical side great. Sales and billing sucks.
All these years of being a DTV customer, I am shocked to see a Starz package charge in my bill which I never ordered. Luckily, my daughter.in.law routinely checks my bills and investigates when there has been spikes in my usual bills.
We have had all kinds of problems with directv. They agreed to take off all these sports channels that we did not want after transferring from the previous owner.. only after talking to several people for a week. They were never taken off and won't look back at any records of conversations that we had. We suspended the service while out of town for a few months and we didn't realize nothing was taken off. When service started again this month we noticed the bill was higher then ever. They are charging us for all this sports stuff we never will use and won't take it off for the next 6 months. This company is the worst service I have ever dealt with. We are trying to find a way out without costing a fortune.
Here is the chat log where I tried to cancel a cancellation request...it was denied and then AT&T raised the rates. I plan to cancel all services with AT&T over this issue. Chat with DIRECTV NOW Close Chat AT&T: Welcome to DIRECTV NOW. May we have your name while we pull together resources and links to help get us started? You: Greetings.....I tried unsuccessfully to cancel an unintended cancellation request of my account last month. AT&T forced me to wait until the month of service expired to renew the service again. Now the plan I signed up for originally is no longer available and I am being forced to pay a higher rate. I would like to have the rate plan I signed up for originally reinstated. Can you help me with that request? Larry: Thank you for contacting DIRECTV NOW, my name is Larry. Let me help you with that. You: thank you larry... Larry: May I have your name and registered email Id associated with DIRECTV NOW? You: sure....john locastro
john.locastro@gmail.com
Larry: Thank you for the information, John. Let me check with that. Give me two minutes please. You: thank you.... Larry: Thank you for staying online. Larry: I understand you didn't intend to cancel account but it was a mistake but once you cancel the account restarting the account even before the $35 promo ended will not give you back the promo. Larry: I'm sorry for the inconvenience. You: I understand that you're the messenger of AT&T....so please do me a favor and copy/paste this message and send it on to AT&T executives....... You: I am a long term ATT wireless customer...my cell phone bill is over $300 per month....I am also a directTV subscriber and my bill is over $150 per month. I like the streaming service and your decision here on giving the advertised rate is very disappointing. It's so disappointing that I will work diligently to cancel all of my business with AT&T and file yet another complaint with the FTC over Directvnow unethical business practices. Directvnow executives should all be terminated and replaced with ethical executives that can provide a stable reliable services.
https://www.ftc.gov/news-events/blogs/business-blog/2015/03/ftc-says-di…
You: I will vote with my wallet on this one....thank you for your customer service today. I would advise you to search for employment with another company. You: thank you larry....i understand that you're simply the messenger here so I hope you can pass along my comments. You: i live in dallas/fort worth and it's even more disappointing a local company acts this bad Larry: I'm really very sorry about you Had such a bad experience with our service. But I'm just giving you the policy that we have. And I wish I could help you on this issue. Larry: john, once again I apologize for all the inconvenience. You: Please pass along my comments....someone inside AT&T must care to hear about how much $$ they are going to lose Larry: Sorry for the typo. Larry: I'll do that on your behalf. I can understated your concern. Larry: Is there anything else I can help you today? You: no...thank you very much Larry: Thank you for choosing DIRECTV NOW. My name is Larry and have a nice day ahead. Agent is typing..
My bill was supposed to be 19.99 I have yet to see itiWant to get out of contract but these stories scare me. I am 60 years old I can't afford to pay a 400.00 penalty
I'm in my last 6 months of a 2 yr agreement with DirecTV and this is the second time now that they have raised my contract. I said before that my contract says this price I'm not paying more now because ATT bought you out. They gave me a $5.00 credit for the remainder of the year but now raising again. I'm leaving them today because I'm tired of being a roadmap for ATT to run me down. IF I'm eligible, my vote to sue is definitely in there.
I'm getting charged $547.00,I don't understand why?Their equipment was sent back.. Its absurd,its causing me my credit,To go bad..how can this happen!
Every month I get so upset it's about to give me a heart attack. I call in to inquire why my bills varie so much h when I haven't authorized any changes. Totally ignoring my questions,they have the nerve to actually try to sell me more channels. I am a widow and live on a limited disability check. They are killing me every month. Do they really trane these people to be so rude and unprofessional?
I'm going through the same thing. I returned equipment at my expense July 2016, they're billing me for $663.00 and NO ONE REPLIES TO MY LETTERS. I never received the 3 months of free premium channels-in fact they added them to my bill without my request or authorization. How can I be a part of this complaint? I'm a 59 year old disabled woman with limited income, an agency for Directv called CBE calls me every day 2-3x but they never leave a message. Also, DirecTv tried to bill an old credit card of mine which was denied. How can I stop this problem? Thank you.
#2 please add that my service constantly went out and it would freeze as well, also I never received a contract nor did I ever sign anything, I did receive an equipment care brochure
I am also a recent victim of the " att - Direct bait and switch fraud embezzlement. When I signed up I told att make my bill a 100 a month I don't give a _$€%+__ how. I use the same way I don't order any movies or games my service don't change don't change your price! Ha 1 month later my bill jumped to 122$ and from then on I never saw the same bill. Then after complaining about it on the phone for hours they switch me to the direct junk tv nightmare from hell. They quickly taught me what a bloathed corrupted out dated rotting evil empire this corporation is. As bad as out of touch it is what about federaly appointed judges (these guys actually think that we don't know who pays them off, that we can't smell the corruption with their every word!) Their first decisions were that defraudulent corporations be allowed to arbitrate( with their in house arbitrator ) 5he cases brought against direct tv. In other words 5he federal judges are so lax and corrupt that they in their own little empires would let direct tv do their jobs and judiciat their own law suits. Does any one else see how worth and inept our court's have become they've got money and Lawyers because they taken from the government and stole from us. Any government that is so large it can take care of everyone will control everyone.
I just got off the phone with direct tv and they have my bill all screwed up.. I've had more that 2 yrs an they did the same thing except I didn't want the free HBO etc. It was 19.99 a month and they lied and charged me 29.99.. now I've never changed my select channels been the same since I started .. now they want 72.92. Goes up and down.. I've paid money orders an a few times on my uncle's card and still saying I owe after I've paid... Can anyone help I'm so Frustrated... Thx
I was also lied to, and now I owe them and the ISP $1066.00 for early cancellation fees.
Direct tv is the worst, very deceptive in their sales tactics.
I recently spoke with a manager at ATT about my direct TV bill and was informed that there was an increase due to my billing area. Are you kidding me??? I signed on in September and was told I would pay a set price...A SET PRICE!!! For 1 year and then it would increase as much as, but no more than $44/month. If I signed a contract saying my bill would be "x" amount for 1 year, how can they get away with this? How can I become in breach of contract for not agreeing to pay an increase, when I was told my bill would be the same for 1 year?? This is absurd, and a terrible way to do business!!! Completely dissatisfied!!!
Join the club i have been with direct tv for 10 years i was moving and cancled my account. My contract was up. 3 month later after calling them each month for the return box only to find out they never closed my account. Took 3 months to get it closed. I was offered a 2 year deal to stay with them for $78.92 a month. They would only credit me 1 month from the 3 months i paid. Only to find out they are charging me now $99 a month. Plus they shut my service off on the 2nd month. They claimed i owed them $680 i said impossible only to find out they said i never returnned my old equipment. The tech who installed everything at my new place took everything back. After 3 months they never turnned off my promo movie free package. I spent 2 hours today on the phone trying to get my bill back to what they offered and they refused.i had the.movie channels turnned off today and had them take off the protection plan. And they said my bill now will be $103 a month. How the hell can it go up with these things taken off my account. I was told " it is what it is. I want to close my account only 6 months into the deal. But after reading here how they just take money from your credit and bank cards i need to fiqure how i can cut them off at the pass before they do it Help help once at&t bought out direct tv it has become total hell and fraud
There are several things you can do here. Some of them may not be on the up-N-up, but do them anyway. First off NEVER, and I MEAN NEVER give them a Social Security number, nor any bank/banking info. This means NEVER, EVER give them a debit card. This is direct access to your bank and banking info. You always pay with a credit card (preferably an American Express Card) the less information they have on you, the better. One of the earlier post was correct; once you decide to end you relationship and before you call to cancel, call AMEX first and cancel the card (tell them you lost it) and get a new one with a new number reissued. Now you're in the driver seat. They can't bill your credit card (it doesn't exist) and they can threaten you all they want, but if they don't have banking info, or your SS #, they can't take any adverse action against you. They won't be able to post anything to your credit report so whatever you owe will sit out there in perpetuity with no action on their part. Also never give out your phone number – or at least an active working phone number. My "phone number" is always my dead grandma who died back in 1979. Think about it, there's zero reason for them to call you – except to collect and ask for payment. All the threats in the world won't matter because there is nothing they can do. (They would need to hire an attorney, file a lawsuit, find you, serve you, take you to court, win, then try and collect on a judgment. That's a lot of work for $400. Hiring a creep in a call center to bug you at $5.00 per hour is more cost effective, hoping you will get scared and cave.) Why do they need your phone number for anything? This applies to anyone and everyone whoever asks for your phone number. Think of an old one or one you had in college that no longer works. For those of you not watching and disputing any erroneous charges to your credit card immediately are fairly obtuse. The law allows for a small window to do this.
Is this lawsuit still going on. They just took a little per $600 out of my account without permission as well. I did not authorize it and they said they had the right to do it.
DTV activated my account last week without specifically disclosing how much my monthly fee would be. All the conversations I had with their reps during the process were about the $39.99 fee for 12 months but in reality my rate is $96+ taxes per month. I have asked them to find a recorded conversation that proves that i agreed to the higher rate but am getting no where.
I have been ripped off from direct tv for 6 years this is the last time it will happen I plan on cancelling in August I am paying for regional sport fee don't ever use it I was told it was part of the package as I understand it a package is I item not an extra channel that I don't use and was not told about when I contacted Direct tv was told it was a state of calif tax not true and they refuse to drop it there employees are not trained or are just crooks like DIRECT TV please do not sign up with this company
In reply to I have been ripped off from by Susan
I was too never notified of the premiere channels free time 90 days was over. I caught the big rise in bill canceling premiere channels HBO, etc and AT&T continues to Bill me and say I never cancelled. So the Indian in India, The filipino in the Philippines (maye), etc never cancelled the channels! So now I had to call another 800 number and since I didn't pay my bill in I Cannot cancel my service. Hey that was a robot that told me that. So I'm going to stop paying them all together.
Tonight has marks a night with customer service like no other has ever! DTV customer service hit the 100! Thats right folks. Its the real deal. I spoke to my 100th agent tonight (have list of all names and times) hoping to get a resolution. Dec check payment was cashed by DTV but never posted on my acct. I was made aware only after services shut off. $350.total Sent in documents (1x) claims never got Sent in documents (2x) was told case is open and being worked on. Sent in documents (3x) Rcvd phone call and email stating credit on the way 3 months later, no credit, services shut down again. during time, equipment orders made from me billed to my account thru DTV, never shipped due to ordering system errors showing stock when in fact their is ZERO stock and has been discontinued. Charged $333. Despite the fact it was never shipped, clearly states order canceled. No issues on order cancellations. Havent seen a refund. now totaling $700.00 DRUM ROLL PLEASE.....THE RESULTS. 276 total phone calls. 174 transferred to out of country call centers w/only 20 passing me on to US ...154 would not) 102 reached US, (94 agents pushed the call to someone else, 8 agents were truly deserving of raises for the efforts incredible) 22.2 total hours on w/customer service Services shut off for past due. Was told to resubmit claims. Not mad, Truly priceless. You can't buy common sense, As i read all comments above, the dishonesty and lying from these agents are out of control. Last but not least. I have been a Directv customer since their inception. I was an early test customer when they set up shop in the same office building back in 1993. ;) jay Was told unless I pay past due TV will not come on. Despite the refunds that were made clear i am customer is responsible for covering all errors to acct until DTV fixes. Despite the fact that this is a violation of federal business practices to steal and not return money. here are the results (which truly are priceless....) Not mad at all. Beyond well documented to each and every agent of pure dumb zero common sense. This is worth the $350 loss. Its
This is happening to me now, i want my name added to the lawsuit please.
they are STILL doing this in 2017, too. EXTRA FEES /CHARGES every month. Just basic and equipment is over $120.00.......
I just tried to obtain a copy of my contract from this crooked Company. They gave me a number for the Collection Agency they turned me over to in 2015 for $812.00 in charges from 2010. That's right, 2010!!!for early termination fees. They said they mailed these bills to the service address. The service address? I have not lived at that address in 6 years and I had my mail forwarded. This collection Agency stated that my "contract" was for 24 months and I cancelled my Service after 12 months. I cancelled because 1) they didn't offer service at my new address and 2) s....y customer service. After the Woman tried everything she could to get me to pay these outrageous fees using her collection expertise, I advised her of the Class Action Lawsuit. FEDERAL TRADE COMMISSION, Plaintiff v. DIRECTTV, a corporation, and DIRECTTV, LLC, a limited liability company. The silence was deafening. Ma'am. You may send a Letter of Dispute if you think you do not owe these charges to:
I have been ripped off severely by this company spending hours and hours on the phone with customer service. We were told that our wifi and cable would be only 100$ a month. The past 3 months have been 250, 300, 320 Thats as much as my rent! I'm a college student and cant afford this
We were just taken for 687.00 unauthorized charge by Direct tv.
this exactly to the word they did to us it is 3/25/2017 i opened my bill instead of the $59.00 deal for the 3 months they offered these 3 channels and never told me i had to call so i never really looked at my bill they have been taking out $148.00 for almost two years they will not help us we are both on fixed income my fault to but never was told to call also charged me movies i did not buy now they want $250 and $200 to stop tell everyone do not go through this company mike wing
I was a GM of cellular at one time and can tell you that Direct TV fears the FCC for good reason: Direct TV can be sanctioned for illegally charging a customer's bank account or charge card for fees a customer has NOT authorized. Nor can Direct TV charge a customer's bank account or charge card for equipment that was returned to Direct TV by claiming it was not received (a Fed Ex receipt will prove its being returned). I was lied to along with everyone else posting here. When my Direct TV package doubled at the 1-year mark, I requested cancellation of service because I WAS NOT TOLD by the customer service rep that set up my service the monthly charge quoted to me was an "introductory price" that would increase at the one-year mark. When I requested cancellation, I was put on hold twice, totaling more than an hour and a half. I finally hung up, which was exactly what they were hoping for. Today I called again and was informed that should I cancel services, I will be penalized with an early cancellation fee. Of course, not paying the cancellation fee means it will be reported against my credit, which is one of their many strong-arm techniques. This is a SHELL GAME! It is illegal and no different than if a customer was to purchase a car at an agreed upon monthly payment for a designated number of months, but is suddenly charged a higher payment at a later date without their consent. Putting someone on hold for a ridiculous amount of time, only to be transferred for another long hold time is a stall tactic and it's unethical. A broken promise made by Direct TV to adjust an incorrect bill, or to apply a credit for charges a customer did not authorize, is illegal. The sales staff of Direct TV are expected to sign up customers if they want to keep their jobs, but If a service rep does NOT warn a customer that they are agreeing to an "introductory package price" that will increase later in the 2-year contract in order to entice that customer to agree to the service they provide, this practice is called bait-and-switch and it is illegal. Personally, I WILL NOT pay for fees I did not authorize, nor will I pay an early cancellation fee. I will instead change my credit card number and advise my bank not to approve ANY payment request made by Direct TV. I believe that as a group, our collective strength lies in the following: 1. File a complaint with the FCC. Include dates and customer service name/employee number and length of hold time, including the hold time if your call is transferred. Include broken promises told to you by customer service reps regarding any adjustment or credit owed you for unauthorized payments that Direct TV collected. If, Like me, you were NOT warned by a customer service rep that your package price would increase, include that information with your complaint to the FCC—it is illegal for them to quote one price and then charge more later if it wasn't agreed by you at the start of service! If you were charged for equipment that you sent back, but Direct TV claims was never received, Include that in the complaint (again a Fed Ex receipt is important to prove your claim). 2. When disconnecting your service before the 2 year contract agreement, Direct TV will threaten you with an early cancellation fee, which is a strong-arm tactic meant to frighten customers so they continue their service and Direct TV is able to continue receiving a monthly revenue from them. They WILL likely report an unpaid balance that will lower your FICO score. As another poster mentioned, you have the right to dispute a negative report filed against your credit by mailing your dispute to the credit reporting agency and insisting the negative report be removed (this needs to be done in writing and should state the facts). Direct TV will have a certain amount of time to dispute your claim. If they do not respond within that allotted time frame, the ding against your credit will be erased. If they respond, upholding their negative report, you, the consumer, has the right to send a rebuttal against Direct TV's claim. If enough Direct TV customers take a stand and fight back, Direct TV will be forced to stop their illegal practices. 3. Companies HATE negative press in the public view. If anyone out there has the time or inclination, why not start a YouTube documenting (with customer approval first, of course) the horror stories too many Direct TV customers have to tell, such as: not getting credit for returned equipment; unauthorized fees collected from a customer's bank account or credit card they did NOT consent to; promises of services a customer requested that was later found to be unavailable that Direct TV continues to charge for but is NOT being provided; Increasing a customer's bill at the end of a "trial period" that was NOT warned of during the customer's initial request of service; charging a exorbitant early cancellation fee when a customer has been forced to protect themselves from Direct TV's illegal and unethical practices.
I did some research when Direct TV raised prices altering written price offers just agreed to. What I found was AT&T paid off (campaign contributions) practically everyone (Att. Gen, Gov, Senators, Congressman, in AL for example...), so nobody would file criminal fraud charges against them. It is easy to see the same practices at the Federal level, also.
HOW DO WE SUE THEDE PEOPLE ENOUGH IS ENOUGH I HAVE NEVER HAD A QUESTION ANSWERED IN THE SAME WAY FRO ANY REP. I HAVE HAD IT WIT DIRECT TV THEY ARE TELLING ME THE SPORTS CHANNEL THAT I DID NOT REQUEST IS A CHARGE FROM THE GOVERMENT CAN YOU BELIVEV THAT I WANT TO FILE SIUT DOES ANY ONE KNOW HOW I GO ABOUT IT
I want to get involved with the court case if possible. I talked to Direct TV in October 2016 and told them to take me off of auto pay because ever month I was having to call them about the charges on my account. I do not understand how Direct TV/ATT and go into my account after months of no service and help themselves to $402.89. I WILL NEVER deal with DIRECT TV. This is stealing!!! They are nothing but a crook in my eyes!!!!
I called Directv yesterday to cancel my services,the lady on the other was really nice until I told her that I wanted to cancel,and her attitude changed!! It was like,how dare you to cancel our services!! My contract runs up this coming July.So my bill is $213 plus another $80.00! NOPE!! We have been good customers since 2012! They throw all of these fees,taxes and what not!! Whatever happened to the customer is always right!!
Please add my name to the present law suits, Direct tv is trying to hide behind the AT and T logo, I don't trust either one of them! They now are trying phantom billing, and their service centers are out sourced rude, and morons..........................meanwhile their CEO's get merit raises for great ideas like out-sourcing .
I have combined billing with DirecTV & AT&T, and was told I would receive a monthly discount by 'combining the two bills'. I believe it's called, My "perfect bundle". And for a few months I did receive a discount. However over the last few months, the combined billing has not been a consistent amount. So I contacted DirecTV first, and asked why our bill is not a consistent amount due per each month billing. Customer service of DirecTV said that I should contact AT&T about my concern. So I did - I contacted AT&T and their customer service rep said the billing inconsistency issue was something I need to contact DirecTV about. So now I am bouncing back and forth between DirecTV and AT&T. Nothing has been resolved at this time. Additionally, per the original paperwork that I completed with DirecTV when I signed for their service, I signed a 2 year order agreement with a 'locked in rate' for 24 months, the locked in rate is on the agreement paperwork, that I originally signed. Now I find that my monthly rate for DirecTV is going to increase an additional $38.00, and I'm only on my 11 month of my 24 month contract -agreement. I guess by DirecTV issuing this increase, my monthly 'locked in rate' is Void. Each month my bill increases a slight amount, and after inquiring both with AT&T / DirecTV - I'm told that the charges on my bill are correct, unsure as to how it can it increase when I signed agreement paperwork with locked in rates. What kind of a company is this? Why sign a contract agreement? It seems that DirecTV does what it pleases anyway. And why am I getting the run-around by DirecTV and AT&T, are they not the same company? How or where can I sign-up to join this lawsuit?
Direct tv illegally stole 569 dollars out of my account iam a vetnam vet living on a small check i and many others can not afford to be lied and cheated from been waiting patient for 3 mo for my money
I have had them since last April and have not had a correct bill once. Bait and switch.
Yes they scammed me in wal mart telling me they were lowering my bill by changing to direc tv .From the first bill it was more. I was told $60 and the first bill was $80.The bill after a year was $135.How and why do our politicians allow this to go on in this country.This company needs to be made an example of.They told me now the cheapest package was $90.Someone needs to ban together and sue the crap out of this company,
I am watching this so called "Regional sports fee" go up and up. Its just another way to steal your money. Suddenly a line item appeared that said a discount of 2.63 would end in May. I wasn't getting this so called savings before. It's just another scam to jack up the bill. I want in on this law suit!
I had the service for TWO days and got all the early termination fees. (The put the giant ass satellite on TOP of the deck railing!? and because I PRIDE myself in making my deck look good, I paid half a grand to do.) When I signed up for 24 months of service, I paid $100 for a wireless receiver. I held back $100 on my final bill, waiting for the refund of my wireless receiver I sent back 30+ days ago. I was told 7 days ago that they DID get my receivers back BUT....it would take another 5-7 days to get the wireless receiver refund. Today, 7 days later, I called to check on the refund status. THIS lady told me that there is NO WAY that I am entitled to a wireless receiver refund! WHAT and WHY would I NOT get the wireless receiver money back? That would be like buying a pair of pants and not wearing them but returning to the store only to have the person tell me, "Thanks for returning the pants but you aren't entitled to a refund!" Needless to say, I am LIVID!! And NOW, I have to go through the hassle of canceling my CC before they charge that for the $100 they are NOT entitled to!! Reading so many complaints about equipment returns where they say they never GOT it~I'm shocked that the guy said they DID get mine back. Then again, he was the 1 that said I'll be getting a refund that I was RE-told I'm NOT going to get. SCAMSCAMSCAMSACAM
Just be cautious, Direct TV is still misleading consumers. I was told that if I signed up for 2 years, I would be able to call in the 13th month and lock in the 2nd year promotional price. The 13th month arrived, I called in, as requested, but they still have not corrected billing and given me what I was quoted upon service signing. This has got to be stopped. It is sales fraud.
Direct TV is very deceptive, and AT&T is allowing it to happen under their umbrella. The story is too convoluted at this point to even attempt to describe, and frankly, I'm tired of reliving it every time I do explain what happened. All I would say is that if you are even contemplating signing a contract with Direct TV, or AT&T, I would highly discourage you from doing so. Their business practices border on criminal at this point.
DirecTV seems to be doing the same thing Wells Fargo got busted for- they add in services not ordered by the customer hoping no one checks their bill and just pays it. Case in point, they added in a "DirecTV Protection Plan" for $7.99 a month without customer authorization. When you ask them about it they say that they can't trace it to a sales representative but they will remove the charges. However, that isn't the point, they are doing exactly what Wells Fargo got busted for. How do I file a complaint? I call but all I get is someone from another country that gives me a billing problem URL.
More from the Business Blog
Get Business Blog updates