By: Karen Hobbs, Assistant Director, Division of Consumer & Business Education, FTC Bureau of Consumer Protection | Oct 1, 2020 4:13PM
If you saw an email from FTC Chairman Joseph Simons, it wasn't. From him, that is. Scammers pretending to be him are emailing, though. They're trying to trick you into turning over personal information, like your birth date and home address, which could help them scam you. So: if you get an email from the Chairman of the Federal Trade Commission about getting money because of an inheritance or relief funds related to the impact of the COVID-19 pandemic — or anything else — do not respond. Do not give out your personal information. But do hit "delete."
Scammers like to make themselves look official by pretending to be from the government. They use official-sounding language and images that impersonate federal agencies like the FTC to trick or scare people into responding.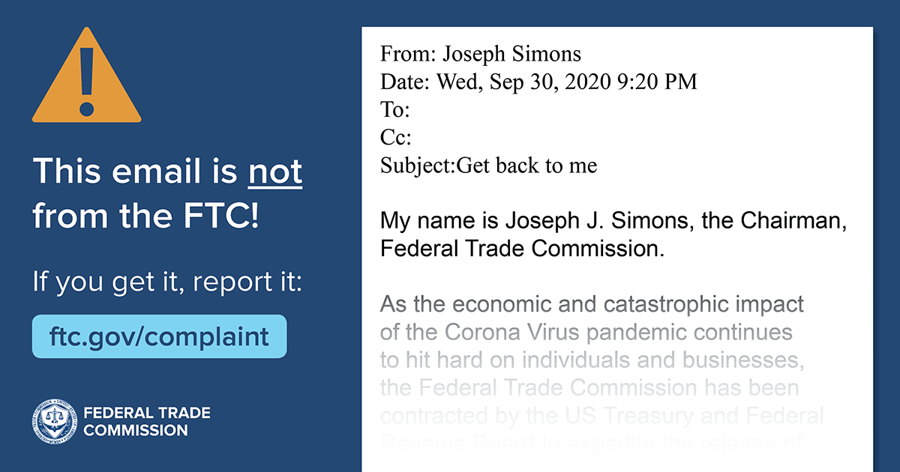 Rest assured, these emails are not from Chairman Simons or anyone else at the FTC. They're a scam. The FTC will never send you an email asking you for information like your bank account, credit card, or Social Security number. We don't ask for your date of birth, or cell phone number. And we'll never, ever call, text, email, or send a letter asking you to pay anything.
People at FTC, including Chairman Simons, are working hard to combat scams like these. We're using every tool we have. And you can help. We know that people who've heard about a scam are less likely to respond to it. So help us spread the word: tell people about this scam. And if you spot it, please tell us at ftc.gov/complaint. Your reports help us find and stop scammers just like these. Reporting and talking about this and other scams helps protect people in your community. So thank you for helping to spread the word.