By: Lesley Fair | Sep 17, 2018 1:03PM
As the song goes, "A house is not a home." And as alleged in an FTC lawsuit against the operators of rental listing websites, sometimes an apartment isn't an apartment.
Steven Shayan, Kevin Shayan, and affiliated companies run ApartmentHunterz.com, FeaturedRentals.com, and WeTakeSection8.com. For consumers who pay weekly or monthly subscription fees, the defendants promise accurate listings for available units.

For example, ApartmentHunterz.com claims its "unique, date-sensitive, rental software updates the listings on a daily basis, so that the data you receive from us is the most accurate and up-to-date information available on the Web today." Touting "Real-Time Vacant rental listings," the site purports to feature "over 1,000,000 hourly updated ads" and "over 15,000 exclusive vacant and upcoming listings, giving you the advantage to find the apartment or home of your choice in 3-5 days." No need to worry about outdated information, the site assures prospective tenants. The company uses "phone and email verification to remove rented listings and verify price changes as well as post new rentals hourly as they become available."
FeaturedRentals.com echoes those accuracy claims, putting a particular emphasis on the quality of its listings. Unlike "free sites or yellow pages that just lists the community that might not have a vacancy," FeaturedRentals.com describes itself as "a reputable rental site" that gets information "directly from landlords and management companies," "verif[ies] the availability of the properties," and then "updates its search engine on a daily and hourly basis."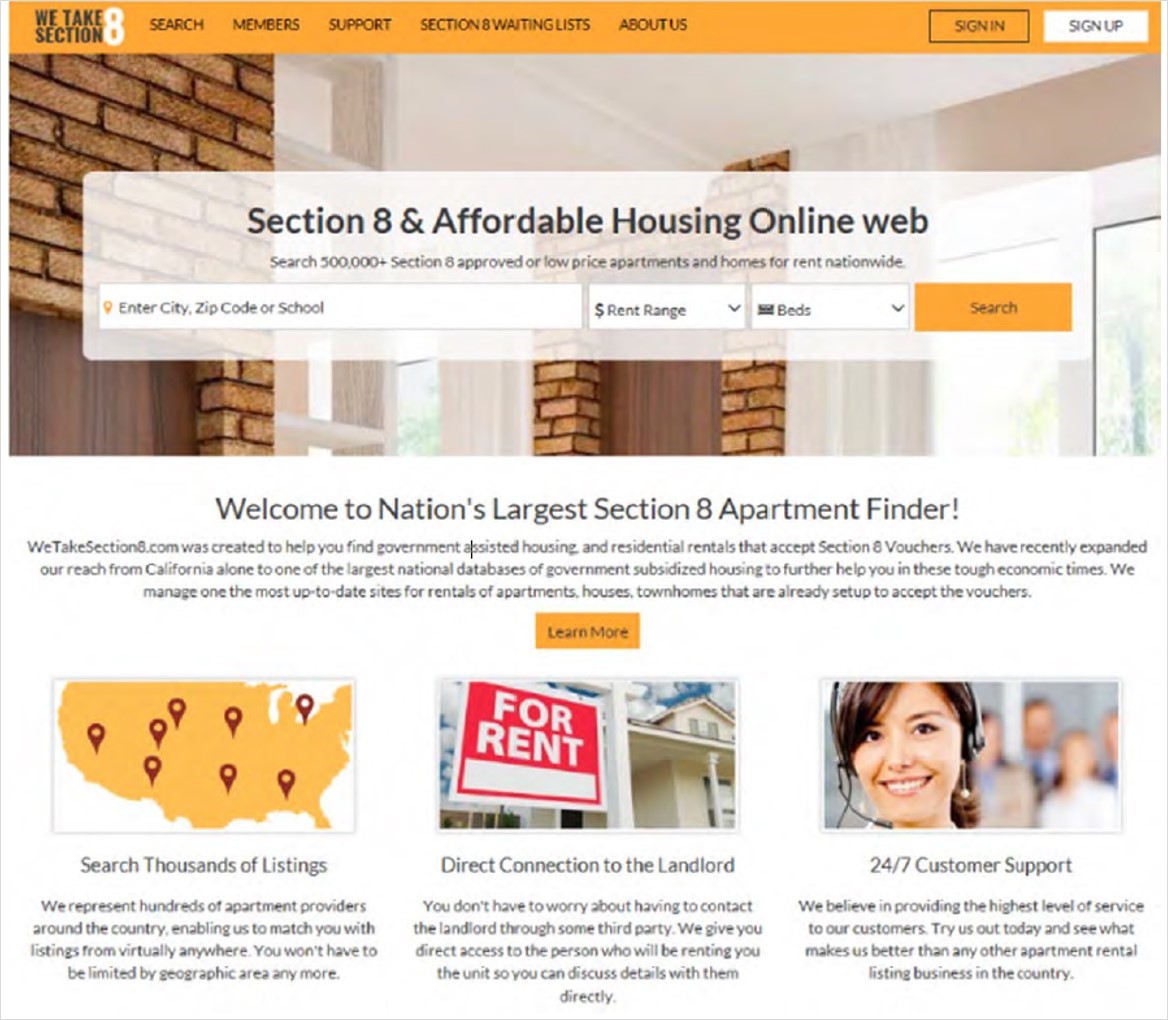 For elderly and disabled consumers and very low-income families who qualify for Section 8 housing assistance, available units can be particularly hard to find. But WeTakeSection8.com billed itself as "the Nation's Largest Section 8 Apartment Finder" and "one the most up-to-date sites" for rentals that are "already set up to accept the vouchers." Why buy a subscription to WeTakeSection8.com? Because unlike sites that include "old listings that have long since been rented," WeTakeSection8.com claims to offer "thousands of updated and verified listings including exclusive listings not found on free websites."
But according to the FTC, the defendants' sites are rife with inaccurate or unavailable listings. Hundreds of consumers and property managers have complained directly to the defendants and through groups like the BBB. Among other things, they reported that units on the site weren't really for rent. And we're not talking about "Gosh darn it. Somebody just signed a lease this morning" near-misses. Consumers and property managers report that apartments featured on the defendants' sites had been rented months – or even years – earlier.
In addition, the FTC alleges that many listings on WeTakeSection8.com don't actually accept Section 8 vouchers. Anyone who pays a subscription fee for a service that doesn't deliver as promised experiences financial injury, but it takes a particular bite out of the budget of low-income consumers who qualify for Section 8. According to the complaint, the defendants' conduct harms those consumers in another way, too. A disabled person or low-income family can spend years on the Section 8 waiting list. But once they qualify for a voucher, they may have only 60-90 days to find a place that takes Section 8. Time spent going down blind alleys – for example, pursuing listed properties that aren't really available – cuts into that narrow window.
The FTC lawsuit alleges (among other things) that the defendants' claims of offering accurate, up-to-date, and available listings are false or deceptive. The complaint also challenges the defendants' representation that their sites feature "exclusive" listing of available apartments and Section 8 units not available on free sites. Furthermore, as the FTC lawsuit notes, this wasn't the defendants' first rental rebuke. The California Department of Real Estate revoked ApartmentHunterz' license, but it has continued to do business. Then there were earlier state disciplinary actions for false and misleading ads.
A federal court in California has issued a temporary restraining order.
What's the word for other businesses? Even at this early stage, the complaint is a reminder that companies have a legal obligation to live up to promises they make in their ads. That's the case if they sell widgets and gadgets or if their stock-in-trade is paid access to curated information. If you deal in data, established truth-in-advertising standards still apply.