By: Lesley Fair | Jun 21, 2016 11:09AM
Short of jumping into the Tardis to consult with intergalactic medical experts, how can consumers separate the hope from the hype when evaluating claims for health products? That's where SmartClick Media's "Doctor Trusted" website certification program claimed to help. But an FTC lawsuit alleges that the "Doctor Trusted" seal and the "Doctor Trusted.org Consumer Protection Certificate" weren't to be trusted. The settlement also sounds a warning to companies about ads that masquerade as independent blogs or review sites.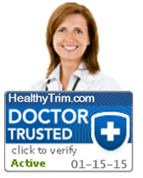 One look at the "Doctor Trusted" seal on a website and it checked all the gravitas boxes: a photo of a person with a white coat and stethoscope, the kind of cross often associated with health or medicine, an "active" date stamp suggesting the recommendation was current, and a "click to verify" hyperlink. Consumers who clicked got this additional information: "[Website name] was carefully evaluated by an independent medical doctor who reviewed its medical information, claims, products, terms of service, and policies, and has found the site to be trustworthy and safe for purchases as of the time of the review." The certification was issued by the "DoctorTrusted.org Consumer Protection Organization."
The defendants claimed that sites that applied for the "Doctor Trusted" seal had to undergo "strict application process that involves careful evaluation by a doctor of their website and any products or services offered." But according to the FTC, the certification process consisted of not much more than recruiting doctors to give the site a once-over to see if had a return policy, displayed a phone number and mailing address, and claimed to use SSL encryption technology. (Let's be clear: The doctors weren't tasked with determining if companies honored their return policy, answered their phone, or employed encryption – just whether they said they did.)
What's more, the FTC alleges that reviewing doctors didn't evaluate whether the sites had proof for the health representations they were making for their products – and thus didn't exercise medical expertise before handing out the "Doctor Trusted" seal. So much for determining if the applicant was making "reasonable science-based health claims."
But one thing the defendants appeared quite effective at evaluating was marketers' willingness to pay $99.95 and a monthly fee of $39.95 for what the defendants pitched as "one of the most effective ways to increase sales with the least amount of effort." In three years, they sold "Doctor Trusted" seals and certificates to 800 websites, including some operated by marketers sued by the FTC for false advertising.
That wasn't SmartClick Media's only questionable sales tactic. The FTC says they hosted a site called "betterlivingjournal.org" that appeared to be a lifestyle blog offering independent advice about health products and medical issues. In truth, it was just another advertising vehicle that earned the defendants cash anytime a consumer clicked on the links or bought an advertised product – a fact only revealed if people happened to click on links labeled "About Us" or "Disclosure" at the bottom of the page.
The complaint alleges the defendants' "prematurecures.com" and "pheromonemen.info" sites were similarly deceptive. They looked like sites that allowed consumers to review and rate the effectiveness of sexual performance enhancement products, but they were really just click-throughs that paid the defendants a commission for purchases.
The order puts provisions in place to change how the company does business and imposes a judgment of $603,588, which is partially suspended based on the defendants' financial condition. The settlement also suggests compliance pointers about the use of seals, certifications, and reviews:
Especially for health claims and other representations consumers aren't in a position to evaluate for themselves, seals can seal the deal. If you administer a seal or certification program, established truth-in-advertising standards apply. Seals shouldn't suggest or imply evaluations, credentials, qualifications you can't prove.
Do you feature third-party seals on your site? Rubber-stamp certifications may seem like "effective ways to increase sales with the least amount of effort," but in the long run, they undermine your credibility.
Format matters. Commercial sites shouldn't deceptively mimic the look of blogs, consumer reviews, or other independent content.
If you are part of an affiliate marketing arrangement or some other set-up where you receive compensation when people click on certain links in your site, clearly disclose your "material connection" to the company selling the product. Read The FTC Endorsement Guides: What People are Asking for easy-to-implement advice on disclosing connections consumers might not expect.