An online company advertising consumer goods, including personal protective equipment like masks and respirators, does business under the name SuperGoodDeals.com. But based on the illegal conduct alleged in a lawsuit just filed by the FTC, maybe it's because the URL SuperDeceptivePractices.com was already taken.

New York-based SuperGoodDeals.com, Inc., and Kevin J. Lipsitz sell charger cables, clothing, health and beauty products, and other consumer goods through their website. In March 2020, they began to market masks, respirators, and other products that help protect against COVID-19. The company advertised "Pay Today, Ships Tomorrow" on multiple places on its site, including in a prominent banner. Many pages on its site advertising protective equipment included the claim "In Stock – Pay Today, Ships Tomorrow! Going Fast!" The company underscored that representation on its "Shipping & Deliveries" page, stating "We pride ourselves on fast order processing. Pay Today, Ships Tomorrow!"
At a time when consumers needed essential protective products to combat COVID-19 but found most other retailers out of stock, the FTC alleges the defendants' claims about product availability and fast shipping were highly material. Indeed the FTC says that demonstrates why, at least in part, consumers relied on those next-day shipping representations. But according to the complaint, the defendants' promises were false. In numerous instances, the defendants generated a United States Postal Services shipping label within one day, but waited weeks to get the ordered products to the post office for shipping.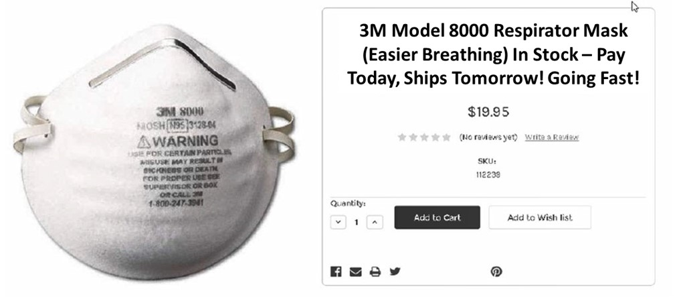 The complaint cites examples of how the defendants' claims affected consumers. On March 23, 2020, one consumer spent $135 on four 50-packs of disposable masks for child welfare workers making in-home visits. Despite paying extra for overnight shipping, a week passed and the person hadn't received the items. Another customer ordered masks on March 21st for a family member who is a nurse and paid for two-day shipping, but hadn't received the masks as of April 4th. A third customer ordered masks on March 31st for her immunocompromised mother and grandmother. Two weeks passed and no masks.
Compounding consumers' frustration was the defendants' claim on their website that they responded to consumer inquires "within 1 business day or less." According to the lawsuit, dozens of consumers complained to the FTC and to the Better Business Bureau when the defendants didn't respond to emails, phone calls, or chat messages.
COVID-19 issues aside, SuperGoodDeals advertised many of the items on its site as "authentic" or "certified." For example, the defendants claimed to sell Yeti branded vacuum insulated tumblers and featured the word "AUTHENTIC" next to a picture of the product. But the FTC says in many instances, consumers received counterfeit merchandise.
Count 1 of the complaint alleges the defendants violated the FTC Act by deceptively claiming to ship items within one business day and by falsely representing the items they sold were authentic, certified, or specifically branded. Count 2 specifies the multiple ways in which the FTC says the defendants' business practices violated the Mail, Internet, or Telephone Order Merchandise Rule.
While the case is pending in federal court in New York, here are two points for other businesses to consider.
Your shipping promises are highly material to consumers.  The COVID-19 crisis has underscored just how important shipment representations are to people for whom home delivery has become a literal lifeline. Have you given your website a recent once-over to make sure you can back up what you claim?
If the unexpected happens, follow the Mail, Internet, or Telephone Order Merchandise Rule's if-then requirements. The Rule requires prompt shipment, but also lays out specific steps to follow if you experience a hiccup in your supply chain. The FTC's Business Guide to the Rule explains the alternatives, but let's be clear: Making shipment claims without sound support to back them up and then simply ignoring your promises to customers isn't among the options and violates federal law.

 
 
It is your choice whether to submit a comment. If you do, you must create a user name, or we will not post your comment. The Federal Trade Commission Act authorizes this information collection for purposes of managing online comments. Comments and user names are part of the Federal Trade Commission's (FTC) public records system, and user names also are part of the FTC's computer user records system. We may routinely use these records as described in the FTC's Privacy Act system notices. For more information on how the FTC handles information that we collect, please read our privacy policy.
The purpose of this blog and its comments section is to inform readers about Federal Trade Commission activity, and share information to help them avoid, report, and recover from fraud, scams, and bad business practices. Your thoughts, ideas, and concerns are welcome, and we encourage comments. But keep in mind, this is a moderated blog. We review all comments before they are posted, and we won't post comments that don't comply with our commenting policy. We expect commenters to treat each other and the blog writers with respect.
We won't post off-topic comments, repeated identical comments, or comments that include sales pitches or promotions.
We won't post comments that include vulgar messages, personal attacks by name, or offensive terms that target specific people or groups.
We won't post threats, defamatory statements, or suggestions or encouragement of illegal activity.
We won't post comments that include personal information, like Social Security numbers, account numbers, home addresses, and email addresses. To file a detailed report about a scam, go to ReportFraud.ftc.gov.
We don't edit comments to remove objectionable content, so please ensure that your comment contains none of the above. The comments posted on this blog become part of the public domain. To protect your privacy and the privacy of other people, please do not include personal information. Opinions in comments that appear in this blog belong to the individuals who expressed them. They do not belong to or represent views of the Federal Trade Commission.
More from the Business Blog
Get Business Blog updates