There's a text message scam making the rounds that could target your mail room staff, receptionist, or other employees. The FTC has tips on how you can protect your business.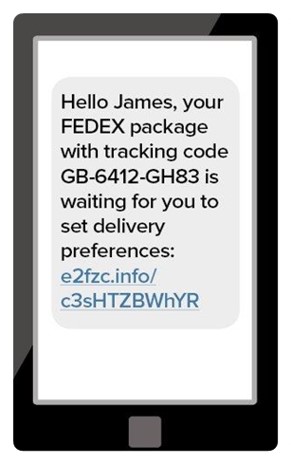 Our Consumer Blog describes a text message people are receiving that claims to be a FedEx tracking notice. In variations on the scheme, fraudsters also are falsely invoking the names of UPS and the U.S. Postal Service. According to the text, there's a "delivery" that needs to be scheduled by clicking on a link. From there, people are taken to an "Amazon" page, which invites them to complete a customer satisfaction survey. Then they're told they've won a free prize. Just input a credit number to cover shipping and handling.
But as the blog post explains:
The text isn't from a delivery service.
There is no package.
That isn't a real Amazon page.
That's not a customer survey.
And there's no free prize.
It's another scam designed to get people to turn over their account information – or your company credit card number. The Consumer Blog also introduces a new article, How to Recognize and Report Spam Text Messages, to share with your staff.
By the way, in addition to subscribing to FTC Business Blog Alerts, you can sign up for FTC Consumer Alerts to stay in the know about what you, your family, and friends can do to protect yourselves from the latest scams.
It is your choice whether to submit a comment. If you do, you must create a user name, or we will not post your comment. The Federal Trade Commission Act authorizes this information collection for purposes of managing online comments. Comments and user names are part of the Federal Trade Commission's (FTC) public records system, and user names also are part of the FTC's computer user records system. We may routinely use these records as described in the FTC's Privacy Act system notices. For more information on how the FTC handles information that we collect, please read our privacy policy.
The purpose of this blog and its comments section is to inform readers about Federal Trade Commission activity, and share information to help them avoid, report, and recover from fraud, scams, and bad business practices. Your thoughts, ideas, and concerns are welcome, and we encourage comments. But keep in mind, this is a moderated blog. We review all comments before they are posted, and we won't post comments that don't comply with our commenting policy. We expect commenters to treat each other and the blog writers with respect.
We won't post off-topic comments, repeated identical comments, or comments that include sales pitches or promotions.
We won't post comments that include vulgar messages, personal attacks by name, or offensive terms that target specific people or groups.
We won't post threats, defamatory statements, or suggestions or encouragement of illegal activity.
We won't post comments that include personal information, like Social Security numbers, account numbers, home addresses, and email addresses. To file a detailed report about a scam, go to ReportFraud.ftc.gov.
We don't edit comments to remove objectionable content, so please ensure that your comment contains none of the above. The comments posted on this blog become part of the public domain. To protect your privacy and the privacy of other people, please do not include personal information. Opinions in comments that appear in this blog belong to the individuals who expressed them. They do not belong to or represent views of the Federal Trade Commission.
In reply to yep still gettng these text by tiffany
In reply to Same here and it appears no by DT
Sorry about that - we're going to fix it now.
In reply to Yup - received a text by Lars
I keep getting these messages too! I keep blocking the numbers and they still keep sending them. Parcel Shipping Center, now USPS. Numbers have 347 area code.
In reply to I keep getting these messages by me
10:31 All All Conversations Results (8) Groups (347) 277-9669 (347) 225-5851 (347) 776-1334 (347) 225-3724 (347) 226-0497 (347) 244-3079 (347) 429-1676 (347) 421-1470
In reply to 10:31 by MS
txt msg from usps delivery 3D52R2 347-224-0628
In reply to 10:31 by MS
I received this text today : Maria, urgent notification about your USPS package 1L53R8 from 08/20/2020. Click: su6c.info/DG0d5OypRe My name is not Maria so I ignored it. Wow +(216) 369-5173 is the number
In reply to 10:31 by MS
I got this morning the scam text saying this Jimmy, final notification about the USPS package 6G17R5 from 07/13/2020. Click: sw8x.info/czBUJDeCdT The number phone is this +1 (216) 868-5291
In reply to I keep getting these messages by me
Scam going strong get notifications for amazon apple ups fedex it's never ending even though I block the number every time
In reply to Scam going strong get by Helene
I got "small, final notification for your usps package 1A55S8 from 4/11/2020. Go to a4nrv.info/YCdfXP57Qs So, what do we do when we get these? For fake emails from apple, I forward them to their fraud department. I will see if this is possible.
In reply to I got "small, final by damian
I was receiving the delivery texts and here is a new one just received today... Hi Deborah, C/V/S L0YALTY GlFT: Heres $lOO To Thank You For AIways Choosing Us. ; ea1p.info/Spi9EvjiKY
In reply to I was receiving the delivery by Debbie
Just know that official notifications from UPS,Fed-ex and Amazon come from a three digit dash two digit number such as 111-11. I would delete everything else.
More from the Business Blog
Get Business Blog updates