Is there anything you can't get delivered to your front door? (And yes, home renovators will attest you can even get a front door delivered to your front door.) The burgeoning subscription model can offer convenience to customers, but only if companies honor established consumer protection principles. The FTC's proposed settlement with snack seller UrthBox, Inc., serves as a compliance reminder to industry members about consumer reviews and the Restore Online Shoppers' Confidence Act.
San Francisco-based UrthBox delivers goody packages once a month to snack-hankering consumers. Consumers could sign up for one-, three-, or six- month subscriptions at a monthly cost of between about $20 and $200, depending on the size of the box. UrthBox required consumers to pay up front for their entire subscription. (More on the company's subscription practices in a minute.)
For most of 2017, UrthBox ran an incentive program to encourage consumers to post positive reviews about its snack boxes on the Better Business Bureau website. For example, when people called UrthBox's Customer Service line with an unrelated issue, UrthBox representatives offered to send them a free snack box if they posted a positive review with the BBB.
Here's how that worked. UrthBox's reps directed customers to click a link that took them to the customer review page of the BBB's site. The rep then told people they could post a positive review, verify the review with the BBB, and send a screenshot of their review to UrthBox by email. After the customer sent the required proof, UrthBox sent them a free snack box and the UrthBox rep got a cash bonus.
However, the BBB requires customers to certify they "have not been offered any incentive or payment originating from the business to write the review." Without this certification, the BBB would not have published the review. So according to the complaint, UrthBox's incentive program violated the FTC Act in two ways. First, in numerous instances, UrthBox falsely represented that positive customer reviews on the BBB site reflected the independent opinions of ordinary impartial customers. Second, the complaint alleges that UrthBox failed to adequately disclose that some customers received compensation, including free snack boxes, to post reviews.
As a result of UrthBox's allegedly deceptive practice, the company's reviews on the BBB website skyrocketed from 9 in 2016 (all negative) to 695 in 2017 (612 positive, 15 neutral, and 68 negative) – resulting in a much higher "Customer Review Rating." According to the complaint, the vast majority of those reviews were generated through UrthBox's incentive program. The problem, of course, is that when people are thinking about doing business with a company, consumer reviews are one of the first things they check. The FTC says knowing about the incentive program would have been material to consumers reading those positive reviews on the BBB site.
The BBB site wasn't the only place where UrthBox used these tactics. The FTC says UrthBox implemented a similar deceptive incentive program on TrustPilot.com, a third-party website that publishes customer reviews of online businesses. In addition, the complaint charges that UrthBox offered consumers free snack boxes or store credit for posting about their products on Twitter, Instagram, Tumblr, and Facebook, but had no system in place to monitor if consumers were disclosing their financial arrangement with the company.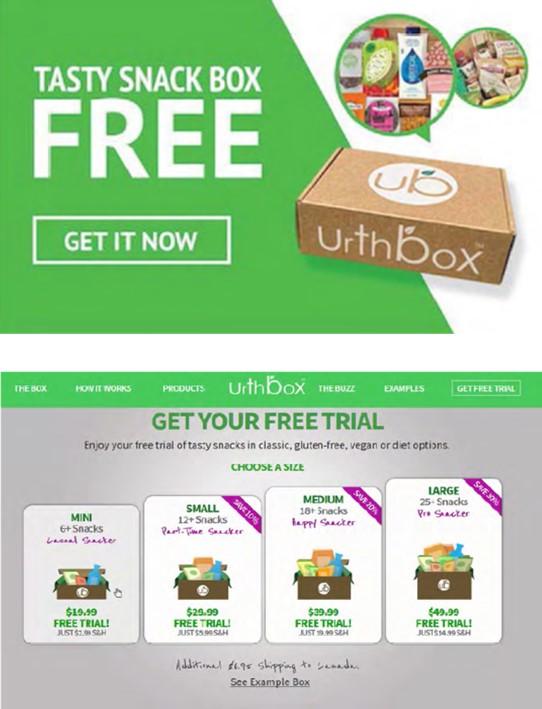 The FTC says UrthBox also violated ROSCA and the FTC Act by advertising online a "FREE TRIAL" or telling consumers "FIRST BOX FREE! JUST PAY SHIPPING," but then automatically signing them up for a six-month subscription plan. Because UrthBox billed consumers up front for the entire subscription term at once, the only way consumers could avoid the hefty pre-payment was to cancel before the first of the month following shipment of the free box. However, as the complaint alleges, because UrthBox didn't clearly disclose the terms of its program – also a violation of ROSCA – many consumers didn't realize UrthBox had enrolled them in a subscription plan until they opened their credit card statements and saw the unexpected charge for merchandise they didn't expressly agree to.
To settle the case, UrthBox and corporate officer Behnam Behrouzi have agreed to change how they do business. The proposed order also includes a $100,000 financial remedy, which may be used to compensate consumers deceived by UrthBox's misleading trial offer. Once the proposed settlement runs in the Federal Register, you'll have 30 days to file a public comment.
Whether your company uses user-generated conduct, online subscriptions, or both, the proposed settlement offers advice to marketers.
It's unwise to incentivize consumer reviews. Recent FTC settlements have blown the whistle on a host of deceptive practices: reviews posted by family members, friends, and employees without disclosing their connection to the company, paid-for reviews posted by third-party businesses to boost a product's ratings on major online retailers, and offers of undisclosed prizes to people who send in testimonials. To avoid a review snafu, marketers should exercise care not to skew the system.
Online "free trials" trigger key disclosures. The FTC has brought a lot of ROSCA cases lately and companies can expect more if they continue to trick consumers into "free trials" that come with expensive strings attached. If you use negative options in your online marketing – and that includes "trials" – ROSCA requires you to:
Clearly and conspicuously disclose all material terms of the transaction before obtaining consumers' billing information,

Get consumers' express informed consent before making the charge, and

Provide a simple way for consumers to stop recurring charges.
It is your choice whether to submit a comment. If you do, you must create a user name, or we will not post your comment. The Federal Trade Commission Act authorizes this information collection for purposes of managing online comments. Comments and user names are part of the Federal Trade Commission's (FTC) public records system, and user names also are part of the FTC's computer user records system. We may routinely use these records as described in the FTC's Privacy Act system notices. For more information on how the FTC handles information that we collect, please read our privacy policy.
The purpose of this blog and its comments section is to inform readers about Federal Trade Commission activity, and share information to help them avoid, report, and recover from fraud, scams, and bad business practices. Your thoughts, ideas, and concerns are welcome, and we encourage comments. But keep in mind, this is a moderated blog. We review all comments before they are posted, and we won't post comments that don't comply with our commenting policy. We expect commenters to treat each other and the blog writers with respect.
We won't post off-topic comments, repeated identical comments, or comments that include sales pitches or promotions.
We won't post comments that include vulgar messages, personal attacks by name, or offensive terms that target specific people or groups.
We won't post threats, defamatory statements, or suggestions or encouragement of illegal activity.
We won't post comments that include personal information, like Social Security numbers, account numbers, home addresses, and email addresses. To file a detailed report about a scam, go to ReportFraud.ftc.gov.
We don't edit comments to remove objectionable content, so please ensure that your comment contains none of the above. The comments posted on this blog become part of the public domain. To protect your privacy and the privacy of other people, please do not include personal information. Opinions in comments that appear in this blog belong to the individuals who expressed them. They do not belong to or represent views of the Federal Trade Commission.
Then on the flipside sites like Yelp should protect businesses from blackmailers and scammers. I am being blackmailed by a Yelp user who is not event a client who threatens extortion or fake reviews. Over 50 reports have been made about this person and Yelp does nothing..except for being an accessory to a crime. How is that fair?
In reply to Then on the flipside sites by Randy L.
This is very true! There are tons of scammers and trolls on YELP that leave negative reviews for no legitimate reason. Now what is the BBB and YELP doing about that?
What should you do if you discover a companies employees are giving positive reviews for it's own benefit?
In reply to What should you do if you by Guest
In reply to You could tell the FTC about by FTC Staff
I called the FTC to file a consumer complaint about a company I previously dealt with because they offered me $15 compensation for a positive Google, Yelp or Facebook review per the article above. I was instructed to call my state's attorney general office. Is this correct?
In reply to I called the FTC to file a by Sam
Yes, your state Attorney General's office is also a place to report a problem you have with a business.
More from the Business Blog
Get Business Blog updates