Whether it's a slimmer waist or an imaginary yacht superimposed in the background, we're all familiar with the dramatic changes that retouching can make to a photo. A lawsuit the FTC has filed against Tate's Auto Group and related companies alleges – among other things – that the defendants substantially "retouched" the financial circumstances of customers trying to finance cars.
The defendants are four affiliated auto dealers in New Mexico and Arizona near the border of the Navajo Nation. When customers want to finance a car, Tate's includes the terms of the deal in a retail installment contract. Like others in the industry, Tate's seeks to assign that contract to a third party – for example, a bank or finance company. To decide whether to accept the contract, those companies will look at the customer's financing application, which discloses their monthly income and down payment. If the companies don't like what they see, the deal may not go through.
The FTC alleges that in many instances, Tate's fidgeted with the digits to make it look like customers had higher monthly incomes and bigger down payments than they really had. We're not talking about nickel-and-dime discrepancies. According to just one of the examples in the complaint, a consumer told Tate's she had a fixed monthly income of about $1,200, but a Tate's staffer allegedly inflated it to $5,200 in the paperwork.
Wouldn't customers spot the false information? Not necessarily. The complaint charges that the defendants often used tactics that prevented people from reviewing the documents. Tate's personnel allegedly rushed some consumers through the process; had them fill out forms over the phone or in places like grocery store parking lots or restaurants; or altered the documents after consumers signed them.
What was in it for Tate's? Increased sales, says the FTC. In addition, the complaint explains the ways in which the practice harmed consumers. For example, based on Tate's bogus figures, financing companies extended credit to consumers who defaulted at a higher rate. Furthermore, by making it look like consumers were the source of the inflated numbers, Tate's exposed them to the risk of liability for submitting false information to financing companies. Of course, because of the location of the dealerships, many of the consumers affected by Tate's alleged conduct were members of the Navajo Nation.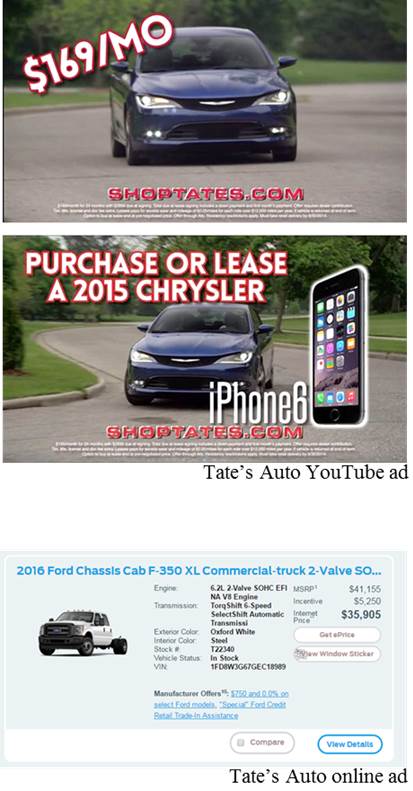 The complaint charges that over time, others in the industry got wise to what Tate's was doing. In December 2015, a major financing company that regularly worked with Tate's conducted a review. The company reported inflated income on 17.9% of applications from Tate's Auto Center of Gallup, 37.5% of applications from Tate's Auto Center, 38.7% of applications from Tate's Nissan Buick GMC, and 44.8% of applications from Tate's Auto Center of Winslow.
The FTC also alleges Tate's engaged in deceptive advertising. One YouTube ad claimed the featured car "can be in your driveway for only $169 per month." In fact, consumers can't buy that car for the advertised monthly payment. That amount applies only to a lease. What's more, the FTC says the ad didn't clearly disclose that to get that monthly payment, consumers must shell out $2899 plus other fees at lease signing.
Then there's the online ad where the company touted an "incentive" discount of $5,250. But buried behind multiple hyperlinks was the fact that the discount was available only to consumers who trade in a 1995 or newer vehicle or terminate a lease from another car company 30 days before or 90 days after delivery. In addition, the lawsuit charges that Tate's social media posts failed to disclose required terms and that they violated the Truth in Lending Act and Consumer Leasing Act. The case is pending in federal court in Arizona.
Looking for compliance resources for car dealers? Drive over to the FTC's Automobiles portal.
It is your choice whether to submit a comment. If you do, you must create a user name, or we will not post your comment. The Federal Trade Commission Act authorizes this information collection for purposes of managing online comments. Comments and user names are part of the Federal Trade Commission's (FTC) public records system, and user names also are part of the FTC's computer user records system. We may routinely use these records as described in the FTC's Privacy Act system notices. For more information on how the FTC handles information that we collect, please read our privacy policy.
The purpose of this blog and its comments section is to inform readers about Federal Trade Commission activity, and share information to help them avoid, report, and recover from fraud, scams, and bad business practices. Your thoughts, ideas, and concerns are welcome, and we encourage comments. But keep in mind, this is a moderated blog. We review all comments before they are posted, and we won't post comments that don't comply with our commenting policy. We expect commenters to treat each other and the blog writers with respect.
We won't post off-topic comments, repeated identical comments, or comments that include sales pitches or promotions.
We won't post comments that include vulgar messages, personal attacks by name, or offensive terms that target specific people or groups.
We won't post threats, defamatory statements, or suggestions or encouragement of illegal activity.
We won't post comments that include personal information, like Social Security numbers, account numbers, home addresses, and email addresses. To file a detailed report about a scam, go to ReportFraud.ftc.gov.
We don't edit comments to remove objectionable content, so please ensure that your comment contains none of the above. The comments posted on this blog become part of the public domain. To protect your privacy and the privacy of other people, please do not include personal information. Opinions in comments that appear in this blog belong to the individuals who expressed them. They do not belong to or represent views of the Federal Trade Commission.
This sounds similar to the subprime mortgage fiasco a few years ago that nearly plunged the country, and, indeed, the world into a severe, worldwide financial crisis.
I was two time victim of a dealer tramps buying used cars ..especificly or basicly in financial and warrany trust acts..( Jenkins Hunday of Leesburg group Florida and Ally Autofinancial group) a really discrimination.
More from the Business Blog
Get Business Blog updates