When it comes to using online negative options to sell unmentionables (or anything else), there are some material terms and conditions that marketers need to clearly mention. That's the brief but foundational lesson of the FTC's $1.3 million settlement with online lingerie seller AdoreMe.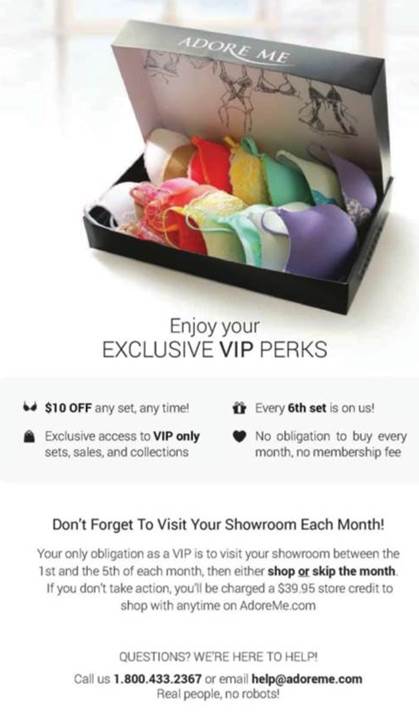 AdoreMe billed members of its VIP membership program a monthly fee of $39.95 unless in the first five days of the month they either bought merchandise or clicked an online "skip" button – sometimes called the "shop or skip" option. What if people didn't find anything to buy that month or forgot to skip? No problem, said AdoreMe: "If you do not make a purchase or skip the month by the 5th, you'll be charged a $39.95 store credit that can be used anytime to buy anything on Adore Me." (Consumers also could buy items on a pay-as-you-go basis for a higher price.)
But despite AdoreMe's express claim that consumers who paid to be in the VIP program could use their store credits "anytime," the FTC says that at least from May 2015 to May 2016, the company didn't honor that promise for certain people. The complaint alleges that if consumers cancelled their VIP memberships – or initiated chargebacks with their credit card companies or banks to dispute charges made by AdoreMe – the company cancelled their unused "anytime" store credits. The FTC says that rendered the "anytime" claim deceptive. AdoreMe stopped that practice last year, but didn't give full refunds to all affected consumers
AdoreMe made that "anytime" representation in a number of different places, including in promotional emails, in package inserts, and at the checkout cart. But the FTC says AdoreMe didn't clearly and conspicuously disclose its policy of forfeiting the store credits of consumers who cancelled their VIP memberships. According to the complaint, people were able to enroll in the VIP program without seeing the policy, which appeared more than 1,000 words into the terms and conditions of the VIP program, which was accessible from a hyperlink at the bottom of the AdoreMe website. What's more, the hyperlink often appeared below the fold – in other words, below the portion of a webpage users can see without scrolling down.
The FTC also alleges that AdoreMe made it difficult for consumers to cancel their VIP memberships – memberships that were costing people $39.95 every month. For a period of at least a year, the company didn't let people cancel on the AdoreMe website and only honored telephone cancellations. But even if consumers reached the cancellation line, they often experienced a lengthy wait. Just as an example, on February 10, 2014, consumers were kept on hold for over 11 minutes. Consumers trying to cancel on December 10, 2015, could expect a phone wait of more than 32 minutes. Then there was AdoreMe's five-question "Membership Quiz" consumers had to complete as part of the cancellation process and a series of additional pages they had to navigate. Those are just some of the barriers to cancellation the FTC cited in its lawsuit.
Count I of the complaint alleges that AdoreMe violated the FTC Act by misrepresenting its "anytime" store credit policy. Count II charges the company with violating the Restore Online Shoppers' Confidence Act (ROSCA) by failing to provide consumers with a simple method for stopping recurrent charges for negative options.
In addition to $1.3 million in refunds for consumers, the stipulated order requires AdoreMe to clearly disclose key terms of negative options and other offers in a number of instances. For example, if AdoreMe claims that a product sold via negative option is discounted (or free), it must clearly disclose, in close proximity to that claim, the costs, deadlines, and actions required by the negative option program – and that it's not just advertising a discount. AdoreMe also must get consumers' express informed consent before billing them for charges related to any negative option offer, obtaining consent through a checkbox, signature, or similar method placed near disclosures of the costs, deadlines, and actions required by the negative option program, including how consumers can avoid charges. The settlement also requires AdoreMe to promptly send consumers confirmations of their orders with similar disclosures and without any upsells, additional product or service offers, or other advertising or marketing.
If you or your clients use online negative options, avoid the kind of underwear snare alleged in the AdoreMe complaint by reviewing your obligations under ROSCA. Clearly disclose the terms of the program up front and keep the cancellation process simple and consumer-friendly.
 
It is your choice whether to submit a comment. If you do, you must create a user name, or we will not post your comment. The Federal Trade Commission Act authorizes this information collection for purposes of managing online comments. Comments and user names are part of the Federal Trade Commission's (FTC) public records system, and user names also are part of the FTC's computer user records system. We may routinely use these records as described in the FTC's Privacy Act system notices. For more information on how the FTC handles information that we collect, please read our privacy policy.
The purpose of this blog and its comments section is to inform readers about Federal Trade Commission activity, and share information to help them avoid, report, and recover from fraud, scams, and bad business practices. Your thoughts, ideas, and concerns are welcome, and we encourage comments. But keep in mind, this is a moderated blog. We review all comments before they are posted, and we won't post comments that don't comply with our commenting policy. We expect commenters to treat each other and the blog writers with respect.
We won't post off-topic comments, repeated identical comments, or comments that include sales pitches or promotions.
We won't post comments that include vulgar messages, personal attacks by name, or offensive terms that target specific people or groups.
We won't post threats, defamatory statements, or suggestions or encouragement of illegal activity.
We won't post comments that include personal information, like Social Security numbers, account numbers, home addresses, and email addresses. To file a detailed report about a scam, go to ReportFraud.ftc.gov.
We don't edit comments to remove objectionable content, so please ensure that your comment contains none of the above. The comments posted on this blog become part of the public domain. To protect your privacy and the privacy of other people, please do not include personal information. Opinions in comments that appear in this blog belong to the individuals who expressed them. They do not belong to or represent views of the Federal Trade Commission.
More from the Business Blog
Get Business Blog updates