By: Seena Gressin | Oct 2, 2019 11:31AM
A savvy business person always wants to know the shape of things to come. We won't make predictions but, based on the FTC's case against multi-level marketer AdvoCare International, we will say this: Don't bet on a business model that looks like a pyramid.
The FTC says Texas-based AdvoCare operated a pyramid scheme disguised as a business opportunity and swindled hundreds of thousands of consumers who signed up to be "distributors" of its health-and-wellness products. Under a landmark settlement, AdvoCare and its former chief executive will pay $150 million for consumer redress and be banned from multi-level marketing. In the FTC's long history of actions alleging deception by multi-level marketers, this is the largest company banned from multi-level marketing and only the $200 million settlement with Herbalife was larger.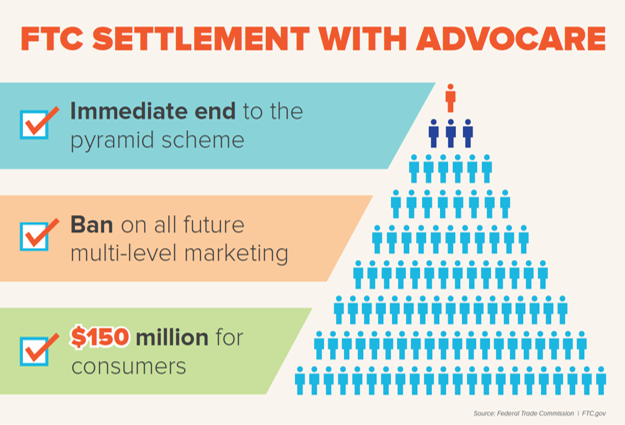 According to the FTC, AdvoCare pitched its business opportunity as a chance for ordinary people to earn unlimited income, quit their regular jobs, and gain financial freedom by selling its products and recruiting other people to do the same. "The sky's the limit," a distributor claimed in an AdvoCare recruiting video. "There is no ceiling on our income."
But, the FTC says, AdvoCare's main business had little to do with selling energy drinks, shakes, and supplements to the general public and everything to do with keeping a steady stream of new recruits – and their money – flowing into the business.
According to the complaint, AdvoCare's compensation plan required distributors to buy thousands of dollars' worth of AdvoCare products to be eligible to receive cash bonuses and other rewards. The rewards, however, were driven by the number of people the distributors recruited, and how much inventory their recruits – and their recruits' recruits – bought from AdvoCare. The result? The FTC charged it was a classic pyramid scheme that compensated distributors for recruiting, rather than for retail sales to customers who actually wanted to use the product.
And what about life-changing paychecks that AdvoCare claimed distributors could earn? According to the FTC, more than 90 percent of the distributors had annual earnings of less than $250. When distributors' substantial costs are added, nearly all of them lost money.
In addition to the permanent ban on multi-level marketing, the settlement order requires the defendants to notify all AdvoCare distributors about the FTC's lawsuit and settlement and advise them that:
They will no longer be able to earn compensation based on purchases by distributors in their downline,
If they had significant losses pursuing their AdvoCare business, they may get some of their money back through the FTC settlement. The FTC will contact eligible distributors, and
If they decide to end their participation in the business opportunity, AdvoCare offers a 100 percent refund on unused products.
In addition to AdvoCare, the settling defendants are Brian Connolly, AdvoCare's former CEO, and Lisa and Carlton Hardman, who were leading promoters of the AdvoCare business opportunity. To resolve the charges against them, the Hardmans have settled with the FTC for $4 million, most of which is suspended, based upon their inability to pay, and a ban on multi-level marketing. The FTC's case against Daniel and Diane McDaniel, also leading AdvoCare promoters, is continuing.
The case offers lessons for both business opportunity sellers and potential buyers.
Sellers: Before stating or implying that people will achieve certain earnings, be sure you have competent and reliable evidence to back up your claims. And remember – unusually successful earnings by a handful of people do not support a general money-making claim.
Entrepreneurs: If you're tempted by a sales pitch that says you can make

lots of

money selling products to people you know or building a "team" or "downline," talk it over first with an accountant, a lawyer, or someone else you trust – who is not affiliated with the company.
For tips about spotting and avoiding pyramid schemes, check out the FTC's guidance.