Have you seen the ads where a popular celebrity touts DIRECTV on his own behalf and as the Painfully Awkward, Overly Paranoid, or Crazy Hairy version of himself? Applying that to a lawsuit just filed by the FTC, there's DIRECTV – and then there's Deceptively Advertised DIRECTV.
DIRECTV is one of the biggest names in the business with more than 20 million customers. Through TV, print, direct mail, phone, and online promotions, the company advertises satellite TV packages for as low as $19.99 a month for 12 months. What's more, DIRECTV said premium channels like HBO and Showtime are "free for 3 months." But according to the FTC, DIRECTV failed to adequately disclose the true nature of the deal, meaning that consumers got stuck with higher prices and unauthorized charges.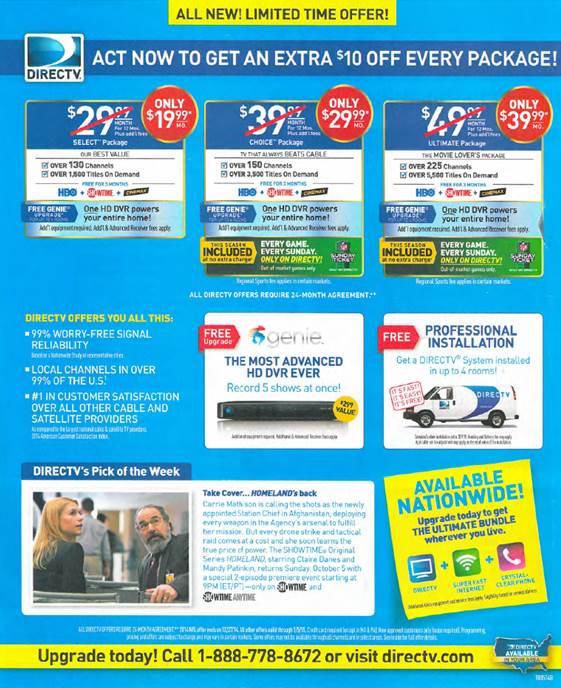 The complaint offers a closer look at how the FTC says DIRECTV's practices were misleading. For example, DIRECTV touted that eye-catching $19.99 monthly rate for 12 months of service without clearly explaining that: 1) Consumers couldn't actually sign up for 12 months of service because DIRECTV required them to commit to 24 months; and 2) In the second year, DIRECTV typically hiked up the monthly fee by between 50-70%. Consumers who experienced bill shock at the start of that second year and wanted to cancel faced hefty termination fees.
The FTC also says DIRECTV's "free for 3 months" premium channel offer was a deceptive negative option promotion. How did it work? DIRECTV typically enrolled consumers in the promotion automatically without clearly stating that unless consumers took the affirmative step of canceling before the end of the three-month period, DIRECTV would bill them extra for it every month. According to the complaint, after the "free" period ended, DIRECTV went ahead and used consumers' credit or debit card information without their consent to charge them for the service. And we're not talking chump change here. The FTC says the monthly fee for those channels was around $48.
The lawsuit is pending in federal court in California. Meanwhile, here's something for businesses to note in the pleadings. In addition to alleging that DIRECTV failed to disclose – or failed to adequately disclose – subscription prices and the nature of the premium channel offer, the FTC says the company's online practices violated the Restore Online Shoppers' Confidence Act.  Passed in 2010, ROSCA makes it illegal to charge consumers for goods and services sold through online negative options unless the seller:
clearly and conspicuously discloses all material terms of the transaction before getting the consumer's billing information;
gets the consumer's express informed consent before making the charge; and
provides a simple way to stop recurring charges.
This is a case you'll want to watch.
493 Comments
---
I have had a horrible time with DirecTV is well. We were charged installation fees and the installation had been wrong while we paid Direct T.V. contractors directly out of pocket. Also, we were promised a $100 Visa gift card that never came.
After being a loyal customer for 5 years, I was hit with a hefty termination fee because within the last two years of my service I took what I thought was a complimentary hardware upgrade at DTV's advice without knowing or being told the equipment upgrade automatically put me into a new two year contract.
I also just saw an increase in what was taken from my bank account, and called to find out why. and was told that the promotion period had ended. This is unethical practice.
I got a direct tv package and cancelled the movie channels no problem, but as I was trying to bundle services as they advertise, it was a 4Mb internet connection. Can u say dial-up? I tried to cancel, but this was after they had already started the tv, so the answer was a cancellation fee of $480. That was not disclosed. I really need to get rid of this service, as I now have Time Warner and Direct TV. Anyone know how to stop the service?
l too was scam by direct tv l was charged $50.00 for installing another tv another tv after says we could have 5 rooms tv installation and that was my contract cheated him on the eguipment they charged him around $4,000 and cheated me $122.00 and did not had a contract with them and stolded my indentity from the checks that my brother asked me to after he pays me the monies we share paying the bill.
Just signed up with DirecTV in early January, second bill (Feb) saw and increase due to equipment fees and an added sports channel tax for which I do not even subscribe. When I called to cancel my service, I was told I would have to pay a $400 fee to cancel. I was thrilled to hear in today's news that the FTC had filed a complaint against DirecTV. I see that DirecTV is offering special incentives for recruiting a friend to their service, I attempted to contact them through their website and let them know how absurd this was and that I will do everything that I possible can to steer not only my friends, but anyone that is interested, away from DirecTV as passionately as I can. Unfortunately, I could not find anyway to email them with my feelings about their offer. GO GO GO FTC.
My experience was they could never explain why each month my bill was different and we never ordered pay per view or anything. I would call to attempt to review my services/package with a live associate, none could ever tell me why my bill was different each month nor could he or she tell me what my package would cost. Of course it was supposed to be a lot cheaper when I signed on than what I was billed. We finally satisfied our contract and cancelled and never looked back. I throw any offers received in the mail or newspaper in the trash without even looking at them..
Hefty $300 termination fine..large monthly bill. Would not work with consumer if could not pay by due date by one week. Yet now I keep getting mail from them to come back, offering to give a $300-$350 Visa to terminate with Uverse. What a joke?
Directv got me too I have been complaining every since I got the service last March.hey hiked my rate up considerably after promising me that my rate would never go up. PLease get them to stop this practice I cannot afford this astronomical price hike I want to get out but they will get you with this high cancellation fee. One year is one year I should be able to pay the same rate as promised or get rid of it for this deceptive practice. This is blackmail for the consumer, We should not have to be held hostage for the greed of big corporations.
My username speaks for itself, i dont believe directv "Cheats" anyone, when they advertise their packages and what ever else, it says plainly that thats for 12 months within a 24 month commitment, even on their contracts THAT PEOPLE SIGN, it states about the additional fee for receivers, the 50.00 service call is if you dont have the protection plan, directv itself does not hide anything, its because people choose not to read the terms and agreements, and choose not to read, guys were grown ups now, time to act like it. Go to directv.com go to the botttom and click TERMS AND AGREEMENTS its all there, i know cause i got curious and just read everything, i dont even have directv and i know their premiums last only 3 months and the "New customer offer" Lasts a year and after that their prices go to regular pricing
they been ripping us off for 3 0r 4 years we started out at 99,00 a month now our bill id 229.00 combined with ATT they are totally ripping us off we are scared to do anything thinking our bill will go higher we are on a fixed income
I was one of those customers too! Charge $680.00 for cancellation, and charged for the equipment. Glad someone is looking out for us. Lost all my money had to pay.
SEND OUR MONEY BACK WITHOUT filling out more forms and leaving the excess money to the government like with the Lehman brothers deal. How many people with aurora loans lost out due to forms. Millions!
Direct tv over charged me too how do I add my name to the lawsuit
How do I get my name on that list?
How do I get my name on that list?
We have been in a nightmare with direc tv over two years. The packages we were forced to pay, when they were never order. We are paying a month behind when we paid a month in advance. Always double talk from customer service . How can the Ftc allow companies like this keep ripping off the American people.
I also experienced the 2 yr contractural term vs 1 yr; however I was smart enough to put a date in my phone as a reminder to call to cancel free options. I have been with Direct TV for several years and their prices continue to increase (not to happy about that) but on the other hand, I applaud their customer service when called.
I work for directv sales and I can tell you for a fact it's all a rip off. I'm looking for a new job it's so stressful and so much lying and deception to the customers
I was given " free HBO " , however after the 3 months I was charged ! I was nver told you have to call to cancel and was charged . When I called they credited me back for that month but not previous months . I would like those months credited back .
More from the Business Blog
Get Business Blog updates