When a person is juggling job responsibilities and other commitments, why take on the extra effort of enrolling in college? As University of Phoenix's market research revealed, career opportunities are the major motivator. That's why University of Phoenix, a for-profit post-secondary school, created its "Let's Get to Work" marketing campaign. The ads – some of which specifically pitched members of the military – prominently name-dropped employers like Adobe, Microsoft, and Twitter. But according to the FTC's complaint and proposed $191 million settlement with University of Phoenix and parent company Apollo Education Group, the defendants made misleading claims that they had special relationships with those high-profile companies and others that created employment opportunities specifically for Phoenix students. What's more, the complaint alleges that University of Phoenix made deceptive representations that it worked with major employers to develop its curriculum.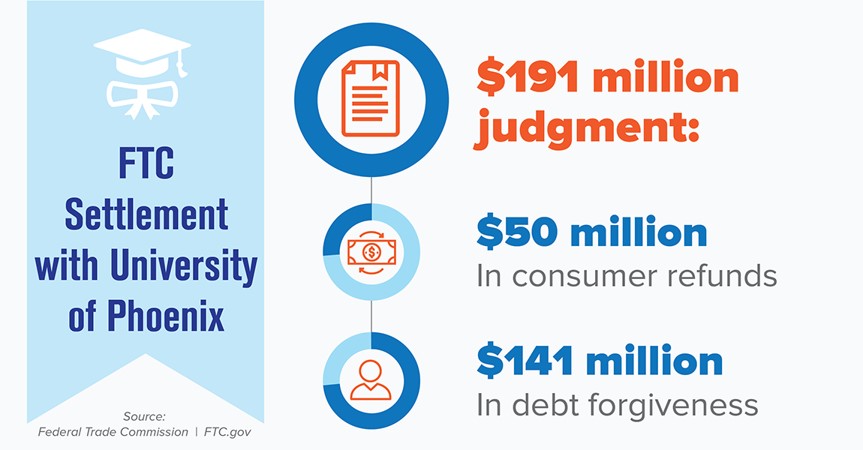 Under the $191 million settlement, University of Phoenix and Apollo Education Group will pay back $50 million in cash to former students, cancel $141 million in debts owed directly to the school, and will change its conduct in the future. The monetary judgment is the highest in an FTC case involving a for-profit school.
How did University of Phoenix convey those allegedly misleading employment messages? You'll want to read the complaint to get a flavor of the multimedia "Let's Get to Work" campaign. According to a TV ad called Parking Lot, "Like a lot of things, trying to find a better job can be frustrating, so at University of Phoenix we're working with a growing list of almost 2,000 corporate partners, companies like Microsoft, American Red Cross, and Adobe, to create options for you." The ads also featured the logos of Avis, MGM Resorts International, Hitachi Data Systems, AT&T, and Newell Rubbermaid.
Another TV ad opened with a close-up of oak doors marked Hall of Success, revealing photos of former Phoenix students and logos of national employers. The narrator cited one alumna as an "Executive Director at American Red Cross" and mentioned another graduate named Garlin, who works at Yahoo!. As the camera showed gilded portraits bearing corporate logos, the narrator said, "And for every Garlin, thousands more are hired by hundreds of top companies." Another ad focused on partnerships with companies like AT&T and Allied Barton that purportedly resulted in hiring programs for veterans who attended University of Phoenix.
In addition to TV, radio, and online ads, University of Phoenix distributed talking points to its enrollment advisors so they could convey the same messages when personally pitching to prospective students. One document claimed that University of Phoenix's relationships with corporate partners, including many Fortune 500 companies, offered an "inside track" and a "competitive advantage to our students," as evidenced by alumni hired by "hundreds of top companies like Microsoft, Yahoo!, American Red Cross and CBS." Additional talking points touted a portal that supposedly provided "[a]ccess to unique job opportunities and connections exclusive to University of Phoenix Students."
The FTC says Phoenix's enrollment advisors also told people that high-profile companies hired Phoenix students because of its relationships. For example, one advisor said the University of Phoneix had "over 2,000 corporate partners and national industry partners that are looking specifically at University of Phoenix students to hire instead of any other schools." Another advisor claimed to have "over 2,000 partners in the local area" who "hire our students first and from there they go on."
To bolster its claims, University of Phoenix also represented that major employers had helped to develop its curriculum. According to a radio ad:
If you want to know how to get hired, it pays to go right to the source. At University of Phoenix we're talking to companies like AT&T, Sodexo, and Adobe about what they're looking for in future employees. They're helping us shape our curriculum to make sure today's classes help prepare you to pursue tomorrow's jobs.
So what are the facts behind those purported employment partnerships? According to the FTC, the companies referenced in the Parking Lot ad didn't have special relationships to create job opportunities for University of Phoenix students. Instead, the complaint alleges, many of those "2,000 corporate partners" simply received tuition discounts for their own current employees. What about those graduates supposedly employed by big-name businesses? The FTC says many of them already worked at the companies before they attended University of Phoenix. Furthermore, many of the "unique job opportunities" the defendants touted were widely available to non-Phoenix students. Even the opportunities for veterans who attended University of Phoenix were open to any veteran. The FTC also challenges as misleading University of Phoenix's claims that major corporations helped design its curriculum.
According to the lawsuit, internal voices raised questions about the accuracy of the defendants' ad claims. For example, more than a year after the launch of "Let's Get to Work," a senior executive acknowledged that "[w]e all agree that our current advertising messaging is a bit light on support." Regarding the representation that big-name businesses had helped develop University of Phoenix's curriculum, another senior officer alerted others in-house that the campaign was creating "misconceptions." The executive explained that University of Phoenix is not "working directly with companies one at a time and/or creating custom curriculum based upon their needs."
In addition to the $191 million in cash and debt forgiveness, the proposed order prohibits the companies from misrepresenting University of Phoenix's relationships with corporate partners and curriculum development. The order also requires that the defendants ask the consumer reporting agencies to delete the forgiven debts from people's credit reports, deliver a specific notice to those receiving debt forgiveness, and ensure consumers' access to their diplomas and transcripts.
 

 
More from the Business Blog
Get Business Blog updates