Consumers speak many languages and unfortunately scammers are conversant in all of them. That's why the FTC has reinforced its fraud fighting capabilities by collecting scam reports in multiple languages. As a member of the business community, you can lend a hand by sharing these new resources with employees, friends, and others in your network.
To report in Mandarin, Tagalog, Vietnamese, French, Arabic, Korean, Russian, Portuguese, Polish, and many other languages, consumers can call the FTC at (877) 382-4357, and press 3 to speak to an interpreter. To report identity theft, they can call (877) 438-4338 and choose the option for their preferred language. Lines are open between 9AM-5PM Eastern Time.
For consumers who prefer to report in English, a visit to ReportFraud.ftc.gov or IdentityTheft.gov will get them immediate guidance on the next steps to take. Spanish-speaking consumers can go to ReportFraude.ftc.gov or RobodeIdentidad.gov.
Image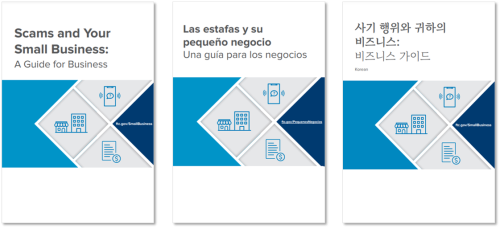 The FTC also just announced additional online resources for consumers in multiple languages with to-the-point guidance on how to avoid scams. Prefer it in print? Visit ftc.gov/bulkorder to order free copies.
In addition, we have a new resource for entrepreneurs. The revised publication Scams and Your Small Business is now available in English, Spanish, Simplified Chinese, Korean, and Vietnamese. Share this useful guide with members of your local business community. Every page features actionable advice on how to spot, stop, and report questionable practices that target small business owners. 
 
It is your choice whether to submit a comment. If you do, you must create a user name, or we will not post your comment. The Federal Trade Commission Act authorizes this information collection for purposes of managing online comments. Comments and user names are part of the Federal Trade Commission's (FTC) public records system, and user names also are part of the FTC's computer user records system. We may routinely use these records as described in the FTC's Privacy Act system notices. For more information on how the FTC handles information that we collect, please read our privacy policy.
The purpose of this blog and its comments section is to inform readers about Federal Trade Commission activity, and share information to help them avoid, report, and recover from fraud, scams, and bad business practices. Your thoughts, ideas, and concerns are welcome, and we encourage comments. But keep in mind, this is a moderated blog. We review all comments before they are posted, and we won't post comments that don't comply with our commenting policy. We expect commenters to treat each other and the blog writers with respect.
We won't post off-topic comments, repeated identical comments, or comments that include sales pitches or promotions.
We won't post comments that include vulgar messages, personal attacks by name, or offensive terms that target specific people or groups.
We won't post threats, defamatory statements, or suggestions or encouragement of illegal activity.
We won't post comments that include personal information, like Social Security numbers, account numbers, home addresses, and email addresses. To file a detailed report about a scam, go to ReportFraud.ftc.gov.
We don't edit comments to remove objectionable content, so please ensure that your comment contains none of the above. The comments posted on this blog become part of the public domain. To protect your privacy and the privacy of other people, please do not include personal information. Opinions in comments that appear in this blog belong to the individuals who expressed them. They do not belong to or represent views of the Federal Trade Commission.
I was told businesses don\t have protection against merchant cash advance lenders. I took a MCA loan and they took like 3000.00 off the top but i still had to pay back the entire loan even though i only got all but 300.00 of it.Then when I went broke from the daily pmt they took from my account hey kept leaving threats of having my bank account seized (personal account) but little did they know I had no personal account. I still have them calling telling me they are going to contact my employer and that i should have my attorney present when they come to collect. This debt is from 7 yrs ago. In reality they were paid the full amount they gave me they were not paid the 3000 they took from me.
Thank you for sharing this valuable information! It's disheartening that scammers are so versatile in their tactics, targeting consumers in various languages. The FTC's initiative to collect scam reports in multiple languages is a commendable step towards a more inclusive and protective environment.
I appreciate the clear instructions on reporting in different languages, making it easier for diverse consumers to seek assistance. As a business community member, I'll spread the word about these resources to my colleagues, friends, and network. We all must play a part in raising awareness and combating fraud.
The additional online resources and the publication "Scams and Your Small Business" in multiple languages are fantastic tools for empowering consumers and entrepreneurs. I'll check out the FTC's website for more information and share the news within my local business community.
Together, we can contribute to a safer online environment and protect each other from scams. Thanks again for highlighting these essential resources!
More from the Business Blog
Get Business Blog updates