"It's the Wild West out there!" How often have you heard that statement made about health claims for products containing CBD? But here's the thing: It's not the Wild West. In fact, health-related representations for CBD products are subject to the same established requirements of scientific substantiation the FTC has applied for decades to any advertised health claim. That's the message of Operation CBDeceit, a law enforcement sweep challenging allegedly unproven representations that CBD products would treat diseases and serious medical conditions like cancer, diabetes, Alzheimer's disease, and more.
In Operation CBDeceit, the FTC announced proposed settlements with six companies that marketed gummies, lozenges, oils, balms, and other products containing cannabidiol (CBD) to prevent or treat serious diseases and health conditions.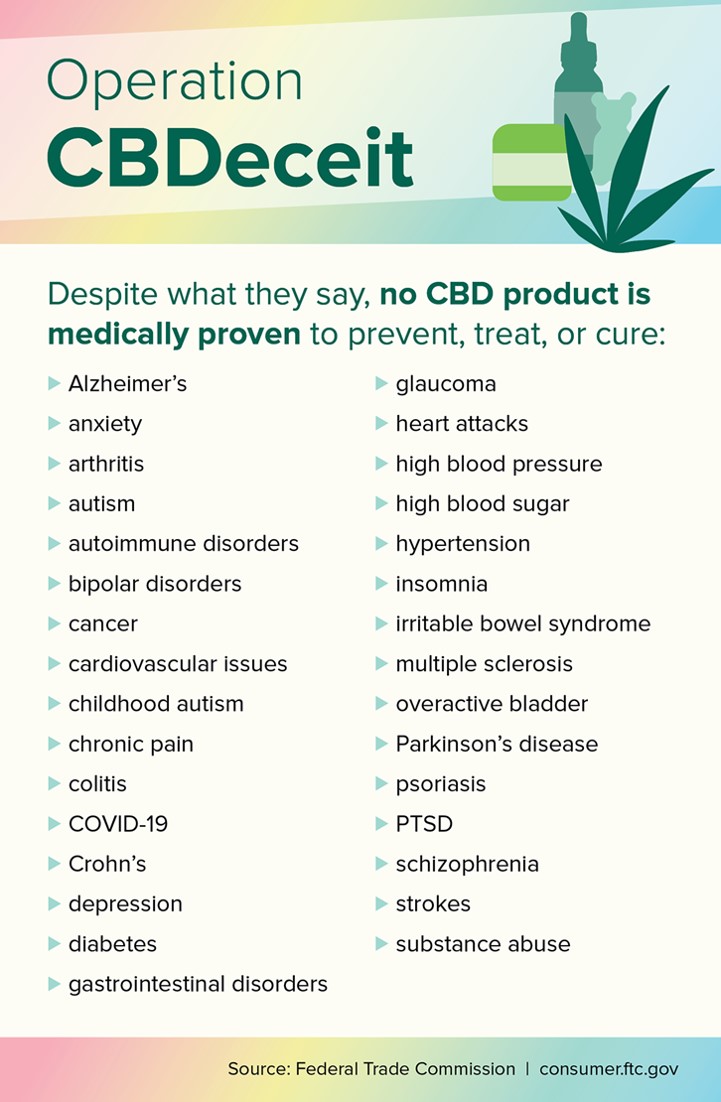 Bionatrol Health, LLC. According to the complaint, Utah-based Bionatrol Health, Isle Revive, Marcelo Torre and Anthony McCabe falsely claimed – among other things – that Bionatrol Full-Spectrum CBD oil has been "medically proven" to treat hypertension, chronic pain, cardiovascular disease, and other conditions. The respondents also said their products could replace the need for prescription painkillers. In addition, the FTC alleges that when consumers ordered one bottle, the respondents sold them more than what they asked for and illegally charged their credit cards without authorization.
CBD Meds, Inc. The FTC alleges that California-based CBD Meds, G2 Hemp, and Lawrence Moses deceptively advertised their CBD oil for "the treatment of neurodegenerative diseases, such as Alzheimer's disease, Parkinson's disease and HIV dementia." They also pitched it as a treatment for multiple sclerosis, glaucoma, diabetes, schizophrenia, and a host of other conditions. What's more, the FTC says the respondents falsely advertised that a "laboratory study" conducted by the "United States Federal Government" showed that "CBD may make chemotherapy more effective and increase cancer cell death without harming normal cells."
Epichouse LLC. Based in Utah, Epichouse (consumers may know them by the name First Class Herbalist) and John Le sold CBD-based oils, coffees, creams, and gummies with what the FTC says were deceptive promises that the products would prevent – among other things – age-related cognitive decline, cancer, chronic pain, diabetes, heart disease, hypertension, and migraines. The respondents also pitched their products as safe for all users and more effective for pain relief than prescription medication. The complaint alleges they falsely claimed that scientific research supported many of their prevention, treatment, and cure claims.
HempmeCBD. "[I]n a recent study, Israeli research has shown an 80% success rate in reducing problematic behavior in children with Autism using CBD." That's just one of the eye-catching – and allegedly false – claims Boca Raton respondents HempmeCBD, EasyButter, and Michael Solomon made for their CBD shea butter, gummies, lozenges, vape pens, or oils. The FTC charged that the respondents also made misleading treatment representations regarding AIDS, autism, bipolar disorder, cancer, depression, epilepsy, PTSD, and other serious conditions.
Reef Industries. The FTC's lawsuit against California companies Reef Industries, Inc., Cannatera, Inc., and AndHemp, Ltd., and three principals – Andrew M. Bouchie, John R. Cavanaugh, and Shaun Paquette – charges that they made false or misleading claims for CBD gummies, gel caps, sprays, lotions, vape oils, and other products. Respondents represented that CBD products effectively prevent or treat Alzheimer's disease, Crohn's disease, epilepsy, heart disease, lupus, multiple sclerosis, strokes, and a compendium of other serious conditions. For example, according to the respondents' ads, "CBD hemp oil has a huge range of potential health benefits and uses, including . . . fighting cancer, . . . eliminating depression, [and] preventing inflammatory arthritis . . . . " and "If you or someone you love suffers from diabetes, try using CBD oil to treat it. Not only is it safer than the most common diabetes medications, but it's also more effective." In addition, the complaint alleges the respondents falsely claimed that studies or scientific research supported many of their advertising claims.
Steves Distributing, LLC. Advertising online and via social media under the name Steve's Goods, Colorado-based Steves Distributing, LLC and CEO Steven Taylor Schultheis sold gummies, capsules, suppositories, balms, coffees, and other products containing CBD and CBG (cannabigerol), a related cannabinoid derived from hemp. The FTC says the respondents made deceptive claims that their products were effective alternatives to prescription medications and were effective at treating serious diseases like multiple sclerosis, amyotrophic lateral sclerosis (ALS), osteoporosis, Alzheimer's disease, Parkinson's disease, and glioblastoma, an aggressive form of brain cancer. The complaint also alleges the respondents falsely represented that many of their claims were supported by studies or scientific research.
The proposed orders require the respondents to have methodologically sound human clinical testing before they can make a wide variety of disease-related claims in the future. They'll also need competent and reliable scientific evidence to support other health-related representations. Five orders include a financial remedy. Once the proposed settlements appear in the Federal Register, you'll have 30 days to file a public comment.
The big news about Operation CBDeceit is that the sweep shouldn't come as big news to members of the CBD industry. To date, the FTC has sent multiple letters to businesses warning them about making questionable disease-related representations for CBD products and has taken law enforcement action against others. The message to marketers has been consistent: The same substantiation principles the FTC has applied to health claims for close to 50 years apply to similar claims for CBD products. Companies that represent expressly or by implication that what they sell can prevent, treat, or cure serious medical conditions will be held to the highest substantiation standards and marketers can expect careful scrutiny of those promises.
That's why believing the myth of the CBD Wild West is likely to lead advertisers in the wrong direction.



 
It is your choice whether to submit a comment. If you do, you must create a user name, or we will not post your comment. The Federal Trade Commission Act authorizes this information collection for purposes of managing online comments. Comments and user names are part of the Federal Trade Commission's (FTC) public records system, and user names also are part of the FTC's computer user records system. We may routinely use these records as described in the FTC's Privacy Act system notices. For more information on how the FTC handles information that we collect, please read our privacy policy.
The purpose of this blog and its comments section is to inform readers about Federal Trade Commission activity, and share information to help them avoid, report, and recover from fraud, scams, and bad business practices. Your thoughts, ideas, and concerns are welcome, and we encourage comments. But keep in mind, this is a moderated blog. We review all comments before they are posted, and we won't post comments that don't comply with our commenting policy. We expect commenters to treat each other and the blog writers with respect.
We won't post off-topic comments, repeated identical comments, or comments that include sales pitches or promotions.
We won't post comments that include vulgar messages, personal attacks by name, or offensive terms that target specific people or groups.
We won't post threats, defamatory statements, or suggestions or encouragement of illegal activity.
We won't post comments that include personal information, like Social Security numbers, account numbers, home addresses, and email addresses. To file a detailed report about a scam, go to ReportFraud.ftc.gov.
We don't edit comments to remove objectionable content, so please ensure that your comment contains none of the above. The comments posted on this blog become part of the public domain. To protect your privacy and the privacy of other people, please do not include personal information. Opinions in comments that appear in this blog belong to the individuals who expressed them. They do not belong to or represent views of the Federal Trade Commission.
More from the Business Blog
Get Business Blog updates