Ads for health products often target Boomer Consumers, but those aren't the only claims pitched to people looking toward retirement. An FTC action alleges a company called Online Trading Academy has taken in more than $370 million by gearing its deceptive representations to that demographic. In addition, the complaint alleges violations of the Consumer Review Fairness Act.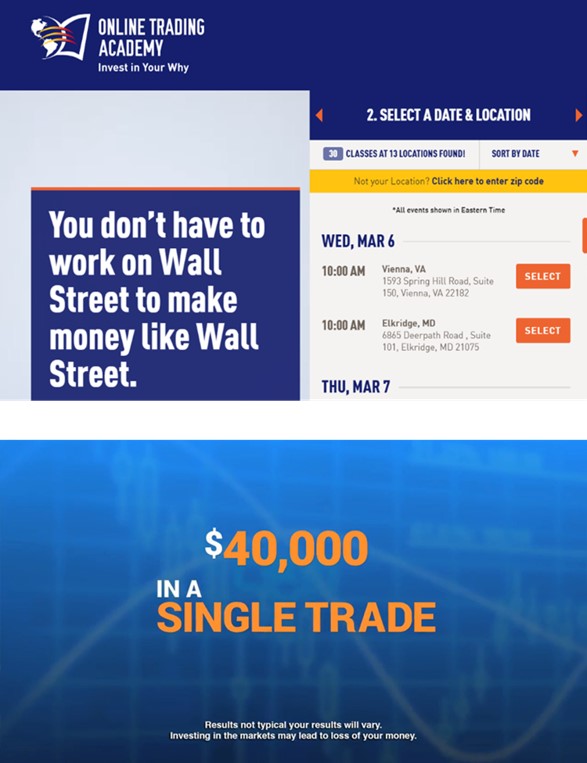 According to the FTC, the California-based operation, related companies, and three individual defendants advertise a "patented strategy" that consumers can apply "to any asset class including stocks, options, futures and currencies" to rake in big money. They claim their "training programs" – with price tags as high as $50,000 – will teach consumers how to "invest like the pros on Wall Street." "No matter your experience and goals," people were told the defendants' "proven" strategy was "designed to make money in any market, whether it's going up or down."
The complaint recounts the process the defendants use to attract consumers through TV and radio ads, online promotions, and direct mail. First comes an in-person "preview" seminar. Next, people pay $299 for a three-day "orientation." That's where the defendants urge attendees to sign up for seminars costing thousands more. The defendants assign each attendee an "Education Counselor" – a/k/a salesperson working on commission – who follows up by phone or email. According to the complaint, the defendants train their Education Counselors not to "look like, act like or sound like, a traditional salesperson," but instead to take on a "role" and lead consumers through "The Pain Funnel," Q&A designed to overcome consumer qualms.
To get people to sign up for more seminars, the defendants routinely offer to finance all or part of the cost with loans at 18%, with the promise to forgive the interest if the consumer pays the total off within six months. The FTC says that in some instances, the defendants lead buyers to believe they'll be able to repay the loan quickly with money they'll make using that "patented strategy."
So how much does Online Trading Academy say consumers will earn? A central theme of their pitch is "You don't have to work on Wall Street to make money like Wall Street." Infomercials feature purchasers claiming that "in three hours I made $12,000" or "I made $32,000 in less than seven trading days." In a YouTube video, a retiree says he made "$40,000 in a single trade." In addition, a speaker at a live event claimed consumers "could potentially make $50,000 of annual income with an account size as low as $5,000" because Online Trading Academy has "a patent on the fact that you can time the markets," which "gives us the ability to know when to get in and when to get out, long-term and short-term."
Other speakers – including some of the named defendants – paint a picture of lavish lifestyles filled with international travel, a "super luxury car" every year, and homes in areas where kids have "live-in nannies, cooks, gardeners." One speaker said the money he made using Online Trading Academy's strategy allows him to live in an enclave so exclusive that a neighbor, a renowned Olympic gold medalist, taught his daughter to swim.
But the facts paint a different picture. The FTC alleges the defendants don't systematically collect data sufficient to substantiate their earnings claims. But even the evidence they do have gave them good reason to know their representations are deceptive. For starters, according to the FTC, the defendants know that few consumers who take out those high-interest, short-term loans repay them in full within six months. Indeed, of loans at least a year old, a significant number have gone into default or other non-payment status – like bankruptcy.
In addition, the FTC says the company's own customer satisfaction surveys belie their big-money ad claims. For example, a 2018 survey asked – among other things – "As a result of your experience at Online Trading Academy, would you say you're 'making money' through trading and investing?" The results: Just 3% of people who responded claimed to be making "a lot of money," 31% reported making "a little money," and 66% said they were making no money at all. The story wasn't much better for people who had forked over thousands for the defendants' "Mastermind" membership. According to the FTC, the survey results were so disastrous that Online Trading Academy's CEO Eyal Shachar forbid anyone from taking a copy out of the room. So the defendants went back to the drawing board and conducted a second survey, which again showed that few people were earning anything and many were losing money. In addition, the FTC alleges that data from a trading platform that Online Trading Academy recommended to its students showed that many consumers didn't trade at all and of those who did, nearly 75% lost money.
Dissatisfied that the defendants' "strategy" didn't live up to the hype, purchasers have often asked for their money back. In numerous cases, the corporate defendants and CEO Shachar require that consumers getting refunds sign a form contract that includes a non-disparagement provision barring them from saying anything negative about Online Trading Academy to anyone – including law enforcement agencies and the Better Business Bureau. The form specifies "negative" comments "on any blog, internet chat room, website, including all forms of social media."
The FTC lawsuit alleges the defendants made false or unsubstantiated earnings claims and challenges their representations that any consumer – regardless of education, background, capital, or time to devote to the "strategy" – can make meaningful income. The complaint also charges that the corporate defendants and CEO Shachar violated the Consumer Review Fairness Act by imposing a non-disparagement clause in form contracts.
The case is pending in federal court in California.
 
More from the Business Blog
Get Business Blog updates