Ads for health products often target Boomer Consumers, but those aren't the only claims pitched to people looking toward retirement. An FTC action alleges a company called Online Trading Academy has taken in more than $370 million by gearing its deceptive representations to that demographic. In addition, the complaint alleges violations of the Consumer Review Fairness Act.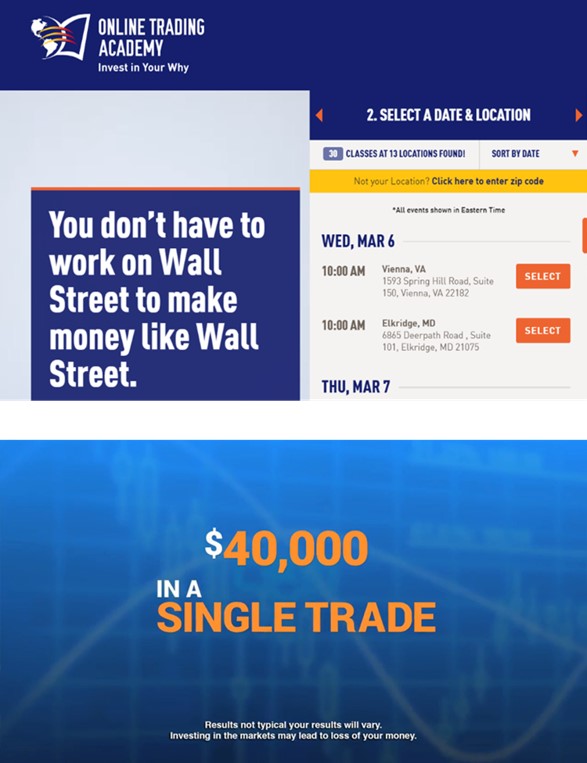 According to the FTC, the California-based operation, related companies, and three individual defendants advertise a "patented strategy" that consumers can apply "to any asset class including stocks, options, futures and currencies" to rake in big money. They claim their "training programs" – with price tags as high as $50,000 – will teach consumers how to "invest like the pros on Wall Street." "No matter your experience and goals," people were told the defendants' "proven" strategy was "designed to make money in any market, whether it's going up or down."
The complaint recounts the process the defendants use to attract consumers through TV and radio ads, online promotions, and direct mail. First comes an in-person "preview" seminar. Next, people pay $299 for a three-day "orientation." That's where the defendants urge attendees to sign up for seminars costing thousands more. The defendants assign each attendee an "Education Counselor" – a/k/a salesperson working on commission – who follows up by phone or email. According to the complaint, the defendants train their Education Counselors not to "look like, act like or sound like, a traditional salesperson," but instead to take on a "role" and lead consumers through "The Pain Funnel," Q&A designed to overcome consumer qualms.
To get people to sign up for more seminars, the defendants routinely offer to finance all or part of the cost with loans at 18%, with the promise to forgive the interest if the consumer pays the total off within six months. The FTC says that in some instances, the defendants lead buyers to believe they'll be able to repay the loan quickly with money they'll make using that "patented strategy."
So how much does Online Trading Academy say consumers will earn? A central theme of their pitch is "You don't have to work on Wall Street to make money like Wall Street." Infomercials feature purchasers claiming that "in three hours I made $12,000" or "I made $32,000 in less than seven trading days." In a YouTube video, a retiree says he made "$40,000 in a single trade." In addition, a speaker at a live event claimed consumers "could potentially make $50,000 of annual income with an account size as low as $5,000" because Online Trading Academy has "a patent on the fact that you can time the markets," which "gives us the ability to know when to get in and when to get out, long-term and short-term."
Other speakers – including some of the named defendants – paint a picture of lavish lifestyles filled with international travel, a "super luxury car" every year, and homes in areas where kids have "live-in nannies, cooks, gardeners." One speaker said the money he made using Online Trading Academy's strategy allows him to live in an enclave so exclusive that a neighbor, a renowned Olympic gold medalist, taught his daughter to swim.
But the facts paint a different picture. The FTC alleges the defendants don't systematically collect data sufficient to substantiate their earnings claims. But even the evidence they do have gave them good reason to know their representations are deceptive. For starters, according to the FTC, the defendants know that few consumers who take out those high-interest, short-term loans repay them in full within six months. Indeed, of loans at least a year old, a significant number have gone into default or other non-payment status – like bankruptcy.
In addition, the FTC says the company's own customer satisfaction surveys belie their big-money ad claims. For example, a 2018 survey asked – among other things – "As a result of your experience at Online Trading Academy, would you say you're 'making money' through trading and investing?" The results: Just 3% of people who responded claimed to be making "a lot of money," 31% reported making "a little money," and 66% said they were making no money at all. The story wasn't much better for people who had forked over thousands for the defendants' "Mastermind" membership. According to the FTC, the survey results were so disastrous that Online Trading Academy's CEO Eyal Shachar forbid anyone from taking a copy out of the room. So the defendants went back to the drawing board and conducted a second survey, which again showed that few people were earning anything and many were losing money. In addition, the FTC alleges that data from a trading platform that Online Trading Academy recommended to its students showed that many consumers didn't trade at all and of those who did, nearly 75% lost money.
Dissatisfied that the defendants' "strategy" didn't live up to the hype, purchasers have often asked for their money back. In numerous cases, the corporate defendants and CEO Shachar require that consumers getting refunds sign a form contract that includes a non-disparagement provision barring them from saying anything negative about Online Trading Academy to anyone – including law enforcement agencies and the Better Business Bureau. The form specifies "negative" comments "on any blog, internet chat room, website, including all forms of social media."
The FTC lawsuit alleges the defendants made false or unsubstantiated earnings claims and challenges their representations that any consumer – regardless of education, background, capital, or time to devote to the "strategy" – can make meaningful income. The complaint also charges that the corporate defendants and CEO Shachar violated the Consumer Review Fairness Act by imposing a non-disparagement clause in form contracts.
The case is pending in federal court in California.
 
When this group presented this opportunity in New Orleans, they made the same kinds of claims. When it was time for the hard sell, they would take you away separately. When you returned to the group setting and there sales numbers didn't appear where they wanted, they would put the beginner box at your seat, giving the impression that you had enrolled and would therefore encourage other's to enroll.
How does a OTA student assist the FTC in this effort? I had the same bad experience in their Kansas City (Overland Park) office.
possible to get statistics from them, how many have made and how many have lost money after doing this course, for eg from 100 students 50 have made 50$ and 50 have lost 50$ in a given year.
Everything is true here, i bought that mastermind status. its really a scam.a well planned scam.
Hey FTC, you forgot to mention their Toronto, CANADA office: Online Trading Academy Toronto 200 Yorkland Blvd., Suite 1100, Toronto, ON M2J 5C1
I am a london student of OTA, I have lost over £101,000.00 following their strategies in online tradings. In addition to that, I have paid over £10,000.00 towards trainings + mastermind. Please help!!!!
We got the MM program and lost $4000 with their strategy. I decided to stop and try with paper money and can't seem to make it work. But I wasn't gonna wipe out my real money on a strategy that doesn't work. Not only am I out what I lost in my account with their startegy but I'm also out all the money we had to pay for OTA. I tried options and futures and the strategy doesn't work.
I lost my home, right after I lost my home; because OTA deception.
OTA have some great instructors but the system doesn't really work. I have tried and will keep trying but I was also told I could pay back my tuition fee of $26k with my trading. Has not happened. Not made a single $ yet and been trying for a year.
NJ OTA is the worst center ever, they sing me up for the course for which I paid 22k ( Core, Future and Option asses class) in 3days intro class they claimed money can be easily made by Supply and Demand strategy, once sign up for the course I have found out there is another level for which I have to pay extra, they never disclose this information while I sign up for the course, instructor is coming to NJ center are only promoting Master Mind package which is 50000, I have never made any money by using Supply and demand , I really need all my money back from this scammers, When signing up for course I being told that this is lifetime retake course you can come any time and retake your course, once I attended my first class and after a month i try to retake it center told me you are going to be in waiting list and we will call you if anyone cacels which they never ever return any call, i have write many email to OTA but they all forwared to locat NJ center which thewy dont care because they alredy got my money, all Student Support are nothing but sells person any time you ask for help instead helping you they tryt to sell another course
I'm a victim of Online Trading Academy still battling to pay the loan without making any money from the strategy. It's a daylight robbery
Has the location been decided? I thought it was in Illinois
As a former employee and one who (for a minute) bought into the scheme and had my father in law purchase a $20K package...I hate to say but I knew it. I felt like I was scamming people, old people particularly and I knew those sales tactics were beyond aggressive. The only thing the company focused on was sales. Sell sell sell was the constant theme. This is karma and she bites! That owner should have to return ALL of those millions that he pocketed.
In May of 2018 I heard a radio advertisement about an outfit called Online Trading Academy. They touted a 2 day seminar, $299 cost. At that seminar they very smoothly showed us their plan and how easy it was to make money. Among the things they didn't mention was length of time it might take to grasp their education. I bought into their program to the tune of over $51,000. Another important item they never mentioned is where the learning centers were. I'm in Oklahoma; the closet centers are Kansas City & Dallas. I can hardly travel to either on a weekly basis for instruction. Their entire presentation was not reliable nor truthful. Very disappointed. Happy the FTC is getting involved so others will not lose their hard earned money.
This place is a SCAM. Please investigate them. I paid $35,000 and lost lot of money and payment of monthly charges to trading platform. Please bring them to Justice.
So glad the FTC is doing something about these people. I joined OTA in October2019 as a Mastermind Student. and it wasn't $50,000 it was $ 61,000. all with the same pitch, that I would be able to pay off the remainder of the loan ( had to put $15,500 down) and after months of attending classes EVERY dayj I honestly don't see this system working AT ALL. Really wanting to get out of this contract, Hopefully the FTC will be successful in shutting these scammers down.
Do we victims have any hope for getting a refund? I just paid off my $30,000 loan with credit cards a couple weeks before this lawsuit was announced. They made it sound like it would be no problem making all that money back before the 0% interest period expired. Instead, I took my $10,000 out of my savings account and lost it all in a few months. I didn't even know where it went because they don't even teach you how online brokers like Tradestation charge fees. now instead of the nest-egg I was building, I have insurmountable credit card debt. Also, they claim that the financing company (UGA) is a third party that they have nothing to do with. Perhaps that could be another lawsuit if its not true. How can I help?
I became a "student" in 2014 after retiring from full time work. My observations are not on the sign-up process (which is embarrassing), but on some of my experiences in their educational program: (1) The quality of the instruction provided in the online "XLT" programs is wildly inconsistent. While the instructors may be, or have been, exceptional traders, about a half of the instructors are incompetent as teachers; they are easily sidetracked by comments from online participants, and some even have "buddy-buddy" conversations with some of the participants, which detracts from the pretext of a professional atmosphere. Secondly, these instructors are usually not prepared for their assigned sessions and fail to provide a strong rationale for an "educational" trading opportunity. One options instructor advised a trade that took a negative vega options position on a stock that was nearing its quarterly earnings announcement, and which historically showed increased implied volatility going into earnings. The particular options were expiring after the earnings date. His goal was to "collect theta" and then close the position before earnings. His lack of knowledge on how theta is determined, and the interplay of the other Greeks was disconcerting. (2) Training program continuity is non-existent. There was one instructor who ran an advance options trading series based on his experience as a professional market maker for a well-known firm. So I gravitated to this program after going through the basic options trading program. Unfortunately this instructor left OTA, but OTA did not find a replacement to keep the advanced program going. Instead, they just stopped it. (3) OTA sends out a weekly "Tips from the Pros" article, usually featuring a trade executed by Mr. Seiden, based on information provided to "Mastermind" members. The articles can be subscribed to by anyone, even non-members, as they are merely enticers to join OTA. I suggested to OTA that they also provide examples of (the many more) proposed trades that do not work, with some explanations, and they replied that they would "consider" it.
I started back in 2008 watching the cdrom trade classes then eventually, purchased the live classes and online programs a few years later. I had a career path that I desperately wanted to get out of and become a full time trader. So I cashed in 30 years of hard work to date and decided to focus full time on becoming a trader. I gave it everything I had with complete discipline and focus for 7 years, 24-7 I totally emerged myself into becoming a trader by the book. "I believed in OTA and the process beyond the shadow of a doubt" After 15,000 plus hours of studies and watching the markets on an emotional roller coaster of pain and hope the best I obtained was "Breakeven trader status" after years of hard work. My biggest setback was actually the cost of living while sitting at the screens and "choosing" not to work while I studied with the hopes of turning the corner on an emotionally painful and frustrating endeavor. The hardest part was feeling like I failed my family week after week. Maybe human performance in the markets succeeded before the advent of computers, quants, algorithms and now the introduction of Artificial trading platforms which make human performance in trading a statistical event of the past, like floor traders and trading pits So in truth I mislead myself in thinking it was doable and wanted to believe because I put my family's entire financial future and well being on the line to overcome the odds of a statistical fact that human performance has a 90% failure rate trading before you even start. Ironically we are trained to look for trades that have high statistical odds of success but ignore the first glaring statistical fact before we even start, that over time we are up against a 90% failure rate. What human being in their right mind wants to "Look bad or be wrong" so the conveyor belt of the markets keeps grinding out liquidity using the hard earned equity, sweat and tears of new traders attempting to overcome a statistical impossibility of success all the while new traders keep the struggle of overcoming doubts and failure in the shadows of personal failure. The challenge is not isolated to one company but the entire trading system is setup to strip the accounts of the masses and transfer it to accounts of AI platforms that are void of feeling emotional pain of the volatility. Human beings are statistical wired to fail at trading, just take the opposite side of a trade of most any "human trader" and you will have a high probability of profits over time. The entire trading industry needs to continuously "Remind novice traders" . That in the process of trying to find a statistically high probable trade you have a 90% probability of failure if you "keep at it. So as I watch 1000's of new traders over the years full of excitement in online classes I feel sorry for them and the pain that most all will go through, statistically the human mind is not built to succeed at trading. That being said the entire trading education system today creates far more emotional pain and financial losses to individuals and their families financial well being then any benefit that is perceived to be gained. So should one trading education companies get hit with a lawsuit or should regulations be changed for all trading education companies? Do current regulations support taking advantage of a 90% statistical failure rate and human weakness if you do it by the book and walk a fine line?
Hey FTC, I'll be happy to support your suit. They're full of it. Thieves.
Why does the FTC only post comments from people with a negative experience of OTA? I've had a positive experience and tried to post a report of my experience on 3/1/2020. So far, it has not been approved.
can I stop paying to them and get my money back? how do I do that?
they're still collecting loan payments on credit card under "sage. professional services" instead of "online trading academy. education" but they were barred from it
Too bad you are totally one sided here ... you are only posting comments that support your article and ignoring any counter information. Shame on you!
More from the Business Blog
Get Business Blog updates