"He just emailed you! You caught his eye and now he's expressed interest in you... Could he be the one?"
Don't get excited just yet, lovebirds. According to an FTC lawsuit, the "he" in question – or the "she" – could be an online scammer that Match Group, Inc., the owner of Match.com, has used to induce consumers to upgrade to paid subscriptions. The lawsuit alleges that many of the likes, favorites, emails, and instant messages that led Match to send people those "You caught his eye" notices originated from accounts the company knew were likely fraudulent, rendering Match's claims misleading and unfair. The complaint also charges that the company has offered deceptive "guarantees" that didn't clearly disclose attached strings; made it difficult for people to cancel their subscriptions, in violation of the Restore Online Shoppers' Confidence Act (ROSCA); and engaged in illegal billing practices.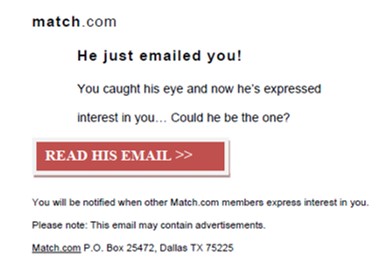 A big deal in the dating game, Match Group also owns Tinder, OKCupid, Hinge, PlentyOfFish, Meetic, and other sites. The company let consumers create free profiles on Match.com and then contacted them with those flattering "Could he be the one?" notices, conveying to consumers that others had expressed interest in them. But for consumers to actually read the messages that Match said could be from "the one," Match required consumers to upgrade to paid subscriptions.
For consumers looking for love, it's hard to imagine a more persuasive sales pitch than Match's representation that specific suitors were already eager to meet them. Convinced by Match's claim that their profile had "caught [the] eye" of prospective partners, many consumers responded in just the way the company intended, often paying more than $100 for a subscription in the hope of connecting with the people who had already "expressed interest" in them.
But according to the FTC, millions of contacts that generated Match's intriguing "You caught his eye"-type notices came from accounts the company had already flagged as likely to be fraudulent. What's more, the FTC alleges the company blocked existing subscribers from receiving communications from those suspicious accounts and yet misleadingly and unfairly dangled those messages in front of non-paying consumers to induce them to buy subscriptions. Put another way, Match allegedly used the substantial number of scammers on its site – a figure estimated to be as high as 25-30% of accounts – as a marketing opportunity to sell more subscriptions.
Was Match's marketing campaign persuasive? Absolutely. The FTC says the company's own data show that from June 2016 to May 2018, consumers bought 499,691 subscriptions within 24 hours of receiving one of those "You caught his eye"-type notices. Another staggering statistic: During that same period, Match delivered approximately 4 million messages that would have otherwise been withheld as likely fraudulent had the approximately 2.25 million consumers who received them already been paid subscribers.
Those aren't the only ways the FTC says Match violated the law. The complaint alleges that the company offered consumers a "guarantee" that "[i]f you haven't found someone special within 6 months, we'll give you an extra 6 months FREE." But behind its "Learn more" hyperlink was a dense block of text listing the many strings Match attached to that "guarantee." As a result, the FTC says many consumers were charged for an additional six-month subscription they expected to be free.
Match's allegedly illegal practices didn't end there. For consumers who didn't want to renew their subscriptions, the FTC says Match's complicated cancellation process violated ROSCA's requirement that companies "provide[] simple mechanisms for a consumer to stop recurring charges." One of Match's own executives described the process as "hard to find, tedious, and confusing. Members often think they've cancelled when they have not and end up with unwanted renewals." Another company insider described it this way: "It takes up to 7 or 8 clicks to complete the flow to turn off [auto renewal] if you can even figure out how to do it."
In addition, the FTC says that consumers who disputed Match's billing practices with their financial institutions were in for an unpleasant surprise. According to the complaint, if the company prevailed in the dispute, it often terminated consumers' accounts. For people who bought subscriptions, the practical effect of Match's policy was to deny them access to services they had paid for.
The case is pending in federal court in Dallas.

 
It is your choice whether to submit a comment. If you do, you must create a user name, or we will not post your comment. The Federal Trade Commission Act authorizes this information collection for purposes of managing online comments. Comments and user names are part of the Federal Trade Commission's (FTC) public records system, and user names also are part of the FTC's computer user records system. We may routinely use these records as described in the FTC's Privacy Act system notices. For more information on how the FTC handles information that we collect, please read our privacy policy.
The purpose of this blog and its comments section is to inform readers about Federal Trade Commission activity, and share information to help them avoid, report, and recover from fraud, scams, and bad business practices. Your thoughts, ideas, and concerns are welcome, and we encourage comments. But keep in mind, this is a moderated blog. We review all comments before they are posted, and we won't post comments that don't comply with our commenting policy. We expect commenters to treat each other and the blog writers with respect.
We won't post off-topic comments, repeated identical comments, or comments that include sales pitches or promotions.
We won't post comments that include vulgar messages, personal attacks by name, or offensive terms that target specific people or groups.
We won't post threats, defamatory statements, or suggestions or encouragement of illegal activity.
We won't post comments that include personal information, like Social Security numbers, account numbers, home addresses, and email addresses. To file a detailed report about a scam, go to ReportFraud.ftc.gov.
We don't edit comments to remove objectionable content, so please ensure that your comment contains none of the above. The comments posted on this blog become part of the public domain. To protect your privacy and the privacy of other people, please do not include personal information. Opinions in comments that appear in this blog belong to the individuals who expressed them. They do not belong to or represent views of the Federal Trade Commission.
I don't understand what this email means.
Well done, to many scammers!!
I had a person bring to my attention that there was a profile on Plenty of Fish that was using my profile pictures from Facebook, and created a profile with them.
Not that I'm looking, but it surely caught my eye for reading! Good job FTC for suing those creeps!
I received something similar on my Face Book page as well. It did not seem real. I have deleted, but I received another request on my Face Book page, and deleted it again. This has been going on for 6 months. i don't understand. What is going on with this SPAM!! People are sinisters !!!!
More from the Business Blog
Get Business Blog updates