They say what happens in Vegas stays in Vegas. But here's one thing that doesn't belong in Vegas or anywhere else: ads that draw buyers in with eye-catching terms while burying the "gotchas" in fine print. In separate law enforcement actions, the FTC alleged that two Las Vegas dealers – car dealers, that is – didn't play it straight with consumers.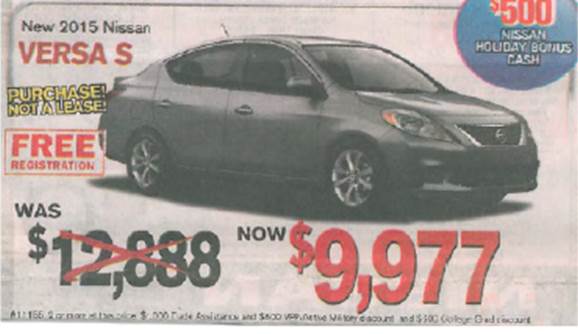 The complaint against Planet Nissan cites instances where the FTC says the company touted deals in prominent headlines, but then didn't clearly disclose key terms and major limitations on who qualified for the advertised price. For example, Planet Nissan used bold red lettering to advertise a 2015 Versa as "NOW $9,977." But for most buyers, that price was a bluff because here's what it said in small type underneath:  "#11155, 2 or more at this price, $1,000 Trade Assistance and $600 VPP/Active Military discount and $600 College Grad discount." What did that mean? To get the advertised deal, buyers needed to qualify for a full house of separate rebate offers. In other words, they had to be active duty members of the military and had to be recent college grads and had to trade in a car. Everyone else had to ante up more.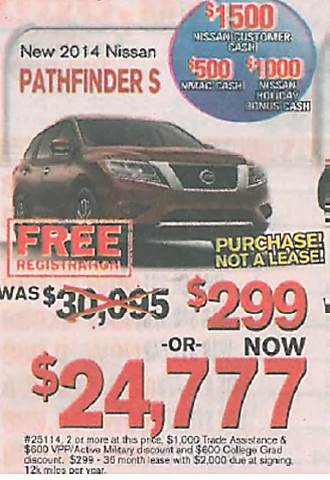 Another Planet Nissan ad touted a "NOW" price for a Pathfinder of $299 or $24,777 and featured the bold statement, "PURCHASE! NOT A LEASE!" But drop down to the bottom and buried in a block of text was this statement:  "$299 – 36 month lease with $2,000 due at signing, 12K miles per year." Were consumers able to reconcile the bright yellow "PURCHASE! NOT A LEASE!" tagline with a footnote saying $299 was a lease payment? Don't bet on it.
A third Planet Nissan ad featured the prominent claims, "$0 DOWN," and "Now $299 month." In addition to other conditions, the fineprint footnote included this kicker: "$299 – 36 month lease with $2000 due at lease signing." So much for "$0 DOWN."
The second case against the unrelated – but also galactically named – Planet Hyundai featured variations on those deceptive themes. According to the complaint, one ad offered a 2014 Accent with a "50% OFF" price of "$36/mo" or"$8,974." But put on your green eyeshade to read the tiny type near the bottom of the two-page newspaper spread:
All advertised amounts include all Hyundai incentive/rebates, dealer discounts and $2500 additional down from your trade in value . . . 1.14MY Accent - *Price excludes tax, title, license, doc, and dealer fees. MSRP $18075 - $2451 Dealer Discount - $2650 HMA rebates - $4000 Trade Allowance = Net Price $8974. Lease 36 months with $0 Cash down payment. On approved credit. Must trade qualifying vehicle . . . All payment and prices include HMA College Grad Rebate, HMA Military Rebate, and HMA Valued Owner Coupon. Must be active military or spouse of same to qualify for HMA Military Rebate. Must graduate college in the next 6 months or within the last 2 years to qualify for HMA College Grad rebate. Must own currently registered Hyundai to qualify for HMA Valued Owner Coupon.

Looking for a translation? According to the complaint, Planet Hyundai's $8,974 deal was available only to the demographically narrow niche of customers who could stack up three different discounts: the active duty military rebate, the recent college grad rebate, and the rebate for current Hyundai owners. So if Hyundai-owning Joe College who had traded his cap and gown for olive drab played his cards right, he might have qualified for the advertised $8,974 deal. But everyone else was out of luck.
Other Planet Hyundai ads said "$0 down available." Only after prospective buyers got to the table did they learn that "0 down" applied just to people who turned in a qualifying vehicle with a trade-in value of at least $2,500.
The complaints offer other examples of how consumers were dealt a bad hand through deceptive ad claims and the companies' failure to make required financial disclosures under the Consumer Leasing Act, Reg M, the Truth in Lending Act, and Reg Z. To settle the cases, Planet Nissan and Planet Hyundai have agreed to change the way they advertise. You can file online comments on the proposed settlements by July 29, 2015.
What's the message for other dealers? It's unwise to use headlines to hype low rates or great deals while relegating key terms to small print or dense blocks of text. Lay your cards on the table by clearly explaining the nature of the offer up front. The same can be said for "deceptive door openers" – misleading come-ons that aren't fully explained until the prospective buyer is already through the door.
One final tip: When it comes to taking on deception in auto ads, the FTC is all in.
It is your choice whether to submit a comment. If you do, you must create a user name, or we will not post your comment. The Federal Trade Commission Act authorizes this information collection for purposes of managing online comments. Comments and user names are part of the Federal Trade Commission's (FTC) public records system, and user names also are part of the FTC's computer user records system. We may routinely use these records as described in the FTC's Privacy Act system notices. For more information on how the FTC handles information that we collect, please read our privacy policy.
The purpose of this blog and its comments section is to inform readers about Federal Trade Commission activity, and share information to help them avoid, report, and recover from fraud, scams, and bad business practices. Your thoughts, ideas, and concerns are welcome, and we encourage comments. But keep in mind, this is a moderated blog. We review all comments before they are posted, and we won't post comments that don't comply with our commenting policy. We expect commenters to treat each other and the blog writers with respect.
We won't post off-topic comments, repeated identical comments, or comments that include sales pitches or promotions.
We won't post comments that include vulgar messages, personal attacks by name, or offensive terms that target specific people or groups.
We won't post threats, defamatory statements, or suggestions or encouragement of illegal activity.
We won't post comments that include personal information, like Social Security numbers, account numbers, home addresses, and email addresses. To file a detailed report about a scam, go to ReportFraud.ftc.gov.
We don't edit comments to remove objectionable content, so please ensure that your comment contains none of the above. The comments posted on this blog become part of the public domain. To protect your privacy and the privacy of other people, please do not include personal information. Opinions in comments that appear in this blog belong to the individuals who expressed them. They do not belong to or represent views of the Federal Trade Commission.
More from the Business Blog
Get Business Blog updates