By: Lesley Fair | Sep 25, 2020 2:00PM
What's in a name? According to an FTC lawsuit filed in April, if you're an outfit that uses the name "SBA Loan Program" – and you falsely claim to be an approved lender for the Small Business Administration's coronavirus relief lending program – what's in your name is deception. Under the terms of a settlement, that shady tactic stops right here, right now.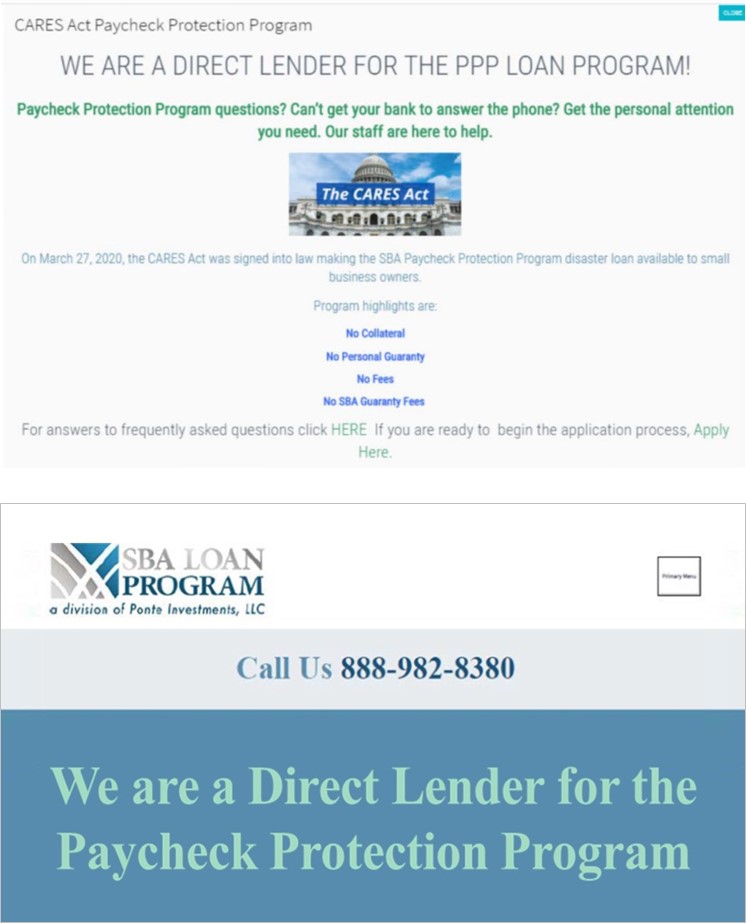 For many small businesses struggling to stay afloat during the pandemic, SBA's Paycheck Protection Program (PPP) has been a welcome lifeline. Business owners who visited a website called SBALoanProgram.com looking for PPP information saw statements like "WE ARE A DIRECT LENDER FOR THE PPP LOAN PROGRAM!" and "We are currently offering stimulus relief spending under the Economic Security Act (CARES Act)." In addition, business people were targeted with similar messages in phone calls and email from an entity using the name SBA Loan Program.
But according to the FTC, Rhode Island-based Ponte Investments, LLC, and owner John C. Ponte – the defendants behind the SBA Loan Program promotions – falsely claimed to be representing SBA and that they could offer small businesses access to the agency's relief programs.
The settlement prohibits the defendants from misrepresenting any affiliation with SBA or that they're authorized to accept or process applications for real SBA loans. But the order goes farther than that by requiring the defendants to stop using deceptive trade names and domain names – a remedy that strikes at the core of the alleged deception in this case. As a result of the settlement, the company has stopped using the name SBA Loan Program.
In addition to that action, the FTC and SBA sent warning letters in May and in June to a total of eight other companies, raising concerns that they could be falsely claiming an affiliation with SBA or with approved PPP lenders, or may be representing untruthfully that people can get PPP or other SBA loans by applying on their websites. A number of the warning letters specifically cited look-alike names and URLs that could dupe businesses into thinking they're dealing directly with SBA or with an entity SBA has approved.
What message can others take from these recent actions? The FTC has brought a number of cases over the years against companies falsely claiming an affiliation with a government agency, but in the COVID era, the injury those companies inflict on small business owners and consumers is exacerbated. As Main Street courageously works to get back on its feet, the FTC will have no patience with parties that try to connive people with underhanded name games.