By: Lesley Fair | Jan 7, 2016 1:08PM
When we announced Operation Collection Protection in November, a federal-state crackdown on illegal debt collection practices, we said it was just the start of a historic partnership – and we weren't kidding. Today marks the next phase: four FTC cases against debt collectors who falsely claimed an affiliation with local courts or law enforcement, new actions from the CFPB and state law enforcers, and a video you won't want to miss.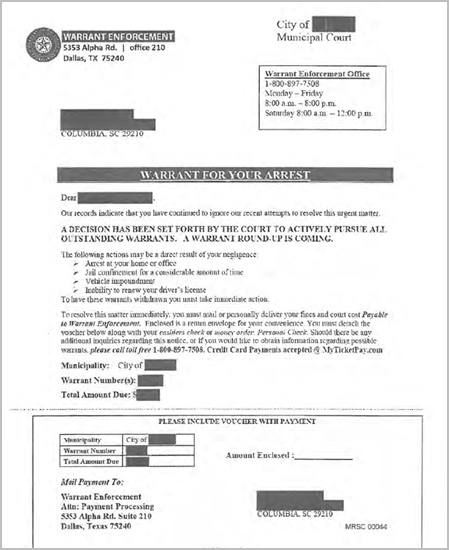 The name Municipal Recovery Services Corporation, doing business as Warrant Enforcement Division, should be a tip-off to what the FTC alleged in a case against a Dallas debt collector. While under contract to collect overdue utility bills, traffic tickets, court fines and other debts for local governments, the defendants sent consumers letters that falsely suggested they were from the municipal court, including one with the heading 'WARRANT FOR YOUR ARREST." As one postcard (yes, a postcard) read, "PAY YOUR FINE NOW – AVOID GOING TO JAIL." This is a hot topic in the collections industry, so we'll follow up soon with a detailed recap of that case. In the meantime, the good news for consumers is that a proposed stipulated order prohibits a long list of illegal practices.
The FTC's action against Buffalo-based Premier Debt Acquisitions LLC and affiliated companies alleged – among other things – that the defendants impersonating law enforcement officials or process servers, threatened to have consumers arrested, falsely threatened them with lawsuits and wage garnishment, and withheld information consumers needed to confirm or dispute debts. A proposed settlement imposes a $2,229,756 judgment, representing the amount of the defendants' debt collection revenue. The total will be partially suspended when they turn over personal assets, including real estate. The defendants also earned induction onto the FTC's Banned Debt Collectors list, a growing line-up of law violators banned for life from the industry.
According to an FTC lawsuit against Georgia-based AFS Legal Services and related parties, the defendants impersonated investigators and law enforcement and threatened to arrest or sue consumers who didn't pay up. The pitch was particularly persuasive because they often had people's Social Security or bank account numbers. AFS collectors even contacted relatives, friends and co-workers about consumers' debts – often without verifying that the consumer actually owed money. At the FTC's request, the court entered a temporary restraining order freezing the defendants' assets and appointing a receiver to take over operations. The parties have since stipulated to a proposed preliminary injunction that continues the asset freeze and receivership, and prohibits misrepresentations about debts, false claims about a government or law firm affiliation, and bogus statements about arrest, jail, wage garnishment, or lawsuits. It also bars violations of the Fair Debt Collection Practices Act.
The fourth FTC action is a permanent injunction against Chris Lenyszyn, the remaining defendant in the Williams, Scott & Associates case. In 2015, the final order against his co-defendants for collecting on debts they weren't owed resulted in a $3.9 million judgment and lifetime bans. Mr. Lenyszyn will be turning over an additional $565,000 and joining them in the ranks of Banned Debt Collectors.
What's up at other agencies?
CFPB.  The CFPB resolved four law enforcement actions and issued a compliance bulletin on in-person debt collection.
Minnesota.  The Minnesota Department of Commerce signed consent orders with Collect Pros and Service Investment Company. In addition, a court imposed a receivership on CLX/Westwood Management, Inc.
Colorado.  The Colorado Department of Law denied Collect Pros' renewal application and 4-Star Resolution's license application and took action against PC Legal Services for engaging in collection practices without a license, resulting in a $613,500 civil penalty.
Indiana.  The Indiana AG also took action against Collect Pros, entering into an Assurance of Voluntary Compliance.
Massachusetts.  The Massachusetts AG sued one of the largest debt collection law firms in the state, Lustig, Glaser & Wilson, and its two owners, Ronald Lustig and Kenneth Wilson, alleging that they used the threat of lawsuits to get payments from consumers who were disabled, elderly, or living on Social Security and that they sued consumers for debts they didn't owe or that were inaccurate.
Now about that video. Questionable debt collection tactics impact the lives of millions of Americans, including veterans. As part of our Every Community initiative, the FTC is premiering this first-person story of how one combat veteran exemplified courage in his fight against illegal debt collection practices.