"A dose of this formula a day keeps viruses away . . . . and their variants." That's just one example of a representation California-based Precision Patient Outcomes, Inc., and CEO Margrett Priest Lewis made for a dietary supplement sold under the names COVID Resist and VIRUS Resist. The FTC has gone to court, alleging that the defendants' claims that the product can treat, prevent, or mitigate COVID violate the COVID-19 Consumer Protection Act and the FTC Act.
Beginning in May 2021, the defendants advertised COVID Resist on their website for $34.95 per bottle. According to the label, the product contained Vitamin C, Vitamin D3, Vitamin K2, zinc, and quercetin dihydrate. The website included a page titled "Our Research" with quotes and references that the defendants said supported their claims. They also took to social media – Facebook, Instagram, TikTok, etc. – to promote the product as effective both before exposure to COVID and after.
Image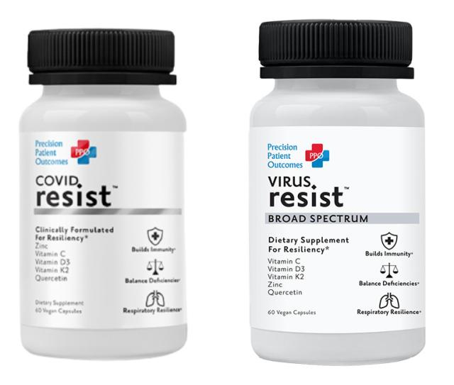 If you've been following the FTC's ongoing action plan for combating false or deceptive claims that products can prevent, treat, or cure COVID, you'll want to read the complaint for details about an interesting interaction between the defendants and FTC staff at about the time the product was introduced. On May 5, 2021, Precision Patient Outcomes CEO Lewis wrote to the FTC that the company would be launching COVID Resist and invited staff to review the website. The letter continued, "[O]ur statements are supported by competent and reliable scientific evidence," the products "are clearly in compliance with FTC, DSHEA, and FDA's regulations," and they "have not made any false or misleading claims."
FTC staff responded that the agency "does not prereview advertising materials to opine on their compliance with the FTC Act or any other applicable laws," but referred CEO Lewis to multiple resources on ftc.gov with guidance about substantiating health claims. In addition, staff cited the roughly 400 warning letters sent to marketers that had made COVID prevention, treatment, or cure claims and the law enforcement actions filed to date. Furthermore, staff told CEO Lewis, "We have sent numerous warning letters to marketers of supplements that include one of more of the same ingredients as your proposed COVIDresist supplement." A few months later, the FTC alleges the defendants stopped selling COVID Resist on their website, but began marketing VIRUS Resist, also promoted with COVID-related health claims.
Filed in federal court in California, the complaint alleges that the defendants made false or unsubstantiated efficacy claims for COVID Resist and VIRUS Resist. What's more, the FTC has charged that the defendants falsely represented that their products were scientifically proven to treat, prevent, or mitigate COVID-19. As the lawsuit alleges, "[N]o well-controlled human clinical study has been conducted on the efficacy of COVID Resist/VIRUS Resist, or its individual ingredients, to treat, prevent, or mitigate COVID-19." Among other things, the FTC has asked the Court to impose civil penalties under the COVID-19 Consumer Protection Act.
Even at this early stage, the case is a reminder of the additional remedies Congress has authorized to help combat deceptive COVID claims. Looking for more information about how the FTC has responded to the COVID crisis with education, outreach, and law enforcement? Visit Coronavirus Pandemic: The FTC in Action.
 
It is your choice whether to submit a comment. If you do, you must create a user name, or we will not post your comment. The Federal Trade Commission Act authorizes this information collection for purposes of managing online comments. Comments and user names are part of the Federal Trade Commission's (FTC) public records system, and user names also are part of the FTC's computer user records system. We may routinely use these records as described in the FTC's Privacy Act system notices. For more information on how the FTC handles information that we collect, please read our privacy policy.
The purpose of this blog and its comments section is to inform readers about Federal Trade Commission activity, and share information to help them avoid, report, and recover from fraud, scams, and bad business practices. Your thoughts, ideas, and concerns are welcome, and we encourage comments. But keep in mind, this is a moderated blog. We review all comments before they are posted, and we won't post comments that don't comply with our commenting policy. We expect commenters to treat each other and the blog writers with respect.
We won't post off-topic comments, repeated identical comments, or comments that include sales pitches or promotions.
We won't post comments that include vulgar messages, personal attacks by name, or offensive terms that target specific people or groups.
We won't post threats, defamatory statements, or suggestions or encouragement of illegal activity.
We won't post comments that include personal information, like Social Security numbers, account numbers, home addresses, and email addresses. To file a detailed report about a scam, go to ReportFraud.ftc.gov.
We don't edit comments to remove objectionable content, so please ensure that your comment contains none of the above. The comments posted on this blog become part of the public domain. To protect your privacy and the privacy of other people, please do not include personal information. Opinions in comments that appear in this blog belong to the individuals who expressed them. They do not belong to or represent views of the Federal Trade Commission.
You've lost all credibility.
Hi ftc.gov admin, Thanks for the well-researched and well-written post!
To the ftc.gov webmaster, Your posts are always well-referenced and credible.
More from the Business Blog
Get Business Blog updates