There's a standard movie trope of a group stranded in the desert. Parched and burned, their spirits soar when they see an oasis on the horizon. With their last ounce of energy, they crawl toward the lush palms and beckoning pool. But as they dip their hands in the water, they realize it was just a mirage. For consumers looking to supplement their income and gain financial independence, promoters' promises may seem like that oasis on the horizon. But in many cases, those money-making promises are an illusion. That's the theme of Operation Income Illusion – a just-announced crackdown by the FTC and 19 federal, state, and local law enforcement partners.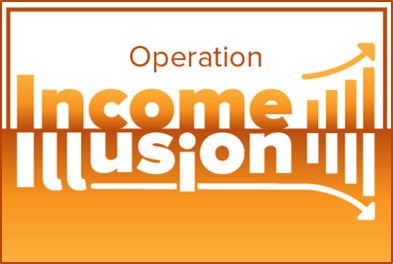 According to a new FTC Data Spotlight, since 2016 consumers have reported to the FTC that income scams have cost them more than $610 million. As consumers struggle with financial uncertainly in the COVID economy, promoters of questionable work-at-home offers, coaching programs, and other scams and schemes are contributing to the problem – with a big-time emphasis on the con. In just the first nine months of 2020, people have already reported more than $150 million in losses to the FTC.
As part of Operation Income Illusion, the FTC announced four new law enforcement actions and a settlement in a pending case: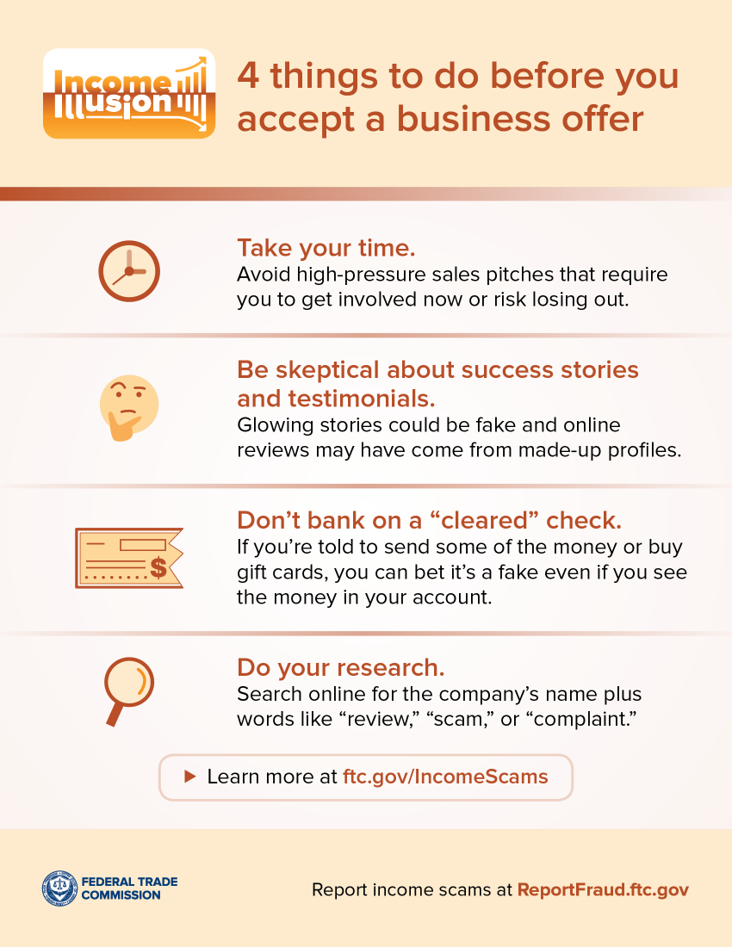 In total, Operation Income Illusion includes more than 50 actions from the FTC and partners SEC, Commodity Futures Trading Commission, the U.S. Attorney's Office for the Eastern District of Arkansas, and state and local agencies in Arizona, Arkansas, California, Florida, Indiana, Maryland, New Hampshire, Oregon, and Pennsylvania.
What's the message for marketers and consumers?
Deceptive income claims may be an illusion, but there's nothing illusory about law enforcers' commitment to challenge misleading money-making promises. Whether you're selling a "system," a work-at-home "opportunity," "coaching" services, or any other variation, you need solid proof to back up your earnings representations before you convey those claims to consumers.
Problematic pandemic pitches are likely to attract close scrutiny. There's hardly a household that isn't feeling the economic pinch of the pandemic. Many of the cases filed as part of Operation Income Illusion make it clear that promoters shouldn't exploit consumers' current financial hardship by targeting them with allegedly bogus money-making representations.
Let's look at the data. The FTC is committed to protecting every community from false earnings promises. That's why it's important to learn what we can from empirical data. In addition to the new Data Spotlight, which evaluates the expanding universe of money-making pitches, an FTC Consumer Blog post includes information about an economic analysis of certain FTC income scams showing that those promotions affected different communities at different rates.
Evaluate your options carefully before taking a swing at a money-making pitch. The FTC has new sharable resources for consumers, including articles on how to spot a job scam, what to look for in evaluating a potential investment, and when to blow the whistle on a business coaching promotion. In addition, consider sharing with your social networks infographics on 4 things to do before accepting a business offer and tips on how to Spot an income scam. We also have a new video with advice on protecting yourself from deceptive income promotions.
It is your choice whether to submit a comment. If you do, you must create a user name, or we will not post your comment. The Federal Trade Commission Act authorizes this information collection for purposes of managing online comments. Comments and user names are part of the Federal Trade Commission's (FTC) public records system, and user names also are part of the FTC's computer user records system. We may routinely use these records as described in the FTC's Privacy Act system notices. For more information on how the FTC handles information that we collect, please read our privacy policy.
The purpose of this blog and its comments section is to inform readers about Federal Trade Commission activity, and share information to help them avoid, report, and recover from fraud, scams, and bad business practices. Your thoughts, ideas, and concerns are welcome, and we encourage comments. But keep in mind, this is a moderated blog. We review all comments before they are posted, and we won't post comments that don't comply with our commenting policy. We expect commenters to treat each other and the blog writers with respect.
We won't post off-topic comments, repeated identical comments, or comments that include sales pitches or promotions.
We won't post comments that include vulgar messages, personal attacks by name, or offensive terms that target specific people or groups.
We won't post threats, defamatory statements, or suggestions or encouragement of illegal activity.
We won't post comments that include personal information, like Social Security numbers, account numbers, home addresses, and email addresses. To file a detailed report about a scam, go to ReportFraud.ftc.gov.
We don't edit comments to remove objectionable content, so please ensure that your comment contains none of the above. The comments posted on this blog become part of the public domain. To protect your privacy and the privacy of other people, please do not include personal information. Opinions in comments that appear in this blog belong to the individuals who expressed them. They do not belong to or represent views of the Federal Trade Commission.
More from the Business Blog
Get Business Blog updates