In many ways, gift cards ushered in a win-win era. Better gift-giving (and getting) for consumers and increased sales for retailers. But leave it to scammers to try to mess up a good thing. According to an FTC Data Spotlight, gift cards are now the top method of payment favored by many fraudsters. For years, the FTC has warned consumers about gift card grifters. Now there's a new Stop Gift Card Scams Toolkit to help retailers do their part to prevent this form of fraud.
Back in the olden days – say, four or five years ago – wire transfers were con artists' favorite. Many still use that method, but according to the Data Spotlight, since 2018, people have reported losing almost $245 million to gift card scams, with a median individual loss of $840.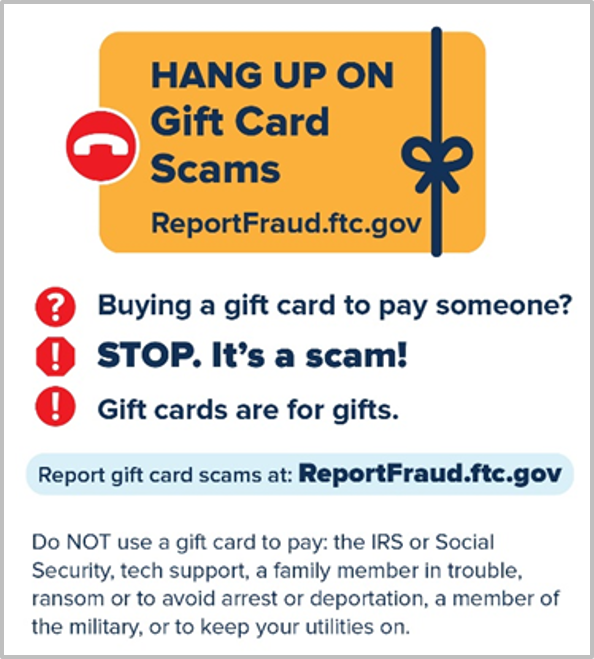 The scam may start with a call from an imposter claiming to be from the IRS or other government agency and demanding immediate payment. Almost half of people who reported losing money to that form of fraud paid with a gift card. According to the Data Spotlight, nearly 45% of people who reported losing money to a family emergency scam – where the caller claims to be a relative needing money for medical care, bail, etc. – paid by gift card. And gift cards were the reported payment method in about a third of tech support and business imposter scams. The pitch has become so smooth that scammers may direct people to particular retailers and may even stay on the line with them, walking them through the purchase process step by step.
The message for consumers is clear: Gift cards are for gifts – not payment. If someone a consumer doesn't know asks for payment by gift card, stop and report it to the FTC at ReportFraud.ftc.gov. If the person has already paid a scammer with a gift card, report it immediately to the gift card company and ask for a refund. The FTC has put together a list of the contact numbers to make that easier. (And report it to the FTC, too.)
Why should retailers join the fight against gift card scams? Because you care about your customers and want to help protect them from this form of fraud. If you work for a local or national retailer, a retailer association, or a state or local law enforcement agency – or maybe you're a public-spirited business person interested in sharing information in your community – join us by using the downloadable resources in the Stop Gift Card Scams Toolkit.
What's in the toolkit?
Carousel or display rack signs. The toolkit includes downloadable signs to post where you sell gift cards. Some include an option to add your company logo. (The signs are available in English and Spanish.)
Cashier card. Laminate the double-sided cashier card and place it on the checkout counter to alert customers buying gift cards about how to spot a scam.
Bookmark. Place the bookmark at the checkout counter as a customer giveaway or distribute bookmarks in your community.
Sticker. Sized for your cash register, in a retail window, or on the checkout counter, the sticker reminds people to hang up on gift card scams.
Social media shareables. Alert consumers to gift card scams with visuals, articles, and a video ready for sharing through your company's social media or your own.
Please don't stand by while scammers rip off your customers. Help maintain consumer confidence by downloading and using the Stop Gift Card Scams Toolkit.
 
1 Comments
A wire transfer is comparable, but the transfer is between two accounts with no intermediary.
More from the Business Blog
Get Business Blog updates