Natives and fans heartily agree that "Cleveland Rocks!" That's why the Federal Trade Commission and its Ohio partners are ready to roll with the next installment of Green Lights & Red Flags: FTC Rules of the Road for Business, set to make its online debut on October 29, 2020, from Cleveland.
The free business workshop focuses on current topics in truth-in-advertising law, social media marketing, data security, business-to-business fraud, and more. Who should attend the virtual event? Ohio business owners, marketing and advertising professionals, attorneys — anyone who needs to know how established consumer protection principles apply in today's fast-paced marketplace.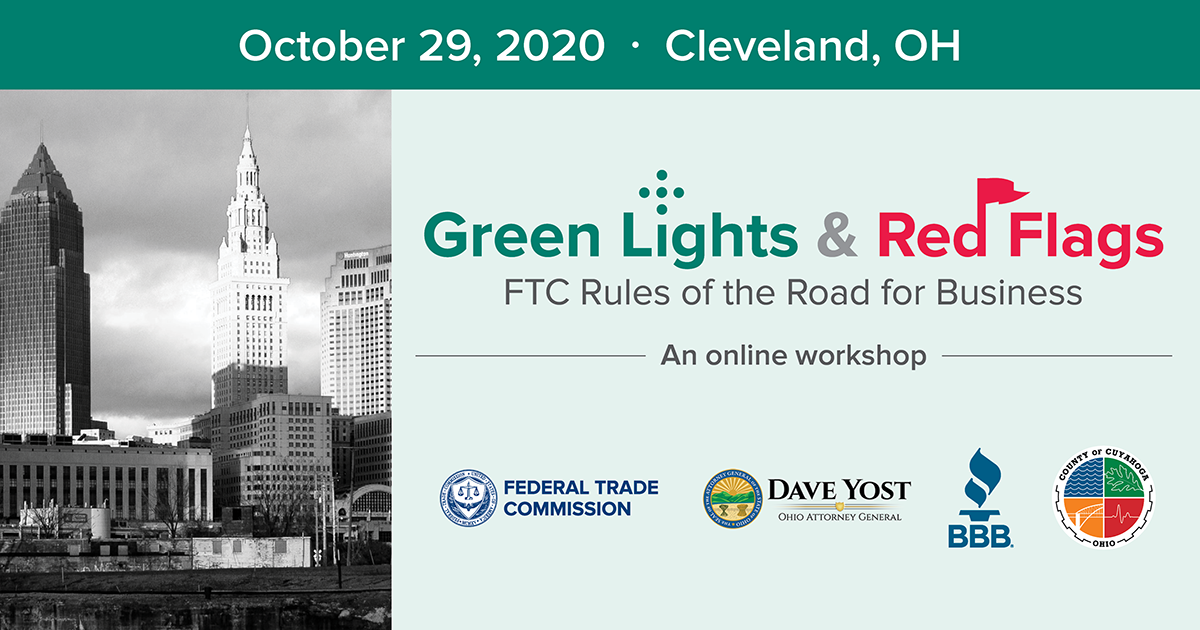 The Office of the Ohio Attorney General, Better Business Bureau Serving Greater Cleveland, and the Cuyahoga County Department of Consumer Affairs are joining the FTC in sponsoring Green Lights & Red Flags. Andrew Smith, Director of the FTC's Bureau of Consumer Protection, is among the featured speakers, and a roster of Ohio experts will share practical insights. Visit our event page for details.
This year's Green Lights & Red Flags event continues the popular business workshop series that the FTC has held over the years with regional partners in cities across the county. Topics include:
Protecting Small Business from Scams

. What federal and state law enforcers and the Better Business Bureau are doing to protect your company from business-to-business fraud, and steps you can take to help protect yourself.
The Truth About False Advertising.

An introduction to truth-in-advertising law.
Avoiding a Promotion Commotion.

Social media marketing, consumer reviews, children's online privacy, email marketing, and other timely topics.
The Secure Entrepreneur.

Data security basics and practical tips on responding to a cyberattack.
Green Lights & Red Flags will run from 1 p.m. to 3:45 p.m. Eastern Time on October 29th. Space is limited and registration is on a first-come, first-served basis. To register, please use this link. We hope to see you there, virtually.
More from the Business Blog
Get Business Blog updates