If you're unfamiliar with loot boxes, you probably don't have clients in the video game industry, aren't a gamer yourself, or aren't the parent of one. But for the millions of people who have been following the national – and international – conversation on the subject, the FTC just issued a Staff Perspective on its workshop, Inside the Game: Unlocking the Consumer Issues Surrounding Loot Boxes.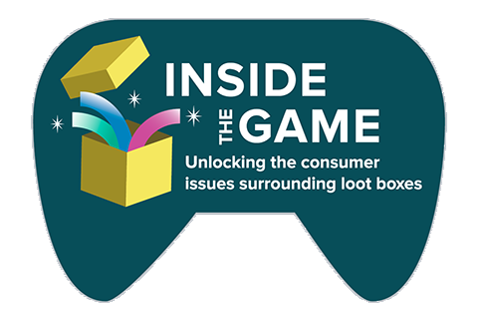 The workshop gathered consumer advocates, industry representatives, academic experts, and others to consider the impact of loot boxes – randomized virtual items that players can buy or earn through game play – on video gamers, especially kids. You'll want to read the Staff Perspective for more information, but here are some of the topics it touches on.
The current state of play.  The Staff Perspective summarizes the kinds of games that feature loot boxes and the array of "loot" at play. It also looks at the substantial financial impact that paid loot boxes have on industry revenue streams. They may be described as microtransactions, but they generate megamoney. As one panelist noted, many games are free to download, but rely on loot boxes and other in-app purchases to turn a profit, resulting in a multi-billion dollar marketplace.
Paying for loot.  The growth of paid loot boxes has generated strong reactions both from the video game industry and from consumers. According to the Staff Perspective, some see them as optional expenditures that subsidize the cost of game development while providing access to video games at a reasonable cost or no cost upfront. Others expressed dissatisfaction with "pay-to-progress" and "pay-to-win" scenarios – where players find themselves in grinding gameplay loops unless they buy loot boxes to advance. Additional criticisms included paid loot boxes that yield rewards of little value or that don't clearly disclose the odds of getting rewards of differing value.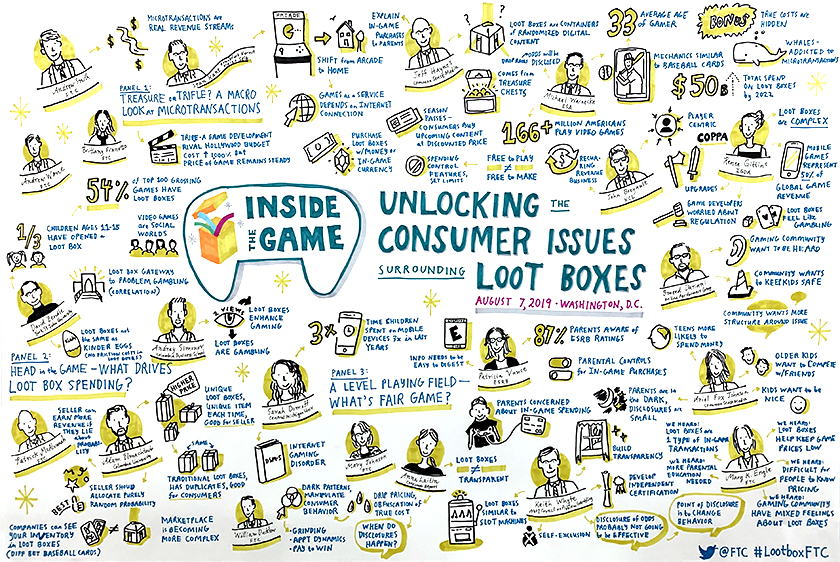 Kids at play.  As the Staff Perspective explores, a significant concern was the impact of loot boxes on kids. Do they fully understand the cost of loot box transactions? Are they susceptible to marketing tactics that may urge them to buy loot boxes or engage in potentially problematic digital media use? Do parents have the tools they need to navigate these decisions? Panelists from a variety of disciplines weighed in on these and related issues.
What's the next play?  So what should be done to address concerns about loot boxes? As the Staff Perspective outlines, commenters and panelists expressed divergent views on whether government regulation is warranted. The discussion also focused on industry self-regulatory initiatives and the need for ongoing research and consumer education.
According to the Staff Perspective, since the Inside the Game workshop, the Entertainment Software Rating Board (ESRB) announced a new video game rating element to disclose when a game includes in-app purchases that are "random," meaning players won't know in advance what digital item or premium they'll be getting. In addition, several major players in the video game industry are in the process of requiring the odds of winning items of different value to be clearly disclosed at the time of purchase.

 
It is your choice whether to submit a comment. If you do, you must create a user name, or we will not post your comment. The Federal Trade Commission Act authorizes this information collection for purposes of managing online comments. Comments and user names are part of the Federal Trade Commission's (FTC) public records system, and user names also are part of the FTC's computer user records system. We may routinely use these records as described in the FTC's Privacy Act system notices. For more information on how the FTC handles information that we collect, please read our privacy policy.
The purpose of this blog and its comments section is to inform readers about Federal Trade Commission activity, and share information to help them avoid, report, and recover from fraud, scams, and bad business practices. Your thoughts, ideas, and concerns are welcome, and we encourage comments. But keep in mind, this is a moderated blog. We review all comments before they are posted, and we won't post comments that don't comply with our commenting policy. We expect commenters to treat each other and the blog writers with respect.
We won't post off-topic comments, repeated identical comments, or comments that include sales pitches or promotions.
We won't post comments that include vulgar messages, personal attacks by name, or offensive terms that target specific people or groups.
We won't post threats, defamatory statements, or suggestions or encouragement of illegal activity.
We won't post comments that include personal information, like Social Security numbers, account numbers, home addresses, and email addresses. To file a detailed report about a scam, go to ReportFraud.ftc.gov.
We don't edit comments to remove objectionable content, so please ensure that your comment contains none of the above. The comments posted on this blog become part of the public domain. To protect your privacy and the privacy of other people, please do not include personal information. Opinions in comments that appear in this blog belong to the individuals who expressed them. They do not belong to or represent views of the Federal Trade Commission.
More from the Business Blog
Get Business Blog updates