Event Description
The staff of the Federal Trade Commission examined consumer protection issues related to video game loot boxes at a public workshop on August 7, 2019, in Washington, DC. Loot boxes are in-game rewards that contain a random assortment of virtual items (loot) to assist a player advance in the online game or to customize his or her game avatar.
The workshop brought together a variety of stakeholders, including industry representatives, consumer advocates, trade associations, academics, and government officials to discuss concerns regarding the marketing and use of loot boxes and other in-game purchases, and the potential behavioral impact of these virtual rewards on young consumers.
Topics this workshop covered included:
A look at the in-game transaction landscape, including the origins and evolution of loot boxes and their role in game play and the digital marketplace;
Research examining consumer behavior, including child and adolescent behavior, in the context of video games and digital transactions; and
A discussion of consumer awareness and education about in-game digital transactions, including the mechanics, marketing, and financial commitments associated with loot boxes.
FTC staff also welcomes written comments on the issues discussed at the workshop. Public comments should be submitted online by 11:59 pm ET on October 11, 2019.
Attending the workshop
The workshop, which was free and open to the public, was at the Constitution Center, 400 7th St., SW, Washington, D.C., and was webcast live.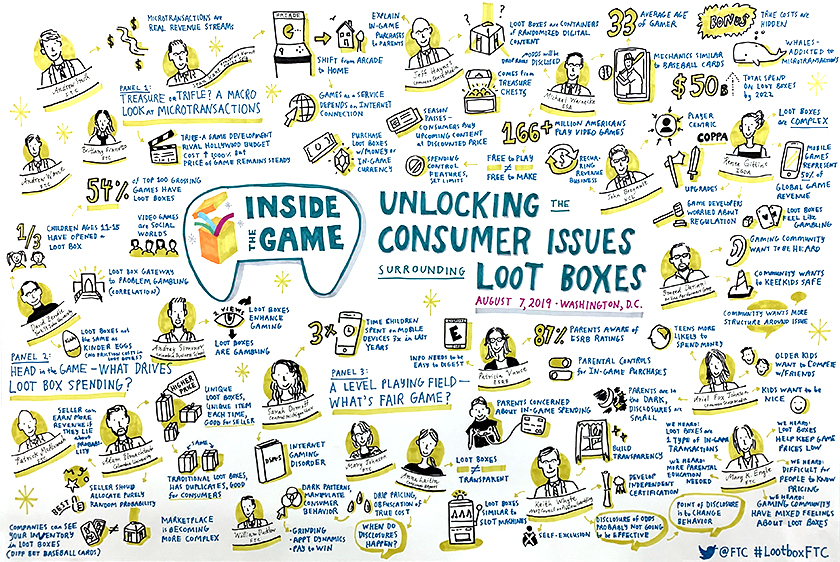 A BCP staff artist's representation of Inside the Game.