Saunas, IV vitamins, pulsed electromagnetic field (PEMF) devices, and licorice – yes, licorice – are among the subjects of the latest round of FTC staff warning letters sent to 30 companies promoting their products and services with COVID-19 prevention or treatment claims. Who got the latest letters and what representations raised concerns?
Arlington Integrative Medical Center.  The Texas clinic advertised on its website (and in ALL CAPS): "PROTECT YOUR FAMILY FROM CORONAVIRUS! GIVE YOUR IMMUNITY A ROCKET BOOST TODAY WITH OUR IV VITAMIN INFUSION. SUPPLIES ARE RUNNING OUT! JUST A 30 MIN TREATMENT CAN KEEP YOUR IMMUNITY STRONG FOR UP TO 30 DAYS ONLY $150!!"
Anatara.  Also known as the San Francisco Stem Cell Treatment Center, the company promoted its treatments with the claim, "In addition to natural supplements, more advanced therapies such as stem cell therapy and exosome therapy may be beneficial for prevention COVID-19."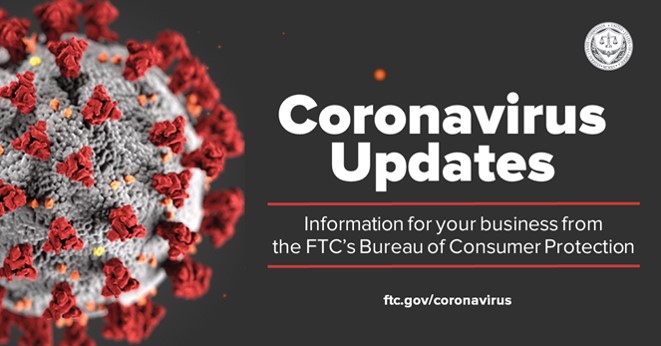 Big Sky Compounding.  On a webpage titled "Coronavirus Tips COVID-19," the Montana business promoted a variety of products it sold as purported anti-virals, including elderberry, umcka, oregacillin, and licorice.
BioBalance PEMF.  The Maryland business promoted pulsed electromagnetic field devices (PEMF) for the prevention or treatment of coronavirus: "Keeping yourself safe during this COVID 19 pandemic is the top priority for anyone. PEMF is an incredible drug-free technology that is currently one of the best ways to help prevent the virus from getting fatal."
BioXcellerator.  On Facebook and on its webpage, the Arizona company advertised its treatments with representations like this: "[S]tudies have shown that MSCs [mesenchymal stem cells] improved functional outcomes, demonstrating that IV infusions of MSCs is a safe and effective approach for treating patients with COVID-19 pneumonia, including elderly patients with severe cases of pneumonia."
CBD Center.  Online and in social media, the California company promoted its CBD products by stating "Have you heard the great news?!?!?! CBD is being researched as a possible preventative and active treatment for COVID-19."
Colts Neck Stem Cell Center.  The clinic advertised its stem cell therapy with the claim, "Best way to protect yourself from COVID-19 is to boost your immune system . . . 1 Vial of Biogenix Stem Cells will modulate your immune system to ward off corona virus. 3 Vials will assist patients to survive with corona virus."
Eastbay Wellness Pte Ltd.  The Singapore company promoted pulsed electromagnetic field (PEMF) devices on its website, stating "You probably have also come across countless alternative and home remedies to fight and prevent the virus since currently there are no approved treatment solutions available. . . . If you are an owner of any PEMF system already, the answer is simple. Use it, while you find out the efficacy of PEMF against the COVID-19 Corona Virus. . . ."
Encode Nutrition.  In promoting its products, the Nevada business stated that Formula-216 "is testing well in preliminary trials, to restore 24/7 vitamin C synthesis to humans. In the end, it may be the only hope for vulnerable human populations against a growing number of treatment resistant pathogenic bacteria and viruses that now threaten humanity."
Fussy Body.  On its website, the company claimed "coconut oil may protect you from coronavirus COVID-19," and included affiliate links to a variety of products.
Dr. Miguel Gonzalez.  The California doctor promoted Vitamin C IV therapy on his website, on Facebook, and on Instagram with statements like this: "Early high dose IV Vitamin C is being used and found to be the only effective treatment to fight the coronavirus aka Covid-19, which just shows the incredible power of Vitamin C."
Grossgold Clinic.  The Florida clinic advertised a variety of treatments "to protect yourself against this outbreak." The clinic also sold "CORONAVIRUS PROTOCOLS" – for example, its G Immune Package 1, which includes "Argentyn 23 Vertical Spray, Biocidin Throat Spray, Immunitone Plus, ImmunoBerry Liquid, Lauricidin, and Stellar C."
Herbal Arc.  Accompanying a picture of its package of three products – Antivirus Cleanse, Antivirus 2 Cleanse, and Balance – the Pennsylvania company stated, "Viruses put the human race in danger . . . . This plant based formula is filled with essential vitamins and minerals from herbs, that give your body the protection it needs to stay strong from. . . . Fights against Coronavirus."
The Herbal Doctor.  The Colorado office advertised multiple products for the prevention or treatment of COVID-19. For example, in promotional materials with the title "What you and your family need to know about Coronavirus and Viral Infection Prevention," the company claimed elderberry has "a long traditional use as an effective antiviral."
Huber Personalized Medicine.  The Ohio office promoted its COVID Defense Bundle as "a significant defense against ever getting infection, or shortening its duration and intensity if one does occur." The bundle included Argentyn, an inhaled silver preparation; Viracid, which elevates "activity of your natural killer cells"; Vitamin C, which reduces "the ability of a virus to replicate or grow"; and Vitamin D, which stimulates "antimicrobial peptides that find and destroy invaders."
Infrared for Health.  In marketing materials titled "Potential Cure for Corona Virus Via Infrared Heat?", the company used affiliate links to promote infrared products – for example, a lamp that "will be a great contender to alleviate the effects of Corona Virus."
Integrative Medicine Center of Western Colorado.  In marketing materials titled "Coronavirus Disease 2019 (COVID-19) Treatments," the office recommended its services and products, including stem cells, Vitamin C infusions, nebulized glutathione, black elderberry ("shown to have antiviral properties and is commonly used to treat colds or flu") and AHCC ("derived from mushrooms and stimulates the immune system attack against viral infections").
Intuition Physician. On pages titled "Coronavirus Recommendations Part 1: Prevention" and "Coronavirus Recommendations Part 2: Treatment," the Virginia-based office recommended products available from its online dispensary.
Koi Wellbeing.  On its website and in Facebook and Instagram posts, the California company promoted its products with statements like this: "A key contribution we make to fighting COVID-19 is providing immunity boosting IV therapies, most notably that of High Dose Vitamin C, which has seen positive results in clinical trials for the treatment of COVID-19."
Loudoun Holistic Health Partners.  On its "#CrushCoronaUpdate" page and elsewhere, the company promoted a variety of treatments and products it sells – including Houttuynia, Anandamide, Astragalus Complex, and a kit that "contains every herb known to limit the impact of Coronavirus illnesses."
Myers Detox.  In marketing materials with the title "How To Protect Yourself From The Coronavirus," the California company promoted multiple products it sells, including therapeutic salt, Manuka honey, CBD, Frankincense, colloidal silver, and infrared saunas.
Joyce Palmer.  Ms. Palmer advertised that a product she sold – Vital Ion Edible Oxygen – "will kill the Corona Virus that is plaguing the World . . . it will definitely kill the Corona Virus." For example, she recommended that consumers "[J]ust snuffle the Vital Ion Edible Oxygen up into the nostrils and suck up into the nose and it will drain down the throat. Repeat every time you go out into the public when you get home to insure that you won't contact the Corona Virus."
Joy Wellness Partners.  From a "CORONAVIRUS (COVID-19)" link, the company promoted its products and services, including supplements, Vitamin C IV infusions advertised to "reduce the effect a virus like coronavirus can have on your body," and infrared sauna treatments. According to the company, "[If] an infected person with coronavirus went into your sauna, you could kill the virus by the heat."
New Skin Laser Center.  Advertising its IV treatments, the California office stated, "We offer Immune Boost IV with High Dose Vitamin C as a Therapy For Coronavirus." It further claimed the "Vitamin cocktail has had multiple randomized clinical trials revealing lower mortality and decreased hospitalization stay. Major hospitals in the US are using DarMon Cocktail."
Dr. William Pawluk.  Based in Maryland, Dr. Pawluk recommended PEMF devices he sold as "options for helping with COVID-19 prevention and treatment."
PEMF Wellness Technology.  In advertising PEMF devices for COVID-19, the Connecticut company recommended that consumers begin "initiating or continuing higher intensity PEMF therapies daily to the whole body and/or to the lungs."
Remedy Room.  The Louisiana company promoted its treatments and products in marketing materials with headings like "Mother Gets Glutathione – recovers" and "10x Risk of Death with Low Vitamin D."
San Francisco Dental Wellness.  In promoting the sale of oral peroxide gel, the office sent emails to consumers claiming that "Hydrogen peroxide (H2O2) appears to be another potential treatment for COVID-19." Marketing materials continued, "The foaming helps clean the area, remove dead cells, and reduce bacteria which helps prevent the spread of the virus and can actually slow it down from spreading to the lungs if you do have it."
Taylor Medical Wellness, Weight Loss and Aesthetic Group.  In marketing materials titled "4 Ways to Boost Your Immune System Amid Coronavirus," the Atlanta office linked to products it sold. It also advertised its "high dose Vitamin C IV Therapy" as a way to "Fight the Virus."
Utopia Wellness. In response to the question on its website, "So what can I do to protect myself against coronavirus today?" the Florida company promoted vitamin supplements, colonic irrigation, and "immune fortifying IVs."
Like the warning letters FTC staff has already sent to companies making COVID-19 claims, the latest stack reminds recipients that no study is currently known to exist to support the representations they're making for their products and services. They have 48 hours to get back to FTC staff "describing the specific actions you have taken to address the FTC's concerns."
 
 
It is your choice whether to submit a comment. If you do, you must create a user name, or we will not post your comment. The Federal Trade Commission Act authorizes this information collection for purposes of managing online comments. Comments and user names are part of the Federal Trade Commission's (FTC) public records system, and user names also are part of the FTC's computer user records system. We may routinely use these records as described in the FTC's Privacy Act system notices. For more information on how the FTC handles information that we collect, please read our privacy policy.
The purpose of this blog and its comments section is to inform readers about Federal Trade Commission activity, and share information to help them avoid, report, and recover from fraud, scams, and bad business practices. Your thoughts, ideas, and concerns are welcome, and we encourage comments. But keep in mind, this is a moderated blog. We review all comments before they are posted, and we won't post comments that don't comply with our commenting policy. We expect commenters to treat each other and the blog writers with respect.
We won't post off-topic comments, repeated identical comments, or comments that include sales pitches or promotions.
We won't post comments that include vulgar messages, personal attacks by name, or offensive terms that target specific people or groups.
We won't post threats, defamatory statements, or suggestions or encouragement of illegal activity.
We won't post comments that include personal information, like Social Security numbers, account numbers, home addresses, and email addresses. To file a detailed report about a scam, go to ReportFraud.ftc.gov.
We don't edit comments to remove objectionable content, so please ensure that your comment contains none of the above. The comments posted on this blog become part of the public domain. To protect your privacy and the privacy of other people, please do not include personal information. Opinions in comments that appear in this blog belong to the individuals who expressed them. They do not belong to or represent views of the Federal Trade Commission.
More from the Business Blog
Get Business Blog updates