It's FTC Advertising 101: Don't make claims about serious medical conditions unless you have solid proof in hand to substantiate what you say. It's been the law for decades and now more than ever, it's essential for advertisers to honor that fundamental principle. And yet companies continue to market everything from facial brushes to IV drips with promises to prevent, treat, or cure Coronavirus – claims the FTC calls into question in a new round of warning letters.
In addition to other warning letters sent in recent weeks to companies making Coronavirus claims, these ten companies just received letters from FTC staff.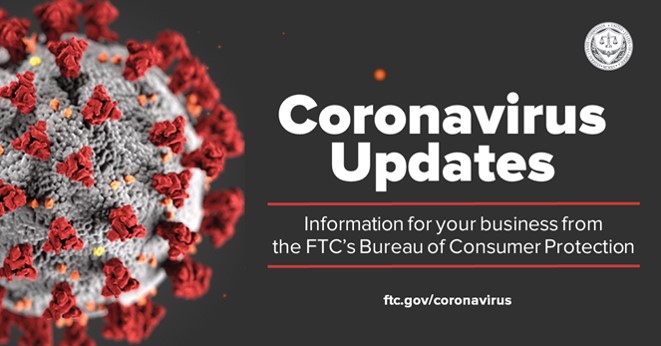 Bioenergy Wellness Miami. The FTC says the Florida company claimed on its website that devices it sells emit sound frequencies that "target Coronavirus/SARS viral infections, and can be used either as homeoprophylaxis or at the onset of flu-like symptoms. . . ."
Face Vital LLC. According to the FTC, the Miami Beach business marketed its "Face Vital Sonic Silicone Facial Brush" as a way to "fight off Coronavirus" and suggested consumers could "RAMP UP YOUR BEAUTY AND CLEANSING REGIMEN, FIGHT OFF CORONA" by using its product.
LightAir International AB. On its website, the Swedish company claimed, "The corona virus can in various ways be air-borne . . . . IonFlow air purifiers are scientifically proven to efficiently prevent spread of air-borne viruses."
MedQuick Labs LLC. According to statements the Arkansas company made on its Facebook page, "The CoronaVirus, as well as the flu, has everyone in a frenzy right now. One of the best things you can do is make sure your immune system is ready to fight off anything nasty. Boost your immune system with our improved Immunity Boost drip! You can wash your hands all day long but one of the best defenses against ANY illness is to boost your immune system and the best way is by putting Vitamin C and other immune building vitamins straight into your bloodstream."
New Performance Nutrition. The warning letter to the Los Angeles business cites this statement the company had on its website: "NPN ANTI-VIRUS KIT is a bundle of immune defense supplements, hand-picked by NPN Owner/Founder Matt Mahowald, that will target and increase your immunity to help ward off the COVID-19 virus."
PuraTHRIVE LLC. The Colorado company's website promoted its Liposomal Vitamin C products by claiming "Experts in the field are suggesting that regular dosing of Vitamin C could help to prevent the Coronavirus . . . . 'The coronavirus can be dramatically slowed or stopped completely with the immediate widespread use of high doses of Vitamin C. Bowel tolerance levels of C taken in divided doses throughout the day, is a clinically proven antiviral, without equal.'"
Resurgence Medical Spa, LLC. The warning letter to the Arlington, Texas business cites Facebook and Instagram posts that said, "More and more research is showing that high doses of Vitamin C could both prevent and treat Covid-19. Whether you're experiencing symptoms or trying to keep from getting sick, call us today to schedule an appointment for a High Dose Vitamin C plus Immunity Booster IV infusion."
Rocky Mountain IV Medics. The Colorado company advertised its IV treatments through social media and on its webpage, using claims like this: "Coronavirus Symptoms Treatment Tests are underway and IV Vitamin C treatments are starting to show promising results! If you're looking for IV Vitamin C therapy, we have ASAP and prescheduled appointments available." The website also linked to an article that said, "Shanghai Medical Association has released an expert consensus statement on the comprehensive treatment of COVID-19 where they endorse the use of high-dose IV vitamin c for the illness."
Suki Distribution Pte. Ltd. The Singapore-based company's said on its website, "As the coronavirus COVID-19 pandemic is spreading globally, our clients ask whether our products can help prevent or treat Coronavirus. The good news is that several of our products may play a role in strengthening the immune system or in fighting the Coronavirus." The website further described a product as a "safe Japanese drug with anti-Coronavirus effects" and that a laboratory study concluded that the purported active ingredient cepharanthine "can be applied for the prevention and treatment of Human Coronavirus infection."
Vita Activate. According to the warning letter, the Canadian company claimed on its website that its Natural Chaga Mushroom "may prevent invaders such as the corona virus. Just a few sprays a day can boost your immunity effectively . . . Very rich in source of magnesium, zinc, and selenium that have anti-corona virus properties. Get ready and be prepared to fight off bacteria and harmful airborne diseases with the powerful anti-viral, anti-bacterial Chaga Mushroom."
The letters lay it on the line that the companies must ensure they've stopped making Coronavirus prevention, treatment, or cure claims for the cited products. Here is a sample of what the letters say:
It is unlawful under the FTC Act . . . to advertise that a product can prevent, treat, or cure human disease unless you possess competent and reliable scientific evidence, including, when appropriate, well-controlled human clinical studies, substantiating that the claims are true at the time they are made. For COVID-19, no such study is currently known to exist for the product identified above. Thus, any coronavirus-related prevention or treatment claims regarding such product is not supported by competent and reliable scientific evidence. You must immediately cease making all such claims.
These ten Coronavirus warning letters follow seven FTC-FDA letters announced on March 9th and additional joint warning letters sent since then. The message to marketers should be unmistakable. Regardless of what kind of pill, potion, device, or what-have-you your company promotes – including through social media – if you suggest or imply Coronavirus prevention or treatment claims, your practices will attract scrutiny from the FTC.

 
It is your choice whether to submit a comment. If you do, you must create a user name, or we will not post your comment. The Federal Trade Commission Act authorizes this information collection for purposes of managing online comments. Comments and user names are part of the Federal Trade Commission's (FTC) public records system, and user names also are part of the FTC's computer user records system. We may routinely use these records as described in the FTC's Privacy Act system notices. For more information on how the FTC handles information that we collect, please read our privacy policy.
The purpose of this blog and its comments section is to inform readers about Federal Trade Commission activity, and share information to help them avoid, report, and recover from fraud, scams, and bad business practices. Your thoughts, ideas, and concerns are welcome, and we encourage comments. But keep in mind, this is a moderated blog. We review all comments before they are posted, and we won't post comments that don't comply with our commenting policy. We expect commenters to treat each other and the blog writers with respect.
We won't post off-topic comments, repeated identical comments, or comments that include sales pitches or promotions.
We won't post comments that include vulgar messages, personal attacks by name, or offensive terms that target specific people or groups.
We won't post threats, defamatory statements, or suggestions or encouragement of illegal activity.
We won't post comments that include personal information, like Social Security numbers, account numbers, home addresses, and email addresses. To file a detailed report about a scam, go to ReportFraud.ftc.gov.
We don't edit comments to remove objectionable content, so please ensure that your comment contains none of the above. The comments posted on this blog become part of the public domain. To protect your privacy and the privacy of other people, please do not include personal information. Opinions in comments that appear in this blog belong to the individuals who expressed them. They do not belong to or represent views of the Federal Trade Commission.
More from the Business Blog
Get Business Blog updates