Years ago, the Australian group Men at Work asked the musical question "Who Can It Be Now?" In the ongoing battle against Coronavirus scams, FTC staff just sent warning letters to nine companies reminding them of the potential ramifications of behind-the-scenes involvement in illegal COVID-19 promotions. The more appropriate name for the group now would be Men and Women at Work from Home, but when it comes to the conduct targeted in the letters and the companies that received them, "Who Can It Be Now?" remains a relevant question.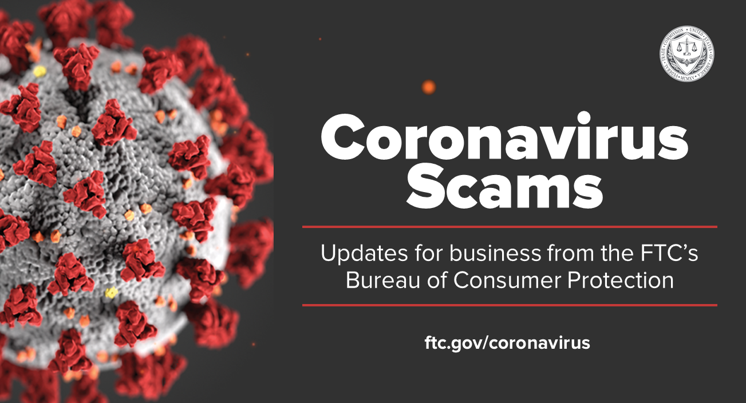 The recipients of the warning letters are providers of Voice over Internet Protocol (VoIP) services and companies that license telephone number who have customers that may be involved in the recent onslaught of robocalls used to further Coronavirus scams. The letters remind the VoIP providers that under the FTC Act and the Telemarketing Sales Rule, "assisting and facilitating" others involved in illegal robocalling is illegal, too. (And just as a refresher, for commercial calls, "initiating or causing the initiation of calls that deliver prerecorded messages" is illegal unless the person has given their express written permission to receive robocalls from the person or company making the calls.)
In addition, under the TSR, it's unlawful "to provide substantial assistance or support to a seller or telemarketer" when you know or consciously avoid knowing that the seller or telemarketer is violating certain provisions of the Rule – for example, if they:
Make false or misleading statements to get a person to buy a product;
Make false or misleading statements to get charitable contributions;
Misrepresent a seller or telemarketer's affiliation with a government agency;
Transmit false or deceptive caller ID information; or
Initiate or cause the initiation of telemarketing calls to numbers on the National Do Not Call Registry.
Why do the warning letters focus on those examples? Because the Coronavirus robocalls consumers are receiving often involve violations of those provisions. The companies that received the letters are VoIPMax, SIPJoin Holding, IFly Communications, Third Rock Telecom, Bluetone Communications, VoIP Terminator a/k/a BLMarketing, J2 Web Services, VoxBone US, and Comet Media. 
You'll want to read the letters for more information, but the legal fundamentals of the FTC Act and Telemarketing Sales Rule shouldn't come as a surprise to VoIP providers – or to any other business. As part of its robocall enforcement efforts, the FTC has brought assisting and facilitating claims against technology companies that knowingly provided software and servers used by illegal robocallers, even though the companies didn't contract directly with the illegal robocallers. In addition, in a case filed with the Ohio Attorney General, the FTC alleges that a VoIP provider assisted and facilitated telemarketers which it knew or consciously avoided knowing barraged people with robocalls for bogus products.
Other actions of note: civil cases filed by the Department of Justice against VoIP companies and their owners, alleging the defendants committed wire fraud by knowingly transmitting robocalls that impersonated government agencies.
Consumers are fed up with illegal robocalls, but illegal robocalls that further Coronavirus-related deception? To quote the letters, practices that "prey upon consumer fear of the pandemic to perpetrate scams or disseminate disinformation" take things to a whole new level.

 
It is your choice whether to submit a comment. If you do, you must create a user name, or we will not post your comment. The Federal Trade Commission Act authorizes this information collection for purposes of managing online comments. Comments and user names are part of the Federal Trade Commission's (FTC) public records system, and user names also are part of the FTC's computer user records system. We may routinely use these records as described in the FTC's Privacy Act system notices. For more information on how the FTC handles information that we collect, please read our privacy policy.
The purpose of this blog and its comments section is to inform readers about Federal Trade Commission activity, and share information to help them avoid, report, and recover from fraud, scams, and bad business practices. Your thoughts, ideas, and concerns are welcome, and we encourage comments. But keep in mind, this is a moderated blog. We review all comments before they are posted, and we won't post comments that don't comply with our commenting policy. We expect commenters to treat each other and the blog writers with respect.
We won't post off-topic comments, repeated identical comments, or comments that include sales pitches or promotions.
We won't post comments that include vulgar messages, personal attacks by name, or offensive terms that target specific people or groups.
We won't post threats, defamatory statements, or suggestions or encouragement of illegal activity.
We won't post comments that include personal information, like Social Security numbers, account numbers, home addresses, and email addresses. To file a detailed report about a scam, go to ReportFraud.ftc.gov.
We don't edit comments to remove objectionable content, so please ensure that your comment contains none of the above. The comments posted on this blog become part of the public domain. To protect your privacy and the privacy of other people, please do not include personal information. Opinions in comments that appear in this blog belong to the individuals who expressed them. They do not belong to or represent views of the Federal Trade Commission.
More from the Business Blog
Get Business Blog updates