You've heard of the holder-in-due-course doctrine. An FTC settlement with two Oregon-based businesses introduces the folder-in-due-course doctrine: the principle that it's illegal to make misleading claims to induce small businesses to buy advertising space in promotional folders. It's the latest FTC action challenging deceptive practices that target smaller companies.
Telemarketers for Production Media Group Corporation, The Ferraro Group, and Jennifer Ferraro cold-called small businesses to get them to buy advertising space in promotional folders. Some telemarketers told the businesses they had agreements with local real estate offices to use the folders to distribute documents related to the purchase of a home. Part of the sales pitch was that folders featuring the business' ads would be the only folders those offices would use for that purpose. In other instances, telemarketers said local schools would use those folders – and only those folders – to send papers and homework home to parents. In either case, they represented that the folders were going to print soon and that by buying advertising space, small businesses could promote their services to hundreds, and perhaps thousands, of prospective customers for one year. The millions of dollars the defendants took in suggest the spiel was successful.
If businesses were concerned that folders might include ads for competitors – for example, another home inspection service or dentist in the area – the defendants' telemarketers were ready with a rejoinder. Sales people were instructed to ask, "Would your decision be based on whether or not you are exclusive?" If the business said yes, the scripted response was "Great, let's get you signed up, that's definitely something I can do for you." The FTC says operators also created a sense of urgency by telling businesses there were only a few spaces left in the folder and that a particular folder was about to be printed in time for the next school year or once the last advertisement was sold. A quick turnaround was important to many businesses eager to get their ads out there ASAP.
You'll want to read the complaint for how the FTC says the defendants used a purported "reservation form" to impose new material conditions and disclaim their own salespeople's oral representations, but it boiled down to this. Only after giving the defendants their credit card numbers did buyers learn that printing might not happen for months, ad exclusivity wasn't guaranteed, and they couldn't cancel or get a refund. The lawsuit alleges that in numerous instances, the promised ads never appeared or were printed only after businesses complained to the BBB, consumer protection agencies, or their credit card issuers. What's more, the company solicited under different names over the years and later incorporated a new company in a different state under another different name. Given the number of unfavorable reviews the defendants had received on Yelp and other sites, that action made it easier for them to distance themselves from negative customer feedback and harder for consumers to research the offer before signing up.
The stipulated order includes broad injunctive provisions to protect consumers in the future. It also includes a $22 million judgment, which for the most part will be suspended due to the defendants' financial condition.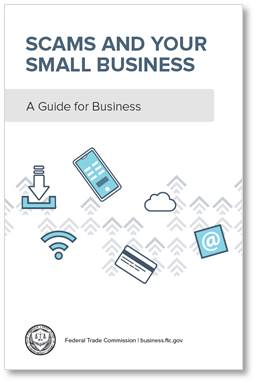 The message for small businesses is to recognize that your phone can be a conduit for customers – and questionable promotions. Whether the offer involves office supplies, ad space, or anything else your business buys, educate your staff to exercise caution and investigate thoroughly before responding to cold calls. The FTC brochure Scams and Your Small Business explains some common forms of B2B deception. Share the link with colleagues and order copies at no charge from the FTC bulk order site.  (It's also available in Spanish.)  
 
More from the Business Blog
Get Business Blog updates