If it looks like a duck and quacks like a duck, it's probably a duck. But the same can't be said for a mailer that looks like an official invoice. It could be an "o-fishy-al" offer that deceptively mimics the appearance of a government document. A case filed by the FTC and the Florida Attorney General challenges the practice of sending mailers that allegedly create the false impression that small businesses are required to buy labor regulation posters from the sender.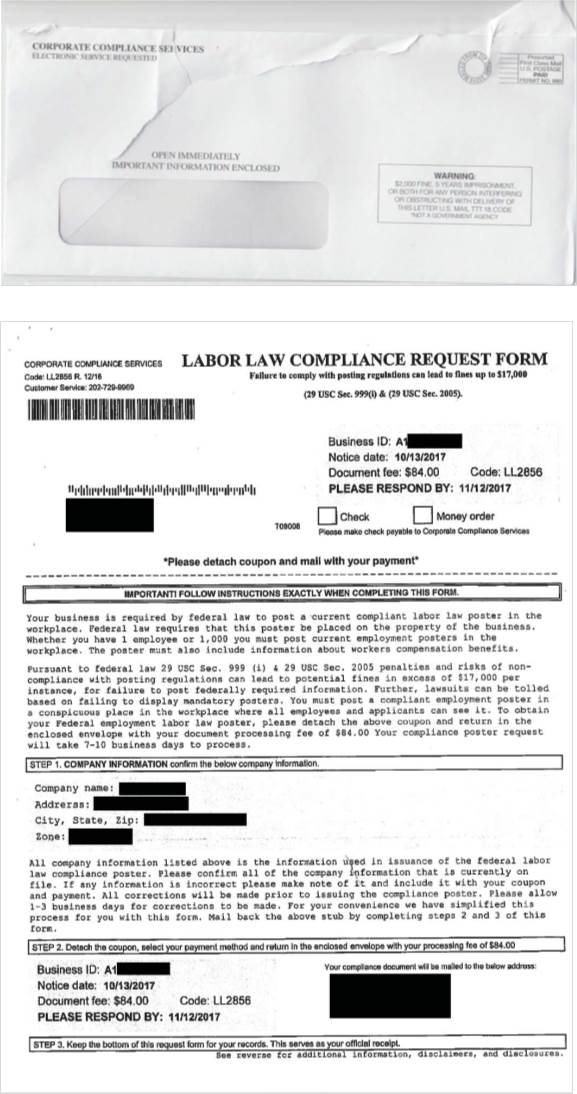 Consider what defendants Starwood Consulting, also doing business as Corporate Compliance Services, and company president Thomas Henry Fred, Jr., sent to small businesses. The mailers – which include a Washington, D.C., 202 area code – are titled "LABOR LAW COMPLIANCE REQUEST FORM" and include the warning "Failure to comply with posting regulations can lead to fines up to $17,000."
The mailers include a "Business ID" and instruct recipients to respond by a certain date. Small businesses can't miss the purported consequences of ignoring the letter:
Your business is required by federal law to post a current compliant labor law poster in the workplace. Federal law requires that this poster be placed on the property of the business. Whether you have 1 employee or 1,000 you must post current employment posters in the workplace. The poster must also include information about workers compensation benefits.
Pursuant to federal law 29 USC Sec. 999(i) & 29 USC Sec. 2005 penalties and risks of non-compliance with posting regulations can lead to potential fines of $17,000 per instance, for failing to post federally required information. Further, lawsuits can be tolled based on failing to display mandatory posters. . . . To obtain your Federal employment labor law poster, please detach the above coupon and return it in the enclosed envelope with your document processing fee of $84.00.
The mailer continues: "IMPORTANT! FOLLOW INSTRUCTIONS EXACTLY WHEN COMPLETING THIS FORM." Those instructions include directions to detach the "payment coupon," return it with the "document fee" of $84, and keep the bottom portion as the "official receipt." The enclosed return envelope is addressed to "Corporate Compliance Services, Compliance Processing Center."
That's a description of the mailer, but here are the facts, according to the FTC and the AG. First, the mailer isn't from a government entity or affiliate. Starwood Consulting and its d/b/a Corporate Compliance Services are private companies in the business of selling those posters. In addition, despite the 202 area code, the defendants have no operations in Washington and posters similar to the ones the defendants peddle are available for free from the U.S. Department of Labor. What about those statutory provisions referring to "potential fines of $17,000 per instance"? In fact, neither of those citations has anything to do with labor posters. 29 U.S.C. § 999(i) refers to repealed provisions of the Young Adult Conservation Corps and 29 U.S.C. § 2005 addresses the Employee Polygraph Protection Act.
According to the complaint, recipients of the mailer are often small businesses that have recently incorporated or established limited liability companies. What's more, some businesses say they never received the posters they paid for. Others report they got second notices that they had to pay another $84 fee to get an updated poster.
Despite a small "disclaimer" at the bottom of the reverse side of the mailer that "[t]his offer serves as a solicitation and not to be intended as a bill due," the FTC and the AG say that business owners were misled and filed more than 250 complaints about the company. (According to the Better Business Bureau, "Corporate Compliance Services" has an F rating.) In addition, the lawsuit alleges this isn't defendant Thomas Henry Fred, Jr., first deceptive practices rodeo. In 2014, the Florida AG brought an action against him and his company that challenged similar conduct. In 2016, the Kentucky AG sent Mr. Fred a cease and desist letter related to Corporate Compliance Services' deceptive mailers.
The lawsuit is pending in federal court in Texas. Even at this early stage, the case offers advice for how small businesses can keep their guard up:
Don't owe it? Don't pay it. Whether it's a letter that looks like a bill, an email demanding immediate payment, or a robocall threatening dire consequences if you don't fork over cash ASAP, nobody gets a dime of your hard-earned money until you've satisfied yourself it's a legitimate expense your business has incurred.
Scrutinize invoices. Companies have been known to illegally imitate the look of government correspondence. If you're unclear if an official-looking invoice is the real deal – especially if you're a new business owner just learning the compliance ropes – talk it over with experienced people in your industry or community.
Consult free FTC resources. The FTC has published a new article, Scams and Your Small Business, with tips on protecting your company from questionable B2B promotions. Once you're in the know, share the telltale signs with your staff.
It is your choice whether to submit a comment. If you do, you must create a user name, or we will not post your comment. The Federal Trade Commission Act authorizes this information collection for purposes of managing online comments. Comments and user names are part of the Federal Trade Commission's (FTC) public records system, and user names also are part of the FTC's computer user records system. We may routinely use these records as described in the FTC's Privacy Act system notices. For more information on how the FTC handles information that we collect, please read our privacy policy.
The purpose of this blog and its comments section is to inform readers about Federal Trade Commission activity, and share information to help them avoid, report, and recover from fraud, scams, and bad business practices. Your thoughts, ideas, and concerns are welcome, and we encourage comments. But keep in mind, this is a moderated blog. We review all comments before they are posted, and we won't post comments that don't comply with our commenting policy. We expect commenters to treat each other and the blog writers with respect.
We won't post off-topic comments, repeated identical comments, or comments that include sales pitches or promotions.
We won't post comments that include vulgar messages, personal attacks by name, or offensive terms that target specific people or groups.
We won't post threats, defamatory statements, or suggestions or encouragement of illegal activity.
We won't post comments that include personal information, like Social Security numbers, account numbers, home addresses, and email addresses. To file a detailed report about a scam, go to ReportFraud.ftc.gov.
We don't edit comments to remove objectionable content, so please ensure that your comment contains none of the above. The comments posted on this blog become part of the public domain. To protect your privacy and the privacy of other people, please do not include personal information. Opinions in comments that appear in this blog belong to the individuals who expressed them. They do not belong to or represent views of the Federal Trade Commission.
Thank you so much for the information. I recently received a very similar mailer and almost mailed off a payment but got suspicious. Then I received two more very similar mailers from the fraudsters fraudulent competitors. Shameful!
More from the Business Blog
Get Business Blog updates