Small business keeps America in business. But while you have your shoulder to the wheel and nose to the grindstone, it can be tough to keep an eye out for scammers. That's why the FTC and law enforcement partners across the country have your back. Just one example is Operation Main Street: Stopping Small Business Scams, a coordinated initiative involving 24 civil and criminal actions against B2B fraudsters.
In addition to ongoing litigation and recent settlements, the FTC filed a new case as part of Operation Main Street. The FTC has gone to court to challenge the conduct of nine U.S.- and Canada-based individuals and corporations operating as Premium Business Pages. (They also use the names Ameteck Group, The Local Business Pages, and Data Net Technologies.) The FTC says the defendants call small businesses claiming to be collecting on past-due bills for online directory listings, search engine optimization services, web design, or web hosting. Pay now, the callers threaten, or your account will be turned over to "collections" or will be "red flagged" – actions the callers warn could have a negative impact on the company's credit. But in truth, the targeted small businesses never ordered the products or services in the first place.
Another tactic the FTC says the defendants use is to offer "discounts" or to "waive" fees on the supposedly overdue amount. But if business owners pay, they can expect more calls from defendants' telemarketers. In some cases, the telemarketers claim the payment was only the first installment. In other instances, the FTC says they perform the equivalent of telemarketing "ventriloquism," pretending to be from a different company, but using the same bogus "overdue invoice" gambit. A federal judge has granted the FTC's request for a temporary restraining order.
Other law enforcers are also taking aim at scammers who target small business. The Attorneys General of Arizona, Delaware, Florida, Indiana, Missouri, New York, Tennessee, and Texas took action as part of Operation Main Street. From bogus business directories to government imposter fraud, the breadth of the challenged conduct illustrates the many shady faces of B2B fraud.
Other noteworthy developments are two criminal cases brought as part of Operation Main Street. The U.S. Attorney for the Southern District of New York – with assistance from the New York Division of the U.S. Postal Inspection Service – announced the arrest of a person allegedly operating a $3 million fake invoice scam. In addition, the U.S. Attorney for Maryland brought a criminal action of particular interest to FTC watchers. Last year the FTC settled a lawsuit against an outfit that bilked small businesses and nonprofits out of more than $50 million in a scam involving unordered light bulbs and cleaning supplies. The U.S. Attorney's Office just reached a plea agreement with a leader of that operation. He'll face sentencing soon.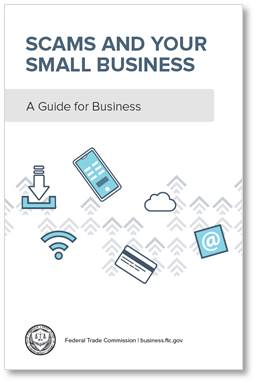 But law enforcement is only one part of Operation Main Street. Education is a key component, too. The FTC just issued a new publication, Scams and Your Small Business, with to-the-point tips on how you can spot the signs of a scam and what to do if con artists have targeted your company.
In addition, the Better Business Bureau has issued a research report on small business scams, based on information from 1200 small businesses. According to the BBB, 67% of those surveyed perceive scammers as a growing risk to their company. The top five scams they identified: 1) bank/credit card company imposters; 2) directory listing and advertising services; 3) fake invoices/supplier bills; 4) fake checks; and 5) tech support scams.
What can your business do to magnify the impact of Operation Main Street?
Educate your employees. The FTC has you covered with that new publication, Scams and Your Small Business. By learning about the latest scams, your staff can deliver a devastating one-two punch to fraudsters: a forceful buh-bye followed by a "we mean business" hang-up.
Report fraud. People who responded to the BBB survey say that one of their primary motivations for reporting fraud is to help warn others. That says a lot about the small businesses that form the backbone of our economy. Spot a scam? Speak up. Report what you've seen to the FTC.
It is your choice whether to submit a comment. If you do, you must create a user name, or we will not post your comment. The Federal Trade Commission Act authorizes this information collection for purposes of managing online comments. Comments and user names are part of the Federal Trade Commission's (FTC) public records system, and user names also are part of the FTC's computer user records system. We may routinely use these records as described in the FTC's Privacy Act system notices. For more information on how the FTC handles information that we collect, please read our privacy policy.
The purpose of this blog and its comments section is to inform readers about Federal Trade Commission activity, and share information to help them avoid, report, and recover from fraud, scams, and bad business practices. Your thoughts, ideas, and concerns are welcome, and we encourage comments. But keep in mind, this is a moderated blog. We review all comments before they are posted, and we won't post comments that don't comply with our commenting policy. We expect commenters to treat each other and the blog writers with respect.
We won't post off-topic comments, repeated identical comments, or comments that include sales pitches or promotions.
We won't post comments that include vulgar messages, personal attacks by name, or offensive terms that target specific people or groups.
We won't post threats, defamatory statements, or suggestions or encouragement of illegal activity.
We won't post comments that include personal information, like Social Security numbers, account numbers, home addresses, and email addresses. To file a detailed report about a scam, go to ReportFraud.ftc.gov.
We don't edit comments to remove objectionable content, so please ensure that your comment contains none of the above. The comments posted on this blog become part of the public domain. To protect your privacy and the privacy of other people, please do not include personal information. Opinions in comments that appear in this blog belong to the individuals who expressed them. They do not belong to or represent views of the Federal Trade Commission.
Lost so much in shipped product. on collections now. Law inforcment told us "it is internet", " you have lost not enought to start a case".
More from the Business Blog
Get Business Blog updates