If you care about data security and privacy, you'll want to read about the FTC's settlement with ruby Corporation, ruby Life Inc., and ADL Media Inc. –  the companies that operate AshleyMadison.com.
AshleyMadison.com advertised a dating website that's "100% secure and anonymous." It bolstered those claims by including an icon of a "Trusted Security Award" and an image indicating that the website was a "100% discreet service."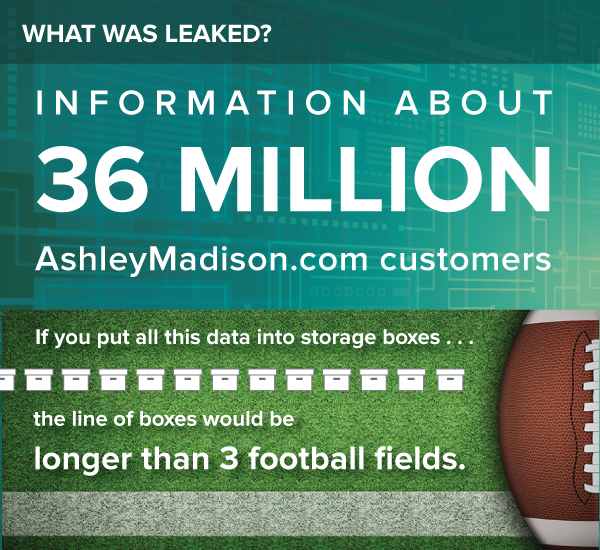 The website lured you in with promises of "thousands of women" in your city (and mind you, about 16 million of the 19 million U.S. profiles were of men). Then, it used "engager profiles" – fake profiles created by staff who communicated as if they were actual female users. The company created these profiles by using information from existing members who had not had any account activity for a while. Many times, non-paying users upgraded to full memberships so they could send messages to what they believed were real users but were, in fact, fake profiles.
For users who were concerned about others finding out about their activities on the website, the website promised that you could "remove your digital trail." For $19, you could buy a "Full Delete" that promised to remove all of your information from AshleyMadison.com. We're talking information like: name; relationship status; sexual preferences and desired encounters; desired activities; photographs; and financial information. Sounds like information people wouldn't want to get out in the public, right?    
In July 2015, a group called "The Impact Team" hacked into Ashley Madison's computer system. The group threatened to release all of the website's user information unless Ashley Madison shut down. When the company balked, the group published personal information about 36 million users. That's a lot of very personal information of a lot of people.
It even included information from people who had paid for a "Full Delete." It turned out that Ashley Madison kept personal information for up to 12 months after a "Full Delete," and sometimes failed to remove the profiles altogether.
How did this happen? The FTC's complaint alleges that AshleyMadison.com engaged in several practices that failed to provide reasonable data security, including:
Failure to have a written information security policy
Failure to implement reasonable access controls
Failure to adequately train personnel about data security
Failure to monitor third-party service providers
These basic principles are all outlined in the FTC's Start with Security guide.
The FTC's five-count complaint alleges both deception and unfairness. The deception counts involve: misrepresentations that the company took reasonable steps to ensure that AshleyMadison.com was secure; misrepresentations that the engager profiles were from actual women; misrepresentations about deleting profiles; and misrepresentations about the data security seal (you guessed it – the company without a written data security policy did not in fact receive a "Trusted Security Award"). Finally, the complaint alleges that the company's unfair security practices injured or are likely to injure consumers.
The FTC's settlement with ruby Corporation and its subsidiaries prohibits the companies from making those types of misrepresentations. It also requires them to maintain a comprehensive information security program and get biennial assessments.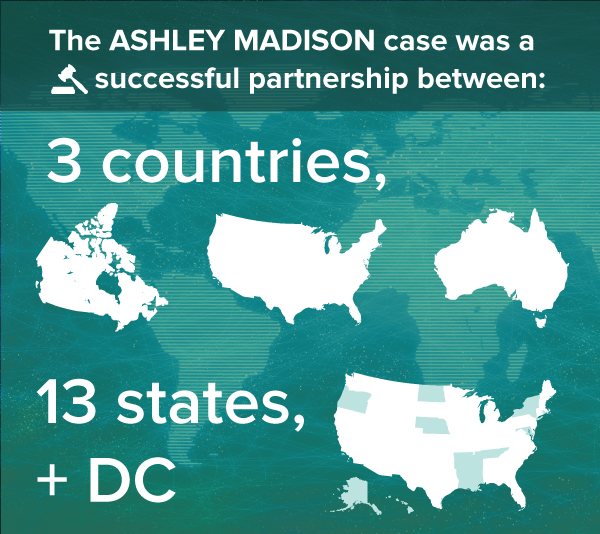 And the FTC isn't in this alone. The FTC's settlement is in conjunction with thirteen states and the District of Columbia. The FTC also had help from its international counterparts in Canada and Australia. Based on a joint investigation, the Office of the Privacy Commissioner of Canada entered into a compliance agreement and the Office of the Australian Information Commissioner entered into an enforceable undertaking with Toronto-based ruby Corporation. Those agreements focus on remedial measures to improve the company's data security and data retention policies. 
So, what's the lesson learned from the Ashley Madison case? Businesses must keep their promises. And if you collect sensitive personal information, you must protect it. 
For further guidance about how to do that, check out Protecting Personal Information: A Guide for Business and Start with Security: A Guide for Business. And for more compliance resources, visit the Business Center's Privacy and Security portal.
It is your choice whether to submit a comment. If you do, you must create a user name, or we will not post your comment. The Federal Trade Commission Act authorizes this information collection for purposes of managing online comments. Comments and user names are part of the Federal Trade Commission's (FTC) public records system, and user names also are part of the FTC's computer user records system. We may routinely use these records as described in the FTC's Privacy Act system notices. For more information on how the FTC handles information that we collect, please read our privacy policy.
The purpose of this blog and its comments section is to inform readers about Federal Trade Commission activity, and share information to help them avoid, report, and recover from fraud, scams, and bad business practices. Your thoughts, ideas, and concerns are welcome, and we encourage comments. But keep in mind, this is a moderated blog. We review all comments before they are posted, and we won't post comments that don't comply with our commenting policy. We expect commenters to treat each other and the blog writers with respect.
We won't post off-topic comments, repeated identical comments, or comments that include sales pitches or promotions.
We won't post comments that include vulgar messages, personal attacks by name, or offensive terms that target specific people or groups.
We won't post threats, defamatory statements, or suggestions or encouragement of illegal activity.
We won't post comments that include personal information, like Social Security numbers, account numbers, home addresses, and email addresses. To file a detailed report about a scam, go to ReportFraud.ftc.gov.
We don't edit comments to remove objectionable content, so please ensure that your comment contains none of the above. The comments posted on this blog become part of the public domain. To protect your privacy and the privacy of other people, please do not include personal information. Opinions in comments that appear in this blog belong to the individuals who expressed them. They do not belong to or represent views of the Federal Trade Commission.
More from the Business Blog
Get Business Blog updates