Is it time for a little heart-to-heart about making health claims for mobile apps? An FTC settlement with California-based Aura Labs challenges misleading representations the company made about its Instant Blood Pressure app. In addition, if you keep your finger on the pulse of FTC endorsement law, the complaint describes a course of conduct marketers will want to avoid.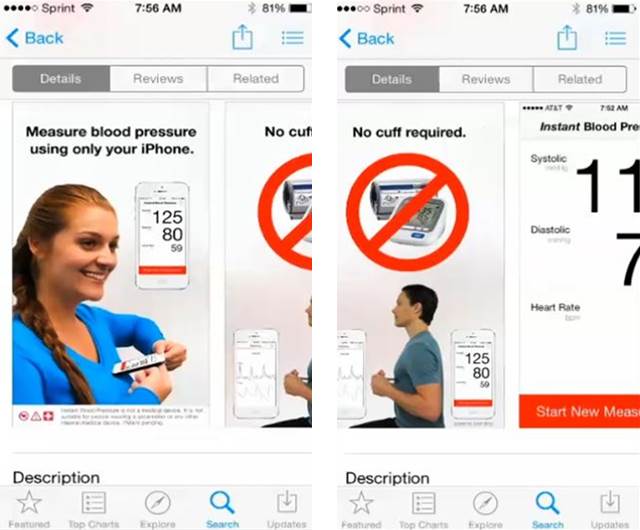 According to the FTC, Aura represented that its app would serve as a replacement for a traditional blood pressure cuff while still determining blood pressure just as accurately. "Measure blood pressure with just your phone," Aura promised. "No cuff required."
People who bought the app for $3.99 or $4.99 in major app stores were directed to input their sex, age, height, and weight. Next, they had to remove any outer clothing, put their right index finger over the camera lens and light, and place their smartphone against the left side of their chest. Hold that position and voila – the user's systolic and diastolic blood pressure reading would be displayed.
There was buzz from purported users, too. Aura's website featured this statement from two satisfied customers: "This is such a smart idea that will benefit many of us in monitoring our health in an easy convenient way." Then there was this glowing review in the Apple App Store:
Great start ★★★★★
by ARCHIE1986 - Version - 1.0.1 - Jun 11, 2014
This app is a breakthrough for blood pressure monitoring. There are some kinks to work out and you do need to pay close attention to the directions in order to get a successful measurement but all-in-all it's a breakthrough product. For those having connection problems, consider trying again. I have experienced a similar issue. It is also great that the developer is committed to continual improvements. This is a great start!!!
So what's the real story behind Aura's Instant Blood Pressure app? For starters, the complaint alleges that "studies demonstrate clinically and statistically significant deviations between the App's measurements and those from a traditional blood pressure cuff" – rendering the company's ad claims false or unsubstantiated.
But the deception didn't end there. The FTC says that two of Aura's satisfied endorsers were actually relatives of Aura's co-founder. And what about the enthusiastic five-star review from "ARCHIE1986"? The FTC says that review was left by Aura CEO and President Ryan Archdeacon, who is named in the complaint individually and in his corporate capacity.
The settlement requires the defendants to have competent and reliable scientific evidence to support all health-related representations.  If the defendants make any of a wide variety of blood pressure claims, they'll need human clinical testing.
The settlement also prohibits misrepresentations about the status of any user or endorser of a device and requires the defendants to clearly disclose any material connections to endorsers. The order includes a $595,945 judgment, which is suspended based on the defendants' financial condition. There's also an avalanche clause in case it's later determined they made any material misrepresentations about their financial status.
What tips can other companies take from the case?
The lifeblood of health claims is substantiation.  The consequence of inaccurate measurements of blood pressure or other key health stats can be – quite literally – as serious as a heart attack. That's why companies must have solid science to support all health claims, express and implied.
Established truth-in-advertising principles apply to app developers.  So your start-up has a terrific idea for a health app. Just make sure that the journey from concept to marketplace includes a compliance check. The FTC, HHS, and other federal offices have created an interactive tool to help you determine the laws that may apply. In the same vein, Mobile Health App Developers: FTC Best Practices is a must-read resource.
When it comes to endorsements and reviews, don't prime the pump.  If there's a material connection between an advertiser and an endorser – a connection that might affect the weight consumers give to what's said – the FTC Endorsement Guides establish that the connection must be clearly and conspicuously disclosed. Furthermore, it's illegal for advertisers to post reviews that falsely suggest they're independent evaluations from ordinary consumers. The growing list of law enforcement actions alleging that companies have anonymously posted glowing recommendations of their own products and services suggests it's time for a legal refresher. The Business Center's Endorsements page includes the latest cases and compliance resources.
It is your choice whether to submit a comment. If you do, you must create a user name, or we will not post your comment. The Federal Trade Commission Act authorizes this information collection for purposes of managing online comments. Comments and user names are part of the Federal Trade Commission's (FTC) public records system, and user names also are part of the FTC's computer user records system. We may routinely use these records as described in the FTC's Privacy Act system notices. For more information on how the FTC handles information that we collect, please read our privacy policy.
The purpose of this blog and its comments section is to inform readers about Federal Trade Commission activity, and share information to help them avoid, report, and recover from fraud, scams, and bad business practices. Your thoughts, ideas, and concerns are welcome, and we encourage comments. But keep in mind, this is a moderated blog. We review all comments before they are posted, and we won't post comments that don't comply with our commenting policy. We expect commenters to treat each other and the blog writers with respect.
We won't post off-topic comments, repeated identical comments, or comments that include sales pitches or promotions.
We won't post comments that include vulgar messages, personal attacks by name, or offensive terms that target specific people or groups.
We won't post threats, defamatory statements, or suggestions or encouragement of illegal activity.
We won't post comments that include personal information, like Social Security numbers, account numbers, home addresses, and email addresses. To file a detailed report about a scam, go to ReportFraud.ftc.gov.
We don't edit comments to remove objectionable content, so please ensure that your comment contains none of the above. The comments posted on this blog become part of the public domain. To protect your privacy and the privacy of other people, please do not include personal information. Opinions in comments that appear in this blog belong to the individuals who expressed them. They do not belong to or represent views of the Federal Trade Commission.
More from the Business Blog
Get Business Blog updates