In the popular video game Shadow of Mordor, players don't just randomly slash, hack, and pillage. They battle specific opponents through a feature known as the Nemesis System. In the FTC's lawsuit against Warner Bros. Home Entertainment, truth in advertising had a nemesis: paid pitches for Shadow of Mordor that Warner Bros. deceptively claimed were independent reviews. And read on for a startlingly candid statement by one of those influencers.
To help launch Shadow of Mordor, Warner Bros. brought a social media company on board to coordinate a YouTube influencer campaign. One strategy was to hire influential gamers to post videos promoting Shadow of Mordor – videos that ultimately yielded more than 5.5 million YouTube views.
In addition to free game access, Warner Bros. paid the influencers cash – ranging from hundreds of dollars to five figures. Influencers' videos were subject to pre-approval and, according to the terms of the agreement, Warner Bros. "will be deemed the author and exclusive owner."
Warner Bros. was quite exacting in what else it required of influencers:
"Video will feature gameplay" of the Shadow of Mordor game.
"Video will have a strong verbal call-to-action to click the link in the description box for the viewer to go to the [game's] website to learn more about the [game], to learn how they can register, and to learn how to play the game."
"Video will promote positive sentiment" about the game.
"Video will not show bugs or glitches that may exist."
"Video will not communicate negative sentiment" about Warner Bros. Home Entertainment, its affiliates or the game.
Warner Bros. also required "One Facebook post or one Tweet by Influencer in support of Video."
"Positive sentiment" posted for cash? That sounds like the kind of material connection between an advertiser and endorser the FTC says should be clearly and conspicuously disclosed. And for FTC watchers, that's where the story gets almost as interesting as Shadow of Mordor.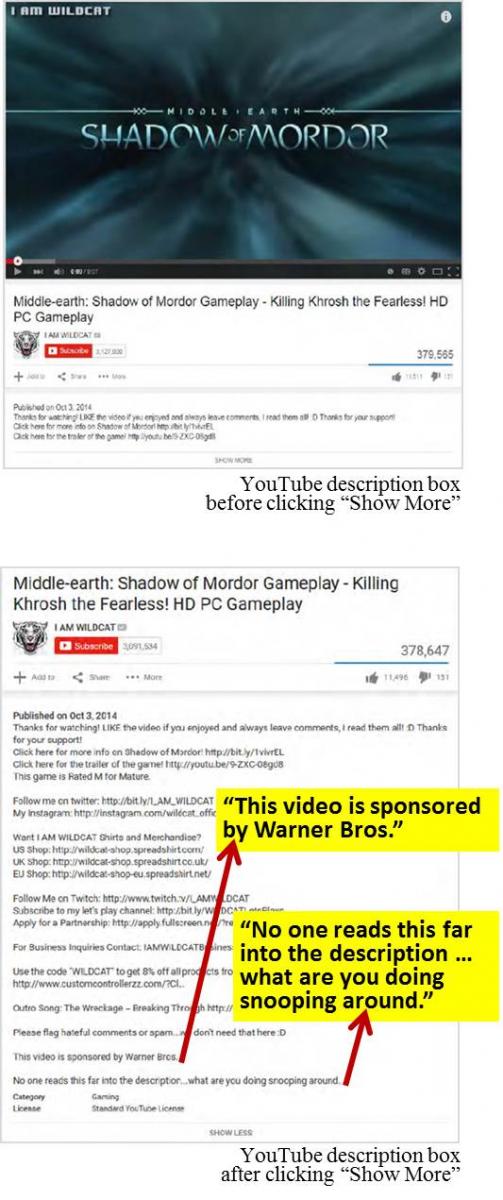 According to the complaint, influencers were directed to place sponsorship information in the text of the description box – that's the collapsed box just below a YouTube video – not in the video itself. Furthermore, they were told to put "information about [the game] above the fold" in the description box and that the "description box will include FTC disclaimer disclosing that the post is sponsored."
But as the first example shows, only the top few lines of the description box are immediately visible. Without clicking the "Show More" button and possibly scrolling down, consumers wouldn't see the sponsorship disclosure – especially since Warner Bros. mandated that game information had to come first.
The second screenshot shows an example of the sponsorship information at the end of the expanded "Show More" box and illustrates – inadvertently perhaps – the FTC's concern with the placement of the disclosure. In this example, the gamer wrote "This video sponsored by Warner Bros." and followed with this telling statement: "No one reads this far into the description … what are you doing snooping around."
Our sentiments exactly, Dude.
In other instances, influencers' videos included a half-hearted sponsorship disclosure – for example, "This has been one of my favorite sponsored games, so thanks that I could play it for free!!" – that failed to mention that in addition to free play, Warner Bros. was paying them thousands of dollars.
The complaint charges that Warner Bros. falsely represented that the Shadow of Mordor gameplay videos reflected the independent opinions or experiences of impartial gamers. The FTC also alleges that, in many cases, Warner Bros. failed to disclose – or failed to adequately disclose – influencers' material connection to the company. Among other things, the proposed settlement requires Warner Bros. Home Entertainment to clearly disclose material connections to influencers or endorsers. In addition, it puts provisions in place to educate and monitor what influencers do on the company's behalf – and in certain circumstances, requires the Warner Bros. to withhold payment or terminate influencers or ad agencies that don't comply.
What compliance tips can others to take from the proposed settlement?
Disclose material connections clearly and conspicuously.  If there's a connection between an endorser and advertiser that consumers wouldn't expect and it would affect how they evaluate the endorsement, the connection should be disclosed. But that's not all the law requires. A sponsorship statement or any other disclosure necessary to prevent deception must be clear and conspicuous. A "disclosure" that consumers aren't likely to read isn't really a disclosure at all. The FTC staff reiterated that point in .com Disclosures: How to Make Effective Disclosures in Digital Advertising: "Simply making the disclosure available somewhere in the ad, where some consumers might find it, does not meet the clear and conspicuous standard."
No one knows better than advertisers how to make disclosures clear and conspicuous. Building on earlier cases challenging the failure to include disclosures altogether, the Warner Bros. settlement addresses allegedly ineffective disclosures. "But how do I convey information effectively?" some advertisers ask. Really? Advertisers are in the "clear and conspicuous" business. One rule of thumb is to apply the tried-and-true principles for conveying a marketing message effectively. In the context of YouTube, for example, a disclosure front and center in the video is likely to be clearer than language buried in the description box.
Consider how consumers will view your ads. Warner Bros. directed influencers to put the sponsorship disclosure in the YouTube description box, but then also required them to promote their videos on Facebook or Twitter. But when influencers complied by posting the videos themselves on Twitter or Facebook, it was even less likely that consumers would see the disclosures since "Show More" buttons didn't appear on those posts. .com Disclosures addresses that, too: "If a particular platform does not provide an opportunity to make clear and conspicuous disclosures, then that platform should not be used to disseminate advertisements that require disclosures."
Keep an eye on what others are doing on your behalf.  For future influencer campaigns, the proposed settlement outlines steps Warner Bros. must take to monitor influencers' conduct. Of course, the settlement applies just to that company, but The FTC's Endorsement Guides: What People Are Asking offers advice on how savvy marketers train and monitor members of their network.
You can file a comment about the settlement by August 10, 2016.
It is your choice whether to submit a comment. If you do, you must create a user name, or we will not post your comment. The Federal Trade Commission Act authorizes this information collection for purposes of managing online comments. Comments and user names are part of the Federal Trade Commission's (FTC) public records system, and user names also are part of the FTC's computer user records system. We may routinely use these records as described in the FTC's Privacy Act system notices. For more information on how the FTC handles information that we collect, please read our privacy policy.
The purpose of this blog and its comments section is to inform readers about Federal Trade Commission activity, and share information to help them avoid, report, and recover from fraud, scams, and bad business practices. Your thoughts, ideas, and concerns are welcome, and we encourage comments. But keep in mind, this is a moderated blog. We review all comments before they are posted, and we won't post comments that don't comply with our commenting policy. We expect commenters to treat each other and the blog writers with respect.
We won't post off-topic comments, repeated identical comments, or comments that include sales pitches or promotions.
We won't post comments that include vulgar messages, personal attacks by name, or offensive terms that target specific people or groups.
We won't post threats, defamatory statements, or suggestions or encouragement of illegal activity.
We won't post comments that include personal information, like Social Security numbers, account numbers, home addresses, and email addresses. To file a detailed report about a scam, go to ReportFraud.ftc.gov.
We don't edit comments to remove objectionable content, so please ensure that your comment contains none of the above. The comments posted on this blog become part of the public domain. To protect your privacy and the privacy of other people, please do not include personal information. Opinions in comments that appear in this blog belong to the individuals who expressed them. They do not belong to or represent views of the Federal Trade Commission.
More from the Business Blog
Get Business Blog updates