By: Lesley Fair | Jan 3, 2018 2:56PM
You've seen the sentence in FTC news releases or blog posts: "The order includes a $__ million financial remedy." So how do provisions like that translate into real help for real consumers? That's the subject of the FTC Bureau of Consumer Protection's Office of Claims and Refunds Annual Report.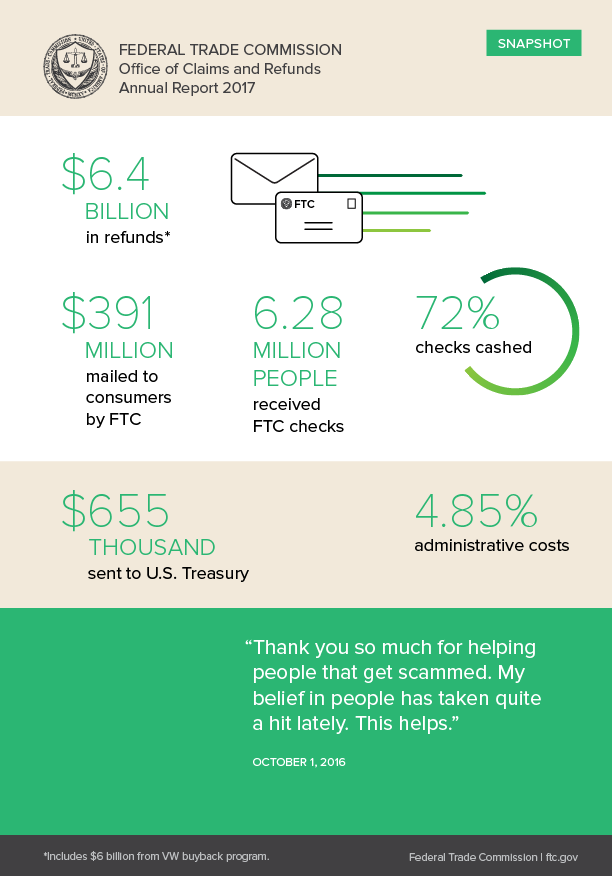 Covering the period between July 1, 2016 and June 30, 2017, the Report recaps how FTC cases resulted in orders that returned billions back to consumers. It also offers insights into what happens once those orders are in place.
The task of getting refunds to the right people is a painstaking process. Who's eligible for a refund? How do we locate those people? How do we determine how the available cash will be divided among them? How do we get checks to eligible consumers while outwitting fraudsters who may try to subvert our efforts? The Report addresses those questions – and more.
In total, during the 12-month period covered by the Report, FTC cases resulted in more than $6.4 billion in refunds for consumers. Some orders required the defendants to send the refunds. That $6.4 billion figure includes a landmark settlement with Volkswagen that required the company to offer a buyback program for owners of VW and Audi diesel cars fitted with illegal emissions defeat devices.
In other cases, the FTC sent money directly to consumers. You'll want to read the Report for details, but here are some notable statistics about refund programs administered by the FTC between July 2016 and June 2017:
Total amount FTC mailed to consumers:  $391.38 million
Number of people who received FTC checks:  6.28 million
Check cashing rate of first round distributions:  72%
Average percentage spent on administrative costs:  4.85%
Money sent to the U.S. Treasury:  $655,528
While we're on the subject of refunds, we hear two questions pretty frequently. First, what percentage of financial judgments does the FTC keep for its future operations? That's easy: Zero, zip, nada, bupkes. Second, what happens if there's money left over after a refund program or if there isn't enough to provide meaningful refunds to individual consumers? In those instances, the FTC sends the money to the U.S. Treasury, where it goes into the General Fund. In other words, we never forget that the money belongs to consumers, so we're duty-bound to do our job carefully and efficiently.
The dollar amounts in the Report don't include the portion of judgments that were suspended by courts due to defendants' inability to pay. But those orders always include provisions requiring defendants to change their ways. And it's not unusual for the FTC to ask a court to reinstate the full amount if it looks like defendants lied about their finances.
The Report also includes some quotes from The Boss – the consumers we're honored to work for:
"Very best regards, many thanks, and God Bless the FTC, which does such a great job in helping us otherwise defenseless and oft beleaguered consumers."
"When I saw the check for $492.54 … with a note indicating, '…The enclosed check is your share of the money that the FTC was able to collect...' I was both surprised and delighted. The money could not have come at a more opportune time. I recently got laid off, so it really means a lot right now. Thanks again for everything."
"Thank you for your hard work and diligence! I appreciate it as I am surviving on a small disability check and supporting my young grandchild, too. Blessings to all who worked for justice for us!!!"
"It is refreshing to know that the law works to help people when they have been deceived. Again, thank you for your well received efforts."