When it comes to fraud, there's no such thing as a generation gap. According to reports in the FTC's Consumer Sentinel database, fraud affects every generation. But that's only half the story. What else the reports tell us is that fraud affects every generation differently. The FTC has a new interactive tool that demonstrates those differences graphically, giving users exactly the data they ask for.
If you haven't checked out the FTC's Tableau Public page, a new infographic – Explore Age & Fraud Loss – is a good opportunity to take it for a test drive. It illustrates fraud-related reports in the Consumer Sentinel database, allowing you to customize it by year, age, kind of fraud, reported fraud loss, payment method, and contact method.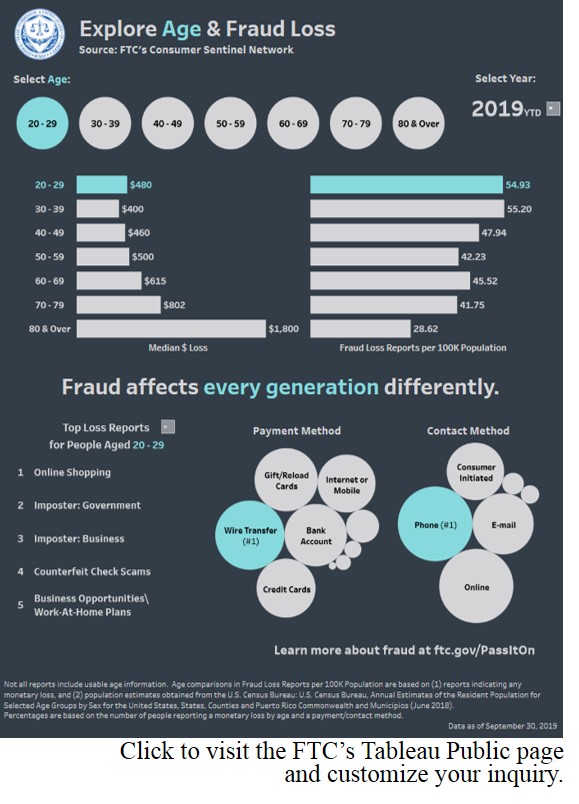 Decade by decade, check out what people have reported in the first three quarters of 2019:
20-29:  Consumers in their 20s reported losing more money per person to fake check scams than any other scam.
30-39: Relative to their population size, people in their 30s reported fraud losses at a higher rate than any other age group.
40-49: Folks in their 40s most commonly reported that their contact with fraud happened online and that they paid with a credit card.
50-59: Fifty-somethings reported that they lost more total money to romance scams than any other fraud.
60-69: The top way that people 60 and over reported paying for what turned out to be a scam was with a gift or reload card.
70-79: The #1 form of fraud reported by people in their 70s was tech support scams.
Visit Explore Age & Fraud Loss and then post your favorite fraud factoid here based on what you learned from the new interactive tool.
Why is it important to the FTC to make consumer complaint data available in this format? Fraud morphs faster than the old annual Consumer Sentinel Network Data Book could reflect. The new online format allows users to track trends over time or even to use interactive maps to see what people are reporting in their area. By making Consumer Sentinel data more accessible, we hope more consumers will be motivated to report their experiences to the FTC. We also want to promote data-driven outreach by the media, government agencies, and consumer groups to help the public spot and avoid fraud. The new format makes it easier to incorporate all kinds of graphics into presentations and publications.
Why should fraud statistics matter to your business? The obvious point is that who's losing money are your friends, your parents, your kids, your employees, and perhaps even you. In addition, every buck pocketed by a fraudster is a dollar that a consumer can't spend on products and services sold by a legitimate company. So scams pack a double wallop, harming consumers and reputable businesses.
 
It is your choice whether to submit a comment. If you do, you must create a user name, or we will not post your comment. The Federal Trade Commission Act authorizes this information collection for purposes of managing online comments. Comments and user names are part of the Federal Trade Commission's (FTC) public records system, and user names also are part of the FTC's computer user records system. We may routinely use these records as described in the FTC's Privacy Act system notices. For more information on how the FTC handles information that we collect, please read our privacy policy.
The purpose of this blog and its comments section is to inform readers about Federal Trade Commission activity, and share information to help them avoid, report, and recover from fraud, scams, and bad business practices. Your thoughts, ideas, and concerns are welcome, and we encourage comments. But keep in mind, this is a moderated blog. We review all comments before they are posted, and we won't post comments that don't comply with our commenting policy. We expect commenters to treat each other and the blog writers with respect.
We won't post off-topic comments, repeated identical comments, or comments that include sales pitches or promotions.
We won't post comments that include vulgar messages, personal attacks by name, or offensive terms that target specific people or groups.
We won't post threats, defamatory statements, or suggestions or encouragement of illegal activity.
We won't post comments that include personal information, like Social Security numbers, account numbers, home addresses, and email addresses. To file a detailed report about a scam, go to ReportFraud.ftc.gov.
We don't edit comments to remove objectionable content, so please ensure that your comment contains none of the above. The comments posted on this blog become part of the public domain. To protect your privacy and the privacy of other people, please do not include personal information. Opinions in comments that appear in this blog belong to the individuals who expressed them. They do not belong to or represent views of the Federal Trade Commission.
Identity Theft , it's very stressful and not to mention the toll it takes on finances. I am on disability, but I needed income so that's why I started my own business. So, that I could grow a strong foundation and stop having to depend on disability. But, do to my credit being so messed up from identity theft no one was willing to help . They took money out of my business account, risk management with my bank closed down my disability account do to fraudulent activity. I had to wait for month to start receiving funds. Call, my phone service and other creditors that I owed, but no one would work with me. I learn that my information was breach from equifax and iPhone thru AT&T due to crash report stated that the phone been malfunction since I had purchase the device back in December of 2018. Also, while identity theft was happening I had called CFPB to investigate what I mention and also due to me having protection through Experian and Transunion that came out of my bank account on monthly bases.. I wanted those two companies to reimburse me and give me the insurance payment because they didn't do their job. It was a waste and f my time and the 100 and some pages that I sent to CFPB . I sent bank statement showing that they took my money and no protection . Send paperwork stating that Experian and Transunion stated that everything was fine. When in actuality it wasn't and now I'm sitting here with finances that I can't pay . Credits still horrible and due to the breach through equifax I might not get but $125 . Although I was the victim and now my identity is jeopardize . I'm now being victimized by our wonderful system.
I reported the scam I was involved with to the attorney General. They are investigating. I am 62 And on disability and my husband is 66 and retired last year. He is on social security also. My particular scam invoked a surveyf for a bitcoin machine. I was divered a check for 1965.51 via ups. I deposited the check into my PNC checking account. The next day PNC gave me 1600 cash to go to bitcoin machine and put money in and do a survey on how the atmachine worked. I emailed the receipt and the survey. The scammer asked if I could do another survey and if Ican get it done the next day ,I would get a bonus I withdrew another 600 dollars from bank and did another survey on a different ATM machine. I was promised another check and maybe a third survey. After three days ,theva m tells me it was a bad check and my account was overdrawn,my rent check sent backs d charged 36 dollars 2 times and a 12 dollar fee also. I get paid once. A month on the3 rd. The bank charged me 7 dollars every day I was overdrawn ( 6 days) until my and my husbands check was auto deposited. They took thee tire he mri cover the overdraft. I guess PNC needed the money more than me. This is my entire a Punt of money for the month of November !! What do I live on?? Pnc doesn't care. I offered to pay a monthly feetocoverthefees and that was turned down I rent an apartment and am behind now 2 months. Pnc knows I could be evicted. They don't care. They need their money. I have been a cuto Er for almost 17 years. I wasn't "allowed " to lose down account because it was not a positive balance. I don't know what we are going to do. My credit is t so good and I just borrowed 60" dollar's drops A high interest place. My car is broken down and was towed from where it broke down. We can't get it out of tow place because it costs over 400 dollars to get it out. We have no money. So I may be evicted and I do t even have a car to sleep in. I have never experienced homelessness before. I need help and I can't get any one to help me. It is the 9 th now and still no money. I am devastated by this scam. Never been scammed before. What a. Experience at 62 years sold.
In reply to I reported the scam I was by Guest
There is a federal government hotline you can call to find help in your area. It's called the Eldercare Locator. The people who answer can tell you about agencies that help for older adults and people with disabilities. Call 1-800-677-1116.
More from the Business Blog
Get Business Blog updates