The marketers behind a purported money-making promotion called Sellers Playbook appear to have skipped the chapter about complying with federal and state consumer protection laws. That's the allegation in a complaint filed by the FTC and the Minnesota Attorney General. In addition, it's the FTC's first case charging violations of the Consumer Review Fairness Act.
The roots of the allegations go back to another venture sued by the FTC earlier this year: FBA Stores, also known as Amazing Wealth System and Amazon Wealth Systems. The defendants in that case ran online ads and in-person workshops that claimed to reveal the secrets of making major money on Amazon. But few, if any, of the consumers who forked over thousands of dollars and implemented their "plug-and-play systems" earned the kind of cash the defendants claimed.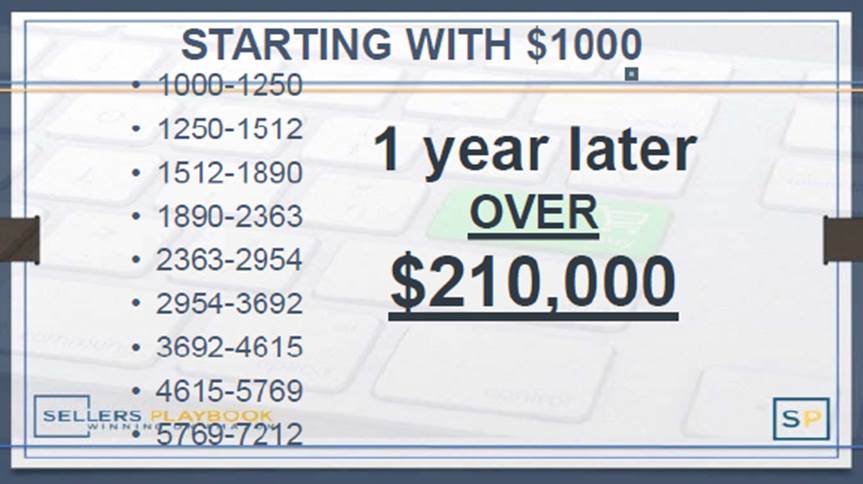 Which brings us to Sellers Playbook, Exposure Marketing, Jessie Conners Tieva, and Matthew Tieva – Minnesota-based defendants charged with pitching the same kind of "secrets" to making big bucks on Amazon. According to the just-filed lawsuit, the striking similarities should come as no surprise. That's because defendant Jessie Tieva was a regular speaker at Amazing Wealth Systems' workshops. How successful was she in getting consumers to sign up? The complaint charges that Ms. Tieva and her team generated more than $3.4 million in sales for Amazing Wealth Systems. And let's be clear: We're not talking about $3.4 million in sales by consumers who successfully implemented the system. We mean $3.4 million that consumers shelled out to the operators of Amazing Wealth Systems for which Tieva was paid a handsome commission.
The complaint alleges that the new Sellers Playbook venture is, in effect, a copycat of the now-defunct Amazing Wealth Systems operation. The earning claims certainly have a familiar ring to them. Here's how Sellers Playbook touted their "opportunity":
"Holy cow, guys. That's when you start seeing the returns of what we want you to have, $20,000 a month,"

"Potential Net Profit: $1,287,463.38,"

"Starting with $1000…1 year later over $210,000," and

"How many of you would like to learn how to turn a $5- to $10,000 investment into a $25- to a $1.2 million return with your investment? Yeah. And you're going to learn those strategies before you leave here today.
There are a few other things Amazon Wealth Systems and Sellers Playbook have in common: 1) Neither company has any affiliation with Amazon; and 2) Both companies charged consumers hundreds of dollars – or even hefty five-figure fees – to sign up.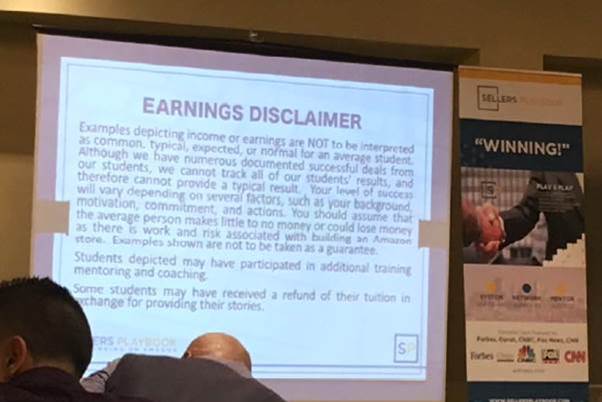 Of course, few consumers make the kind of earnings the defendants claimed. According to the complaint, many of the webpages promoting Sellers Playbook contained an inconspicuous earnings disclaimer in grey near the bottom of the page. What's more, at a live event, the defendants briefly displayed this slide, which one of the presenters downplayed with this statement: "That's why they have us do this again. It makes the lawyers happy, disclaimers. But you got to do your part. Money's not going to fall from the sky. But as long as you do a part, it's going to happen."
The complaint challenges the defendants' earning claims as false or unsubstantiated under FTC law and the Minnesota Prevention of Consumer Fraud Act. What's more, the lawsuit alleges multiple violations of the FTC's Business Opportunity Rule. The FTC and the AG also charge that provisions in the defendants' form contracts try to restrict consumers' ability to post reviews of their products, services, or conduct, in violation of the Consumer Review Fairness Act, in effect since December 14, 2017.
A federal court in Minnesota has issued a temporary restraining order. Even at this early stage, the case offers takeaway tips.
If you sell business opportunities. Your earnings claims – like any other objective product representations – must be supported by proper proof. In addition, the Business Opportunity Rule requires (among other things) that at least seven days before a consumer signs a contract or pays any money for a business opportunity, you must give the person a one-page Disclosure Document. If you make any representations about how much money a person can earn from the opportunity, you also must give them a separate Earnings Claim Statement. Read Selling a Work-at-Home or Other Business Opportunity? Revised Rule May Apply to You and watch this video for more about your responsibilities.
If you're thinking about buying a business opportunity. View money-making promises with a super-skeptical eye. Each zero a business opportunity promoter adds to an earnings number should ratchet up the setting on your Claptrap Calibrator. Furthermore, put the promoter's paperwork under the microscope. That includes the one-page Disclosure Document required by the Business Opportunity Rule and – assuming the promoter makes earning representations – the separate Earnings Claim Statement they must give you. The FTC has pointers on how to evaluate those documents. Of course, one tip-off to trouble is if the promoter doesn't provide you with the information required by the Rule. Think of it this way: If they're not honoring basic compliance responsibilities, don't trust them with your cash.
Even if you're not in the business opportunity business, it's a good time for a Consumer Review Fairness Act refresher. The FTC has brought other cases challenging companies' practices regarding consumer reviews, but this is the first case of its kind filed since CRFA took effect. It serves as a reminder for companies to make sure their form contracts don't include provisions that try to muzzle consumer feedback. Consumer Review Fairness Act: What Businesses Need to Know offers a recap of what the law requires.
 
3 Comments
---
It is your choice whether to submit a comment. If you do, you must create a user name, or we will not post your comment. The Federal Trade Commission Act authorizes this information collection for purposes of managing online comments. Comments and user names are part of the Federal Trade Commission's (FTC) public records system, and user names also are part of the FTC's computer user records system. We may routinely use these records as described in the FTC's Privacy Act system notices. For more information on how the FTC handles information that we collect, please read our privacy policy.
The purpose of this blog and its comments section is to inform readers about Federal Trade Commission activity, and share information to help them avoid, report, and recover from fraud, scams, and bad business practices. Your thoughts, ideas, and concerns are welcome, and we encourage comments. But keep in mind, this is a moderated blog. We review all comments before they are posted, and we won't post comments that don't comply with our commenting policy. We expect commenters to treat each other and the blog writers with respect.
We won't post off-topic comments, repeated identical comments, or comments that include sales pitches or promotions.
We won't post comments that include vulgar messages, personal attacks by name, or offensive terms that target specific people or groups.
We won't post threats, defamatory statements, or suggestions or encouragement of illegal activity.
We won't post comments that include personal information, like Social Security numbers, account numbers, home addresses, and email addresses. To file a detailed report about a scam, go to ReportFraud.ftc.gov.
We don't edit comments to remove objectionable content, so please ensure that your comment contains none of the above. The comments posted on this blog become part of the public domain. To protect your privacy and the privacy of other people, please do not include personal information. Opinions in comments that appear in this blog belong to the individuals who expressed them. They do not belong to or represent views of the Federal Trade Commission.
It is grossly unfair that these criminals are allowed to be stripped of what meager possessions they claim to have and then allowed to go free. These debts they own their victims should hound them all their lives. Just as their victims are continuously hounded by the loss of their home, of their savings, of their retirement and the charges they may have made on their credit cards. Stick this debt to these criminals like the hump on a hunchback.
I signed up for Sellers Playbook, paying them $34,000 for their coaching. When we contacted Amazon to check them out, we practically hit a wall when we wanted to investigate their actual validity as a legitimate source for getting into the business of making money through Amazon. Luckily for me, one person at Amazon gave me a. HONEST answer....she said don't do it ! Believe it or not, we actually got our $34K back from Sellers Playbook, but we were out the $500 fir the seminar and the $3000 we were charged for all the new credit cards they opened for us.
In reply to I signed up for Sellers by J Scott
Lucky for you, you got that money back, after signing up 3 days later I have sent/FedEx a demand letter asking for money back and one of the owners named Jessie Connors Tieva respond by refusing to refund the paid amount. This was so unfair, these people don't deserve to walk freely and deserve to spend time in jail
More from the Business Blog
Get Business Blog updates