Mosquitoes don't just bug us. A big concern is their penchant for passing along pernicious diseases, including the Zika virus. New Jersey-based Aromaflage claimed its sprays and candles were effective at repelling mosquitoes – including ones that spread serious illnesses – and repelled mosquitoes as effectively as 25% DEET. The FTC alleges those representations were false or misleading. The complaint also raises an issue about the identity of some endorsers who offered glowing reviews about the products on Amazon.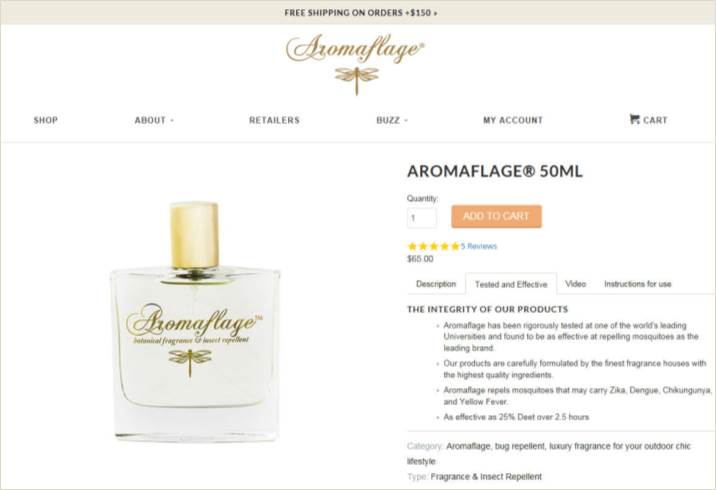 Advertised as DEET-free – that's diethyltoluamide, commonly used in insect repellants – Aromaflage sprays and candles include essential oils like cedarwood, cardamom, spruce, and patchouli. The company claimed, "Aromaflage repels mosquitoes that may carry Zika, Dengue, Chikungunya, and Yellow Fever." But can a product pitched as a "fine fragrance" really work? Not to worry, said the company. "Aromaflage has been rigorously tested at one of the world's leading Universities and found to be as effective at repelling mosquitoes as the leading brand." How effective? Aromaflage claimed to be "as effective as 25% DEET over 2.5 hours."
But according to the FTC, the results of the company's testing didn't support its advertised claims. The company commissioned tests of several formulations of Aromaflage sprays, including the two it sold. Also tested were four commercially-available insect repellents – including an EPA-registered product containing 25% DEET – and plain water.
Testers placed 20 Aedes Aegypti mosquitoes in a static air chamber. At one end was an untreated piece of paper. At the other end was paper treated with either an Aromaflage spray, one of the insect repellents, or water. Then they compared how many mosquitoes were in each half of the chamber at timed intervals for 150 minutes.
The complaint alleged that the testing didn't include Aromaflage candles; didn't use human subjects, even though the Aromaflage products are intended to overcome mosquitoes' attraction to human odors; and used only one species of mosquito, even though other species can carry many of the diseases cited in the company's ads and can react differently to the same repellent.
So what did the testing show? According to the FTC, at 30 minutes, more mosquitoes were in the part of the chamber sprayed with Aromaflage than in the untreated part. After 60 minutes, nearly one-third of the mosquitoes were still in the Aromaflage-treated area. Furthermore, the FTC alleges that Aromaflage performed worse than water for the first 30 minutes, while the 25%-DEET product performed better than Aromaflage for at least the first 90 minutes – results the FTC says didn't support the company's advertising claims.
The FTC also took a look at certain five-star testimonials for Aromaflage on Amazon. Reviewers said things like "no bites," "no bug bites," "an amazing product" that "really works to keep the bugs away," and "the must have item on my trip to the Costa Rican jungle." The complaint alleges those glowing reviews were posted by one of the company's officers, her mother, and her two aunts – material connections that should have been disclosed.
The proposed settlement will require the company to have competent and reliable scientific evidence to support a host of future claims related to repelling mosquitoes or other insects, as well as claims about the health benefits, performance, efficacy, safety, or side effects of any covered product. The proposed order also prohibits misrepresentations about tests, studies, or other research related to any covered product. In addition, the order includes provisions addressing the disclosure of material connections between an endorser and the company or any other entity affiliated with the product.
You can file a public comment about the proposed settlement until June 4, 2018.
Even if you're not a Sultan of Swat, the case offers practical tips for advertisers.
Tailor your advertising claims to fit what your testing shows. Craft your testing methodology carefully and base your ad copy on what sound science proves your products will do. Factor in how consumers will use your products. For example, the kind of testing experts believe is necessary to evaluate a skin spray may be different from the kind of testing necessary to evaluate a candle, even if the mosquito repellent claims are similar.
When health concerns make headlines, keep substantiation on the front page. Consumers are understandably concerned about mosquito-borne illnesses like Zika. Before claiming that a product can reduce the risk of a serious disease, savvy advertisers put their promises to the appropriate test.
Relatively speaking, disclose connections that would be material to consumers in evaluating reviews. Of course, you're a fan of your company's products and it's likely your Mom and other family members are, too. But it's wise to make sure those connections are clearly disclosed in product reviews. Here's what the FTC Endorsement Guides say: "When there exists a connection between the endorser and the seller of the advertised product that might materially affect the weight or credibility of the endorsement (i.e., the connection is not reasonably expected by the audience), such connection must be fully disclosed." Read The FTC Endorsement Guides: What People Are Asking for tips and advice.
 
0 Comments
---
It is your choice whether to submit a comment. If you do, you must create a user name, or we will not post your comment. The Federal Trade Commission Act authorizes this information collection for purposes of managing online comments. Comments and user names are part of the Federal Trade Commission's (FTC) public records system, and user names also are part of the FTC's computer user records system. We may routinely use these records as described in the FTC's Privacy Act system notices. For more information on how the FTC handles information that we collect, please read our privacy policy.
The purpose of this blog and its comments section is to inform readers about Federal Trade Commission activity, and share information to help them avoid, report, and recover from fraud, scams, and bad business practices. Your thoughts, ideas, and concerns are welcome, and we encourage comments. But keep in mind, this is a moderated blog. We review all comments before they are posted, and we won't post comments that don't comply with our commenting policy. We expect commenters to treat each other and the blog writers with respect.
We won't post off-topic comments, repeated identical comments, or comments that include sales pitches or promotions.
We won't post comments that include vulgar messages, personal attacks by name, or offensive terms that target specific people or groups.
We won't post threats, defamatory statements, or suggestions or encouragement of illegal activity.
We won't post comments that include personal information, like Social Security numbers, account numbers, home addresses, and email addresses. To file a detailed report about a scam, go to ReportFraud.ftc.gov.
We don't edit comments to remove objectionable content, so please ensure that your comment contains none of the above. The comments posted on this blog become part of the public domain. To protect your privacy and the privacy of other people, please do not include personal information. Opinions in comments that appear in this blog belong to the individuals who expressed them. They do not belong to or represent views of the Federal Trade Commission.
More from the Business Blog
Get Business Blog updates